The market continues to grind lower and seemingly over and over we find new lows. In August I put out some cautious words about making portfolio changes while putting some cash aside for an almost certain pullback. In September I wrote about the China trade escalations and how it would seem at its worst point just before the election. In this article I will share my view on the market for this week and after the election.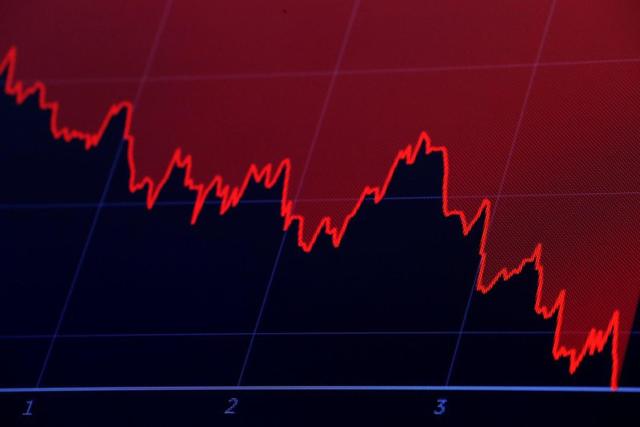 Source: WSAU.com
The market is clearly unnerved by the Fed relentless rate hikes with no dovish language to give some comfort to the market. The Shanghai market has been feeling the pain of the trade war, but now its seeping into sentiment in the US market.
Technicals Matter
Many investors don't give any credit to technicals in the market. A chart with all its quirky lines can give you a visual representation that maps out buyers and sellers. You can start identifying areas of resistance where there is more supply from sellers, and areas of support where there is more demand from buyers. The market is heavily traded by computers that use those parameters as a reason to buy or sell. Trading machines will sell when a support breaks to the downside. This can lead to stop losses which could trigger more and more selling. This is a big part of what is happening now.
The market right now keeps testing support levels, and going lower. It is telling us buyers are not stepping up to buy. There is little demand for stocks at the moment. How low does the market need to go before finding some support?
The February lows will likely be tested in the coming days. A number of traders are waiting to see this level hit or nearly hit to step in and buy the market.
Buying the dip
Retail investors are in disbelief as to how quickly a good thing went bad. Market gains for the year have been wiped out. Tremendous amount of capital lost in the market. I do think the market is oversold and will recover. Deploying free cash in the market once support is established will be a good strategy. I expect the market to climb higher post midterms and to retest highs by January 2019. The same one track machines that sold the market off will help buy it right back with some momentum from buyers.

Source: Think or Swim
Once we broke the blue uptrend line on the S&P 500 (SPY), you can see how quickly selling escalated. The next support levels for the S&P 500 will be at 2,594, 2,547 and most notable 2,532 (Feb low).
For now the next day or so expect an uncertain market that will go up and down. There are some noteworthy earnings to keep in mind for this week that could impact the broader market.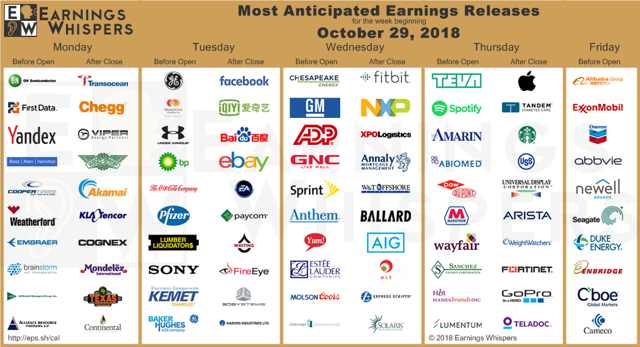 From this list I am especially interested in Facebook and in Apple.

Source: TipRanks.com
Facebook (FB) has maintained its strong buy from analysts with a nice upside in price target despite its selloff. The shorts have increased recently putting further pressure. The stock has also been under pressure from election uncertainties. Facebook needs to avoid any election bias or blame. Overall I think this stock should head higher after midterms. Given the decline in stock price a sign of strength after earnings would be welcomed by all. They are set to report after the market close on Tuesday Oct 30th.

Source: TipRanks.com
The main event comes on Thursday after the close. Apple (AAPL) has been a market leader and has refused to sell off much compared to the market. A decent report that does not cause a heavy sell off from Apple will help restore some confidence for market buyers. Average analysts see a moderate upside to shares with the lowest estimate holding at $200.
My perspective
I expect this week to be up and down while we test and retest supports. If we can get past Apple's report without breaking the February lows then the market will be ready to rebound post midterms.
While this selloff is worrisome, you should not actively trim positions here (It is too late to do that). If you have available cash in the portfolio, this would be the time to add near market support levels. The November meeting between President Trump and China's President Xi Jinping, will spark positive sentiment on a way forward. While I am optimistic post midterms, this market cannot handle another big selloff in early 2019. Ground has to be made between the two countries by January so that markets can focus on a PE expansion in 2019.
Right now my focus will be on buying market leadership and indexes/ ETFs (including leveraged). Like other buyers I will wait to see which support holds end of the week and step in and buy.