Weekly Market Outlook

Earnings season kicks into gear this week starting Tuesday -- some the big names reporting this week include GS, INTC, JNJ, ABT, GOOG, HOG, JPM, LUV, BBT, C & MAT.  On the Economic calendar this week we have PPI/CPI, Retail Sales, and Jobless Claims among other reports.
Many traders are talking about last week's mini-implosion on the
CBOE Volatility Index (VIX)
, which saw this measure of index option implied volatility break below the key 40 level and approach 35.  Some of this is due to the market rally, but other factors contributing to the move down may include low volume, a long holiday weekend, and the approaching summer.
As you can see on the following chart, the VIX broke below its Bottom Bollinger Band on Thursday for the first time in some time.  The Bottom Acceleration Band around 35 is a logical support/bounce area for the VIX.  The 40 level remains key.  We may now be in a 35 to 40 range on the VIX in the near-term. 
VIX Daily Chart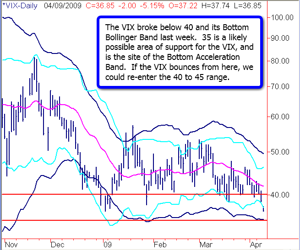 The S&P 500 Index (SPX) and Dow Jones Industrial Average (DJIA) both took out key levels last week -- 850 on the SPX and 8,000 on the DJIA.  Whether these indices can hold these levels after the recent strong multi-week rally will be key to determining whether we are in a trading range or will burst forward to new near-term highs.

SPX Daily Chart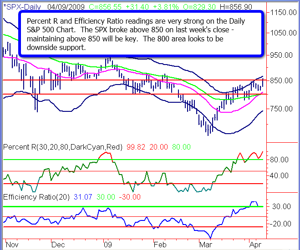 The NASDAQ 100 Index (NDX) continues to be an outperformer, garnering its 5 straight week of strong gains and is even looking positive on the Weekly Chart (see below).
NDX Weekly Chart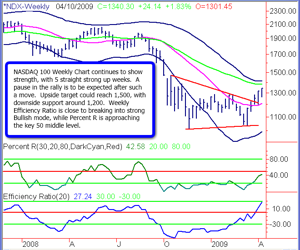 Bottom Line: We will be watching the market's reaction to earnings and future outlooks this week, the reaction often being more important than the earnings themselves.  The 35/40 area on the VIX, the 850 level on the SPX, and the 8,000 level on the DJIA are key short-term levels -- holding these areas will important if we are to continue the recent rally, while failures here may put us back into a trading range.

Trade Well,
Price Headley
BigTrends.com
1-800-244-8736

Disclosure:  None