June 22, 2009
June Expiration ended last Friday with the major indices down sharply for the week.  We are also down thus far on Monday, with the S&P 500 Index (SPX) right around the round 900 level currently.  Earnings Reporting includes some big names in a variety of sectors this week such as (WAG), (NYSE:ORCL), (KR), (NASDAQ:BBBY), (NYSE:DRI), (NYSE:MON), (NYSE:NKE), (NASDAQ:PAYX), (NYSE:RHT), (NYSE:ACN), (NYSE:CAG), (PALM), & (NYSE:KBH). The major economic event this week is the FOMC Rate Decision due Wednesday afternoon, June 24th.  Also due this week on the economic report calendar are Durable Goods Orders, New Home Sales, Crude Inventories, Initial Jobless Claims, Final 1st Quarter GDP, Personal Income and Consumption.

As you can see on the following chart, the S&P 500 has moved into the bottom half of its Acceleration Bands (light blue lines) for several days now.  Our BigTrends Market Timing turned short-term Bearish on the S&P 500 last week on June 18th  -- our Market Timing is a nightly commentary on the markets based on trend and sentiment indicators, call 1-800-244-8736 for more information.  The Daily Percent R reading on the SPX has moved to the lowest levels since the March 2009 market bottom.  Should the 900 strike be violated, potential downside support for the SPX kicks in around the 880 level, which is the site of the recent trading range bottom and also just below the location of the Bottom Bollinger and Acceleration Bands. 

SPX Daily Chart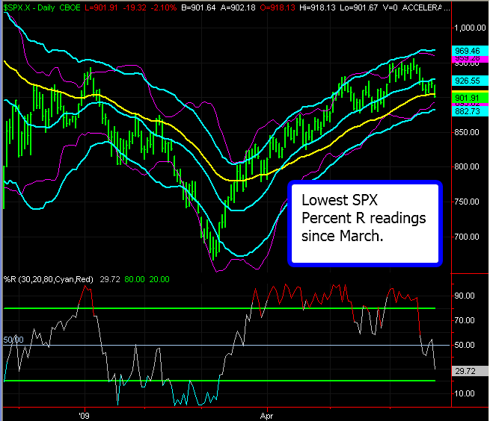 The growth-oriented Nasdaq 100 (NDX) has been an outperformer versus the SPX and Dow Jones Industrial Average (NYSEARCA:DIA) in 2009.  However, looking at the longer-term Weekly NDX chart below,  you can see the underlying downtrend in place since 2007.  In addition, we face potential overhead resistance, both from the Top Acceleration and Bollinger Bands, as well as the round 1,500 level.  


The CBOE Volatility Index (VIX) is spiking up this morning to back above 31.  The VIX has largely been oscillating around the key 30 level recently, with 27 to 33 being the basic range.  However, volatility on the VIX itself looks to be picking up, as you can see from the Percent R spikes in the chart below.  In addition, the implied volatility on VIX options has increased recently, indicating that some traders are likely buying VIX options banking on increased movement.

Bottom Line: We remain in a bigger picture trading range, but we see a short-term bearish bias as we head into the heart of the summer months.  The market had a very strong 3 month move from the bottom in early/mid March to early/mid June, so some sort of consolidation/pullback is a logical possibility to follow.
Trade Well,
Price Headley
BigTrends.com
1-800-244-8736
disclosure - none