According to Incrediblecharts:
A head and shoulders pattern consists of a peak followed by a higher peak and then a lower peak with a break below the neckline. The neckline is drawn through the lowest points of the two intervening troughs and may slope upward or downward. A downward sloping neckline is more reliable as a signal.
http://www.incrediblecharts.com/technical/head_and_shoulders.php
I'm not a "Technical" person, but how about where Gold looks like it might be heading?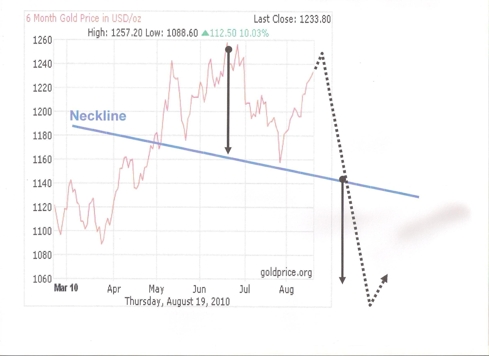 According to the Incrediblecharts you get confirmation if there was:
High volume on the first peak (CHECK √)

Moderate volume on the middle peak (CHECK √)

Low volume on the third peak (CHECK √)
The theory says that a trader should put in stop losses now, and if the neckline is broken (in a month or so), put on shorts with a Target (eyeballing from the chart) of $1,040.
That's the theory anyway, I'll be interested to see if it works.
My view by the way is that at some point gold is headed somewhere in the region of $800, but I am a distinct minority (and no I'm not shorting it, I'm just watching).
Disclosure:
"No Positions"