Happy Thursday Everyone.
We just received a review at BAD BEAT Investing and we wanted to share with you the news, and a sample trade. Everytime we get one, we offer a chance for those on the sidelines to join at a discount. So, the next 4 subscribers can take a free 14 day trial AND get an extra bonus 10% off. This discount stacks onto the 46% discount if you join annually, effectively cutting the price in half.
Take a look at the review, and a sample trade on Slack (WORK)

Feel free to read this idea, which netted returns of 95% on the options in less than 2 weeks. The common stock also returned nearly 20% before we exited.
Here is an idea of what we do:
Consider Cutting It Some 'Slack'
Prepared by Tara, senior analyst.
Shares of Slack Technologies (WORK) have been getting pummeled hard since it reported a pretty good Q2, which was its first quarterly report following their exciting IPO back in June. Still, the stock has been meandering lower since the peak after the IPO. Every investor is underwater right now. In fact, the stock is down substantially from the highs above $40, now trading at $24 even, good for a 43% decline. Should we cut it some 'slack?'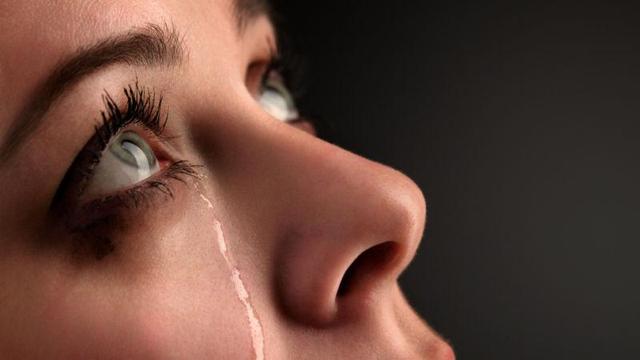 Chris and Tara looked at the stock in the high $20's and didn't like it, however the stock has bounced off of $24 several times. We have taken a position in the mid-$20's, but feel you are getting a better shot in the low $20 range. We think that the stock's valuation has been reset, and both our traders and longer-term oriented investors can consider shares here.

As you can see it has been an ugly run since the IPO, but the last month has been atrocious. These technology plays have been tough to invest in lately, as the general tech and software plays have faced tremendous pressure. That said, the company's numbers are rather strong, and we think with shares in the $22-$24 range you need to consider this name: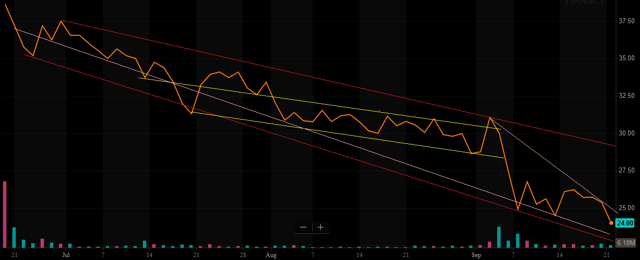 This is a pretty 'trash' chart according to Stephanie, but John has pointed out support in the one-month chart around $24: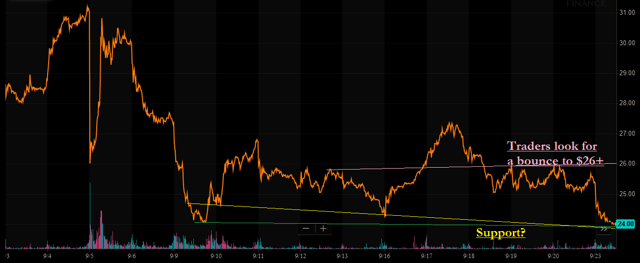 Given the fundamentals of the company, we are intrigued. The Chart since the IPO is worrisome and we can understand if momentum players are skittish here. The one-month does suggest some support here at $24. We are looking to enter for either the short-term, or long-term at these levels. Keep in mind the momentum is lower, but even intraday the stock is bouncing off $24, mostly, but we see it heading lower.
The play
Target entry: $22-$23.75
Target exit: $26.20+ for the trade
Stop loss: $21.20 tight
Strategy 2: Buy lot 1 $23.85, Lot 2 $22. Looser stop of $20.
<Longer-term we look to retake $30.>
Options plays: Apr 2020 $30 Calls at $2.00; Alternatively Sell the OCT 2019 $22.50 for $1.10. You would 'lose' money if the stock is below $21.40 at assignment.
Discussion
The reason the stock sold off is that metrics are decelerating, but growth is solid. It is just not growing as fast as it was, and so, the rich valuation has come down. But at <$24, it is a different outlook that when the stock was mid $30 range.
In the most recent quarter, the customer base hit 100,000 for "only 37% growth" year-over-year. The reason this is bearish is that a year ago the customers were at 73,000 for 55% growth. The growth rate has dipped at least 500 bps per quarter for three quarters now and that has folks concerned on the Street. That said, the overall growth remains strong as a whole: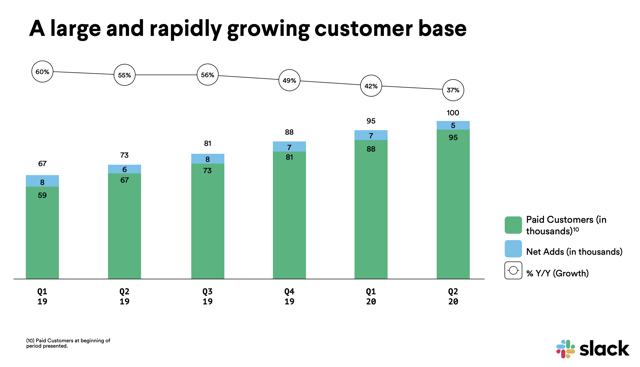 There is pain in the retention rate as well. This is another point the bears made when the stock was in the mid $30's. You seem WORK saw is Q2 net dollar retention at 136%, down from 146% in the same period last year.
Make no mistake, that figure is really strong. But it is less than what is was a year ago. There is also expansion within existing customers, but the Street does not like the retention rate chart: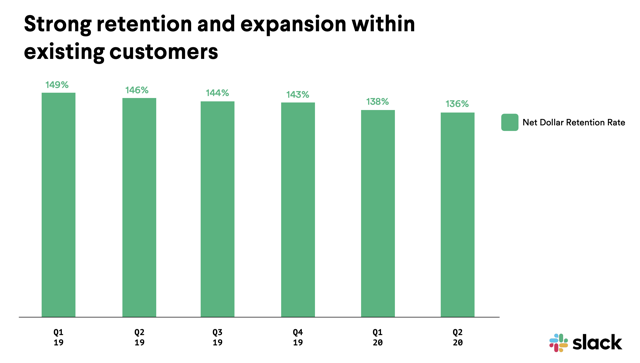 So is the deceleration now priced in?
This is a tough question to answer. How far lower should the stock go to account for deceleration, but also factor in the still overall impressive growth? Turning to the financials, we see revenues still growing tremendously as well.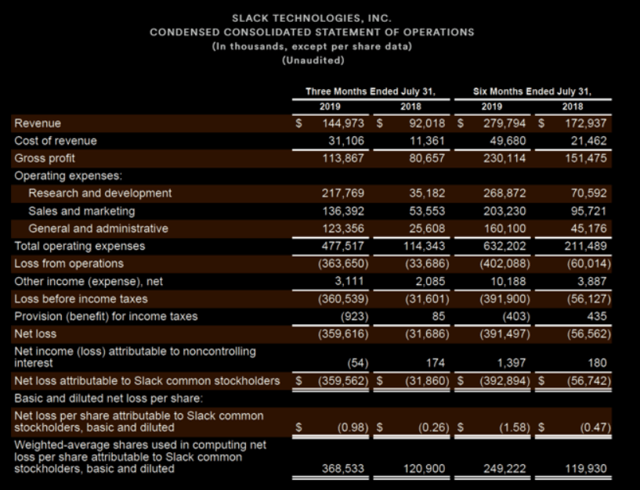 So it stands to reason that if total customer growth slowed a bit as did retention, then Slack's revenue growth probably stalled right? Technically ues, but it still beat expectations from the Street.
Revenue growth 'slowed down' to 'just' 57% year-over-year growth and came in at $145.0 million. Again, this was much better than the 54% growth the Street wanted to see. They were looking for $141.3 million. We will keep an eye on billings as Slack billed $174.8 million in the quarter, representing a 52% growth rate from last year, and this is five points slower than revenue growth.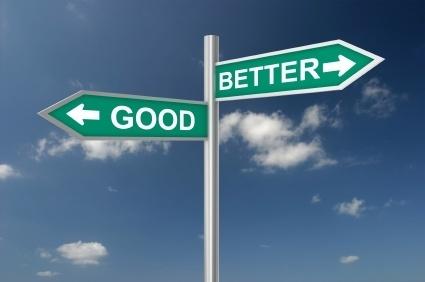 Keep in mind, revenue would have been even stronger if not for some unplanned downtime. WORK saw an $8 million onetime revenue headwind from credits issued in the quarter related to service-level disruption in the quarter. Per the CEO: "Our uptime was 99.9% or 3 nines in the quarter. But this was below our commitment of 99.99% or 4 nines. Service-level disruption of this magnitude is unusual for us. Compounding the financial impact of the down time was an exceptionally generous credit payout multiplier, and our contracts dating from when we were a very young company. We've adjusted those terms to be more in line with industry standards while still remaining very customer friendly. We do not expect a revenue impact of this magnitude again". We feel that is important to consider.
Looking ahead
So now looking forward, the company guided Q3 revenues of $155 million for year-over-year growth of 47%. One consideration is that the fiscal year guidance of revenues reaching over $600 million may not offset the damage of the credit given in the quarter for service outages. That said, overall it looks like going into the following year, revenue growth may only track to 40%. This slowdown in growth rate is the entire reason why shares have been obliterated. The company is projected to reach revenues of $1.14 billion in 2021, and that looks solid.
However, today's selloff is a result of one analyst thinking in his opinion that the guidance is too weak, and that the company will beat estimates. You CANNOT make this stuff up folks. Only on Wall Street can a selloff ensue when the statement suggests WORK will beat estimates. Bernstein says Slack may have given a "softball" Q3 forecast. Analyst Mark Moerdler says the forecast either "shows growth is rapidly slowing or management set the outlook low to achieve a comfortable beat". Moerdler also says that tactic sets "investor expectations of strong beats for the future which may be difficult to deliver beyond the next quarter or two given increasing competition and a trajectory of slowing revenue growth."
Bernstein maintains a Market Perform rating and $28 target.
Kind of insulting. We expect the stock will indeed rebound from where it is.
Buyout target?
With shares dipping well below the IPO price now, we also believe the stock is a possible takeover target, especially if shares bleed lower. There is often a lot of consolidation in this space. Slack could easily be acquired by a larger company, despite its market cap of $13 billion. In recent months, we have seen increased interest in the SAAS space especially with the acquisition of Tableau (DATA) being bought by salesforce (CRM). Other companies have expressed interest in the industry. There are some big names here. For example, Facebook has launched Workplace. Google has always had Hangouts. While no acquisition attempt has been announced, we could easily see Slack's solid platform that is fast-growing be picked up by any of the larger leaders in the tech space.
Take home
How low can you go is the question here. At some point WORK is a buy. We did not like it at 28. We do like it a lot more in the low $20 range, closer to 22-23.
We turn losers into winners
Like our thought process on Slack? Stop wasting time and join the community of 100's of traders at BAD BEAT Investing.
We're available all day during market hours to answer questions, and help you learn and grow. Learn how to best position yourself to catch rapid-return trades, while finding deep value for the long-term.
You get access to a dedicated team, available all day during market hours.
Rapid-return trade ideas each week.
Target entries, profit taking, and stops rooted in technical and fundamental analysis.
Deep value situations identified through proprietary analysis
Stocks, options, trades, dividends and one-on-one portfolio reviews.

Disclosure: I/we have no positions in any stocks mentioned, and no plans to initiate any positions within the next 72 hours.