We are not kidding, here's a small sample of some of our rapid-return trades
This Friday, February 7th, our fast growing service, BAD BEAT Investing, will raise prices 15%. That is not a small sum. On top of that, you will no longer be able to try the service for free. We are making our last pitch to you to strongly encourage you to sign up for a free trial to the service this week. If you do, we will knock an additional 10% off the price of either a monthly or annual subscription. We recommend the annual since you save 50% versus the monthly price. 

No thank you, I do not value my financial future
Come check us out BEFORE prices go up. Financial freedom is within reach, and we have helped hundreds of members learn to spot easy trades, learn options, separate their trading from their investing, and perhaps the best value, is that we sit down and go over your entire portfolio when you become a full member, and offer unique analysis and thoughts for consideration on how to best position. We have turned many losers into winners.
Think about it
Let's be honest. If you are an investor and one that likes to trade, you are blasted with market opinions and news each and everyday. We get right to the chase with key commentary and direct trade ideas that are clearly spelled out in our columns. Our team of 4 applies a rigorous rubric to identify potential ideas in the short, medium, and long-term. We take the guess work out so you can pick the trades that best suit you and your situation. After your trial, we offer direct one-on-one guidance and portfolio reviews to help you better position. Start winning today.
Does it work?
We had an 85.72% win rate in 2018, defined as the stock in question hitting our target exit before hitting our stop loss levels. Average returns for all trades combined (winners and losers) was 17.4% in 2018. Average returns for positive trades (one's that were not stopped out) were 21.2%. In 2019 our win rate was 79.5%, with average returns of 39.9%. The average time frame for a trade to close is approximately 8 weeks. 
We are not kidding, here's a small sample of rapid-return trades
Here are just a few of the WINNERS we have pegged for medium-term holdings
Are you available to help me?
YES. We are arguably the most accessible team out there. We are available all day during market hours, except for Wednesdays, where we meet with management teams, hold conference calls, and conduct member portfolio reviews.
Our chat generates incredible ideas. Here is one recent example. See, we have 1-2 trade ideas a week with short-term horizons and at least one deep value ideas a month. But we also have a very vibrant chat service, and that is where we will post some of our ideas that we have conviction on or special thoughts on.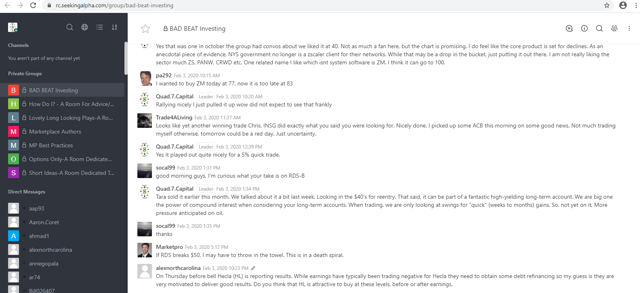 Isn't padding your returns worth about $1 a day?