Get On Board Or Get Run Over-Cash In This Week
Please Note: Blog posts are not selected, edited or screened by Seeking Alpha editors.
Summary
Non-stop winning.
Overall market attention will be focused on this crazy idea that markets can move downward.
We are watching 265 on the (QQQ) and 325 on the (SPY) as key levels. Closes below there could trigger more selling.
The opportunity to make solid money.
If you hesitate, you are losing. Check out the numerous ideas we shared here.

It was a brutal end to a week that usually sees big money leave early for vacation. The volume suggested there was cause for concern, but not panic. The big intraday rebound Friday was encouraging, but not a guarantee that pain is done.
The US reported a higher employment figure, 1.37 million jobs, than the forecast 1.32 million for August.
The level of unemployment is well down, at 8.4%. That's the good news. The bad is that our trade deficit in July hit a 12-year high as imports replace what would have been made in the USA.
Overall market attention will be focused on this crazy idea that markets can move downward. We had become spoiled, it is true. Markets simply cannot go up forever. We are watching 265 on the (QQQ) and 325 on the (SPY) as key levels. Closes below there could trigger more selling. We do not see a crash coming but are trimming big winners as we have been. We are comfortable owning/buying into rotational names like the cruises, entertainments, industrials, and financials. Energy continues on its own path, perhaps because of weather, possible hurricane season, etc. Financials and industrials have leveled off, but still look ok. Materials and semiconductors are weakening. Utilities and consumer staples are showing strength too. The wild card is precious metals. We remain bullish, but the near-term is fuzzy.
As we celebrate labor day, we have a special offer for you. Today ONLY, we are offering our semi-annual 60% discount to BAD BEAT Investing. Yes, the discount is 60% off what monthly members are paying if you sign up for an annual membership. It pays for itself. Below we explain why. At the least, take up to 2 weeks free. Check it out if you want to be a winner in up and down markets.
No thank you, I do not value my financial future
Come check us out BEFORE prices go up. Financial freedom is within reach, and we have helped hundreds of members learn to spot easy trades, learn options, separate their trading from their investing, and perhaps the best value, is that we sit down and go over your entire portfolio when you become a full member, and offer unique analysis and thoughts for consideration on how to best position. We have turned many losers into winners. Do not take our word for it, check out a few recent reviews: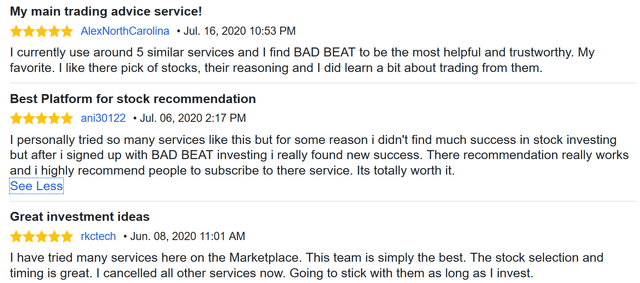 So why bother. What do you offer that I do not get on the free site. Simple. Money making ideas, both written one-two ideas a week on average, as well as the most responsive chat service in the marketplace. We also post several ideas a week in chat, including some that are highly speculative, some that are short ideas, and some that are options.
We have several rooms. Here is a shot of what it looks like: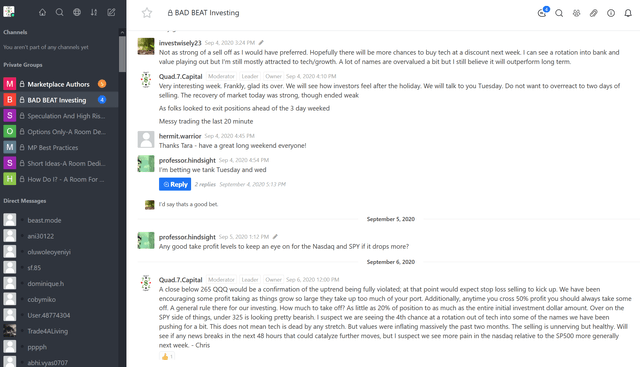 But what kind of ideas?: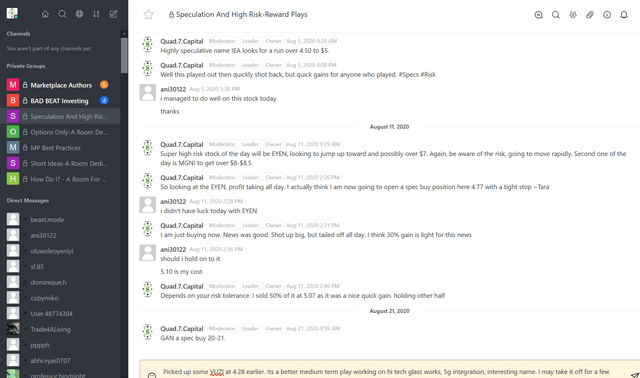 Direct actionable feedback:

Here is a recent trade idea just for reading which we think is useful for you:
BioMarin Slammed: We Are Buying
Aug. 19, 2020 2:02 PM ET (BMRN)
Summary
Quick read.
Few entries with a short-term target and longer-term.
A delay not a flat rejection.
Actually makes money.
Prepared by Tara/Stephanie
Shares of BioMarin (BMRN) are getting crushed following a snub from the FDA on its hemophilia drug, asking for more follow up data. This has pushed the timeline out to late 2021 on this drug. A big painful hit for sure.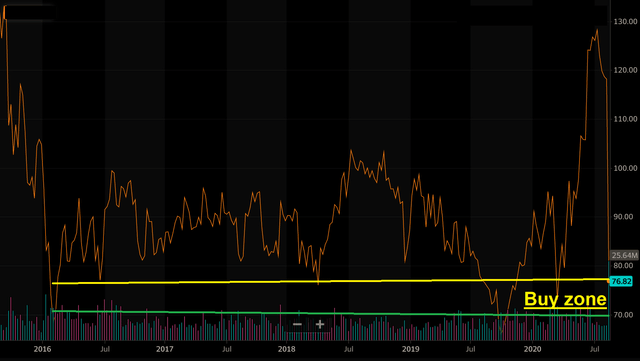 Shares are now down to $75 a share, and we are looking to get in
The play
Target entry 1: $75-76
Target entry 2: $73-$74
Target entry 3: $70-$71
Double down $65
Stop loss: $58
Short term price target: $84-$85 (days to a few weeks)
Longer-term target: $100-$105
Note these are suggested ranges for entry
Discussion
Interesting little company here. Founded in the late 1990s the company has seen shares trade at $40 in 2007, those shares hitting a high around $150 in 2015, and ever since have mostly traded just below the $100 mark until last few months where it was well over $100. We think shares come back.
The run to its highs in 2015 was driven by revenues increasing from about $100 million over a decade ago towards the billion mark.
This impressive result was not all achieved on an organic basis, as deals and losses made that the share count essentially doubled over the same period of time. The advancement of the company started with Aldurazyme for which FDA approval was obtained in 2003 and Naglazyme which followed in 2005. FDA approval for Kuvan was granted in 2007, yet despite a reasonable run-up in product sales the company was still losing money, in part because R&D expenditures stood at around $300 million per annum. Following FDA approval of Vimizim in 2014 the company had 5 marketable products (including Firdapse) which generated nearly $900 million on a combined basis in 2015.
Shares have been in the triple digits. With shares hitting a peak of $150 in 2015, the company was valued at around $24 billion, for arguably very steep valuation multiples, as the company was continuing to lose money. Now it makes money. Not a lot of it, but it is EPS positive.
Since the peak in 2015, shares have lost nearly half their value, as the market has seen decent returns of course over the past years, marking even larger relative underperformance. This underperformance has mostly been driven from the high valuation/expectations at the start, a failed $700 million acquisition of Prosensa, as continued growth has steadily made that valuations have come down.
2017 had been somewhat of an important year as the company obtained approval for Brineura and in early 2018 it turned out that the company grew full year sales by 18% to $1.31 billion.
Growth was driven by double-digit percentage increases in Kuvan, Naglazyme and Vimizim, with revenues of all three products coming in between $330 and $410 million.
Sales of Aldurazyme fell 4% to $90 million as Brineura generated $8.6 million in their debut year. The company reported a net loss of $117 million and adjusted profit of $74 million, making that the company is largely breaking-even.
The company guided for 2018 revenues of $1.50 billion and adjusted profits of $120 million and GAAP losses of around $140 million. Nailed it. Revenues came in at $1.49 billion, in line with expectations. Sales growth of the top three products was relatively modest, revenues of Aldurazyme jumped 50% to $135 million, and Brineura generated nearly $40 million in sales in its second year.
Further encouraging, the company obtained approval for Palynziq in 2018, contributing $12.2 million in sales. The company furthermore guided for 2019 sales at a midpoint of $1.715 billion and modest GAAP losses, in combination with increasing adjusted profits.
Take home
Today's news was frusturating. But it is not a denial. The real potential is the pipeline as BioMarin continues to see healthy growth in the meantime, and more importantly quite diversified growth. Hence, we see value at these levels, down 36% today, provided you have a medium-term outlook and confidence in the pipeline conversion. Short-term, we think there is a relief rally into the $80s.
Disclosure: I am/we are long BMRN.
Labor Day Week Special: Secure Your 60% Off Discount Now
Like our thought process here? Stop wasting time and join the community of 100's of traders at BAD BEAT Investing at a compounded 60% discount versus the regular monthly rate!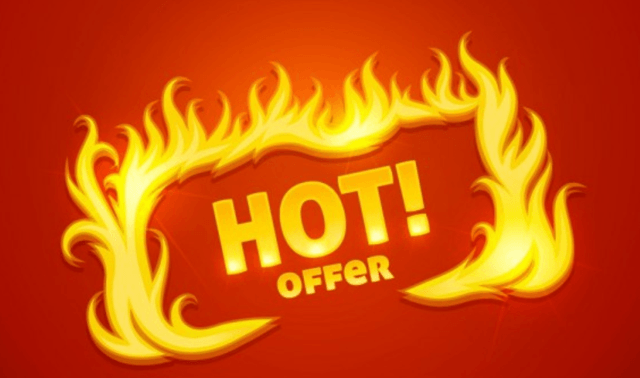 Full access to an expert team of 4, available all day during market hours.
Rapid-return trade ideas each week, as well as market commentaries
Target entries, profit taking, and stops rooted in technical and fundamental analysis
Monthly deep value situations
Stocks, options, trades, dividends, and one-on-one portfolio reviews

Analyst's Disclosure: I am/we are long MANY STOCKS.
Seeking Alpha's Disclosure: Past performance is no guarantee of future results. No recommendation or advice is being given as to whether any investment is suitable for a particular investor. Any views or opinions expressed above may not reflect those of Seeking Alpha as a whole. Seeking Alpha is not a licensed securities dealer, broker or US investment adviser or investment bank. Our analysts are third party authors that include both professional investors and individual investors who may not be licensed or certified by any institute or regulatory body.