Both technically and fundamentally it looks to me like the market has rallied about as far as it can go in this cycle.  I don't think any kind of crash is imminent, and I expect choppy trading , but I think the larger trend will continue to be downward from the April highs.  My belief is that we experienced a tremendous bear market rally that has finished running its course over the last 8 months.  The S&P is showing signs that are typically associated with significant tops.  I believe that Central Banks, especially our own Fed, will continue to do everything within its power to keep asset prices – including stocks –  as inflated as possible.  That said, I'm not sure the Fed is capable of succeeding as credit contraction continues. 
We had a technical "bearish wedge" in the S&P resolved to the downside last week.  In doing so, the chart may have started the final stretch of completing a Head & Shoulders pattern.  Head & Shoulders patterns are often associated with major tops.  S&P is also back under all the major moving averages.  Piling on, the deterioration of macro-economic fundamentals continues, and "leading" indicators like the ECRI Weekly Leading Indicator continues to be well into recession territory, as does the Consumer Metrics Institute Growth Index.  Plus of course the more standard reports (housing, manufacturing, consumer confidence, etc) continue to deteriorate in the U.S.  A rally above 1150 in the S&P would cause me to re-evaluate my bearishness, as would a major QE2 push from the Fed or Administration (although I think it would be just another case of delaying the inevitable).
   Bearish wedge in the last rally, and Head and Shoulder topping pattern of the last 9 months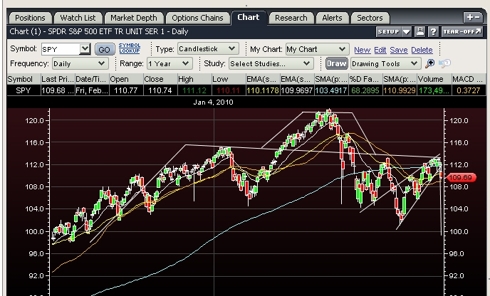 Typically the 10 year U.S. Treasury bond has traded in sync with the U.S. equity markets.  But the last few months have seen extreme divergence, with the bond market much more pessimistic than equities.  U.S. Treasury bonds are basically pricing in deflation (10 year at 2.65% minus 3% standard inflation equals -0.35% real yield).  The funny thing is that, while bonds have rallied spectacularly (and may have further to rise, especially if equity markets sell off), it is probably in a bubble given the structural debt problems facing all of the "safe haven" sovereign issuers like the U.S. and Japan.  When bonds and equities diverge this much, one market has got it very wrong. 
   Yield for 10 Year U.S. Treasury Bond (in blue) vs. S&P (in red) over the last 5 years.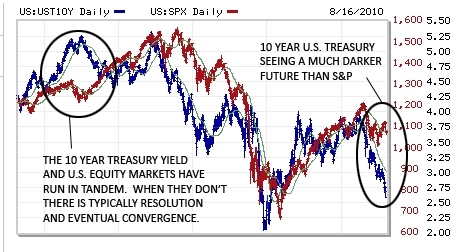 Another indicator worth keeping a close eye on is the U.S. Dollar.  In general, it has tended to be inversely correlated to the U.S. equity markets over the last ten years.  It's also important to note that, typically, the Dollar move has led the S&P, not trailed it during these shifts though there is definitely a chicken-and-egg relationship, with sellers buying dollars by default as they exit positions in other currencies/commodities with greater risk as part of their "flight to safety".  If I had a dollar chart that went back 10 years, we'd also see that a significantly weakening dollar was key to the large S&P move up during the mid-2000's.
   U.S. Dollar (in blue) vs. S&P (in purple) over the last 3 years.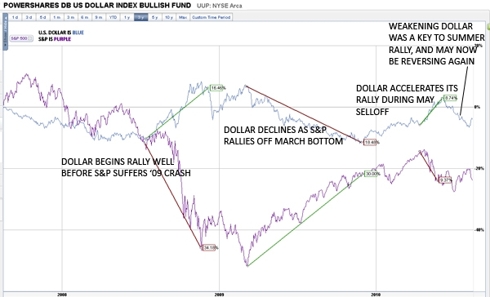 As a bearish aside, you can add the appearance of the Hindenberg Omen to the many technically bearish indicators in play.  It is currently unconfirmed (needs to re-appear within the next month) the Hindenberg Omen says, in spirit, there is a great divergence of opinion that must be resolved.  There are many criteria (enough to make one very skeptical), but at the heart is a simultaneous surge in both new highs and new lows.  Point being – one side or the other is wrong, and like with a tectonic plate, resolution can be sudden and jarring.  The Omen has given off a number of false signals (only 25% have been followed by a "crash"), but has appeared before every market crash since 1985.  Whatever that's worth.  P.S. - I don't expect a crash.  I expect developed world markets to grind lower for a year or more.  That said, European CDS is starting to blow out again as people realize that Europe my well slip back into recession (Ireland CDS at all-time highs today, Greece back to its highest since May 10), and if sovereign debt issues explode again in Europe, a crash seems plausible.
As a curious aside: JNJ just sold 10 year bonds at 2.95%.  The stock's current yield is 3.73%!  How's that for collective bearishness towards the stock??
Disclosure:
Currently short via SDS, EPV and FAZ. Long nothing mentioned.