Apple Inc., will announce it's third quarter earnings on Tuesday, July 24th. The fundamentals and growth of the company should inevitably lead to higher share prices in the future. In Apple's second quarter the company earned $11.6 billion in profit on revenue of $39.2 billion while expanding cash reserves to over $100/share.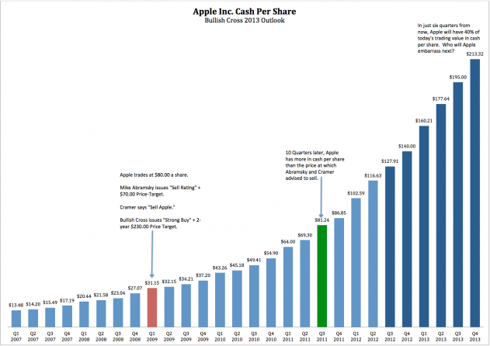 Apple July 24th earning report
How to profit- Sell Aapl Aug18 525 put
My options strategy for Apple's earnings report after the bell Tuesday, July 24th is to sell Aapl Aug18 $525 put for $2.43. The strategy is a winner if Aapl goes up, stays flat, or goes down slightly. It loses only if the share price finishes under $522.57 on Aug 18, 2012, a 13+% decline in under a month.
Why $525? Why Aug 18?
I feel that this is a comfortable safety margin for the stock and believe it is very unlikely Aapl will make a $80+ downward move in 27 days. With 27 days to expiration, at this strike price, time decay will quickly lower this option value. $500 is too far away to use maximum advantage of time decay and $550 is too close for comfort.
In making this trade I will collect $243 for selling one put contract. To sell this put I'm required to put up $5,480 per contract as a maintenance requirement with my broker. Assuming Aapl is trading around $605-$610 at earnings, my safety margin for this trade
is 605-525= $80 move in apple share price.
My hope with this trade is that Aapl will go up after earnings. If it does the value of the put option I sold will fall quickly to almost nothing. Since I already sold that put, I'll be able to buy it back very cheaply (cover it), keeping the remainder as profit. This scenario would profit about 80-90% on the put by Wednesday morning.
If Apple remains flat after earnings I'll profit as well. The upcoming earnings report has elevated options prices. If apple comes through earnings and remains near flat, the put options will quickly fall. At this point, I will cover and take a quick profit.
The Bottom Line
This is a relatively conservative strategy. You stand to collect $243 up front per contract (broker maintenance requirements may vary). You profit quickly on this trade after earnings if Aapl goes up, stays flat, or even falls slightly. It is always easier to predict where a stock won't be than where it will be. I will explore this topic in detail in further articles. I am also planning an after Aapl earnings follow up article.
Disclosure: I am long AAPL.
Additional disclosure: I am short Aapl Aug 18 puts.