A couple weeks ago I wrote about Sturm, Ruger & Co (NYSE:RGR) as a potential stock for CR Investor (crinvestor.net) real money portfolio (click here to view  my past article). Well, after spending some time at my local gun range I couldn't resist my urge to dig deeper into RGR.
RGR as a company feels very much like an their SR9c model - smooth, compact and explosive with rising revenue, profit margins and free cash flow. When combined with a ultra low EV/EBITDA multiple I was ready to squeeze the trigger and issue a trade alert for CR Investor members.
Recent financial results for RGR are summarized below.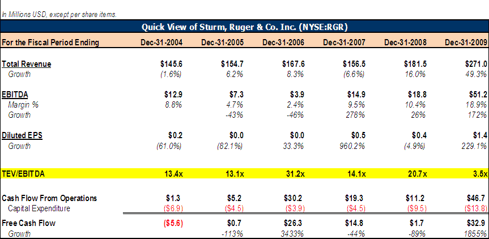 As much as I wanted to pull the trigger and issue a Buy rating, I knew I had to dig deeper and gain a better understanding of the company.
The nice revenue growth in 2008 & 2009… Chalk that up to President Obama and the public's perceived fear of a gun ban.  A key metric in determining demand for new guns is to track monthly background checks, and we have found that the number of new background checks per month is well off the highs of 2009.  To further compound the problem, RGR has no government or military contracts which are a good secure source of steady revenue for many gun manufacturers. Therefore, RGR is set to rely on civilian purchases and in our view peak buying has already occurred.
Another negative about RGR is the declining economics of the industry itself. Gun regulation is becoming increasing more stringent which makes continued success difficult.  In essence, we can expect more adverse laws to gun ownership.  Also, RGR depends on new gun sales and has to compete against itself when a potential gun owner weighs the pros and cons of a buying a new or a used Ruger firearm.


That low multiple for RGR was prevalent of the industry. More troublesome, is that RGR has found itself trading at an EV/EBITDA multiple of less than 5x in the past. Therefore, I can't say with 100% confidence that today's multiple is a result of an irrational market. But rather, the market was being irrational when RGR was trading above 10x. With that being said, I can easily see RGR trading at a EV/EBITDA multiple higher than 5x but less than 10x.



After careful consideration, I see only 10% to 20% upside for RGR which is not a large enough margin of safety. Therefore, RGR will not be finding a home in the CR Investor model portfolio.   
For access to our market beating real money portfolio and trade reports please visit www.CRInvestor.net.

Happy Investing,

Alexis Evidente
www.CRInvestor.net
Currently I do not hold a position in RGR,
If you really want to see our investment process in action please go to our site
www.CRInvestor.net
. You will find unbelievable research and reports that captures the true essence of value investing and education. We show our members how to become better stock pickers by sharpening their valuation skills. Our reports provide institutional level research never seen before on the retail level. We found Joe's Jeans (NASDAQ:JOEZ) at $0.22 which yielded an 845% return, and Hi-Shear Technology (HSR) that returned over 199% before being bought out. Not to mention that our results in 2009 outperformed the S&P by 69.6% and we have the brokerage statements to prove it!
Disclosure:
No position held