The brief anatomy of a short squeeze
I picked this topic is because I got an email from a fund manager I met way before. I have to shuffle through my hundreds of name cards to call my memory back. There he was, I think it was back in end 2007, I met him during a conference, sitting next to him.
I vividly recall, he asked me what I was thinking about the Hongkong exchange, the exchange itself is listed, and he got a very big short on it. HK exchange is a good market short, normally when the market turns bear, the volume shrinks, less fees, less IPOs. So shorting it is a market hedge. I think I told him, almost everyone has short on this, yes to a certain extent. He said not him, he shorted big, within two months, this position cost him 10 mln dollars, and he wanted to sue the HK government, oh that's why I remembered him. Usually when we lose money on a position, we just pack our bag and start somewhere else, unless, we think it's not fair. Back then HK government increased 5% of its holdings in the exchange, instantly lit the fire, plus all the news that domestic-hk express train(about investment) will get approved soon, the price rallied 50% in two months, remember this is a 2 bln HKD market cap stock. So a lot of shorts have lost big.
And that was a story about a short squeeze, except for some QDII managers genuinely believe the price is still low, most just shorted and have to cover at high prices.
A full anatomy of a short squeeze will take a week to write, my model contains 12 parameters, with 5 linked to Bloomberg real time. It's not easy to identify, but when you do, the pay off is handsome. So I'll just have an outline of the principles.
First, it starts with a story.
Second, the story must be bought and long only funds will start buying
Third, the story is getting real.
Fourth, the short squeeze, the expectation is treated as fundamentals, namely long term prospect and near term reality is mixed.
Fifth, the crash.
Everyone knows BYD, 1211HK, this is a perfect example, after Buffett bought at 8, take a look at the graph in the attachment, the buffet effect and BYD's battery and new energy car prospect is being reflected as the genuine buying of the long funds, until end of June. After that the short interest indicators went up, seriously up, and the indicators has been leading every run up to new levels, namely, the stocks in being brought to new levels by the shorts and every run up is around the 35-50% range. Since the beginning the this year, the stock has been a 6 bagger.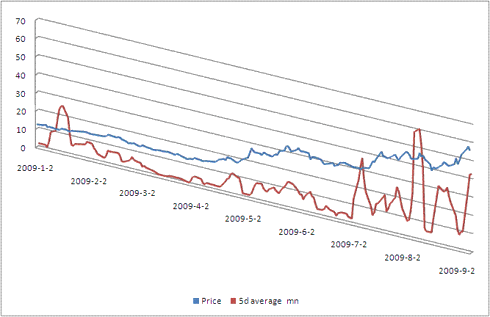 A week ago, during an analyst briefing, I was convinced, the story is built in, the prospect for many years down the road is now priced in the DCF calculations.
I'll make some quotes:
"Over 2010F-12F, 20 global automakers will race to launch Li-ion-based cars, suggesting a supply-constrained environment for battery makers. We believe intracity fleets such as buses and taxis provide a ready market, on top of which adjacent markets (utility batteries) present upside. LG Chem and BYD are our top picks.  
Can transformational themes be priced in six months?
We underestimated the pace of technology changes; but typically multiyear stories can never be fully priced in over just six months. Penetration forecasts are meaningless, given unpredictable factors. However, working backwards, the US$12.9bn rise in the industry's market cap translates into 5% penetration, for a market size of US$12.3bn, by 2015F.The latest forecasts by industry leaders/governments call for 7-8% penetration, which suggest potential upside of at least 30% to this market size. Upside could come from the latest government initiatives and new business models that defray battery costs. Each 1pp change in auto penetration by HEV/EV batteries would add US$2bn in sales, or 25% to the Li-ion battery market size (US$8bn in 2008).

Channel strategy to be the key success factor
In China, with government led buying, fleets provide an attractive means to get ready economics. BYD's technology is suited for intra-city driving in China, with a ready market for vehicles operating on fixed routes (eg, electric buses and postal fleets). Assuming that 25% of China's fleet alone moves to electric, this would suggest a US$3.3bn market size for car batteries by 2015F. While Japan battery makers have the most advanced car battery technology, they have formed JVs with Japan auto makers (a captive market). This leaves the Korean battery makers as likely suppliers for the 13 US/European automakers scrambling to comply with changing regulatory stances. LG appears ahead in the US in terms of channel strategy, and SDI is focussing on Europe."
Here we go, the story writes itself. When the analyst briefed to me, I smiled. It looks like the last leg up to me.