East Coast Basin is a term you may start hearing more often.

These are vast resources, and they are in a region of the world where they can be extracted properly, safely, and transported by sea to any other port. This represents an unprecedent opportunity.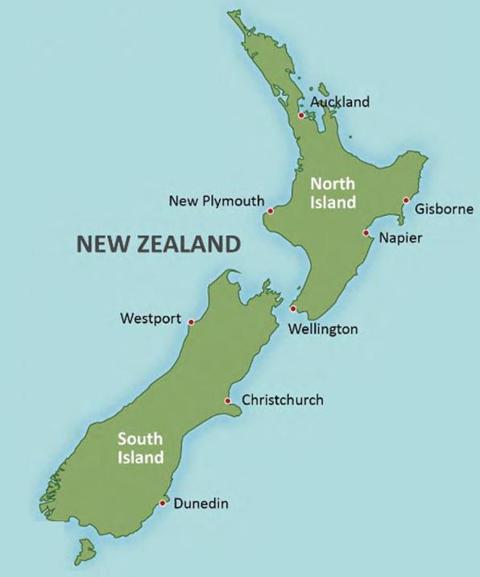 New Zealand's NORTH ISLAND has a vast prospective oil reservoir with shale that contains potentially commercial quantities of oil trapped in shale.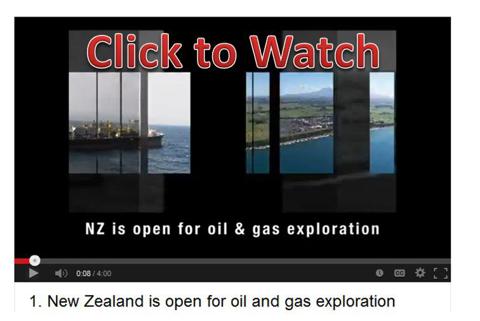 Until research from the Bakken Formation paid off and other North American shale exploration was proven successful over past few years, these type of shale plays we're thought "un-economic".That attitude has changed, and fast, with the incredible success in North Dakota, East Texas, Colorado, and Saskatchewan.
Now the combination of 3D Seismic, Horizontal Drilling, Hydraulic Fracturing and other game changing surface and downhole technologies are bringing excitement to areas with similar exploration potential in shale.
If no proven oil reservoir was already drilled in an area you can buy land or obtain exploration rights for reasonable sums of cash, then if drilling confirms the prize is economic, you can be the first player in a very profitable business from ground zero.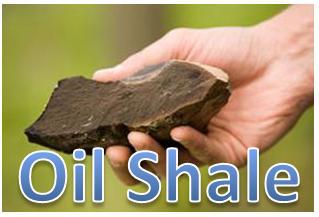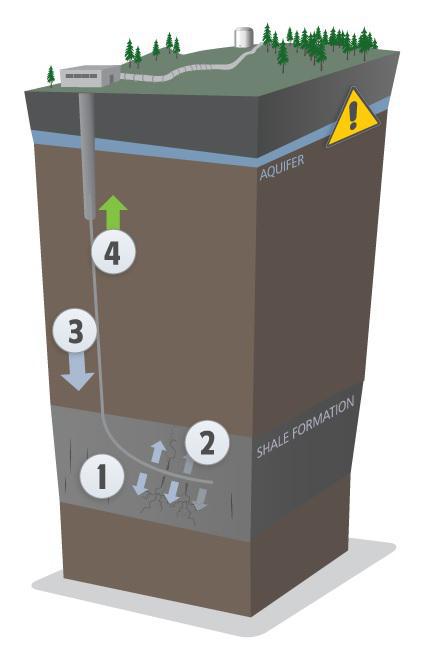 This is similar to what is happening on New Zealand's North Island right now. Exploration permits have been bought up by the wheelbarrow and technical expert laden exploration companies are making their calculated bets on where chance, science and nature can create opportunity. This very hard, expensive, risky work, but the rewards are so compelling it's easy to see the reason people dedicate their lives to such an exciting pursuit.
Tag Oil Ltd. and New Zealand Energy are two companies with large ambitions in exploring the East Coast Basin, in New Zealand.
The Geology found here is a rather rare find in the world, almost like the probability of finding a pink diamond in a diamond mine. The attributes that make for good oil exploration rock are not easy to locate by chance so this particular play has the oil industry in new zealand very excited.

Both have purchased considerable acreage positions targeting oil shale reservoir rocks in the basin on the east coast. The Ngapaeruru well is one exploration well drilling right now that could help confirm the expectations of exploration geologist and geophysicist, that not only is the oil there, but it exists in quantities and of a quality decent enough to spark off a new Oil Boom like the Bakken did for North Dakota.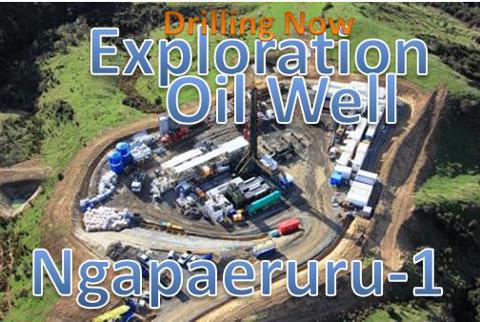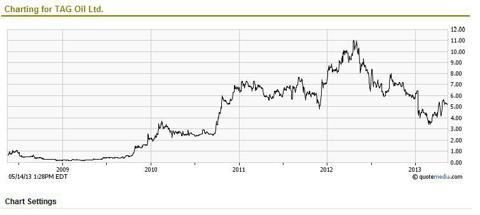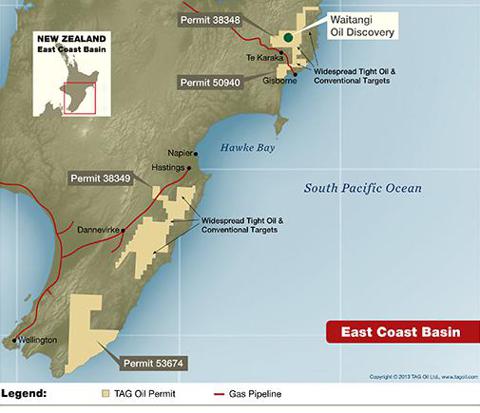 For more info: www.tagoil.com/

www.tagoil.com/20130507-TAG-Oil-Ngapaeru....asp
The rock considered the pay zone is 300-600m thick in some areas,(and it is that thickness that over many kilometers could spelling hundreds of million, or billions of barrels of recoverable oil.
Tag Oil Unconventional Oil Play Targetes Eocene and Paleocene rock layers, dubbed the WAIPAWA and WHANGAI.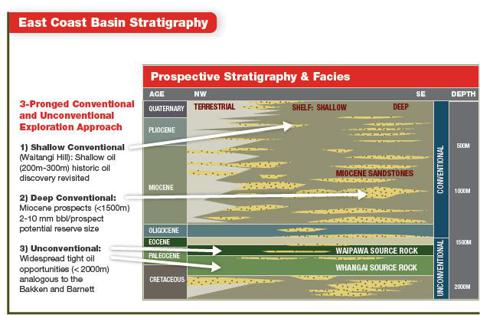 this combined with exploration attributes like porosity, permeability, total organic content and other geoscience numbers show big promise.
(click to enlarge)
The Chart Below is the wild ride you need to be able to stomach to be an exploration basin investor. Its up, its down, its no news for weeks, months, then whammo an event occurs and the ride starts again.

5 years ago you might have experienced no activity, until a few wells added some barrels per day, the gains are attractive, but take your profits when they come because their are more wells coming and not every one is a success. You can pick up shares for near 1/10 of the cost from a year ago, and any week now could be an event that propels the company to new heights.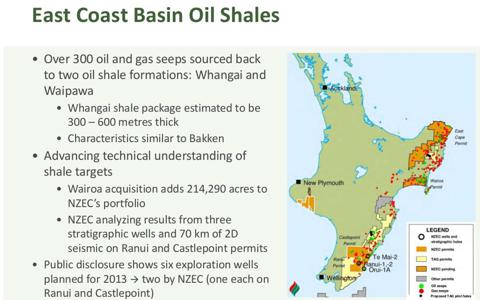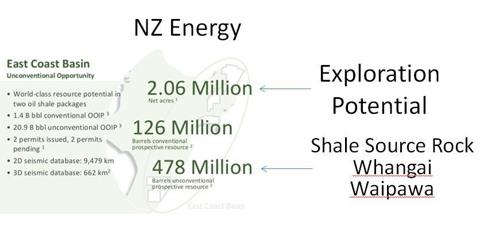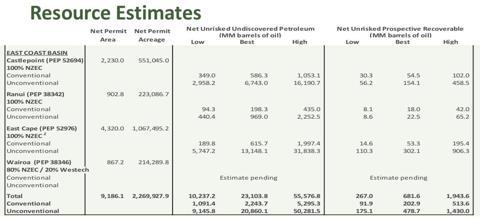 A commercial discovery by anyone in the East Coast Basin will translate to floating all boats (share prices, land prices) on the ocean of shale oil exploration in NZ.
Meaning existing Land values should rise sharply for all players if any one player in the region hits pay dirt. So new entrants will have to pay much more to buy land, making the existing land owners wealthier. At least this is what happened between 2006 and today in North Dakota's land targeting oil shales)
THE 2012 BLOCK OFFER RESULTS
(The Permit Number and Block refer to Land awarded for Exploration)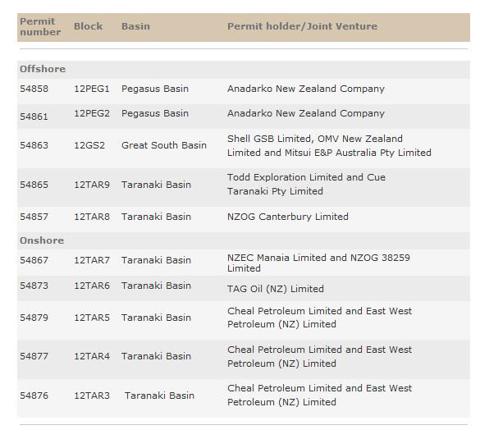 THE 2013 BLOCK OFFER bid Deadline is SEPT 26, 2013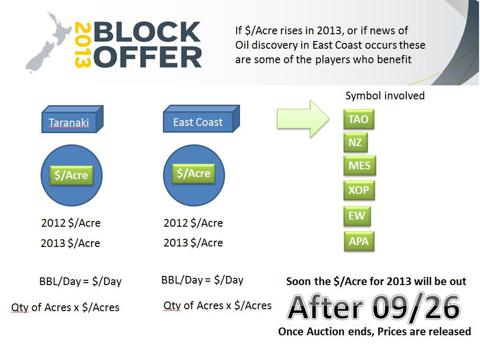 THIS IS WHEN EXPLORERS BID FOR NEW LANDS TO DRILL ON.

(Blocks offer 2013 Taranaki Basin )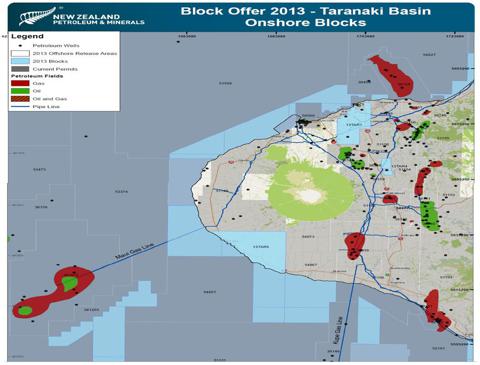 Onshore Blocks: Five pre-defined blocks, covering 1,562.7 km2 in total, in the Taranaki and East Coast regions. Bids for onshore blocks are for single blocks.
(2013 East Coast Basin Blocks up for sale)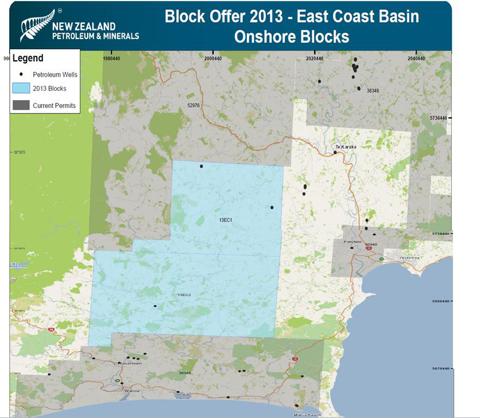 When we learn what the prices paid for Two blocks covering 1,320.6 km2 in total. BLOCK 13EC1, 13EC2 in the east coast will be interesting,after Sept 26 the bidding closes, sometime after that the $/Acre paid will be announced.
If that $/Acre is substantially more than 2012, it may indicate the interest in the Oil Shale is based on stratigraphic data confirming oil exists beneath the permit holders lands.

SOME OF THE LARGE LAND HOLDERS IN THE EAST COAST BASIN.
There are many companies acquiring land in NZ, like APACHE Oil and smaller companies, but the pure excitement lies with those going where no one has gone before, the risk takers, the explorationists, and these two Tag Oil and NZ energy are well positioned to make discoveries for years to come.
OTHER EAST COAST BASIN, EXPLORERS: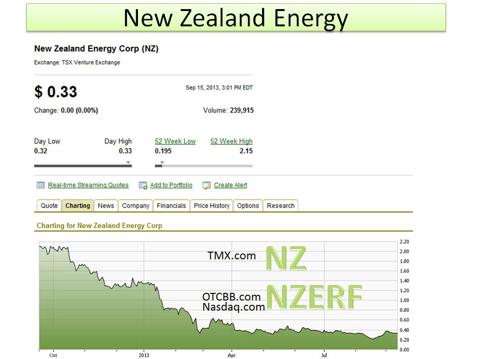 Presentation
Instablog on Waihapa
Instablog on New Zealand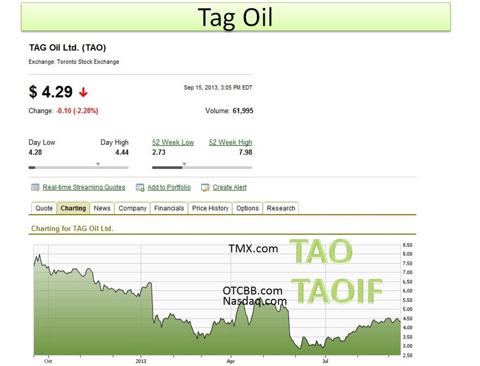 East Coast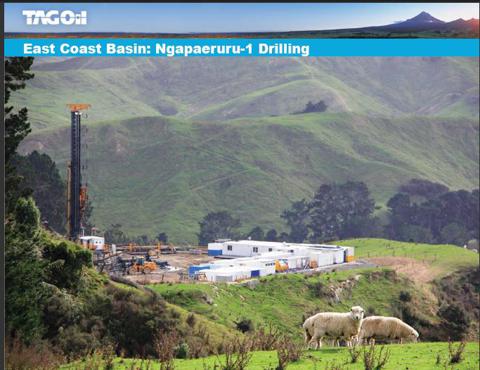 Click Link to Read Investor Presentation July 2013
Previous Instablog on Tag, share price bounced back over summer.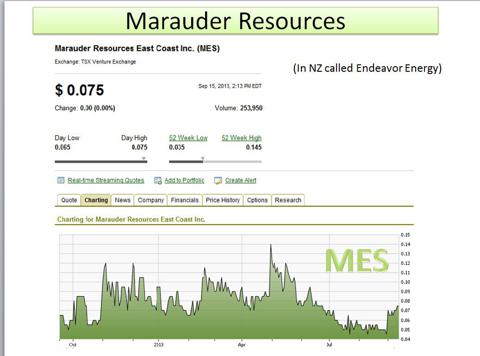 On November 1, 2012, Marauder announced that its wholly owned subsidiary Marauder Resources East Coast (NZ) Ltd was awarded PEP 53806 in the East Coast Basin of New Zealand. Marauder will be the initial operator of the permit with Canadian Overseas Petroleum Limited as a 50% Joint Venture partner. The permit covers 238,363 acres with an initial term of 5 years. On May 23, 2013, Marauder announced its New Zealand subsidiary has been renamed Endeavour Energy (NZ) Ltd.
The East Coast Basin is considered highly prospective for large accumulations of oil and gas with over 300 surface seeps present. The recent focus in the basin has been on a potential light oil unconventional resource play within the Paleocene to Cretaceous aged Whangai and Waipawa shales.
These formations exhibit characteristics similar to the productive Bakken Formation in Saskatchewan and North Dakota. Offsetting permit holders in the basin
TAG Oil and New Zealand Energy, have had third parties assign shale oil resource potential of 12.6 and 20.9 Billion Barrels Original Oil In Place respectively.
http://www.maraudernrg.ca/operations/MARAUDER_EAST_COAST_BASIN2.pdf
-----------------------------------------------------------------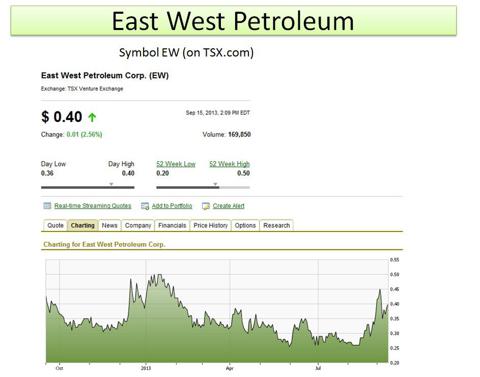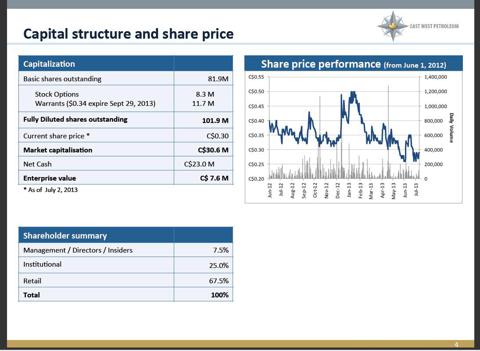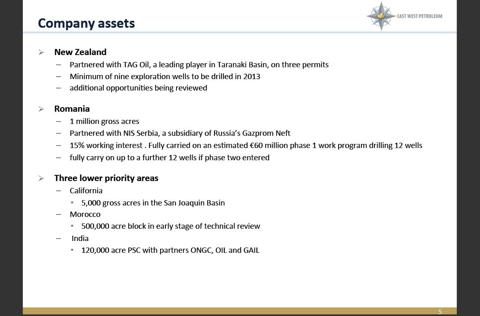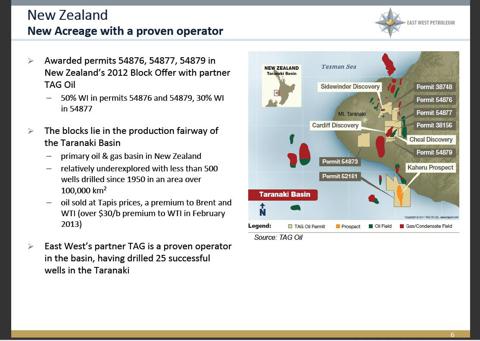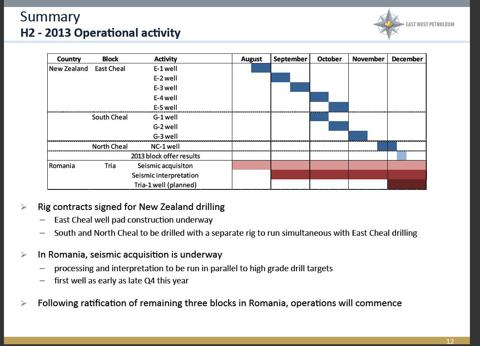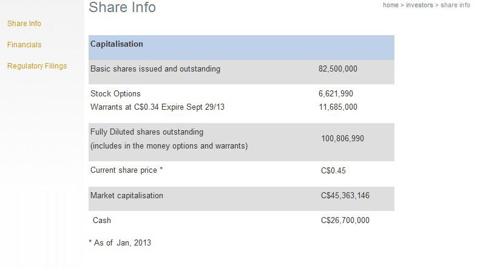 ----------------------------------------------------------------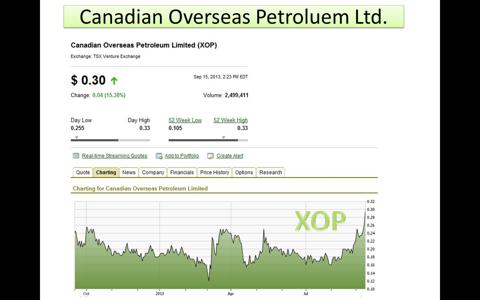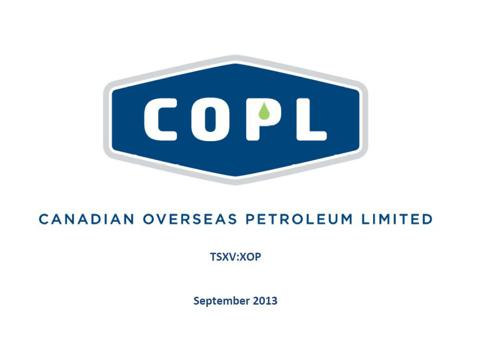 PEP 53806 New Zealand
In November 2012, COPL announced that its partner in New Zealand had been awarded Petroleum Exploration Permit 53806 in the East Coast Basin Offshore New Zealand. The agreement between COPL and its partner provides for each company to hold a 50% working interest in the PEP 53806. The permit covers 965 square kilometres and has an initial term of 5 years.
The East Coast Basin contains a number of large oil and gas accumulation targets focusing on unconventional resource plays within the Paleocene to Cretaceous aged Whangai and Waipawa shales. These formations exhibit characteristics similar to the productive Bakken Formation in Saskatchewan and North Dakota.
2013 Presentation
---------------------------------------------------------------
[BLOG UNDER CONSTRUCTION]
New Zealand HYDRAULIC FRACTING REPORT
"The purpose of a hydraulic fracturing job is to create a large increase of the surface area of the target formation, which can contribute to flow into the wellbore, compared with a natural completion, in which the wellbore circumference is actually a relatively small area (see Figure 2). Each frack job is carefully designed in terms of pressure and fluid composition to ensure the optimal fracture growth and proppant placement in the fracture.
The actual act of fracturing, in a properly designed and constructed wellbore, is the lowest risk action involved in the well development process, especially in wells more than about 2,000 metres deep."
Video: www.youtube.com/watch
Disclosure: I am long NZERF, APA, TAOIF.