This post might be a bit scatterbrained, but their are many key factors contributing to why this company could be poised for stellar growth and profitability over the next couple years.

NBL has many strategic factors in its favor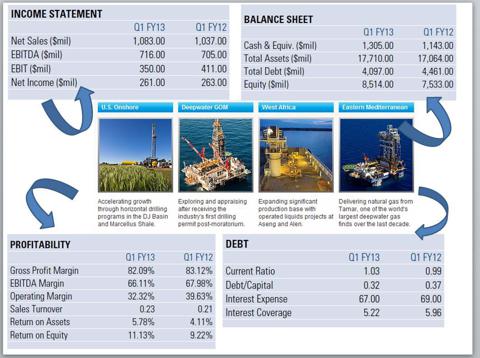 USA Shale Oil Map has changed the game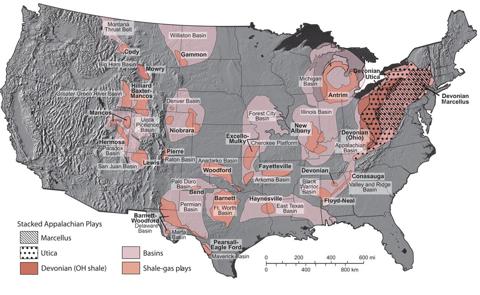 West African Oil Exploration Countries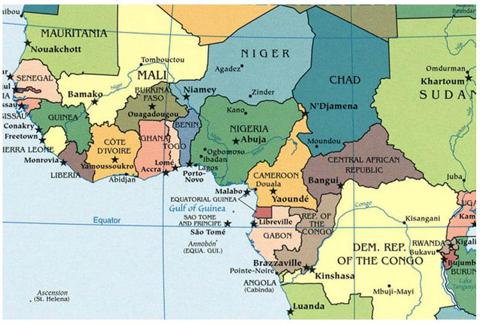 Nbl is setting up exploration plays in this region right now.
New Horizontal Method of Tapping Shale Gas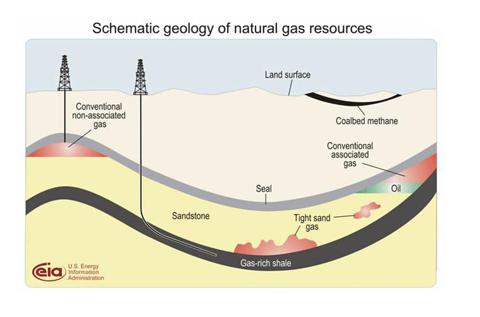 View of Surface and Shale at Depth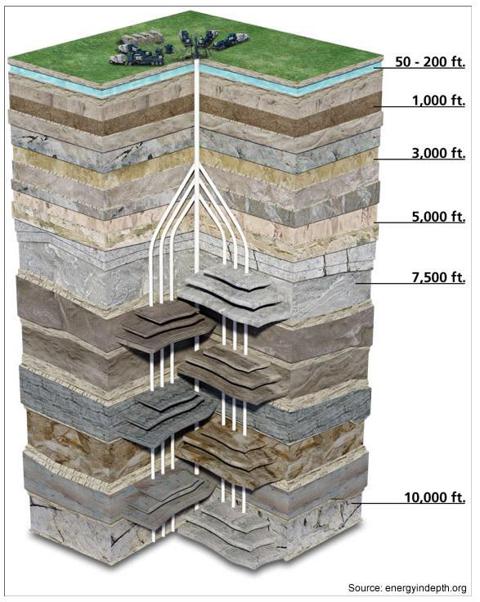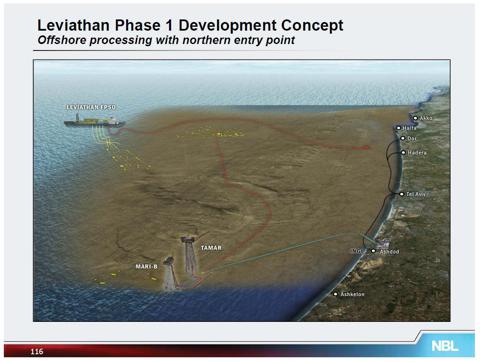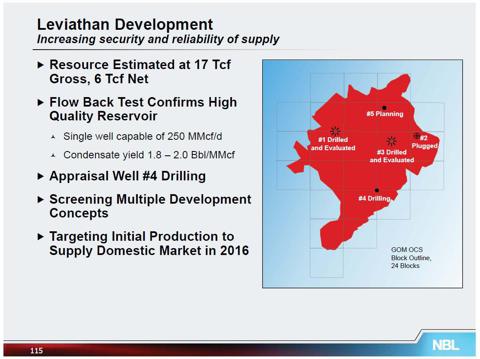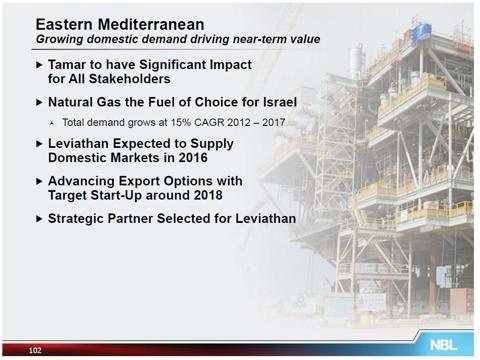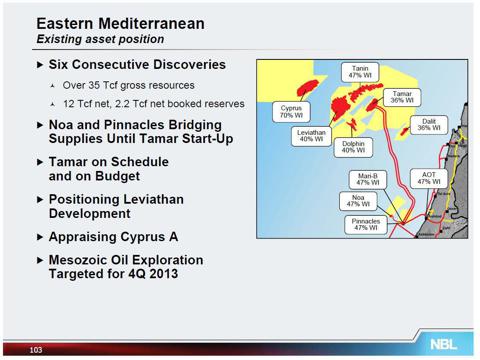 The USA shale gas revolution, and new natural gas basin discoveries across the planet are rewriting the energy map faster than anyone thought possible. Recently, a large gas field was found in the Mediterrannean Basin near Israel (offshore) and close to Cyprus.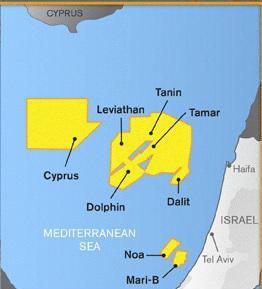 There are a number of factors that are making this new discovery more and more important by the day.
One factor is NATURAL GAS PRICE DIFFERENTIAL (see below chart),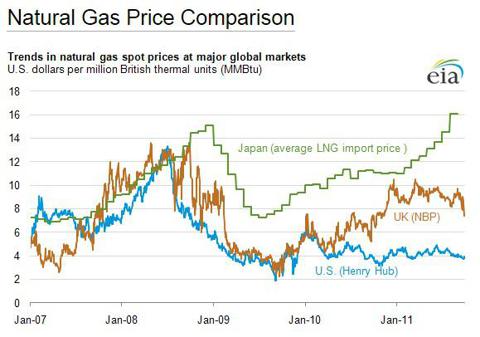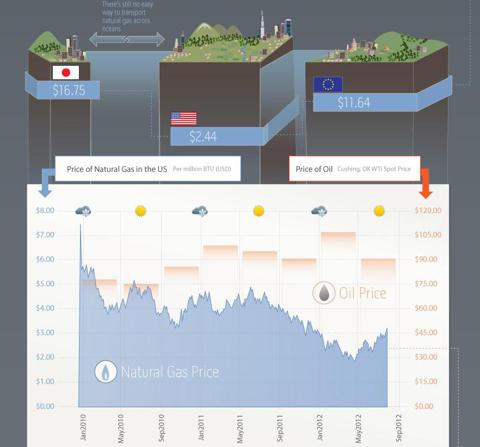 [ Image Credit: www.visualcapitalist.com/portfolio/the-w... ]
another is the tension in Mideast OPEC countries, third the fact that OIL and NGL shipped by ocean from Doha Qatar has to pass by IRAN via the "Straight of Hormuz" to get to a world market (See photo below) Question is, what if you can't ship your product if the road on the seas are under conflict or temporarily closed?
any mideast upset in transport bodes well for NBL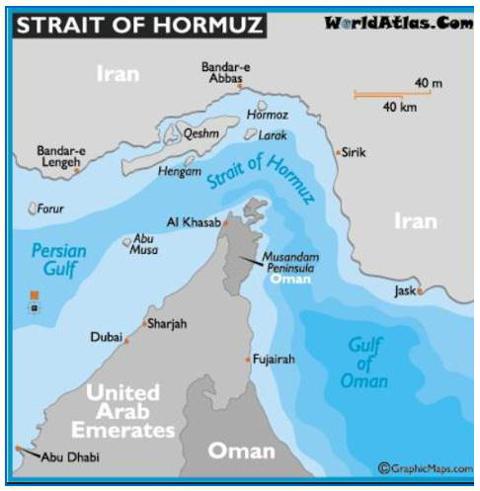 this hormuz bottleneck area risks being restricted by naval military to prevent oil to pass through hormuz to be exported, which could cause quite a drama in Oil Prices globally. It not a certainty, but it is "in the cards" so to speak a probability. IRAN and its allies might be playing their cards in short order if certain issues heat up.
Which leads us to NOBLE ENERGY INC. (NYSE:NBL)
They are a houston energy company with huge ambitions and they have the RIGHTS TO DRILL in the MEDITERRANEAN SEA where these new GAS FIELDS have been found.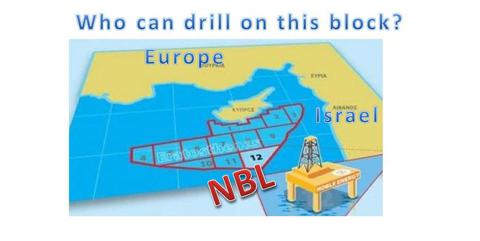 In fact they are the only company in the world with the right to drill in this exact location of the newly discovered gas in the mediterranean sea. Aphrodite basin, Leviathan gas field, and Tamar gas field , the Levant Basin. All together may hold 38 TCF.
[May 23, 2013 Noble Energy Inc. (NBL) announced its seventh natural gas discovery at the Karish field off the coast of Israel in the Levant basin. The Karish well is situated in the Alon C license, 20 miles northeast of the Tamar prospect and has a gross resource estimate of over 1 trillion cubic feet (Tcf)]

How has all these factors affected EARNINGS?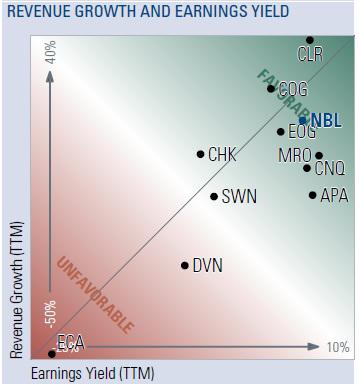 So the first Opportunity is EUROPE pays near $12 for Nat Gas from Russia. Now out of the blue, (literally out of the blue ocean) we find a 10TCF that is TRILLION CUBIC FEET (or so it seems) discovery of gas. It would appear now, because of this we are in for some interesting times.

The ocean TRADE ROUTE for OIL/GAS from the big RED DOT below is just to demonstrate that a major export risk exists if any volume of the vertical RED BAR on the bar graph below is prevented from reaching the world markets. A choke in that supply, will escalate prices based on SUPPLY/DEMAND to a world market.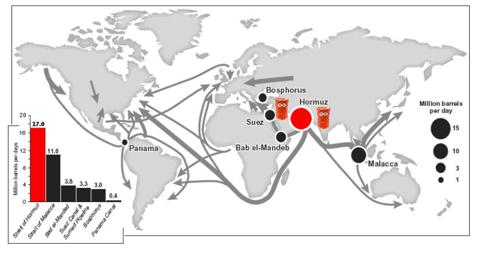 Now back to the coast of ISRAEL, Off the coast of CYPRUS and ISRAEL is a area called the Levant Basin, and now other basins are Aphrodite basin, Leviathan gas field, and Tamar gas field.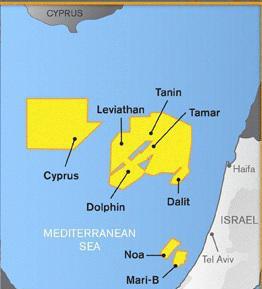 Add up all the reserve estimates from all the basins...near 38TCF
Pre-drill estimates at Tamar were 3.1tcf of natural gas. Following flow testing of the first appraisal well in February 2009, the estimates were raised to 5tcf, then subsequently increased to 6.3tcf following the drilling of second appraisal well Tamar-2. As of 2011, reserves are estimated at 8.4tcf.
As previously announced, Tamar successfully began producing natural gas into the Israeli market. The field has been tested up to 950 MMcf/d and the company anticipates delivering at peak capacity in Q3. Tamar could potentially increase deliverability to 1.5 bcf/d by 2016.
Leviathan, discovered in 2010 with an estimated 19 trillion cubic feet (tcf) of natural gas, was the world's largest offshore discovery of the past decade.
Aphrodite gas field is an offshore gas field off the southern coast of Cyprus located at the exploratory drilling block 12 in the country's maritime Exclusive Economic Zone. Located 34 kilometres (21 mi) west of Israel's Leviathan gas field, block 12 is believed to hold 3 to 9 trillion cubic feet of natural gas.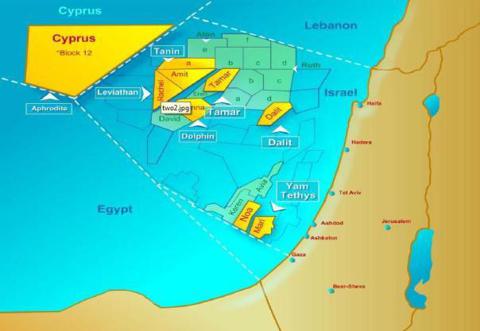 Nearby NGL projects may change the price of NGL

Onshore NGL technology is now a reality so it is possible this kind of technology can be setup to support discoveries in or near the mediterranean sea..
Largest NGL Plant in the world just opened up in Doha Qatar,2012.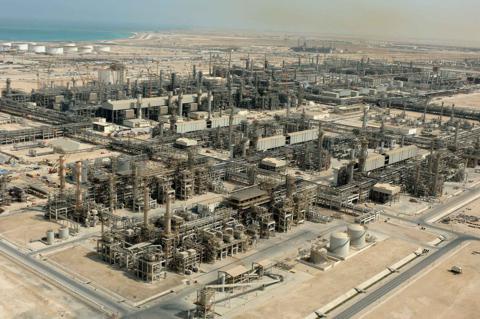 Doha at Night, largest Liquefaction of NGL in the world.
These new hydrocarbon basins are in relative close proximity to Europe. Which means that hypothetically the previous natural gas monopoly Russia has had in Europe has just been diminished. It won't put them out of business, but it may put a large dint in the price monopoly they (GasProm mostly) have enjoyed.
RUSSIA GAS PIPELINE NETWORK

Natural gas prices over the past decade have fluctuated wildly-ranging between $2 and $12 per thousand cubic feet. But revolutionary changes are at work that will transform the market landscape significantly, contributing to more stable prices in the future.
At present, global natural-gas markets are not integrated. Prices are 75 cents per thousand cubic feet in Saudi Arabia. They are $3-$4 in the U.S. and around $12 in Europe, and as high as $16-$17 in Japan.
These varying prices are based on short-term shifts in supply and demand, which have created opportunities for arbitrage through exports that will bring prices closer to uniformity.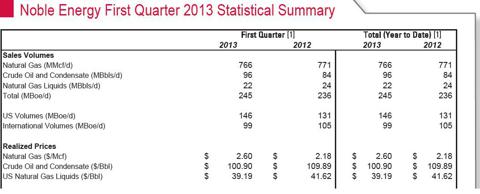 So how will all the new usa shale gas and new offshore basin discoveries in the mediterranean affect world nat gas prices if they soon start LNG transportation around the world to markets in asia or europe?
USA SHALE GAS MAP - soon USA NGL can be exported via NGL Terminals via the ocean to any global port.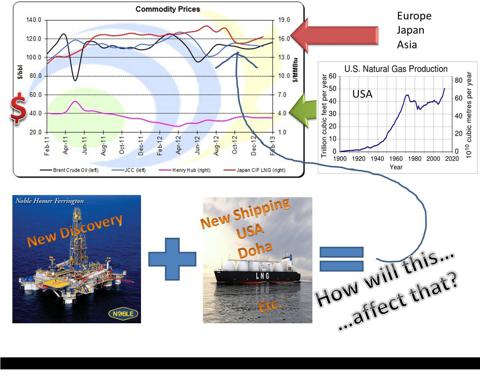 This natural gas revolution is at the beginning, start early and Learn to Invest in things like:
Exploration
"What Is LNG?
Liquefied natural gas (NYSEMKT:LNG) is natural gas that has been cooled to the point that it condenses to a liquid, which occurs at a temperature of approximately -256F -161C) and at atmospheric pressure.
Liquefaction reduces the volume by approximately 600 times3 thus making it more economical to transport between continents in specially designed ocean vessels, whereas traditional pipeline transportation systems would be less economically attractive and could be technically or politically infeasible.
To make LNG available for use in a country like the U.S., energy companies must invest in a number of different operations that are highly linked and dependent
LNG value chain, excluding pipeline operations between the stages, consist of the following.
production of the gas for delivery to gas users. Most of the time natural gas is discovered during the search for oil.
Quote Source: http://www.beg.utexas.edu/energyecon/lng/
NOBLE has alot going for it in USA, in Africa, In Offshore Israel.
They are in great shape, and the future looks very promising for NBL. See below...
Very Decent Sentiment by Analysts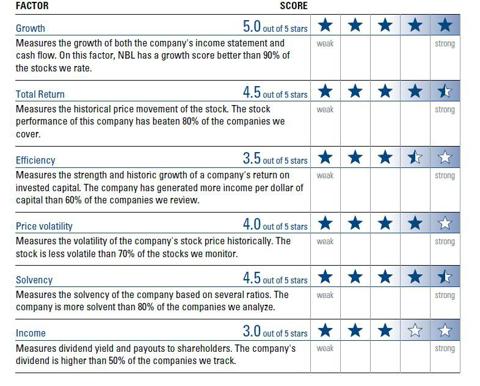 Fairly bullish 2014 Call Options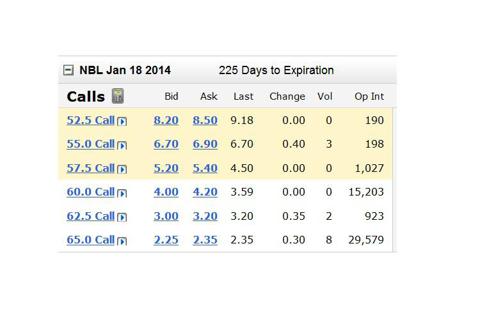 Decide for yourself if this 1 Yr chart looks promising.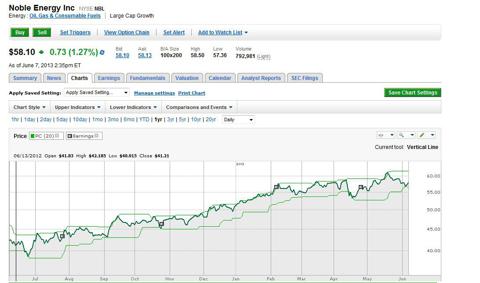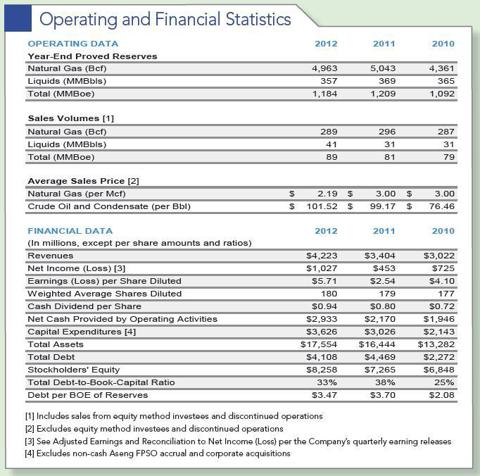 USA : Wattenberg field production is up 7%. NBL could hit its 300 well target for 2013 in the field. This is one of many fields NBL is into.
Positive Israel update.
Disclosure: I am long NBL.
Additional disclosure: my trade time horizon is longer term using both call options into 2014 and stock positions with a 1-2 year window