Tycrop Manufacturing Ltd. Www.tycrop.com
This company manufactures and supplies chemvans, pumping units, powerpacks for Hydraulic Frac companies like Baker Hughes, Trican, Calfrac Well Services and more. Under the brand names Propell, and Sandstorm.
They have a new rapid deployment system called

This is a gamechanger for frac sand deployment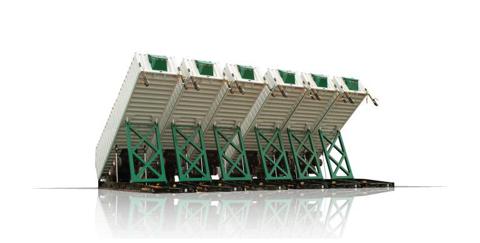 At the Global Petroleum Show they unveiled a new trailer...Technology for moving proppant (Frac Sand).
"Together, they create a "free standing" system which can be completely set up and operational within a few hours, is purposely designed with automation in mind and can be operated with as few as 2 people. A system with 3.5 million pounds of sand can be completely set up and operational in under 6 hours! Once set up, the SANDSTORM system can be remotely operated - including wirelessly from laptops, tablets like an iPad or even a smart phone."
Weighs 75,000 lbs empty.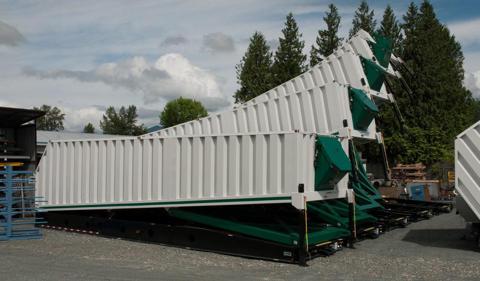 Dust Free Conveyor for worksite safety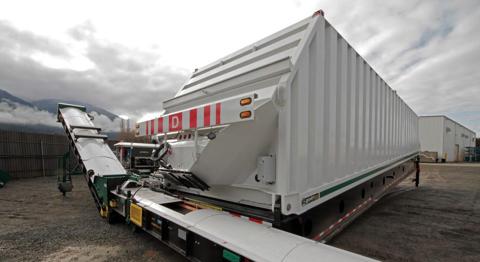 Hydrabear:
Hydraulic Powerpack for Raising gravitybox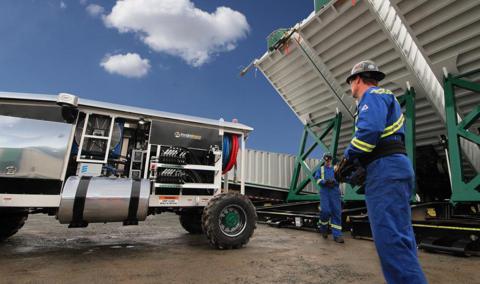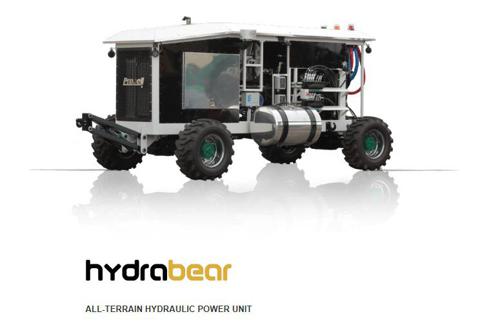 3.5 million pounds capacity for Frac Proppant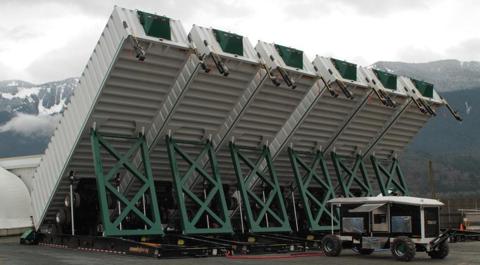 The 6 Bins = 3.5 Million Pound Capacity.
Sand Conveyor can handle from 100/min to 20,000 lbs / min
Instead of 8 manpower, it can be done with just 2 people.
FAST set-up too, total only 6 Hours!
Watch the North Dakota frac jobs in the Bakken employ this gamechanging technology over the next few years. It saves money for producers in many ways and makes more money for well service companies on thier frac jobs. Its an industry win-win.
One of many new products released at the show that will benefit well service providers and improve job performance in the field.
I cannot say which companies will adopt the Sandstorm trailer system, but the propell brand is already utilized by BAKER HUGHES, TRICAN, CALFRAC for Pump Units, Chemvans and custom units with power packs and essential well servicing components.
Taking the Industry by Storm
Revolutionary proppant handling system showcased at show
This past year Propell introduced a revolutionary proppant handling system - but kept the news pretty quiet while the technology was being field proven with Calfrac Well Services at their various locations in Canada and the United States.
The SandStorm system consists of three key components working in concert to change the way industry manages proppant. These include mobile GravityBoxes holding up to 550,000 lbs. each (5,000 cubic feet) and can be configured as sets of 3 or more, to achieve the desired storage capacity and configuration for almost any size job. Once the GravityBoxes are set up, material flows easily with the "free energy" of gravity as the name suggests, using a simple yet intuitive integrated control system (or manually if desired) to deliver material precisely to the covered VectorBelt conveyor system.
Because the gates on the GravityBoxes are connected directly to the VectorBelts and everything is enclosed (with easily removable covers / guards) the SandStorm system is the first proppant handling technology that truly provides "dust control" minimizing airborne dust or silica resulting in significantly improving the working environment for personnel and all related stakeholders.The entire system is so quiet that personnel can easily carry on a conversation while the equipment is operating.
One of the most innovative features creating a lot of buzz in the industry is the remote controlled hydraulic power unit named the "HydraBear". You have to see this piece of equipment to believe it - an operator can move it around the site with a remote control and it has a hitch on the front for positioning the VectorBelts but its primary purpose is to house the "brains" or control system to provide hydraulics to quickly raise and lower the GravityBoxes (they set up in about 4 minutes), operate the gates to control proppant flow, and power up the VectorBelts which deliver material with unmatched control and precision to the blender.
The SandStorm system is truly revolutionizing proppant handling and helping leading well service companies provide the safest work environment in the industry.
Comfort in the Cold and Chemicals
Introducing the new standard in chemical transport
Propell has quickly become known for their flare for incorporating sensible innovations for their customers so when the product development team at Propell looked at the chem vans currently being used in the patch they knew there was room for improvements. Many competitive designs simply do not stand up over time to the harsh lease roads and climates they have to operate within, they are not easy to load or service, capacity was limited, heating systems are ok but not great, and the work environment for personnel was less than ideal.
Propell began tackling these opportunities literally from the ground up by designing a stainless steel "cellar" that is accessible from both the inside and from the smartly located exterior doors along the bottom of the trailer. The cellar has been designed to provide customers with maximum flexibility for pumping components and everything is on quick release mounting brackets making it easy to swap from one pump to another, etc. There is a common flush line and the ability to isolate and clean any of the circuits meaning customers will have the ability to much more easily manage the flushing procedures and the related fluids.
Propell approached the challenge of improving the work space for personnel by researching air exchange technology from other industries and then integrating the appropriate components such as a state-of-the-art hvac system, hepa and charcoal filtration for air purification (the air is exchanged every 6 minutes!), and both day and night time operation high-vis LED lighting to provide a greatly improved, ergonomic, climate-controlled environment - all with complete redundancy.
By creating a three section modular enclosure design complete with curtain-side technology they were able to achieve a significant 13 tote capacity while also providing the widest internal walkway in the industry. And more room equates to an improvement in ease of operation and better safety. The curtains did more than provide more space within the same footprint, they are the key feature that allows the trailer to become more durable by flexing during travel over rough roads while at the same making it easier to load and transfer totes. Propell's new ChemVan sets the standard in chemical transport.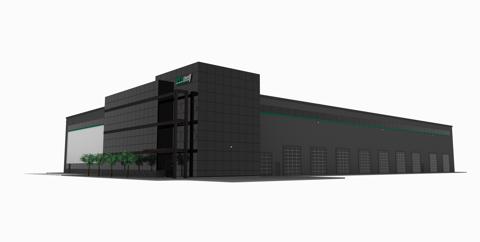 New Facility for Refurb
Propell set to become the North American leader for refurbishment
Propell's new multi-million dollar state of the art refurbishment and structural repair facility in SE Calgary is currently in the early stages of construction with completion slated for late in the year. This facility is located near their current location at the end of 68th Street (off of Glenmore Trail) and will become home to their refurbishment, retrofit and repair services business.
As the energy boom in North America continues to expand and as fleets of new equipment are manufactured, there is a growing demand for highly specialized expertise in refurbishment. It is estimated that leading well service and drilling companies need to invest on average about 7% annually on refurbishment to keep their equipment fleets current and updated. Propell is investing heavily not just in this new facility, but also in their people, training, and systems to deliver the highest return on refurbishment investment for their customers. Their stated goal is to "help customers optimize equipment utilization rates while minimizing downtime so that their customers can maintain the safest, most modern and profitable equipment in the industry".
To ensure they are well prepared to take advantage of the refurbishment opportunities with both existing and new customers, they have begun conducting "test refurbishment projects" at their current facilities in Calgary, in partnership with key customers and suppliers. In addition, they have a team dedicated to researching current refurbishment practices in North America in an effort to improve the related business model. Dave Keck, Senior Vice President commented "We are very excited about this strategic opportunity because it is driven by our customer's needs, it is good work for our people, and it may open doors to other opportunities. We look forward to this new challenge and continuing to work closely with our customers to help them succeed."