NZX.com TMX.Com NZ Otcbb NZERF Nasdaq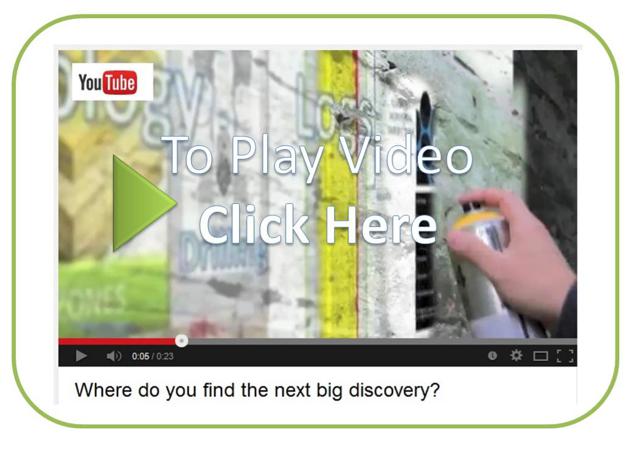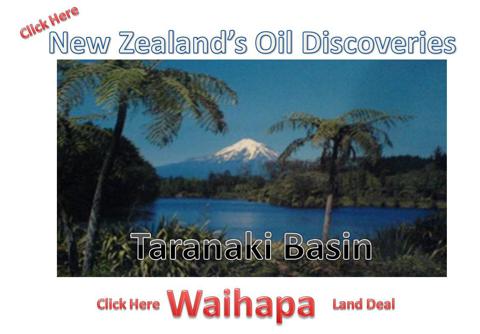 (Update Oct 1,2013 | Next update Oct 14, 2013)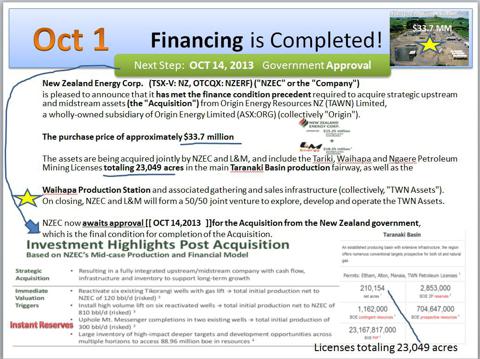 [update Sept 27]
It's looking better and better for NZ to close the Waihapa Financing by SEPT 30, 2013.
(On Sept 27, NZ had low volume and traded up 7.58%) Watch for a Halt, New Release and hopeful news that Financing of $15MM is done, and Origin to recieve $33.5MM to buy 3 drilling licences and land near Waihapa Production Station on Sept 30th).
"New Zealand Energy Corp. (TSX VENTURE:NZ) (OTCQX:NZERF) ("NZEC" or the "Company") is pleased to announce the terms of a non-brokered private placement of up to $15 million (the "Offering"). The Offering is scheduled to close by September 30 and will consist of up to 45.5 million of subscription receipts (the "Subscription Receipts") at a price of $0.33 per Subscription Receipt.
The Subscription Receipts will be convertible into units (the "Units") consisting of one common share (a "Share") and one-half of one non-transferable share purchase warrant (each whole warrant referred to as a "Warrant") of the Company. Each Warrant will entitle the holder to acquire one Share at a price of $0.45 for a period of 12 months following closing of the Offering.
(Block Offer Auction, and Waihapa Acquistion, Approval Timeline)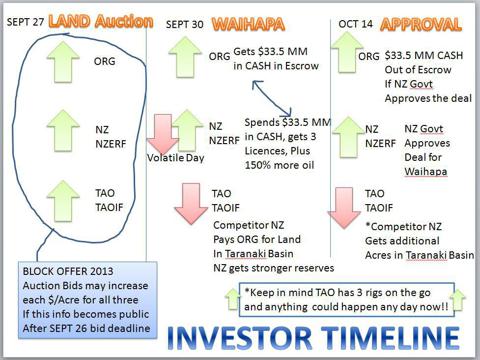 (Day before announcement Updated Sept 18, 2013)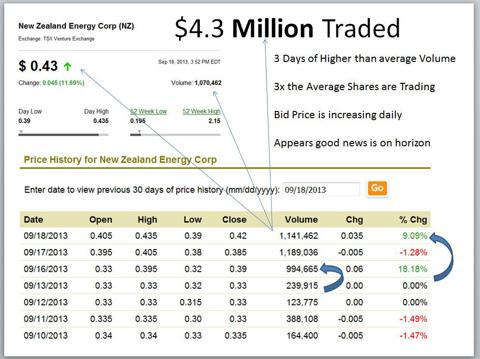 (Other stocks affected by the deal are ORG in Australia)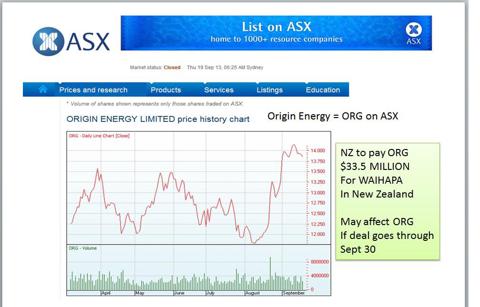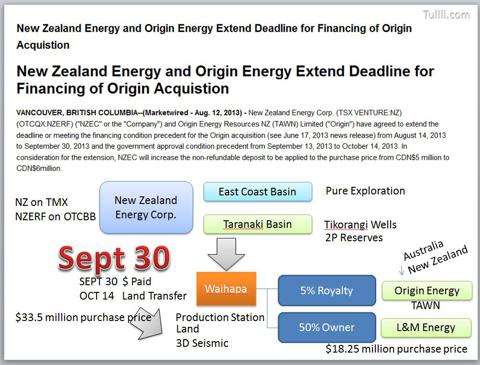 (The deal adds 150% more booked reserved to NZ)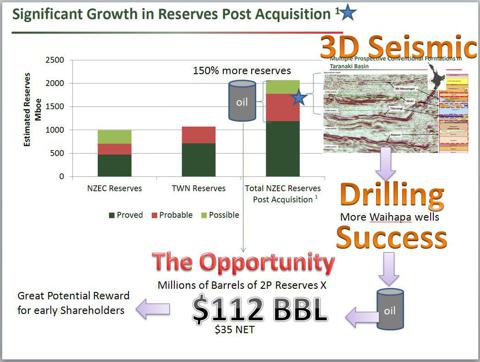 (It's a really different story post-acquisition)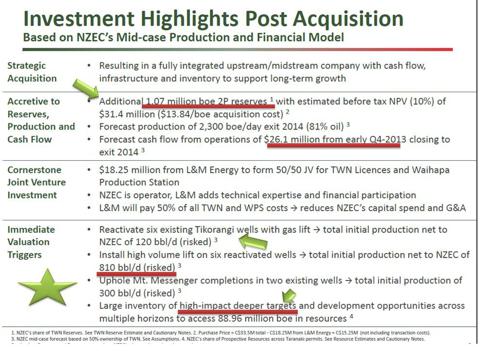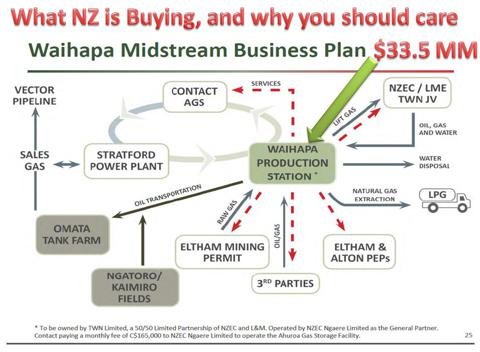 (Waihapa may affect Contact Energy in a good way)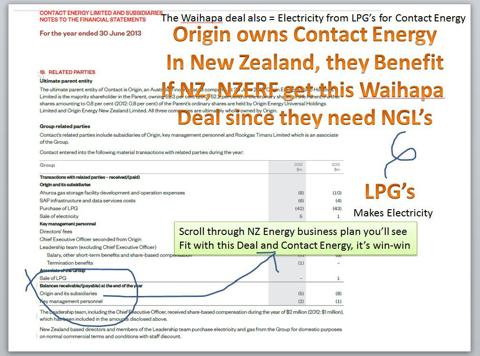 Origin Energy Trades on ASX and Nasdaq
Contact Energy Trades on NSX in New Zealand
New Zealand Energy Trades as NZERF on Nasdaq, OTCBB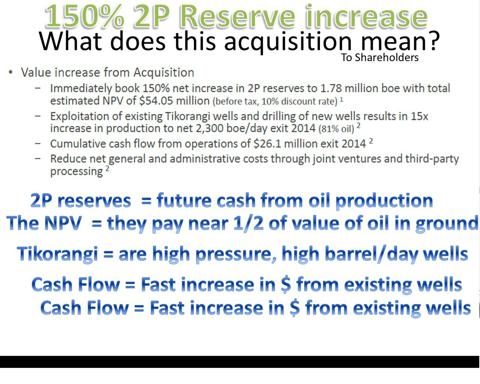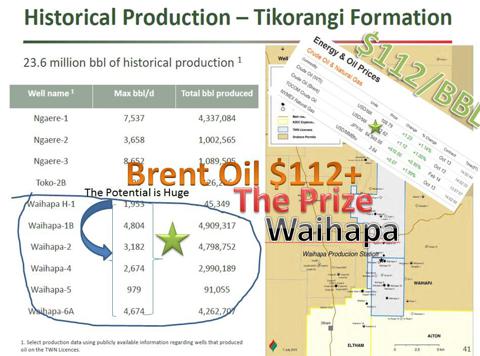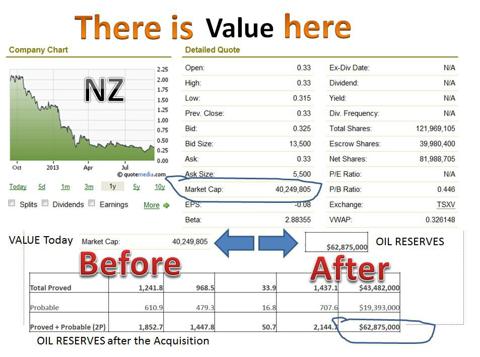 The point is the future value of NZ comes from the assets below ground that are acquired at a fair price. This model shows the 2P Reserves to be over $20MM more than the company's value today. At $112+ BBL/Day and $35+ Net to the company. We will see some serious cash flow increases post-acquisition once they re-complete the wells obtained in this deal.


Video: Future of Oil and Gas in New Zealand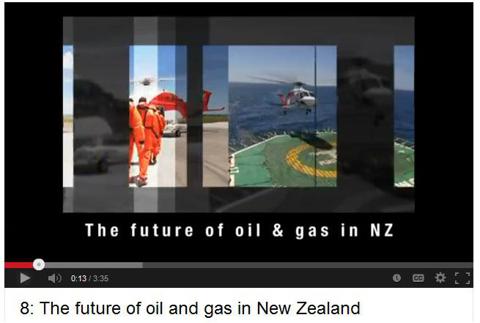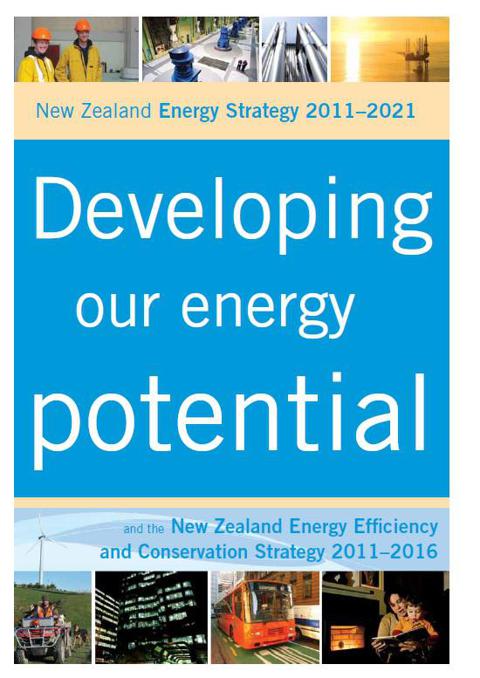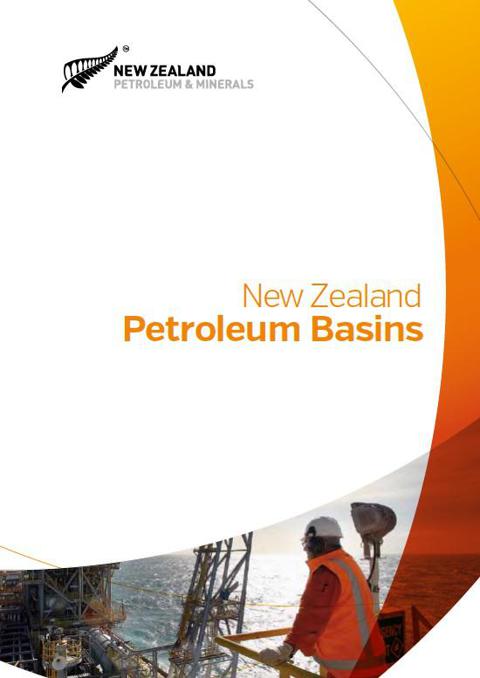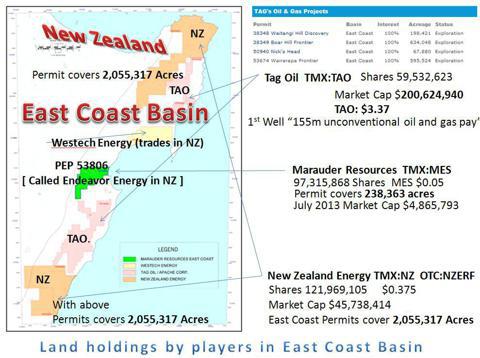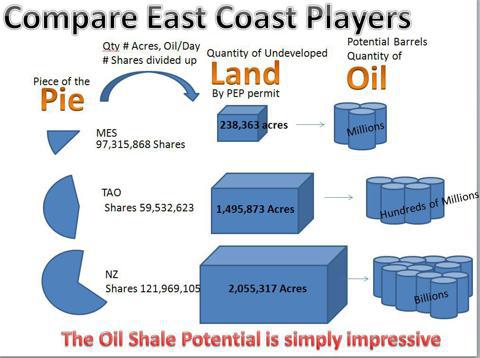 Sept 3, 2013 NZ and NZERF up 22%+, first week of SEPT.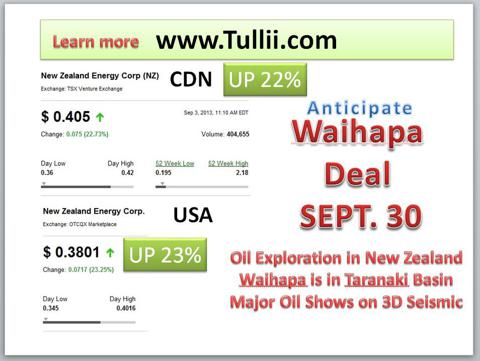 (links to other blog perspectives)

(Other blogs that refer to NZ)

(Other Junior Oil's Drilling in the Taranaki basin)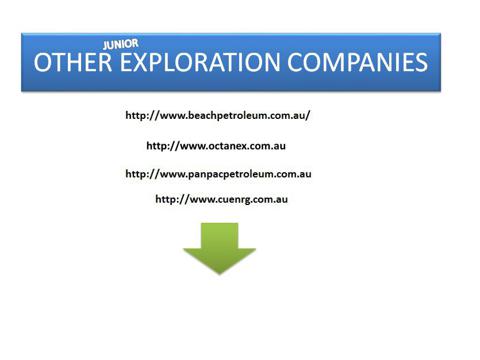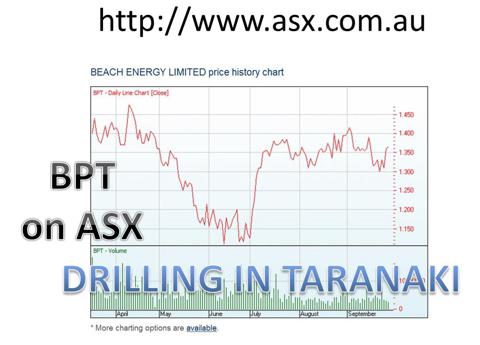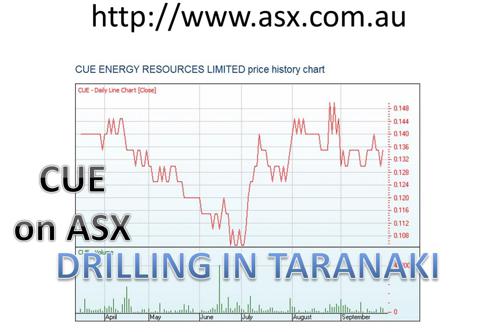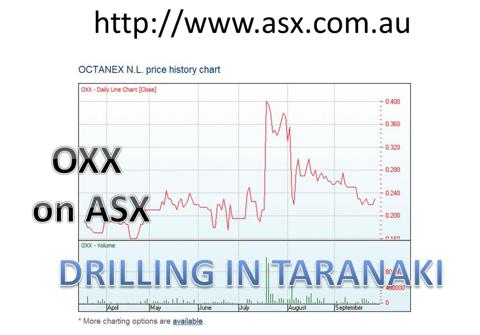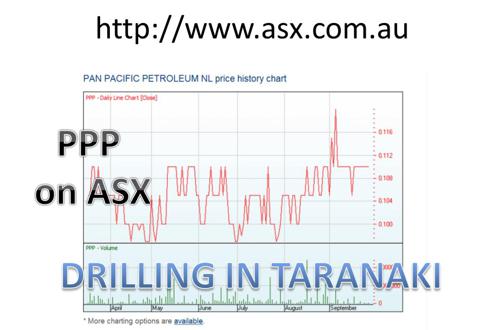 (East West Petroleum is farming in with Tag Oil)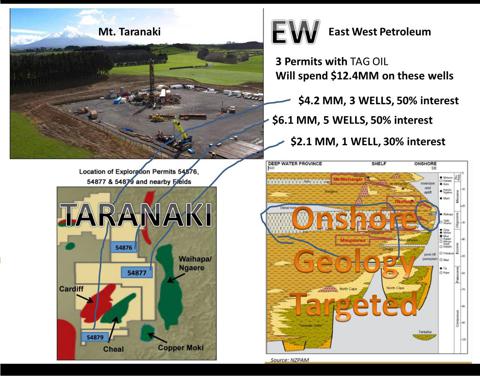 (EW drilling program for 2013 is $12.4MM in Taranaki)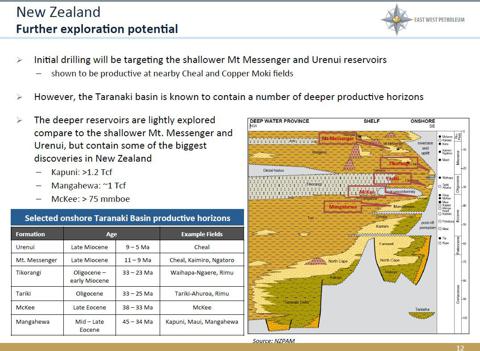 (NYSE:EW)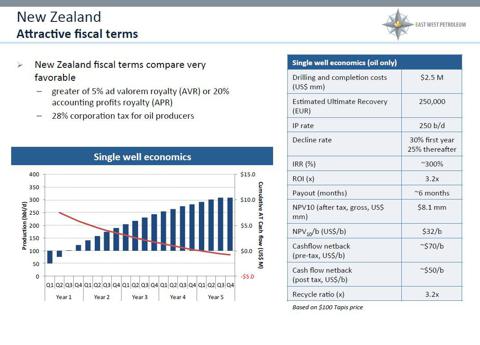 (EW)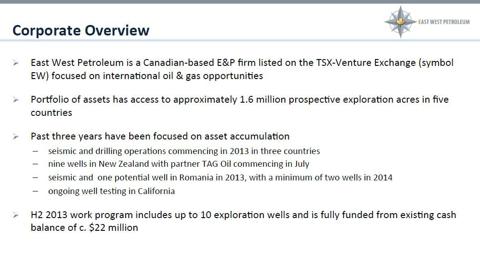 (Source: Edison Investment Research)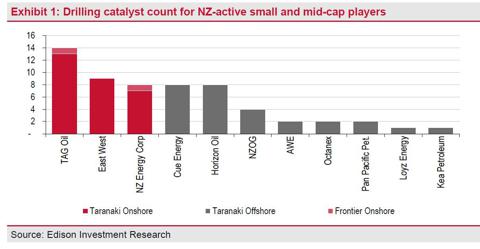 (Also players drilling offshore in NZ, HZN is from Australia)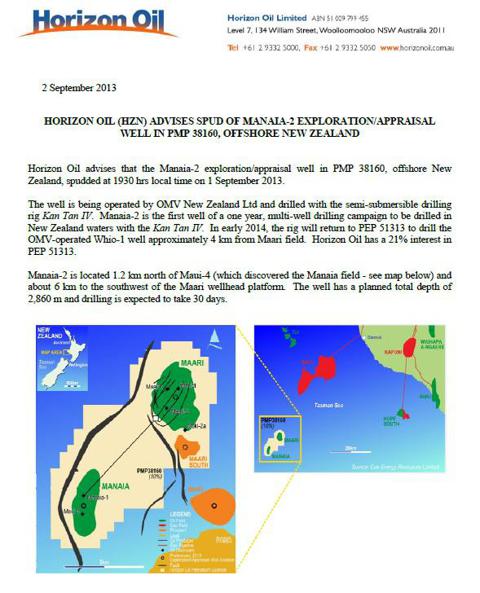 MORE HISTORY ON NZ, TARANAKI
Aug 13th, 2013
New Zealand Energy and Origin Energy Extend Deadline for Financing of Origin Acquisition to September 30, 2013
VANCOUVER, BRITISH COLUMBIA-(- Aug. 12, 2013)
New Zealand Energy Corp. and Origin Energy Resources NZ (TAWN) Limited ("Origin") have agreed to extend the deadline or meeting the financing condition precedent for the Origin acquisition (see June 17, 2013 news release) from August 14, 2013 to September 30, 2013 and the government approval condition precedent from September 13, 2013 to October 14, 2013.
(Most recent info from NZERF on the Waihapa Acquisition)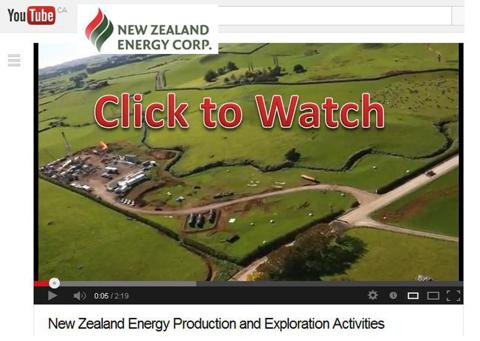 NZ is a pure exploration company. NZERF is the OTCBB symbol.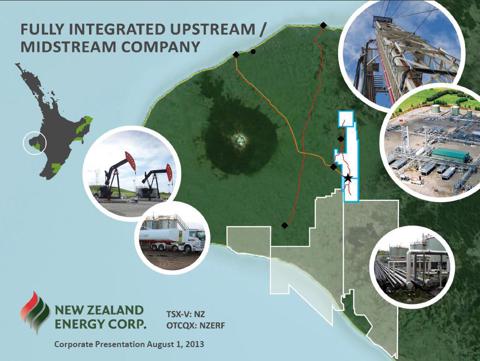 The Waihapa is a Key purchase that will fast track the permits and licenses to drill in the Taranaki basin and Target the TIKORANGI and other Oil producing zones.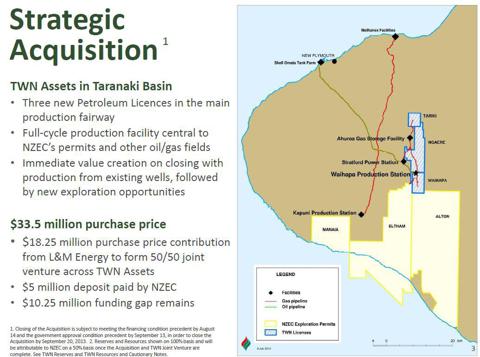 The $18.25MM from L&M shows confidence in the TWN Assets previously owned by Origin, the fact that Origin lowered their sale price in exchange for a higher royalty means that they believe the Oil left in the ground is worth later than more than cash up front. This is a good sign. Further, much the Management comes from those who managed the Tawn Assets at WAIHAPA so this is a smoother transition, and start-up than just starting from scratch
The Deak below has indications that Origin would rather have % royalty on BBL produced than upfront cash, this demonstrates they value the future more than the present, I like this, it indicates confidence in the Assets.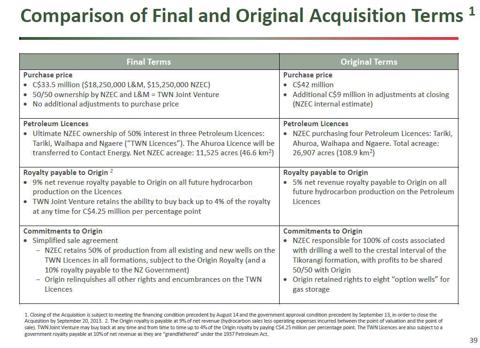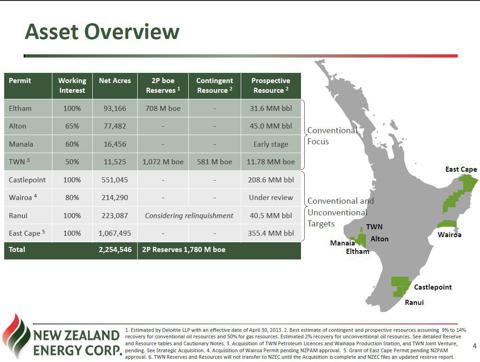 MOKI is Producing Now.
Tikorangi has serious cash flow potential, and quickly, this is the zone that has lots of complexity but also major pressure to bring oil to surface at a faster flow rate per day, and upto 10X higher production than any other basin on the Island.
Kapuni has LIQUIDS-RICH gas, or NGL, which fetchs a good price. This basin has the potential to make the WAIHAPA PRODUCTION STATION pay for itself, and then some.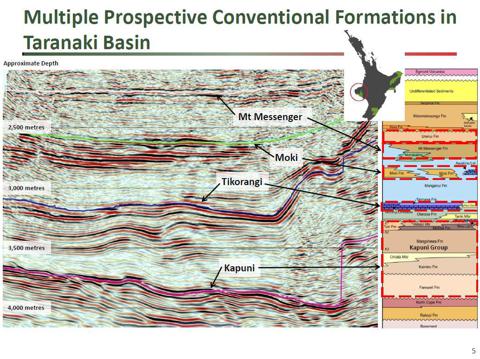 The Tikorangi is OIL, Kapuni is mostly NGL, Natural Gas.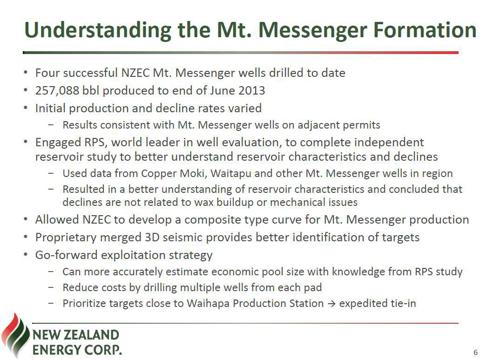 UPDATE:
This is a big investment for L&M, it shows confidence and it shows they are able to obtain significant $ to make this deal happen.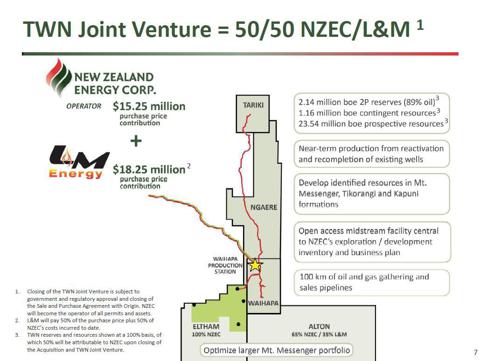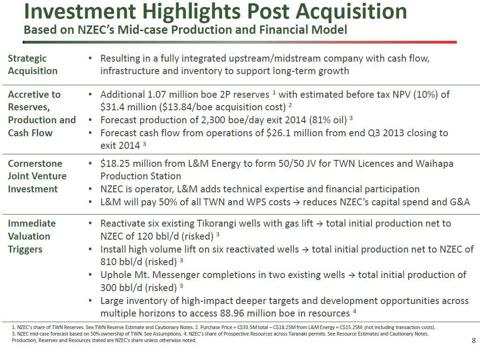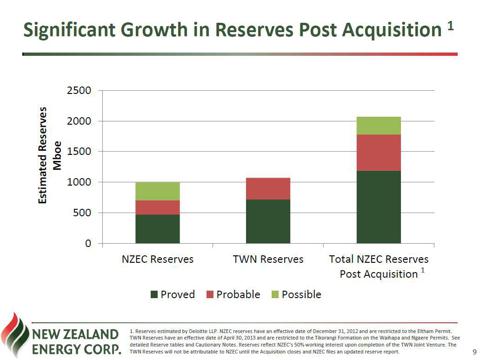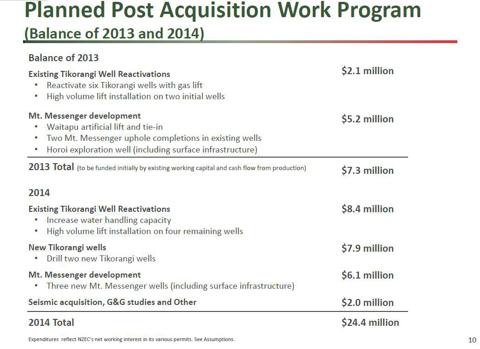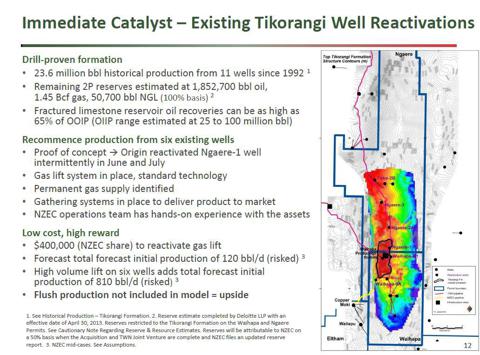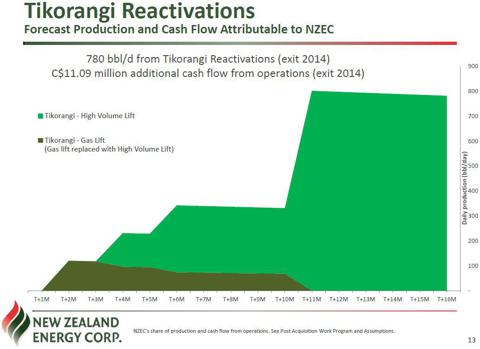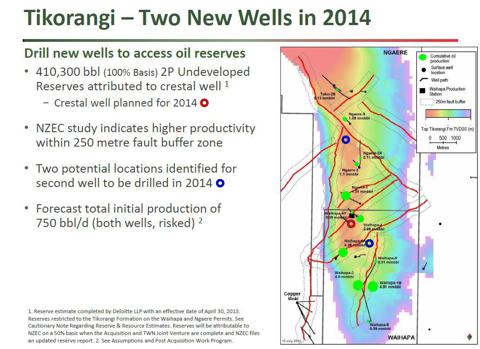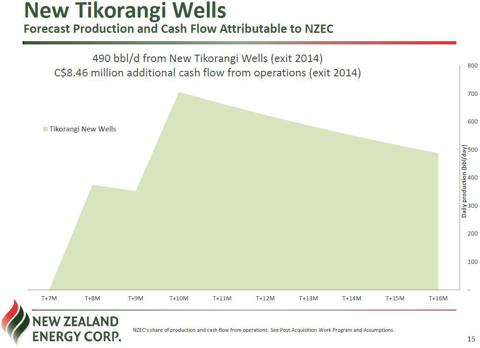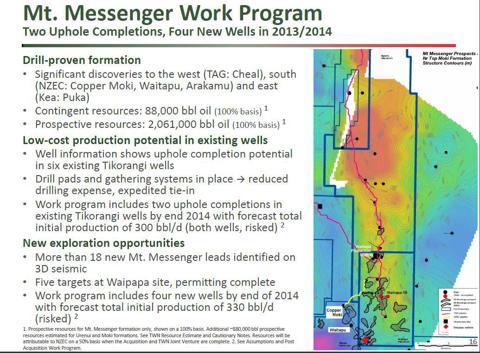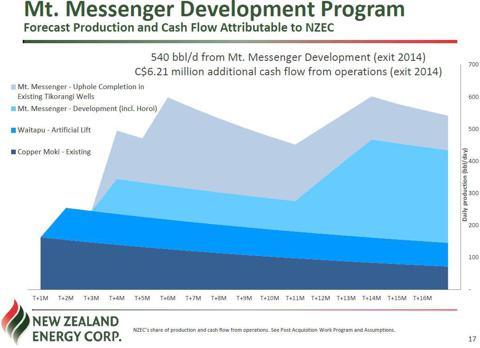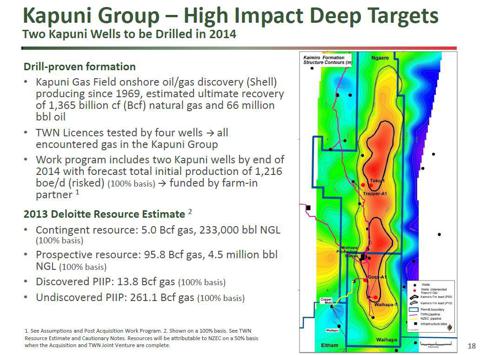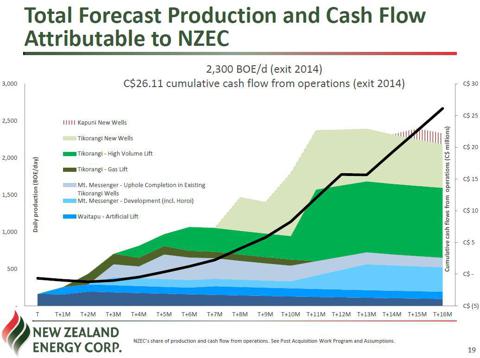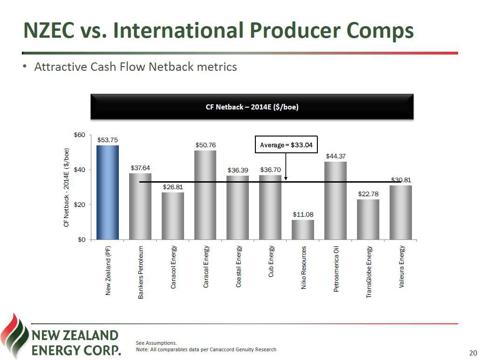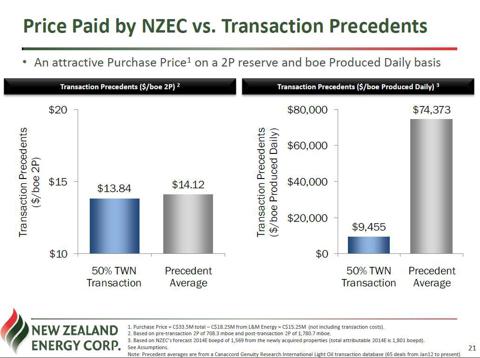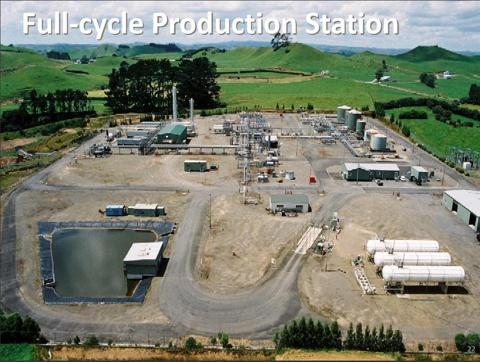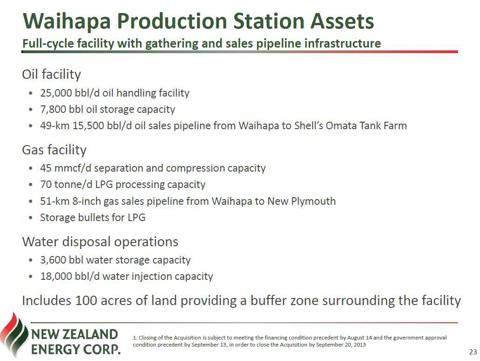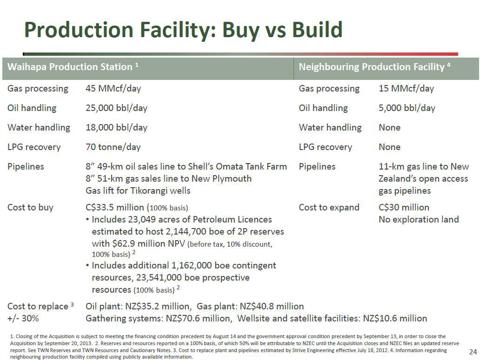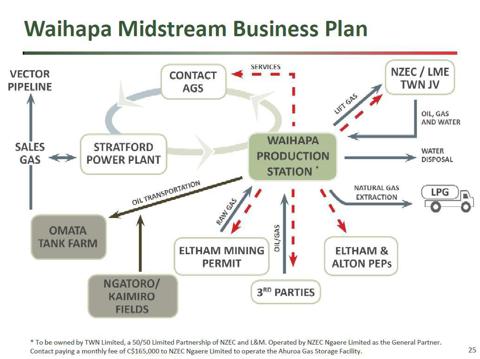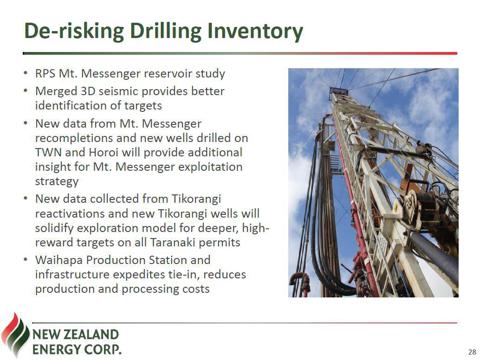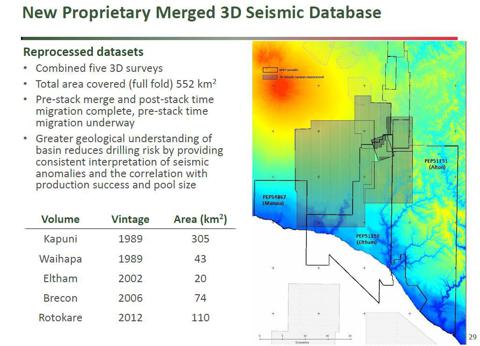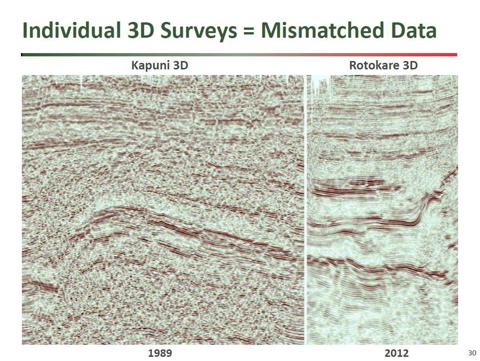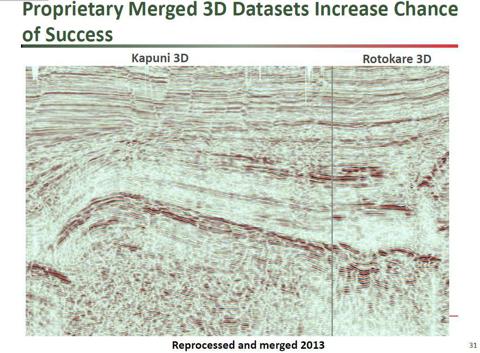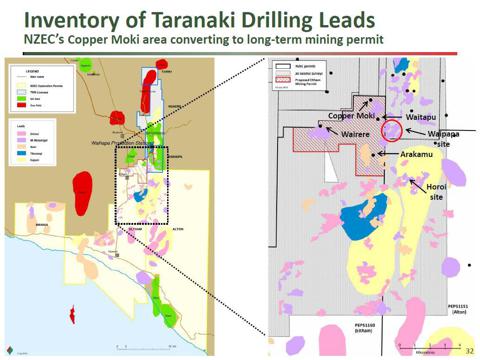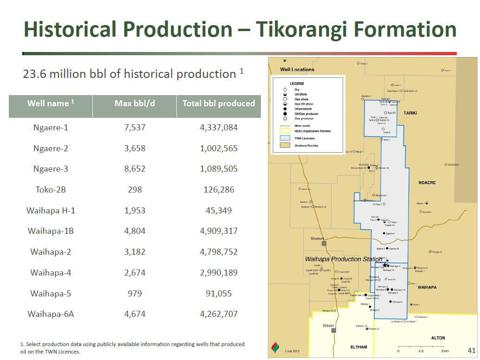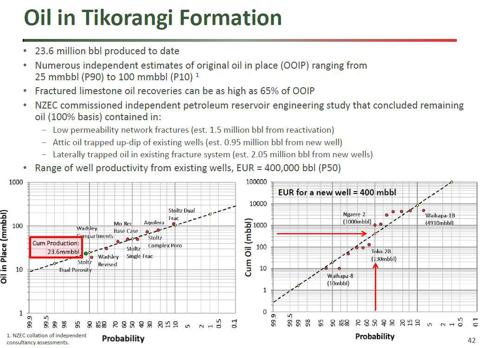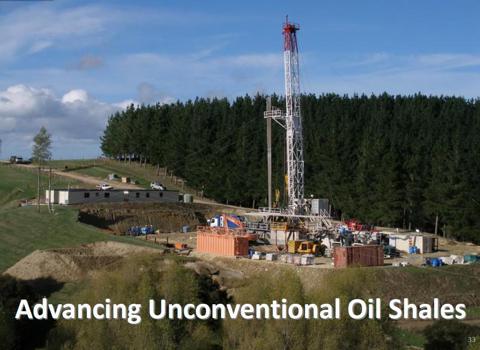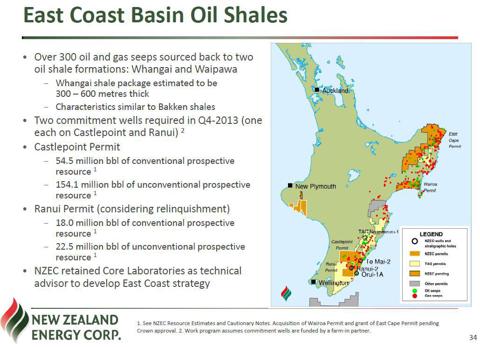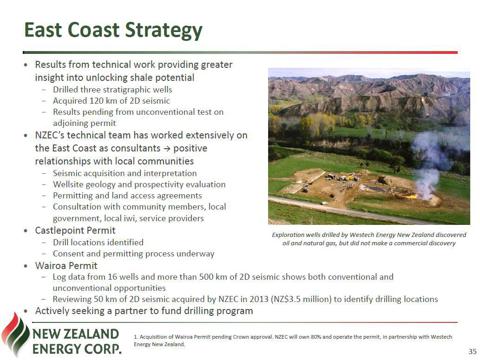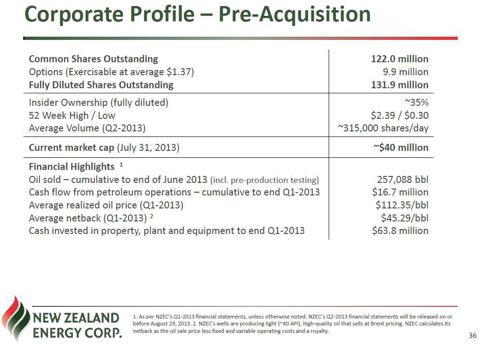 [The End of August Presentation]
Prior UPDATE: July 30th, 2013
Over half Waihapa Acquisition Cost Raised today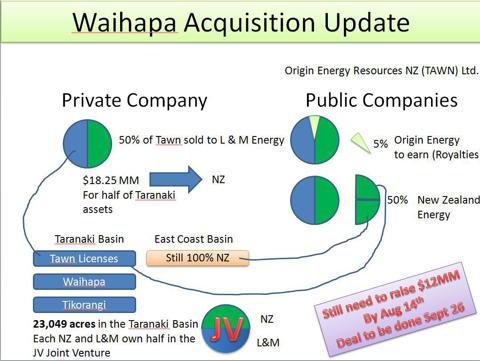 VANCOUVER, BRITISH COLUMBIA--(Marketwired - Jul 30, 2013) - New Zealand Energy Corp. (TSX VENTURE:NZ)(OTCQX:NZERF) ("NZEC" or the "Company") has signed a binding Letter Agreement with L&M Energy Limited ("LME") whereby LME will pay NZEC C$18.25 million to form a 50/50 joint venture ("TWN Joint Venture") to explore, develop and operate the Tariki, Waihapa and Ngaere Petroleum Mining Licenses ("TWN Licenses"), the Waihapa Production Station and associated pipelines and infrastructure.
The parties intend to finalize the definitive agreements shortly with the objective of closing the transaction contemporaneously with closing of the acquisition of the assets from Origin Energy Resources NZ (TAWN) Ltd. ("Origin") (the "Waihapa Assets Acquisition"). NZEC will become the operator of the TWN Licenses and the Waihapa Production Station. Decisions regarding exploration, development and operations of the Waihapa Assets will be made by management committees with equal representation from both companies.
NZEC believes the Waihapa Assets Acquisition and TWN Joint Venture will provide significant benefit to its shareholders, transforming NZEC into a fully integrated upstream/midstream company with the cash flow, infrastructure and inventory to support long-term growth. Closing the two transactions will bring a number of near-term catalysts and longer-term benefits to NZEC:
Immediately increase NZEC's reserves by 150% with the addition of 1.07 million boe of Proven plus Probable Reserves with a before tax net present value (10% discount) of $31.4 million(1)
Immediate production and cash flow with reactivation of six existing Tikorangi wells using existing gas lift system, with subsequent production increases from installation of high volume lift
Near-term production and cash flow growth potential with new Tikorangi wells and uphole Mt. Messenger completions in existing wells
Access to exploration targets in deeper, high-impact prospects
Large inventory of development opportunities across multiple horizons
High-capacity full-cycle production facility central to NZEC's portfolio of exploration and development opportunities
Optimization of NZEC's existing Taranaki exploration and production portfolio
"L&M Energy's $18.25 million investment is a significant show of confidence in NZEC's exploration and development plans for the TWN Licenses and Waihapa Production Station," said John Proust, Chief Executive Officer and Director of NZEC. "LME has been exploring and operating in New Zealand since 1969 and brings financial strength combined with business and technical expertise to the joint venture.
"With the $18.25 million purchase commitment from L&M Energy, NZEC is continuing to pursue a number of strategic options to fund the remaining $12 million required to close the acquisition of assets from Origin and add to existing working capital," continued Mr. Proust. "NZEC has developed an exploration and development program for the TWN Licenses, to be funded 50% by L&M Energy as an equal partner, which will bring both immediate value and long-term growth to the Company. We look forward to closing the acquisition of assets from Origin and executing our development strategy for the benefit of our partners and shareholders."
LME will pay NZEC $18.25 million, comprising half of the purchase price for the Waihapa Assets plus half of NZEC's costs incurred to date. Closing the TWN Joint Venture is subject to government and regulatory approvals, obtaining the additional funding and the closing of the Sale and Purchase Agreement with Origin, as announced by NZEC on June 17, 2013. Once the conditions precedent have been met and both the TWN Joint Venture and the Waihapa Assets Acquisition are complete, NZEC and LME will each own 50% of the TWN Licenses comprising 23,049 acres in the Taranaki Basin of New Zealand's North Island. NZEC and LME will also each hold a 50% interest in the Waihapa Production Station and associated oil and gas gathering and sales pipelines and other infrastructure associated with the TWN Licenses and the Waihapa Production Station.
"I have been watching this transaction unfold with interest," said Geoff Loudon, owner of LME. "I have long believed that the TWN Licenses and infrastructure hold great potential, both from an exploration perspective and with the strategic marketing and business opportunities presented by the Waihapa Production Station. I look forward to unlocking the value of these assets in partnership with NZEC."
--- Previous Post 6-14-2013
This is not a new post as much as a stitching together of relevant clips and parts of other notable links of past info on Waihapa.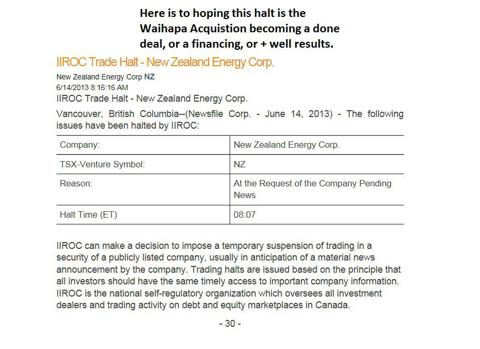 When a company is listed on a U.S. stock exchange, including TMX NYSE, NASDAQ Stock Market it agrees to notify the listing exchange about any corporate developments that could affect trading activity in its stock-before announcing them to the public.
These developments can include:
changes related to the financial health of the company;
major corporate transactions like restructurings or mergers;
significant positive or negative information about its products;
changes in key management individuals; and
legal or regulatory developments that affect the company's ability to conduct business
All this info is available on NZEC's website

What is the Taranaki Basin? The Taranaki Basin covers approximately 100,000 km2 both onshore and offshore New Zealand's North Island. The region is structurally dominated, with faults acting as conduits for oil migration. New Zealand Energy Corporation controls more than 750 km2 in the main production fairway. The Taranaki region offers extraordinary opportunities for further exploration and development.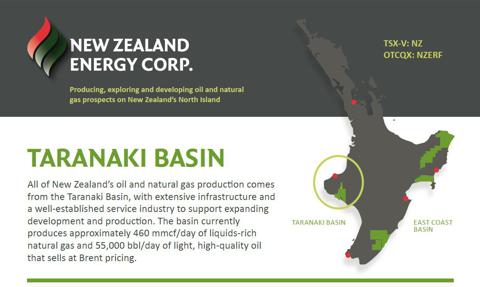 Origin Energy Resources NZ (TAWN) Limited ("Origin").
The WAIHAPA acquisition from Origin Energy who own it now includes 4 new petroleum licenses that are central to a network of oil and gas gathering pipelines and the full-cycle Waihapa Production Station. The Company NZEC is working diligently to conclude this complex transaction and expects closing to occur in Q2-2013. These assets include four Petroleum Mining Licenses totaling 26,907 acres in the main Taranaki Basin production fairway. Licenses are very timely and expensive to obtain making this a very strategic deal that will fast track abilities for New Zealand Energy.
Strategic acquisition.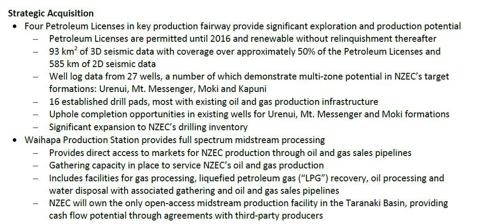 New Zealand Energy Announces Strategic Acquisition in Taranaki Basin What did NZEC buy for $42 MILLION DOLLARS?
TAWN = Origin Energy (Australia company)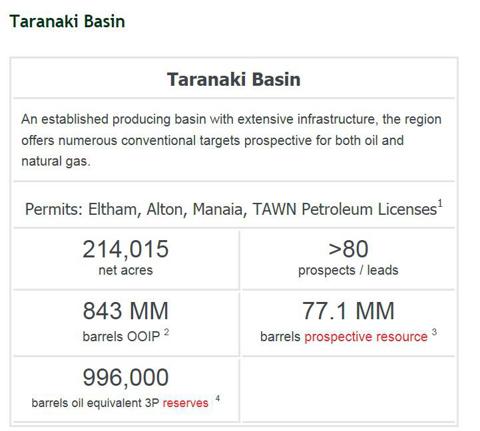 Upon Upon closing this deal, NZEC plans to reactivate six wells in the Tikorangi formation using an established gas lift system, and has also determined that six previously drilled wells on the petroleum licenses have uphole completion potential.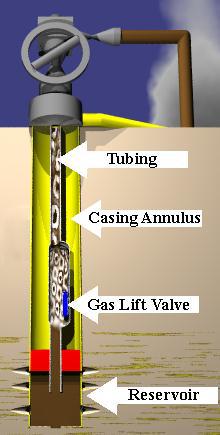 Look just above Alton to find Waihapa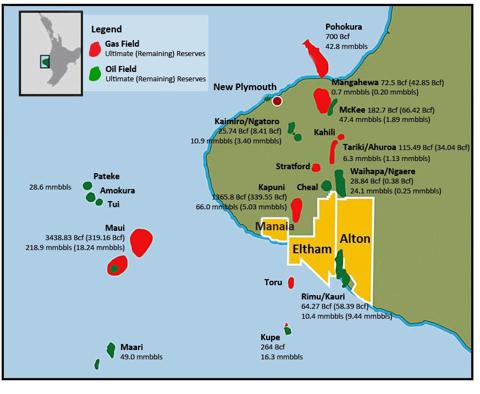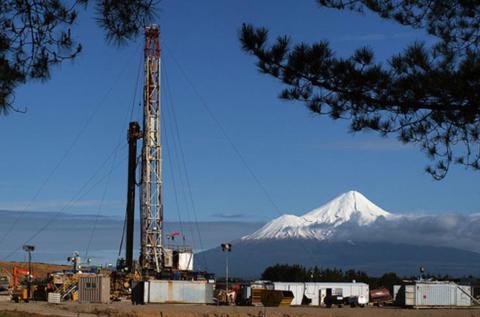 Recompletion of these wells would be significantly less expensive and faster than drilling new wells, and successful discoveries could be quickly tied in to the Waihapa Production Station using existing oil and gas gathering pipelines. Both the reactivations and uphole completions could bring near-term, low-cost production and cash flow to the Company.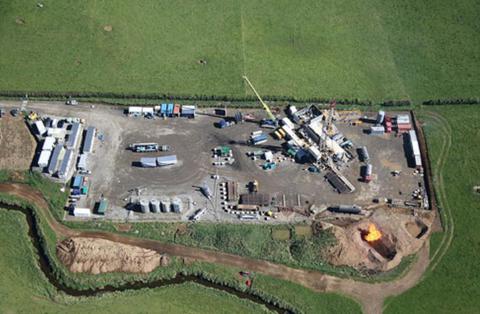 NZEC is producing light, high-quality oil from four wells in Taranaki.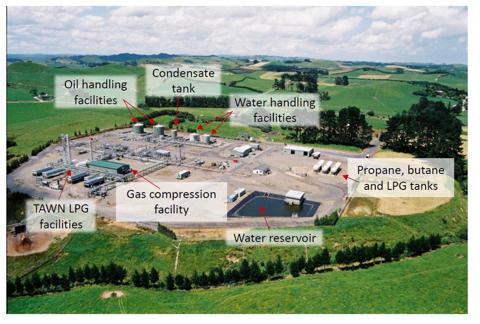 Four permitted mining licenses provide significant exploration and uphole completion opportunities, with full production infrastructure in place. (Meaning they can start earning $ quickly)
The Waihapa Production Station is the only open-access midstream facility in the Taranaki, providing NZEC with the capacity to cost-effectively process its own production and generate cash flow through third-party processing contracts.
Production. The Taranaki Basin, with a fifth well awaiting installation of artificial lift and results pending from an additional well.
Copper Moki Wells in Production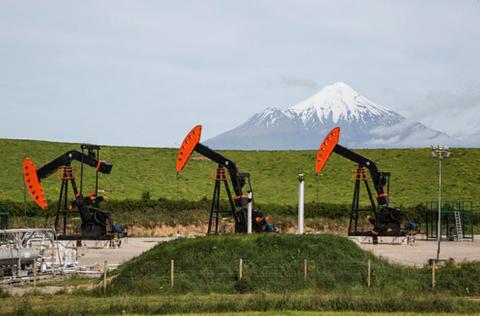 All of NZEC's oil production sells at Brent pricing. (meaning at a Premium to WTI)
The Company plans to drill additional exploration wells in 2013 in both the Taranaki Basin and East Coast Basin, with the objective of increasing production and cash flow.
NZEC has entered into an agreement with Origin Energy Limited ("Origin") to acquire a number of assets in the Taranaki Basin, including four Petroleum Mining Licenses totalling 26,907 acres (108.9 km

Exploration assets (Figure 1)

2) in the main Taranaki production fairway and the Waihapa Production Station and associated gathering and sales infrastructure. A breakdown of the upstream and midstream assets are outlined below.

•

• Resource consents for mining licenses

• 16 established drill pads, most with oil and gas production infrastructure in place

• 93 km

• Log data from 27 wells, a number of which demonstrate multi-zone potential in the Urenui, Mt. Messenger, Moki and Kapuni formations

• Uphole completion opportunities for Urenui, Mt. Messenger and Moki formations

• Ongoing assessment of 3D seismic and well logs has identified

− 8 Urenui leads

− 18 Mt. Messenger leads

− 8 Moki leads

Four Petroleum Licenses (PML38138, PML38139, PML38140, PML38141) covering 26,907 acres (108.9 km2) 2 of 3D seismic data covering approximately 50% of the Petroleum Licenses, 585 km of 2D seismic data

Production assets

•

Limited oil production from remaining resources in six wells

•

• Gas lift pipeline to facilitate oil production from existing wells

59 km of oil/gas mixed product pipelines

Waihapa Production Station assets

(Figure 2)

•

Waihapa oil facility with associated facilities and equipment

−

− 7,800 bbl oil storage capacity

− 49-km 15,500 bbl/d oil sales pipeline from the Waihapa Production Station to Omata Tank Farm

• TAWN gas facility with associated facilities and equipment

− 45 mmcf/d LPG separation capacity

− 45 mmcf/d compression capacity

− 51-km 8-inch gas sales pipeline from TAWN to New Plymouth

− Storage tanks for LNG, butane and propane

• Water disposal operations

− 3,600 bbl water storage capacity

− 18,000 bbl/d water injection capacity

25,000 bbl/d oil processing facility

Additional assets

• Various contracts for oil and gas processing

•

Approximately 100 acres of buffer fields surrounding the Waihapa Production Station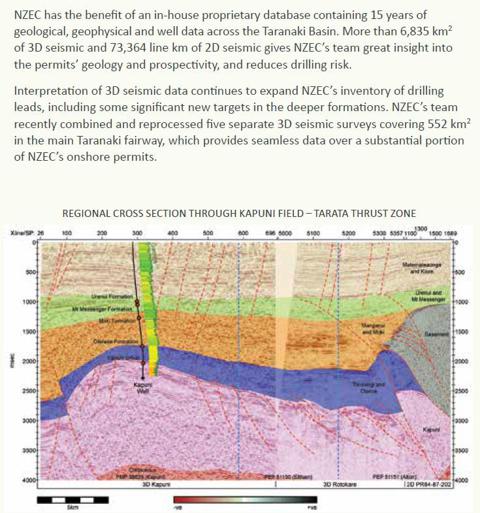 Have 750 Km2 of the main fairway already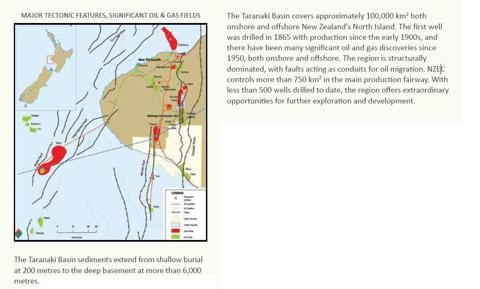 Lots of seismic already shot, processed, ready to drill targets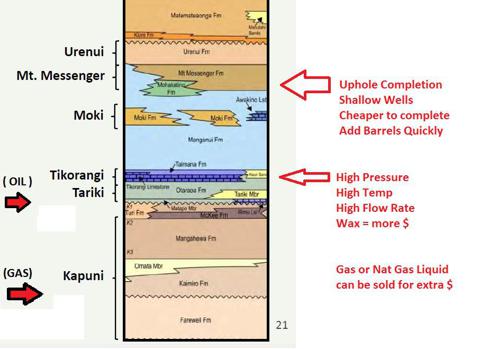 High-impact exploration. Taranaki is an exploration potential from six different drill-proven formations, and estimates of up to one million bbl recoverable per well. Working with proven basin, with 7,500 km NZEC is 2 of 3D seismic and 82,800 km of 2D seismic data, like the images above they are building a large inventory of low-risk, high-impact drilling prospects for future exploration.
NZEC last 30 day trading Volume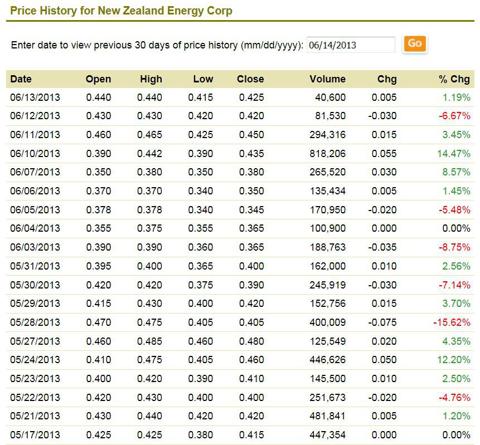 Other Resources: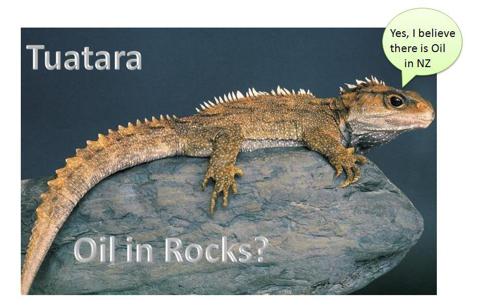 (Movies Filmed near Mount Taranaki, North Island New Zealand) Its actually a volcano, and this Volcano is the reason the geology is so unique and full of traps and faults and pore spaces containing oil.

Disclosure: I am long NZERF.
Additional disclosure: I am not qualified to give financial advice, consult your own advisors before making any life changing decisions with your finances. That being said, i'm pretty optimistic on what lies hidden beneath the earth in NZ.