Shales Tullii.com / USA


Which Companies, stocks are in Top 7 Shale Plays in USA.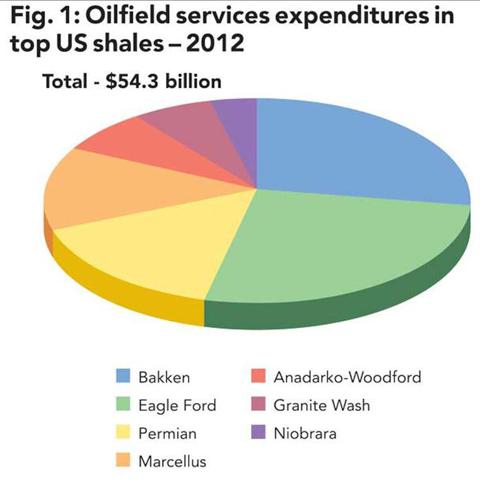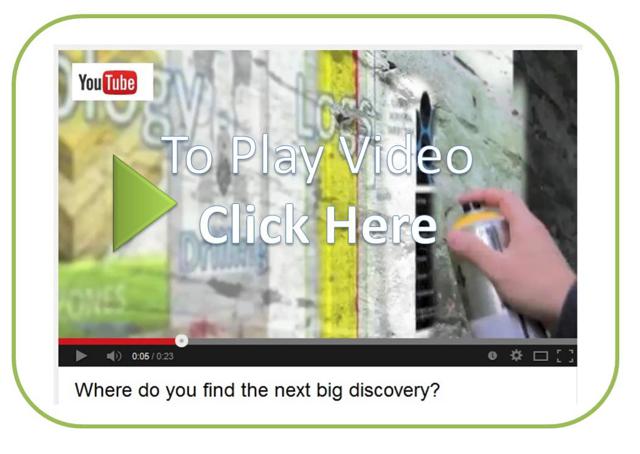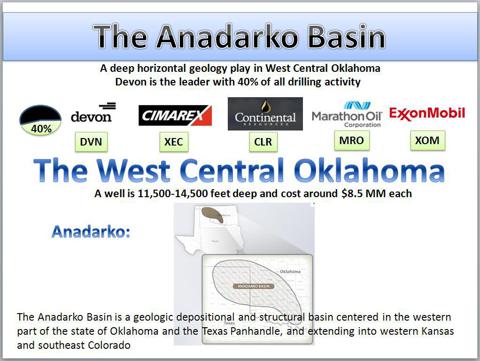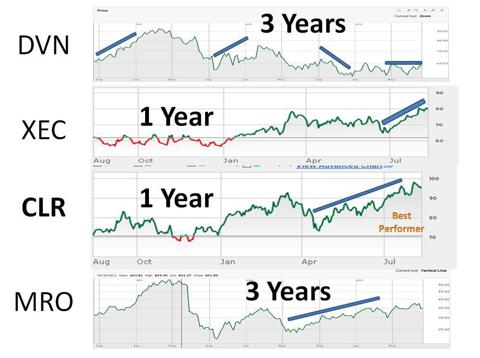 1•Anadarko-Woodford - Also called the Cana Woodford, the Anadarko-Woodford is a growing crude and liquids play in West-Central Oklahoma running up within the Anadarko basin. Devon Energy is the unchallenged leader here, accounting for more than 40% of all drilling activity. Four other companies follow with another 40% or so of new wells including Cimarex Energy, Continental Resources, Marathon, and ExxonMobil. It's a relatively deep horizontal play with depths ranging from 11,500 to 14,500 feet. Average drilling and completion costs/well can be ~ $8.5 million.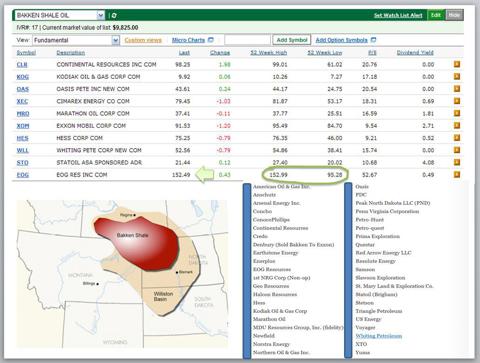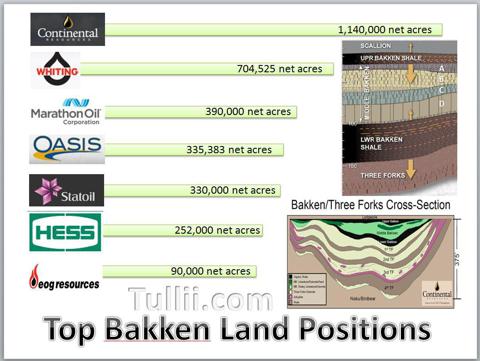 The Bakken Extent has now reached Williston the larger and better the oil pool is the more the Land goes up, KOG just paid $660 Million for 42000 Acres a new record per acre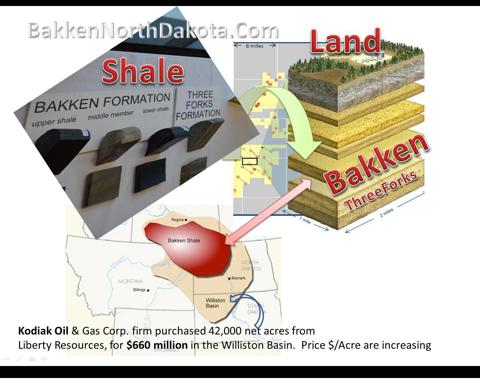 2•Bakken - The Bakken shale play is one of the biggest oil discoveries in recent history. Long known since the early days of drilling in the Williston basin, the Bakken shale was largely ignored until technology came along to make it economic to develop. Since then, it has become a huge success. Seven E&P companies will account for about 65% of Bakken drilling this year. In rank order they are: Continental Resources, Hess, Whiting Petroleum, Statoil/Brigham, Oasis Petroleum, Marathon, and EOG Resources. At present, Continental and Hess are together running ~ 40 rigs. Each is developing ways to become more efficient and reduce drilling days/well to somewhere in the mid-20s. These wells will be around 10,000-foot TVD and cost over $9 million each.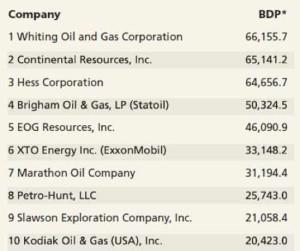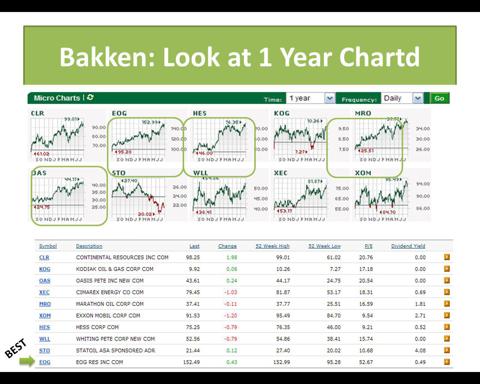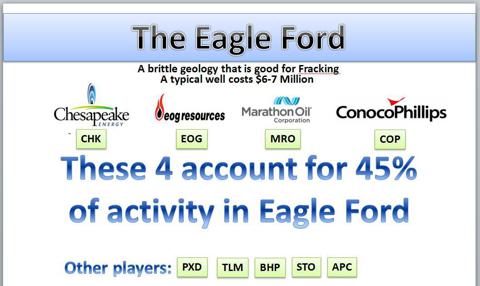 3•Eagle Ford - About 400 miles in length and stretching from Southwest Texas into East Texas, the Eagle Ford shale is a very interesting play with oil, liquids, and dry gas windows with 60% to 70% carbonate content and a more brittle geology that's good for fracturing. Four companies account for around 45% of all drilling here: Chesapeake Energy, EOG, Conoco Phillips, and Marathon. But there are other very aggressive players including Pioneer, Anadarko, Talisman/Statoil, and BHP (which paid $12 billion for Petrohawk and gained significant Eagle Ford holdings). Most are drilling $6.5 million to $7 million wells with focus on the Eagle Ford's oil and liquids windows.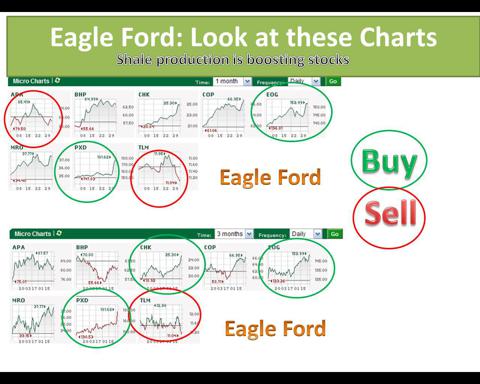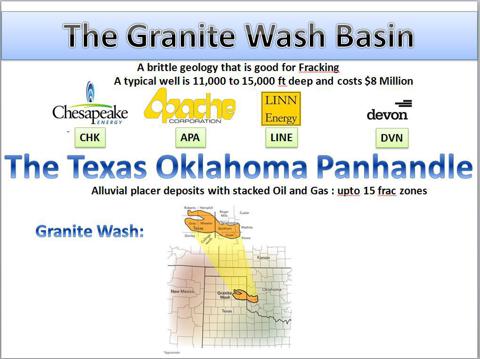 4•Granite Wash - A collection of several "wash plays" in the Texas-Oklahoma Panhandle are alluvial placers formed by mineral particles and deposits set down by ancient streams, involving a number of stacked oil and gas formations at depths of 11,000-15,000 feet. Chesapeake, Apache, and Linn Energy lead all players in the Granite Wash, drilling more than six of 10 wells here while Devon and Forest follow. These wells can have up to 15 frac stages (at least at this time) and cost $7.5 million to $8 million each.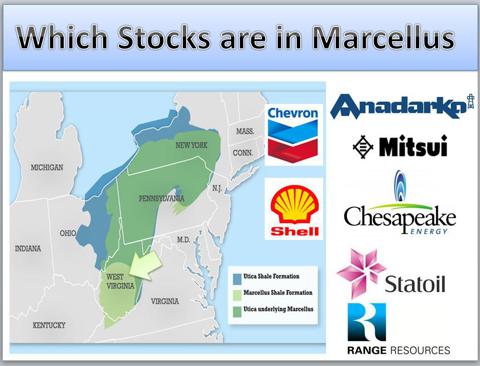 5•Marcellus - Most Marcellus shale wells are in Pennsylvania, with about 8 of 10 wells focused on natural gas. Range Resources and a few others are leading wet play development in the southwestern corner of the state. TVDs are around 6,300 feet with horizontals costing around $5.3 million. Busy players include Anadarko (with their Mitsui JV), Chesapeake and their associated JV with Statoil, then comes Range, Shell (which bought into the Marcellus by paying KKR $4.7 billion for East Resources), and then Chevron via their $4.3 billion acquisition of Atlas Energy. A plus for the Marcellus is its location adjacent to the biggest gas-consuming region in the country.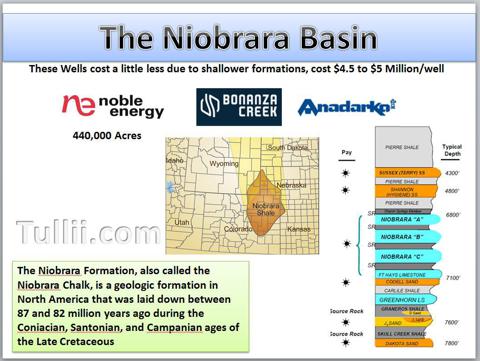 6•Niobrara - The Niobrara formation is located in a corner of the Rockies involving Colorado, Wyoming, Kansas, and Nebraska. Most activity today is in the northeastern corner of Colorado within the Denver-Julesburg basin. Noble Energy is the hands-down leader with more than 440,000 net acres in leasehold, drilling almost one in three wells here. Growing independent Bonanza Creek and Anadarko follow, both with aggressive development programs. TVDs are in the neighborhood of 6,200 feet with well costs that range from $4.5 million to ~ $5 million/well.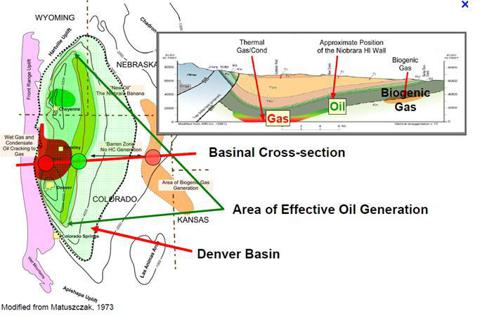 WPX hits a monster size gas well in the Niobrara, it will double WPX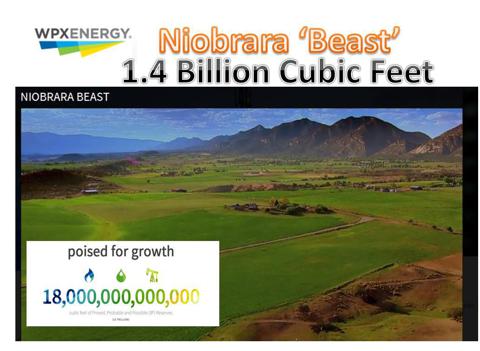 The OPTIONS are One way to Play NBL (here is a good day)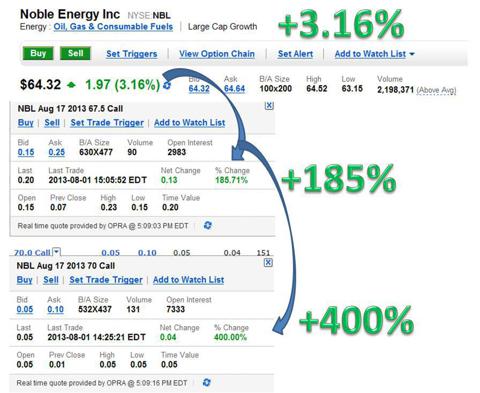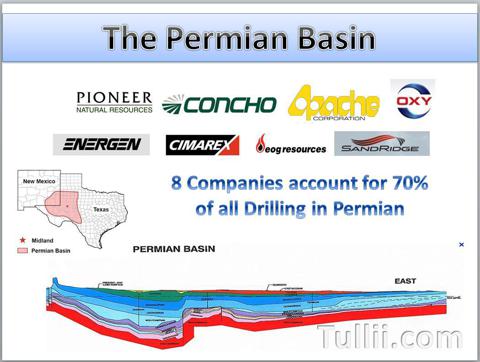 7•Permian - Several exciting shales now overlay an historic conventional oil basin where drilling began in the 1920s. They include the Avalon, Leonard, Wolfcamp, Bone Spring Field, Spraberry Field, and Yeso Oil Play. Also included is the Wolfberry Trend which refers to the Wolfcamp Shale and the Spraberry Field. There are plenty of operators of record here, but just eight account for around 70% of shale drilling today in the Permian. The top three: Pioneer Natural Resources, Concho Resources (which just spent over $1 billion to acquire Three Rivers Operating), and Apache. Oxy follows close behind, then comes Energen, Sandridge, Cimarex, and EOG.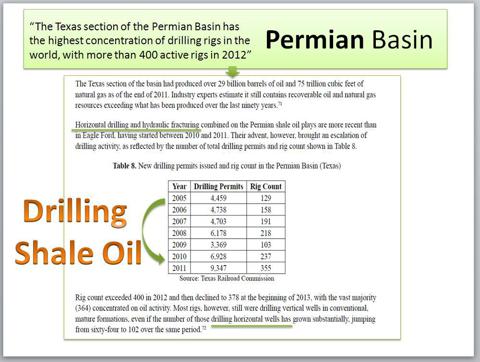 soon upcoming basins Monterey, Tuscaloosa, Woodford.
How Oil Equipment and Oil get transported around the USA
How the industry looks at Tight Oil, Shale Gas, Unconventional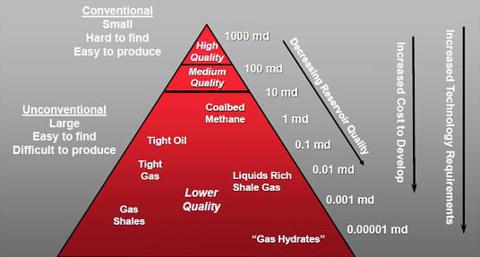 Shales need to "break, crack" or Frac for better Oil Production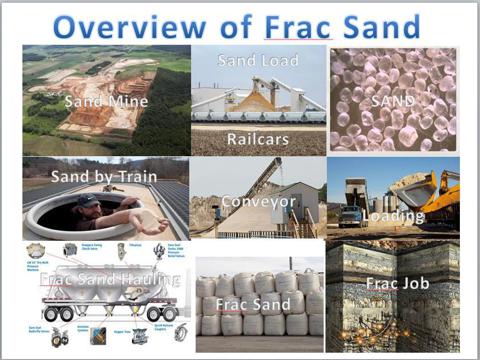 Frac Sand Information
1] Frac Sand in Wisconsin: Bruce Brown, Wisconsin Geological and Natural History Survey, Fact Sheet 05, 2012.
[2] The Facts of Frac: article from Drilling Minerals, January, 2007.
[3] Hydraulic Fracturing Proppants: article, map of U.S. Silica proppant sources and video on the important properties of frac sand, 2011.
[4] Sand Dollars - Mining Frac Sand in the River Valley: Reggie McLeod, Big River Magazine, July-August, 2011.
[5] Oil Companies Drawn to Frac Sand: Isabel Ordonez, Dow Jones Newswire article on Rigzone.com, May, 2012.
[6] St. Peter Sandstone: website article, Missouri Department of Natural Resources, Geological Survey Program, accessed July, 2012.
[7] Silica: Thomas Dolley, 2011 Minerals Yearbook, United States Geological Survey, March, 2013.
[8] Ground Water Atlas of the United States, United States Geological Survey, Hydrologic Investigations Atlas Series, published 1992 through 2000.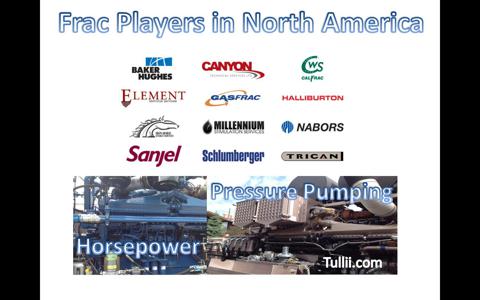 Global Frac Horse Power to Grow 243% by 2017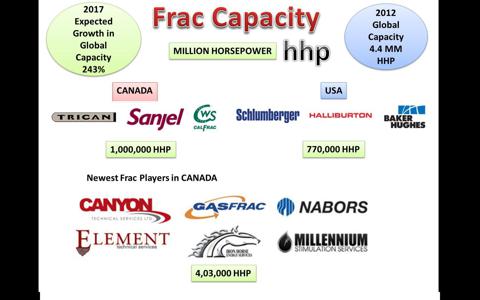 CANADA LINKS: Trican Sanjel Calfrac
USA LINKS: Schlumberger, Halliburton, Baker Hughes,
New Specialty Frac Players From Canada
Millenium Stimulation Services
Calfrac is 92% focused on Fracturing Wells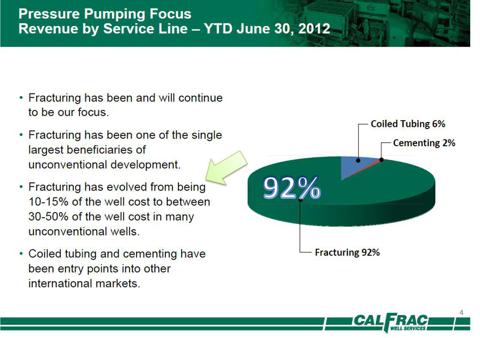 Sanjel is a private company and is not publicly traded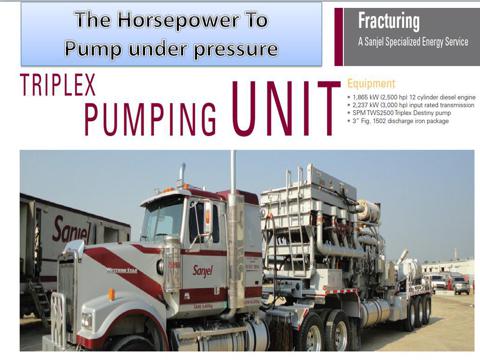 (NYSE:USA)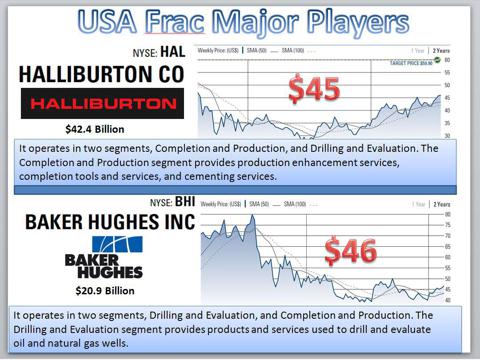 Global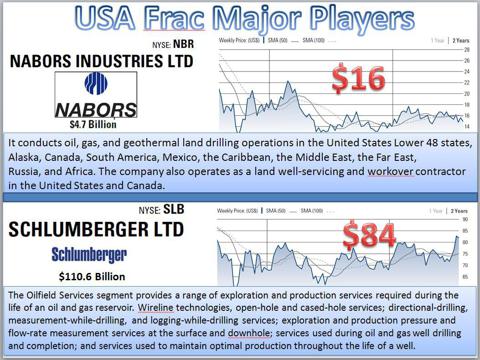 Shale Gas Reserves: Click to Enlarge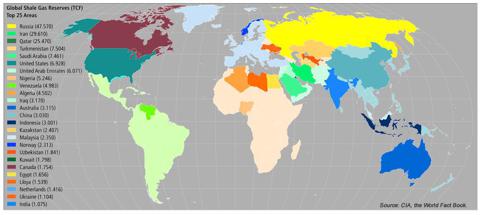 60% of Oil is found in Carbonate Reservoirs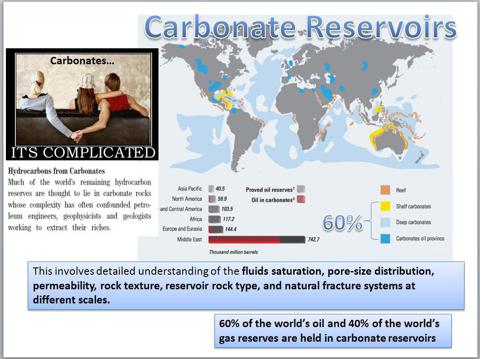 Petrophysics: Water Saturation helps find best rock Quality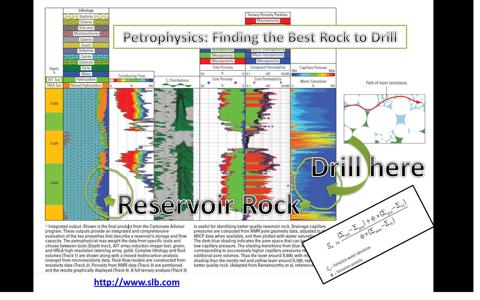 Sand is mined and piled for Transport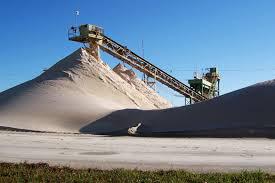 Some is shipped by RAIL or Truck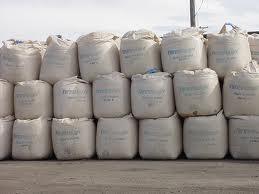 Conveyors or trucks move the sand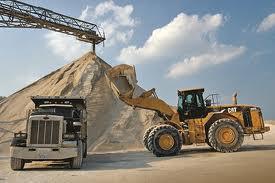 Special Dump Trailers are made to unload it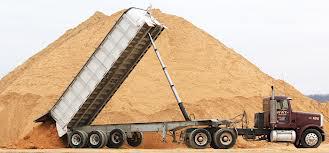 Demand has driven up production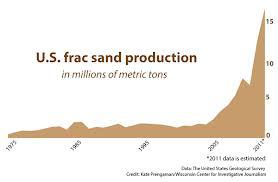 Sand is squeezed in oil shale to break it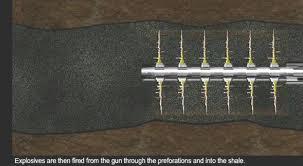 Surface Pumper run 24 hrs till each stage is done.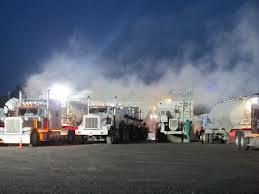 (Some wells include 100's to 1000 total truck loads during the entire job of preparing lease, drilling and completing a well. All this equipment requires power trains, horsepower, hydraulic power, and this equipment is about to experience a Boom)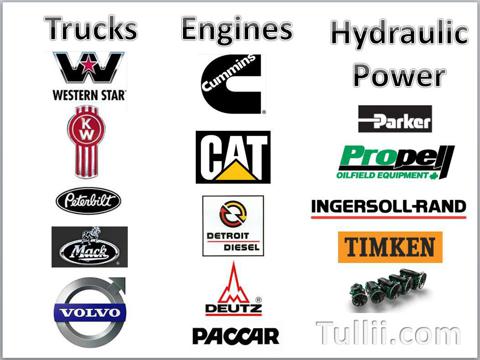 The
LINKS Western Star, Kenworth, Peterbuilt, Mack, Volvo,
Cummins, Cat, Detroit Deisel, Deutz, Paccar
Parker, Propell, Ingersol-Rand, TimKin
Shales Plays are worldwide, Not just USA, but they affect global oil ...click on this "Shale Oil Boom Report" to read a HARVARD study from expert Leonardo Maugeri.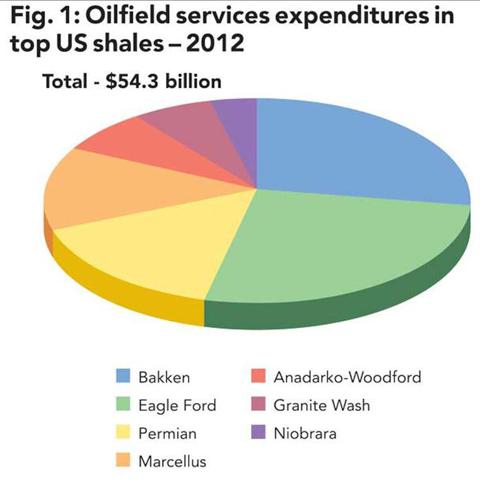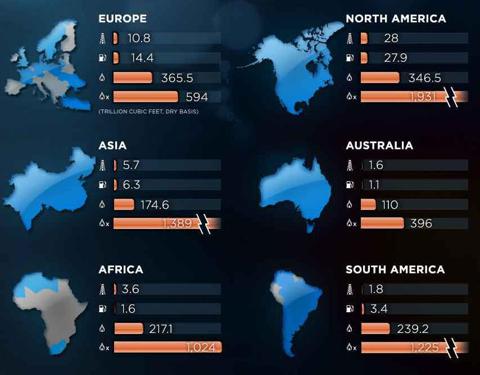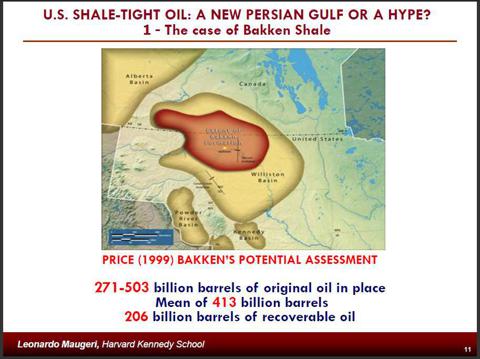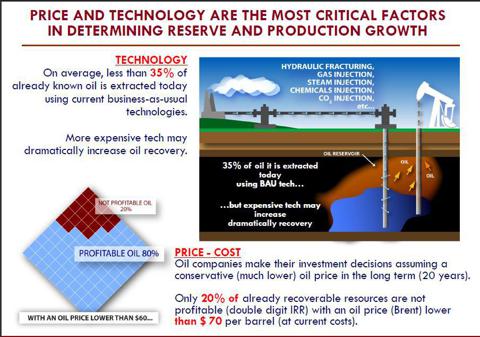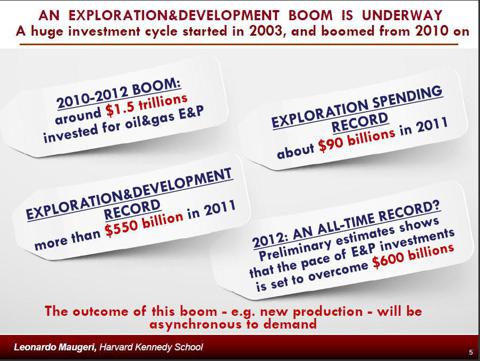 Fracturing fluids are liquids or gases that convey pressure from the surface into the reservoir to enable fractures to be created. Fracturing fluid allows transportation of proppant and chemicals into the reservoir.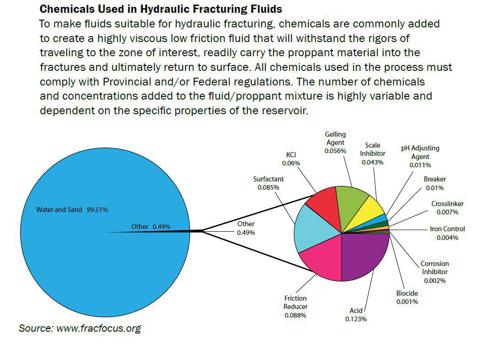 To learn More: Click on the Fact Sheets Below