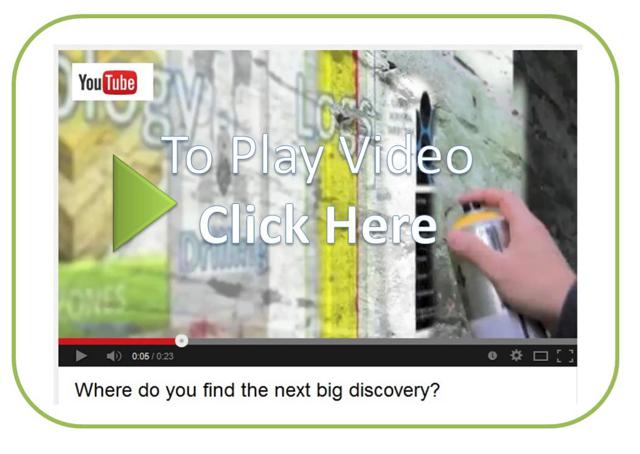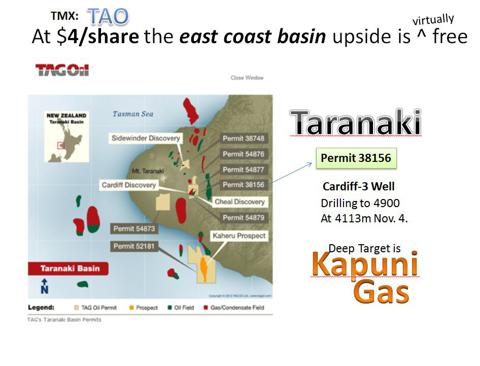 The Cardiff-3 well is heading over 4Km deep into a zone dubbed K3 and should reach its target by the end of November.
It's a beautiful site, these folks office might be the envy of many cubicle goers who can only imagine the view of this rigs office.
The Mountain in the background is actually a Volcano, not just any volcano but the legendary Mount Taranaki. About 4.9Km below her lies a basin called Kapuni, that is showing some hefty structures on 3D seismic that have likely trapped a sizeable prize of hydrocarbons. If this Geological theory and Geophysical story turns out to be confirmed when the drill bit reaches total depth, then this will be quite a story indeed.
(Tag Oil, Mt.Taranaki in the background)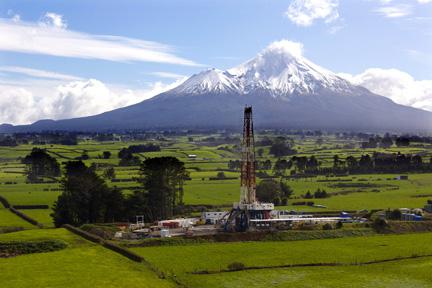 (You will need a sense of humor)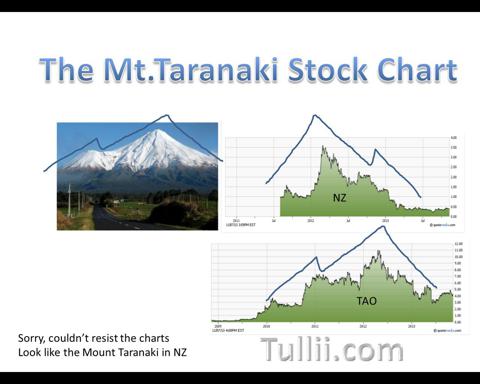 (Aerial shot of a lease, and rig drilling into multiple kapuni zones)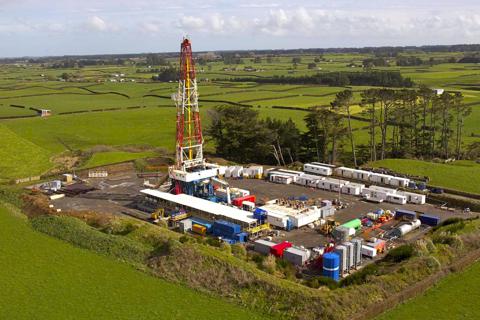 The well above is already 4113m into the McKee Sands, and is forging ahead to the next stop, the K1A Sands, and finally the big fella, the very deep, very mysterious K3 Sands. At these depths we could see higher than average pressures, and this is exploration meaning there are still some unknown unknowns that drillers, engineers and geo science folks may encounter on their journey.
Yet, it wouldn't be so exciting, if we already knew how it will end. The play is just heating up, Tag Oil is first to employ highly experienced teams since Shell and others first tried to approach this target using modern technology, experienced drillers and equipment that can handle the job. There is a lot of modern technology that has never been applied to this basin, and that is why this play has such promise to shareholders.
The exploration team knows the structure is there, they know it is likely full of gas and condensate but they still have serious days to get through before this goes from just an idea, to a great investment.
In the past some less experienced operators (drillers of the wells) made some expensive errors and this play does not forgive inexperienced drillers, selecting the wrong type of completion method or incorrect testing operations.
It comes down to respecting Taranaki, its a beautiful area, but the basin only seems to reward those who have smarts, tenacity, spirit, and the right overall attitude.
If the combination is unlocked by Tag Oil and their operator, then like the wheel on a casino game the K3 could match 7-7-7 and TAO shares may ring cha-ching for what lies beneath this fascinating geological play.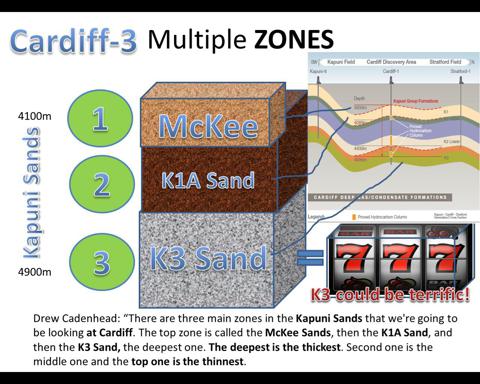 Earlier in the year, the company stated that over 600m of zones that bear hydrocarbons have been identified by nearby wells. That number attracted the industry and the brightest from near and far to zoom in on this formation and put the play together.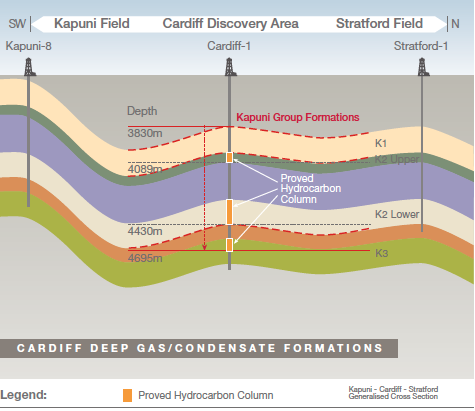 "Petroleum Mining Permit 38156 - Cardiff-3 (TAG 100%)
The deep Cardiff-3 well targeting the Eocene-aged Kapuni Formation is drilling ahead at approximately 4,113 meters after some delays due to the well encountering a high-permeability, hydrocarbon-bearing zone in the McKee Sands, at approximately 4,100 meters depth.
After drilling through the McKee Sands and into the second target zone, the K1A zone, TAG has encountered additional encouraging gas kicks of up to 20 times background levels. The Company expects to drill through the remainder of the main Kapuni Formation target zones in November and, at that time, will make a decision whether to complete and production test the well, if supported by data acquired as expected. "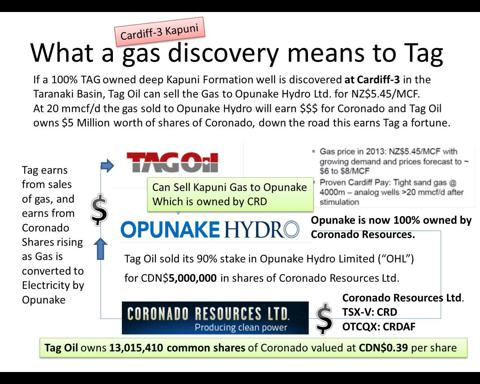 [CORRECTION in slide above: Tag owns 38,990,410 shares in CRD]
(Cardiff-3 could be a big deal long term and here is why)


OHL also have gas fired generation for which OHL owns two 1MW generators located on TAG's Cheal oil and gas field site in Taranaki, New Zealand, which supplies electricity to the Cheal oil and gas field's production facilities and provides excess electricity into New Zealand's main power grid.
In addition, OHL has obtained the rights to purchase a 1.15MW containerized gas fired generator which was installed on TAG's Cheal oil and gas field site in June 2013 and intends to acquire and install an additional 1MW gas fired generator in the near term.
Opunake Hydro generates retail power in New Zealand. OHL's power generation business falls into two categories: (a) hydro generation for which OHL owns the Opunake hydro power scheme,consisting of a 0.7 megawatt (MW) generator located on Lake Opunake in Taranaki, New Zealand.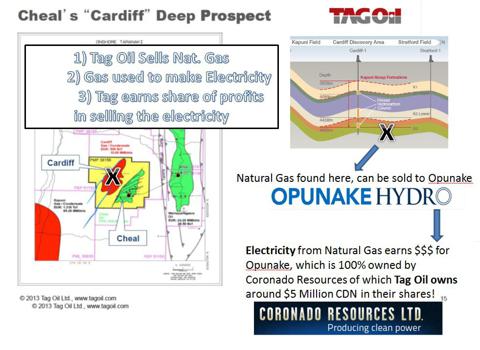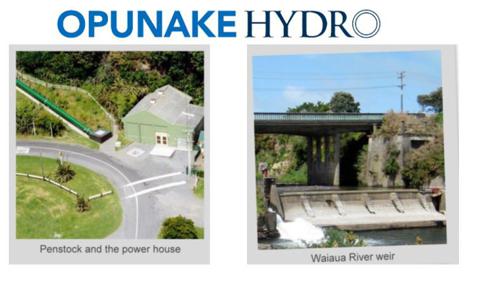 So not only does Tag Oil earn from selling natural gas from its deep gas wells, it earns another bonus from earning a % of the profits from the sale of electricity through its 5 million dollar stake in Coronado Resources Ltd. who owns 100% of the power generation company Opunake Hydro who makes electricity from the gas that Tag oil produces from wells it drills in the Taranaki basin. TMX: CRD has 79,273,092 shares issued and Tag Oil owns 38,990,410 shares of CRD or about 49.18%. So once a discovery is made, and co-generation starts all these companies start earning cash.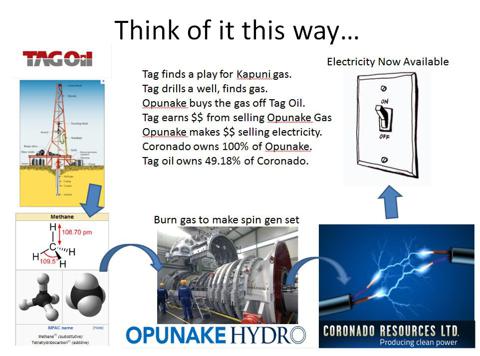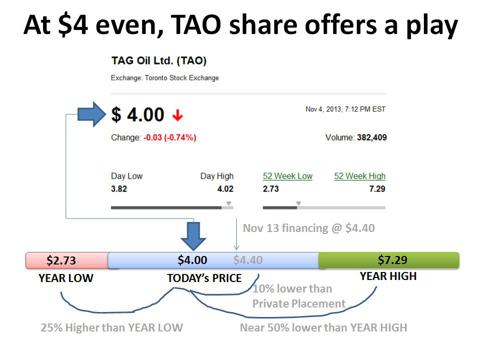 On Nov 4, 2013 the share price was around $4 even. A fair entry pt. Any new discovery, and you won't see these bargains again.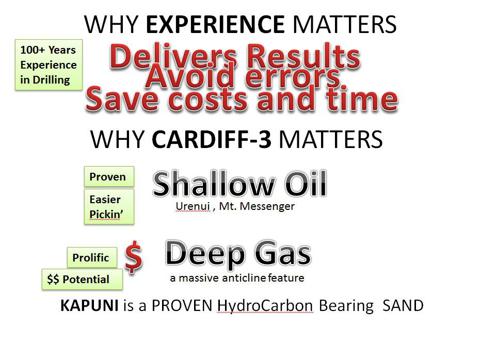 The
Cardiff Well is part of permit 38156 and targets the deeper condensate-rich Eocene play in Taranaki.
The New Zealand oil and gas business credits these deeper, tight sand reservoirs for creating the industry in NZ. The 1.5 TCF Kapuni pool is a proven pool and Tag Oil is after exactly the same formation, the Kapuni sands. They have chosen to twin an existing well for the Cardiff-3. Condensate fetches a pretty penny and so it offers some long term upside that is just too good to resist in a market that will buy up whatever liquids they can get.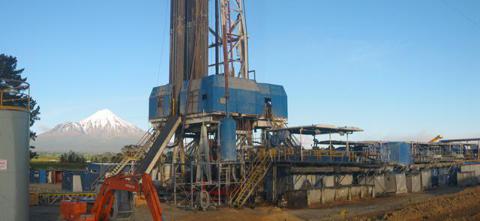 (The Rig set-up has to be able to reach nearly 5 Km depth)
(Cardiff-3 is on permit 38156)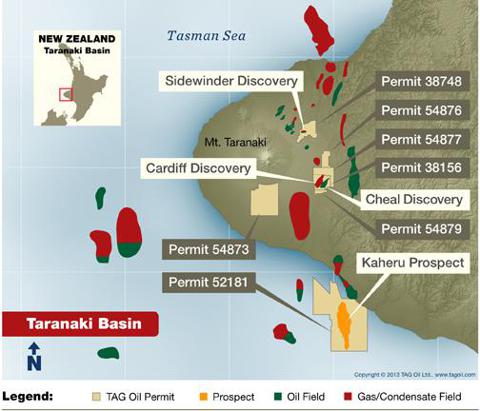 The story will get much more interesting in a few weeks.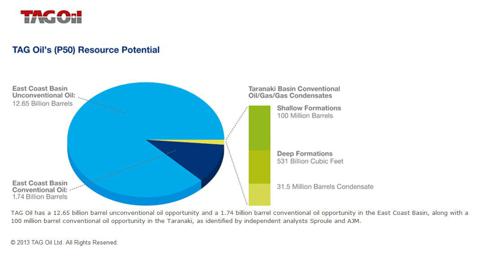 On Nov. 13 the $25 Million Private Placement (PP) at $4.40 will be announced as completed, which will give Tag Oil enough cash to get through to their next milestone. Notice the (PP) is 10% higher than today's $4.00 price, so management must have had some compelling data to share with bankers to sell $25 million shares if the deal is fully sold out by Nov 13. (we will see very soon).
The above blog post has only mentioned the Taranaki Basin, on the West side of the North Island. However the real big opportunity which has the entire industry buzzing, is on the East of the Island. The 'east coast basin' is hopefully the next big chapter in Tag Oil and several other companies exploration story.
New Zealand is full of plays that are fantastic so Stay Tuned -
Below is a 3 year TAO chart.
The big run up at 1) could repeat at 5) 'if' the company can deliver some good results on the Cardiff play.
You can expect some more events very soon, as they have 3 rigs on contract and they have lots of activity for a rather small staff so expect that news flow will be more frequent starting mid-november. Investors were expecting some higher production numbers in the spring at chart point 4) and a 25% plunge occured, which if you backtrack you will see i suggested was a great dip to enter the day that event happened. Exploration stocks seem to over-react to both Good events and events the market interprets as Bad, yet Oil and Gas or armchair retail traders should view these as the best events for Profit taking or Entry points if they like the liquidity of the trades. I
would argue that any successful completion of the EAST COAST WELL will turn this play into a world class play instantly, and any success at the Cardiff play in Taranaki would de-risk much of the exploration downside for quite some time.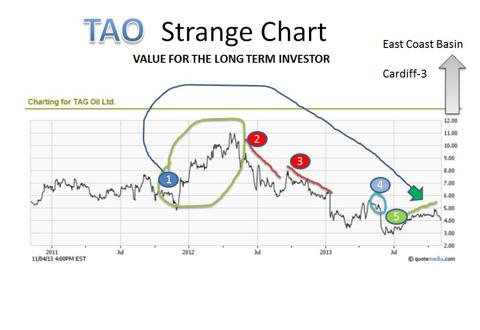 Disclaimer: This is a risky play, do your homework. Don't invest more than you can afford to lose some % of, and if you do invest and make gains, be smart and take some % of profit at every viable opportunity because the convoluted chart above is actually normal for Exploration and if you don't trade in/out to your gain you will miss the whole opportunity. By risk i mean, geological risk, environmental challenges, market price turmoil, drilling cost over-runs, engineering and completion risks, and unknown unknowns that are part and parcel in exploration and energy companies.
(Any liquids rich gas can be easily tied in to market here)
Update: Nov 14
Gas volumes are usually measured in multiples of cubic feet (ft3) or cubic meters (m3).
Gas reserves are expressed in billion cubic feet (bcf) (109), or trillion cubic feet (tcf) (10x12)
Gas volume produced or consumed is often expressed in million cubic feet (MMcf), (10x6), and Mcf (thousand cubic feet).
Gas volume can also be expressed in million cubic feet per day (MMcfd), sometimes written as MMscfd to denote standard conditions, and its metric counterpart, billion cubic meters per day (bcmd).
So lets look at what Tag Oil is chasing at Cardiff-3.
Tag Oil is chasing 67.89 Bcf in the ground with a value in the hundreds of millions over the time it is extracted from multiple wells. With $12-15MM per well the reservoir is expensive to drill due its depth and pressures but the rewards are enough to take the chance.
Contrary to popular opinion, gas is not generally sold per unit of volume, but rather per unit of energy that can be produced by burning the gas.
The heat energy of a particular gas stream is measured by units of calorific value, which is defined by the number of heat units released when a unit volume of the gas burns. The value Tag received in Q2 was on avg. $5.18 /Mcf selling its gas to its customers. This number was used as a ballpark to value the entire reservoir, not one well, but the entire gas-in-place in the entire field and its in the hundreds of millions of dollars.
(click link to go to news release)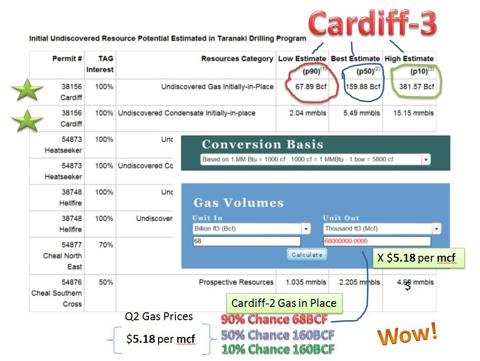 Do not base your investment decision soley on this chart, this not indicative of what will happen this is only a ballpark ideal estimate. I am obvious as hopeful as everyone else, but this is the 5th attempt in 23 years to unlock the 7-7-7 combination that Kapuni has yet to allow its mysterious combination to line up for explorationists. This year we hope the lucky 13-13 financing of $25MM on 11-13-13 helps those who are superstitious hit the TagOil jackpot by December 13, 2013.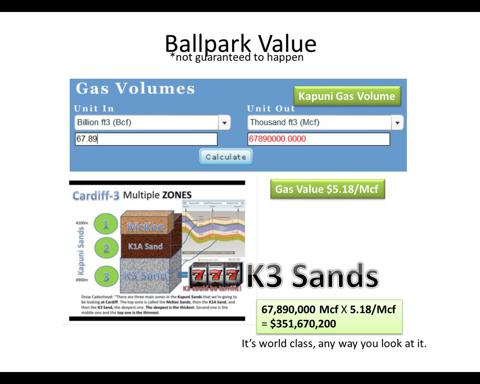 (The Nat Gas Price in NZ has been on the rise since 2001) Red line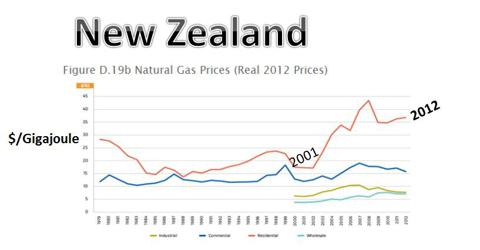 (Price/Gigajoule is much higher in NZ due to market size dynamics)

(This makes a KAPUNI GAS find very attract to usa/cdn investors)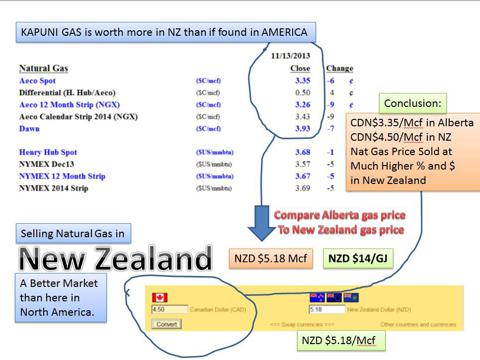 Before you start thinking gas in NZ is being price unfairly, first understand that the Natural Gas exchange in canada handles $1 Billion a month in Canada serving a North American market for natural gas.
With a population of 30+ million in canada and 300+ million in the USA the NGX sells around 60 BCF of contracts daily to 250+ participants.
New Zealand on the other hand has only 4 million+ population, not yet the demand side of industrial or residental customers in country or comparable infrastructure like seen in north america. So the price side of gas is much higher in $NZD for supply/demand dynamics. If this $ differential for gas did not exist, the TARANAKI opportunity for exploration would not be what it its today.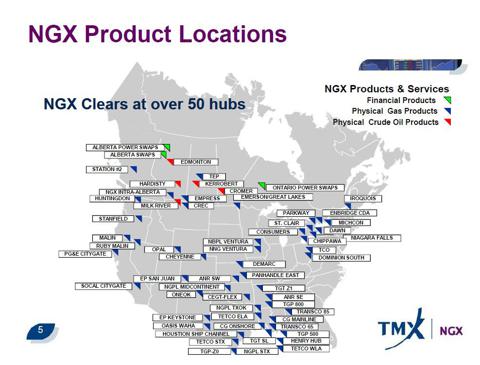 North America also has a huge pipeline network and capacity to handle the flow to residential and commercial suppliers. New Zealand has infrastructure, but the demand side is not proportional to USA or Canada so Sellers of Gas can obtain a better margin.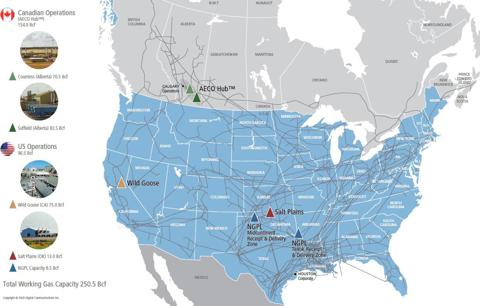 [ Nov 7 ,2013 Special Note ]
Price of Oil $$ dropped today due to Euro Central Bank rate cut. Mark Shenk reported that a euro rate cut strengthened the dollar and that had the affect on the Futures Market of what they call a contango, where the future price is cheaper than the today price. So traders sell out today to get a better price a month away, this drops Oil benchmarks and has effects on markets.
I stand by my conviction that BRENT OIL is needed 1-3-5 years out, and the better the quality the more $ it will fetch. New reserves in the ground stand to fetch better prices when Opec production falls. No one can predict the future, but Oil will be desired at some fair price and the new players can grow much faster and leaner than the big companies.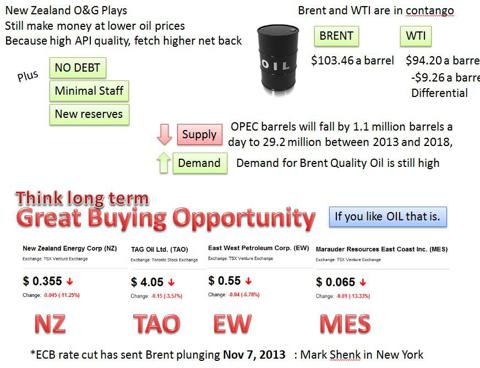 A year from now, refineries will still be looking for Brent Oil, and the New Zealand companies will still be a good bet looking outward 1 year or more.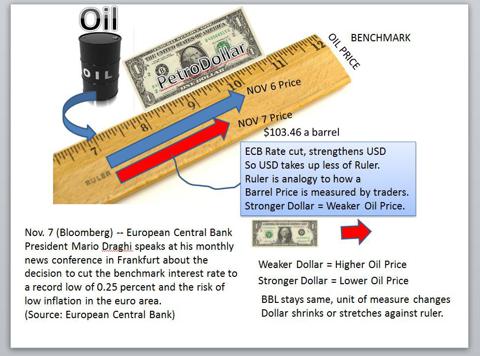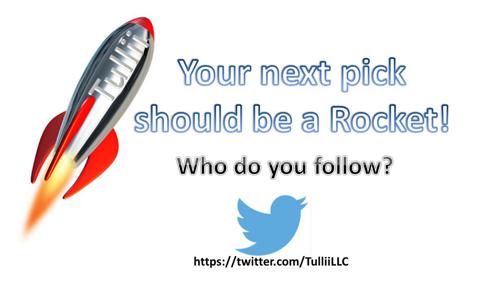 TARANAKI UPDATE: NOV 26, 2013 (NZ date/time)
A Small Protest in Taranaki: Ngati Haua Whanui Inc (Ngaruahine Iwi)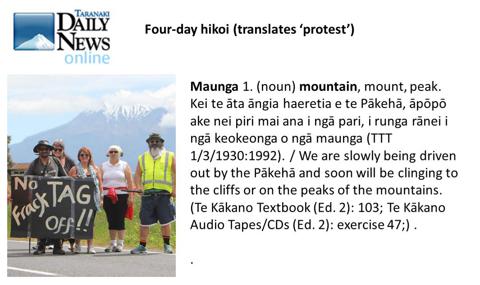 A link to the website of the news of protest (Maori: Hikoi)
Who are the Ngaruahine Iwi ? A group entrusted to protect the lands of their Ancestors and an Organization who are in negotiations with the Crown over many environment and land issues.
Mt. Taranaki is at the center of a group marching against oil and gas drilling near their mountain ("maunga" in maori).
"When I pass the rivers, it's the veins to our maunga, and they are breaking up our veins with the drilling," "We are the mountain, and the mountain is us," Mr Potaua Rangitaawa, of Ngaruahine said.
The Mountain is a Volcano, that to one group is sacred and to another is responsible for providing virgin geology with unprecidented oil and gas bearing rock layers of a thickness that could hold decades of energy. Such is the irony of the location where the wells are best located are on sacred or sensitive territory.
He (Rangitaawa) is part of a hikoi marching to protest against Tag Oil being granted consent to establish and test up to eight oil and gas exploration sites, and establish oil and gas production facilities, at Rowan Rd, Mahoe.
Ngati Haua Whanui Inc, a subsidiary of Ngaruahine Iwi
One TRUST has some opposition to the drilling of HEATSEEKER which was scheduled to drill in late Q4 or early Q1 2014. The group is an unincorporated TRUST with Ocean claims toward the Crown and in their Trust Deed they have stated what their future goals are in terms of protecting a Mountain they view as sacred, as well as the land in the park in which the Mountain resides.
Respectfully, the history of MT.TARANAKI is absolutely fascinating. It is such a majestic place, and it offers much to its many neighbors who have a connection to the weather it provides which makes its park area so lush. I'll save that story for another day.
The protest appeared to have an effect on the Operator of the wells being drilled in Taranaki. East West Petroleum, dropped 17% on modest volume on the first trading day of the protest. EW is the drilling operator for Tag Oil in the Taranaki Basin. The sell off was rather low volume and likely a mild reaction to the hikoi walk organized over the weekend by the group below.
This is one more reason to properly promote balanced education over the issue around drilling and fracturing technologies. New Zealand is far behind other countries in education and public awareness surrounding such new technologies.
Tag oil and East West will have their challenges ahead addressing communities and groups who also have a vested stake in the area and are less informed about the new science and advanced technology that is part of the business of drilling for precious energy resources.
Savvy investors know these things tend to worth themselves out with education, dialogue and sharing of sides of any issues. The actual shares of EW are a bargain today, but for how long? If Cardiff-3 hits payday soon, or if results from the east coast are release by the new year,this will be quite a different story overnight in a positive way.
Don't forget how fast this Junior can run up on + news, and keep in mind there are 9 wells underway in the basin. So a blip on the screen like the chart above is a great entry point to hang on during the run ups like in the chart below.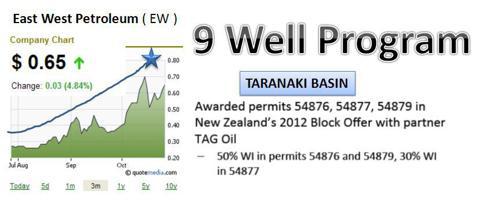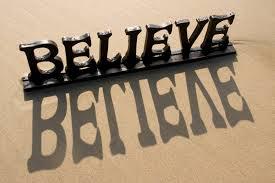 And don't forget the upcoming projects in the East Coast Basin. In the coming months the land and exploration planned could make any activity in Taranaki an old story instantly. The key to this story is soon to be unlocked, and you won't find a better play than the geology offer up by New Zealand on the East Coast.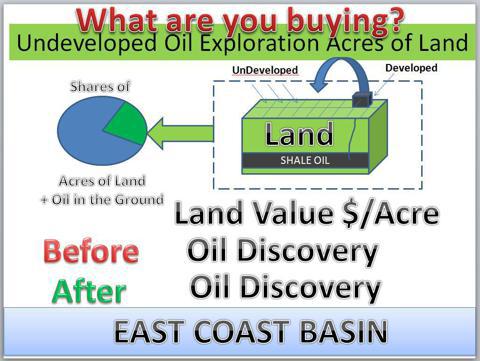 (EW could still surprise in Q4)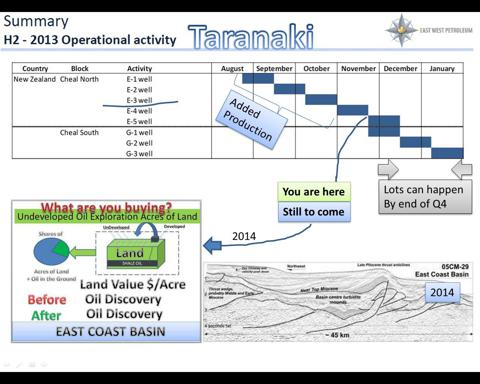 Understand that the folks at Ngaruahine are just doing their jobs, and as these and other community groups get more familiar with, and teach other about this project it will improve. The safety of the operators on this and other plays proove they are competent and capable of doing their minimal impact work and reclaimation, the relations will strengthen and the projects will be welcomed. At present there aren't enough years of relation building to solve every concern by laypeople, and the hard science will back me up here, we are at the forefront of an oil revolution that is no longer the danger so often promoted by misinformed environmental scientists who haven't been inside a hard science research facility.
I guess I'm saying, you ain't seen nothing yet when it comes to New Zealand, the new tech coming there is so advanced, of such scale the risk going to go so low, i think the world is about to change forever, in a good way. It's that big of a deal.
(Link to the Iwi groups website for reference)

(A slide from their May 2013 Presentation)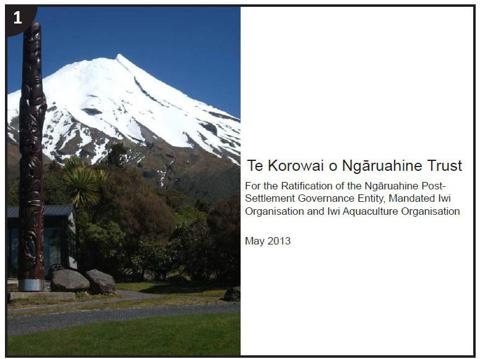 Ka mate and te mate, ka ora and ahau - when death itself is dead, I myself shall be alive.
Titokowaru - paramount chief of Ngaruahine 1868.
Mandated to negotiate a settlement of the historical treaty grievances for Ngaruahine Iwi and establish the Post Settlement Governance Entity (PSGE) that will receive and mange the settlement assets
Description An interactive way of staying in touch. If you have any questions contact us:
(e) administrator@ngaruahine.iwi.nz
(w) ngaruahine.iwi.nz
(p) 06 278 1070
General InformationBy the year 2034 we want Ngāruahine Iwi to be:
* socially responsible
* culturally competent
* economically sound
* politically savvy
Tihei Mauriora!
About ngaruahine.iwi.nz
(Their Core Values)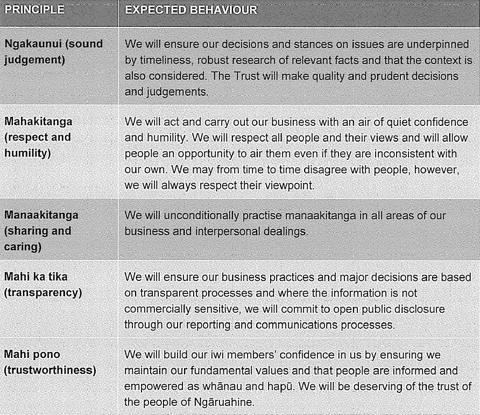 The desecration and muru that followed after the implementation of the scorched earth policy left Ngaruahine bereft, naked and with absolutely nothing. For ten years, our people remained hidden on the Maunga, isolated and disconnected from their homes on the Wainnate plains. They became a forgotten people, a people unable to return home because of fear.
The use of the word Korowai in the name refers to the protection and safety from the elements that our people would have needed while living on the Maunga. The Korowai represents our old people and those whom have gone before us. Through telling the stories of our ancestors, we honour them. By bringing their stories to life, we create a foundation of knowledge for generations to come. The Korowai represents the knowledge we have as a collective of whanau, hap and marae within Ngaruahine. In order for Ngaruahine to create an effective Korowai that represents these aspirations, we will all need to work together - kia tU Ngaruahine ai tatou.
The Korowai also represents a new beginning for Ngaruahine, a brighter future where the possibilities are endless. A future where Ngaruahine is united. A future where we are politically savvy, financially sound, socially responsible and culturally competent. A future where our people are strong in knowing their reo, culture and identity, an identity that ultimately connects them back to their Ngaruahinetanga through knowing their whakapapa.
Te Korowai o Ngaruahine Trust will represent the future aspirations for the people of Ngaruahine. It will be the vehicle to drive Ngaruahine forward into the future, and beyond.
Disclosure: I am long TAOIF.