A typical Oil and Gas investor worries about things you can't see on a companies balance sheet, stock chart or quarterly report. Some of those things are visible to those with the time and expertise to peer though massive sets of industry data and make sense of it.
Few people have time to do this themselves and rely on external sources to highlight trends, zero in on opportunities and call out warnings. That is why I am glad companies like Platts and Bentek exist. They sift through such industry data and then apply researchers to extract key points to help others get a snapshot at the big picture.
If you are looking at NGL, CDN/USA Drillers, Explorers, Producers, you can use data below to help better time the companies or basins you want to be positioned in over the next few years when trends occur or prices turn around one way or another.
In the October Presentation on Energy Analytics by Platts/Bentek Energy in Calgary, Justin Carlson highlighted some energy data that was indicating some rather significant changes in the USA/Canada energy picture.
I take no credit or fault for the data presented, the authors are highly credible and data presented as the researchers presented it.
Key Points:
Utica gas production in the Northeast has caused huge shifts lately. Marcellus could hit 15 BCF by 2015 Utica may hit 2-6 BCF by same time. NGL could be very exportable to captive markets by 2015. AECO price should rise by 2016, the tail end of the decade from 2016-2020 could be fabulous for both Oil and Gas.

So if you like Nat. Gas plays, Utica or Marcellus, you scan through this link below this winter and you may some of these O&G Juniors are in the basins you find most attractive.

(1. Slides below used with permission Platts/Bentek)
*slides are numbered different than my blog numbers if you find slides hard to read a .pdf is linked abover under october presentation.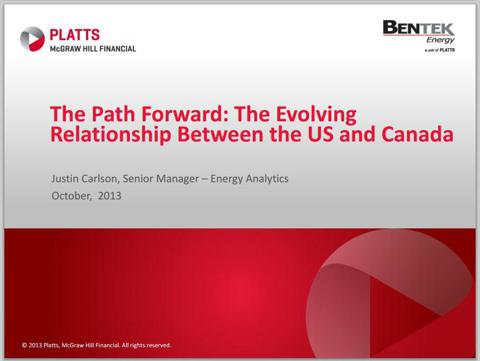 (2. ) Onshore production is rising very fast, but so is demand.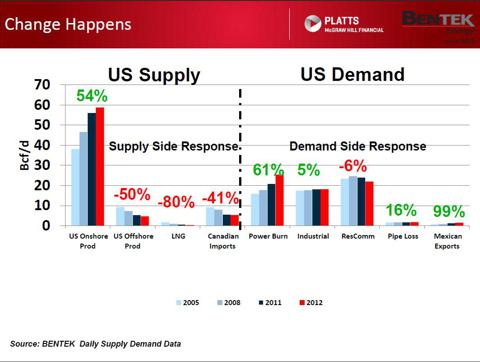 3.
4 Domestic Production is UP, But residential, commercial demand is higher.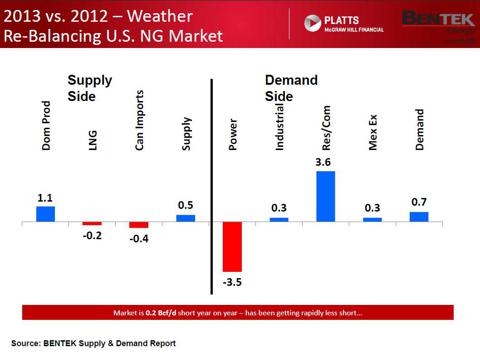 5. USA Gas is growing slower from 2009-2013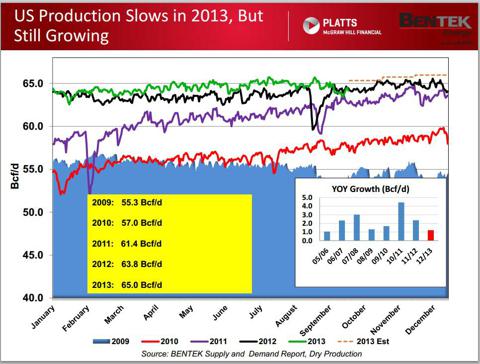 6.USA is drilling more and wells with same rigs each year, efficiency is improving indicated by the Black ---- lines.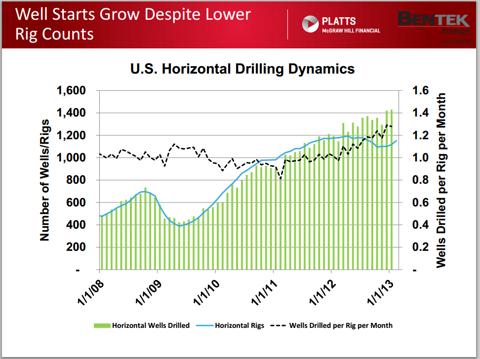 7. The Basins are performing with different results, the Marcellus is on outperforming the other basins even with lower rig counts working it. Eagle ford is very active and shows no sign of slowing production.
8. Green circles represent increased rig counts, black:decreased rigs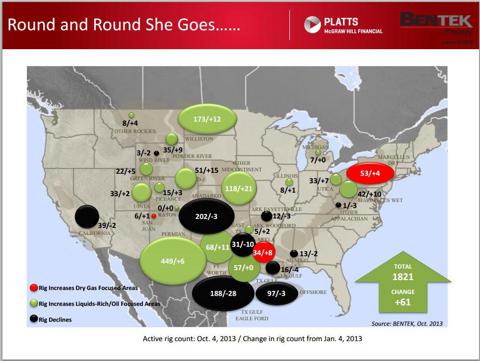 9. The Price at Henry Hub is up, even as bcf/d (power burn) is slightly dropped year to year.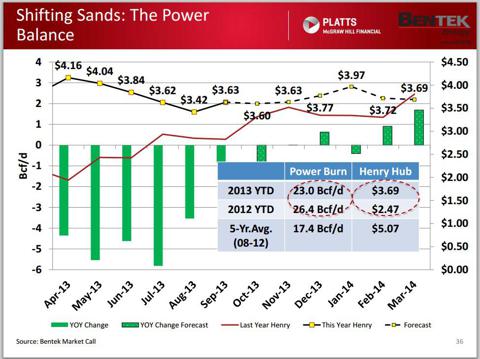 10. Approx. 350 Bcf Gas surplus is used of in a 13 week period.
11. Supply is dropping off (2.3 Bcf), Demand is increasing (0.5 Bcf) upward and less gas is being exported.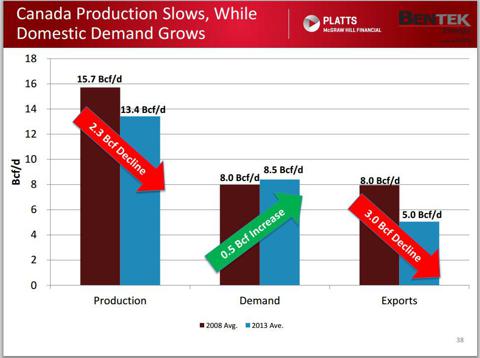 12. The Black line below shows that #Rigs working is at a 5 year low. So production is down due to decreased drilling activity by producers. If demand is picking up, and few rigs are adding to supply, in time Gas prices may rebalance and we will be five years behind on replenishing supply. When the Nat Gas prices eventually turn upward they will be supported by similar metrics and a sustained positive move is possible.
13. Rigs in canada have shifted away from Gas drilling to Oil drilling. More rigs were active in 2013 than in past 5 years.
15 See where the red:blue --- intersect this indicates an EXPORT market is opening up and the Market for USA gas supply is now a reality.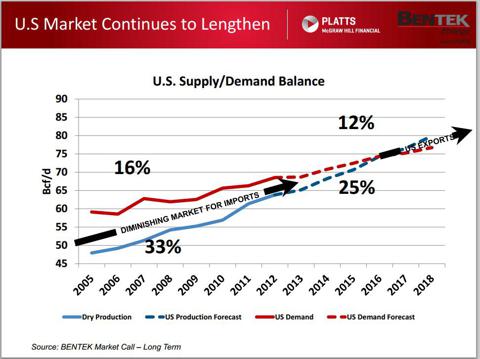 16 Big changes in NORTHEAST USA.
Production outpaces Demand for first time in January 2013 and does so 45% of the year. This causes inflows to NE to plummet and the market reacts instantly. See details on next slides (44,45)
17 The CIRCLE highlights a turning point in NE supply.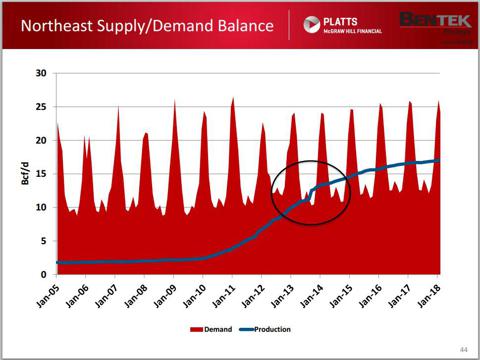 18. Marcellus and Utica
19 Bakken
20
21. In Midcontinental USA Demand is Residential/Commercial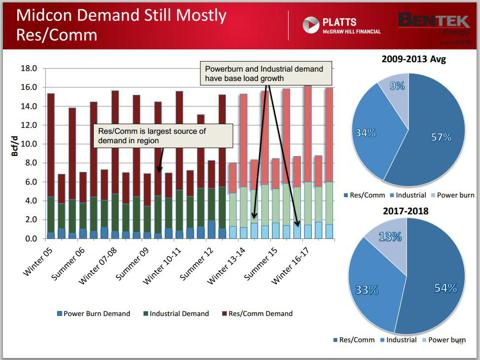 22 Pacific Northwest = PNW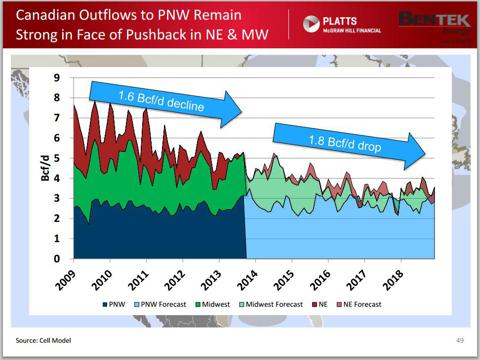 24. RED line, AECO Prices appear to Turn upward into 2016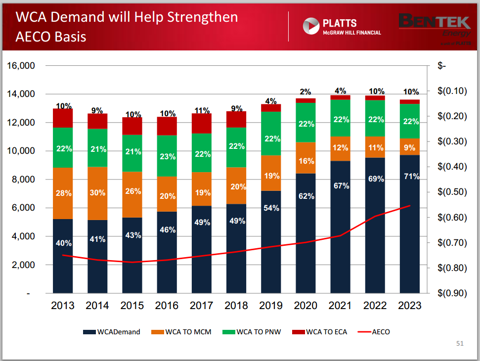 END of Presentation.