It has been a long twisty road to set the current stage for this junior company and its ambitious plans to liberate the energy in the hydrocarbon bearing rocks of New Zealand's North Island.

The Recent Q3 Results for New Zealand Energy Ltd. (referred to as NZEC, NZ, or NZERF) demonstrate that with the acquisition and financing phases finally all in place, and with drilling permits, licenses, cash and people, we are now moving forward with utmost confidence that this team can deliver in Q4. If so 2014 will be looking like a turnaround story worth serious attention.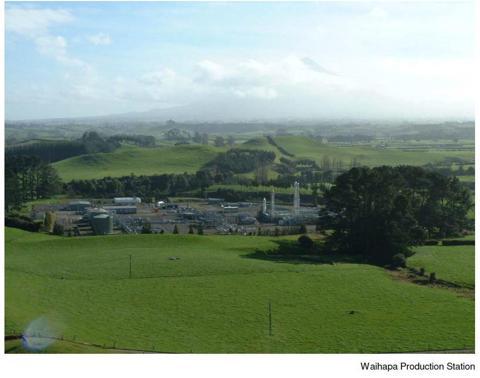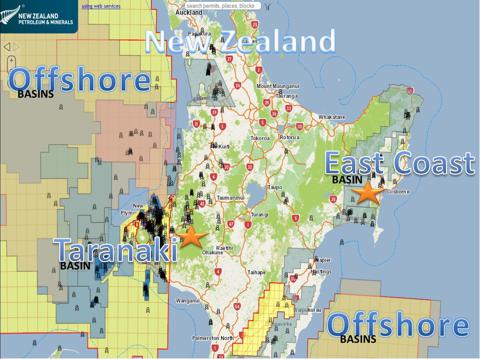 News flow should be steady from this point forward. Early December could offer the first glimpse of what is in store for patient followers of the story in both Taranaki basin and by early Q1 2014 maybe some added excitement on the East Coast Basin potential.
(click to link to NOV 27 Actual new release)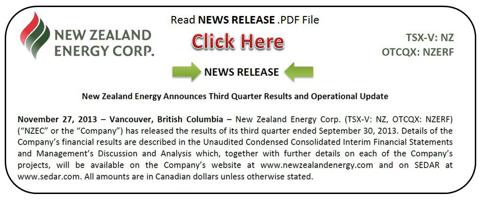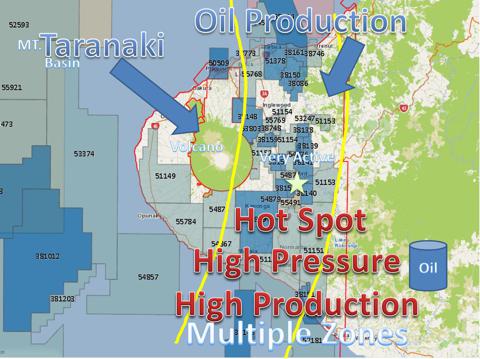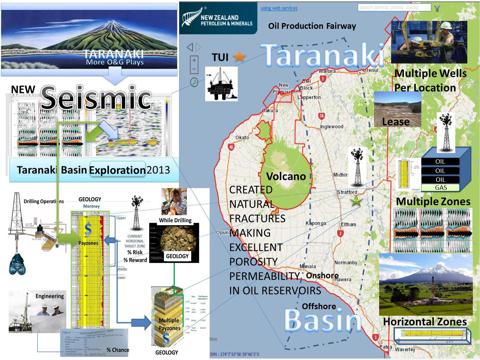 I have extracted a few sections of the Q3 results, not to restate or comment on the obvious, but to draw attention for any new followers to this play on any relevant backstory that may broaden their view on how NZERF,NZ got to where we are today. You can click on links to read previous instablogs or commentary on this play as it has unfolded over the past year.
My view, is yesterday's numbers is not why I am here. I am only interested in looking forward to the real future of this play. The rare opportunity offered within its unique geology, exploration potential, and project fundamentals that speak so loudly on their own merits.
I am not qualified to advise you what to do, or not do, with your money or your time, but if you are still here reading this you are obviously looking for something different in the world and this play offers a unique value proposition. I don't want to waste your time or mine, but obviously I believe very strongly in this play, its projects, and its people.

All three 1)the rocks, 2)the projects and 3)the people, have to line up for this to be an overall success. It's now looking like the path to success is well prepared, from this point forward the players are on the field and its time to step aside and let them do what they do best. The next 3-4 months will be full of interesting activity and you owe it to yourself to learn the short and long term views of this story, because with their efforts and a few breaks this could be the play of your lifetime if you spread your dollars across these new basins.
(Update from Q3)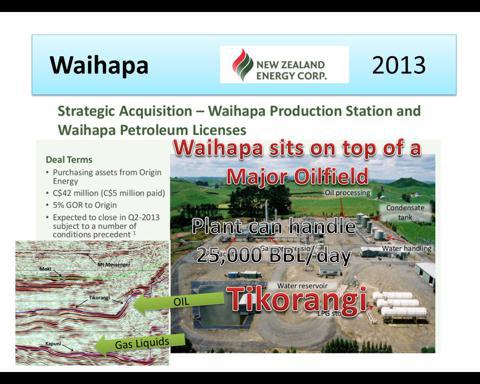 (Visual interpretation of New Release Dec 2)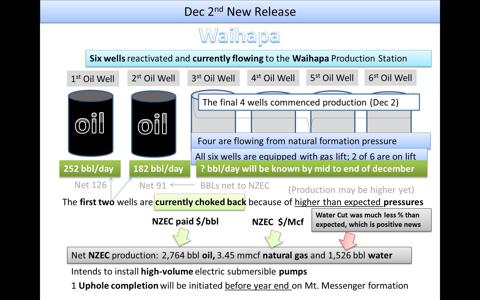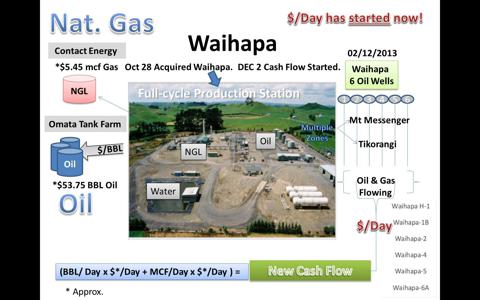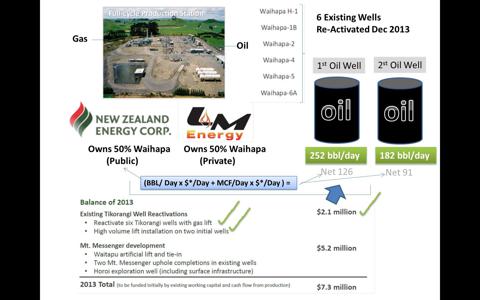 As of Dec 2, only 2 wells are on gas lift, when the High Volume lift is turned on the bright green area representing oil production kicks in and oil production should soar.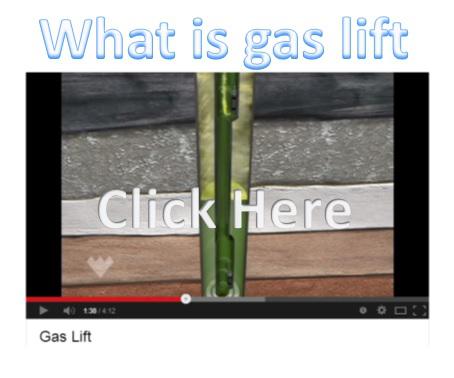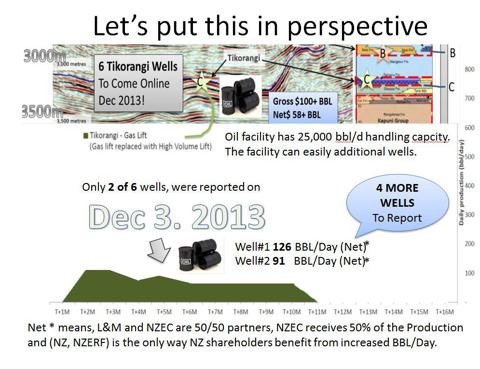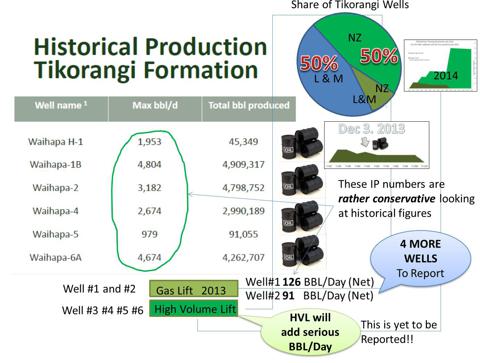 BACK in 2002, Tikorangi this was still an academic "Theory".
In this paper "Petrogenesis of the Tikorangi Formation fracture reservoir, Waihapa-Ngaere Field, Taranaki Basin"
(You will find it was this kind of research that lead to drilling wells)
Abstract
The subsurface mid-Tertiary Tikorangi Formation is the sole limestone and the only fracture-producing hydrocarbon reservoir within Taranaki Basin. This study, based on core material from seven wells in the onshore Waihapa/Ngaere Field, uses a range of petrographic (standard, CL, UV, SEM) and geochemical techniques (stable isotope, trace element data, XRD) to unravel a complex diagenetic history for the Tikorangi Formation.
A series of eight major geological-diagenetic events for the host rock and fracture systems have been established, ranging from burial cementation through to hydrocarbon emplacement within mineralised fractures. For each diagenetic event a probable temperature field has been identified which, combined with a geohistory plot, has enabled the timing of events to be determined.
This study has shown that the Tikorangi Formation comprises a complex mixed siliciclastic-carbonate-rich sequence of rocks that exhibit generally tight, pressure-dissolved, and well cemented fabrics with negligible porosity and permeability other than in fractures.
Burial cementation of the host rocks occurred at temperatures of 27-37°C from about 0.5-1.0 km burial depths.
Partial replacement dolomitisation occurred during late burial diagenesis at temperatures of 36-50°C and at burial depths of about 1.0 km, without any secondary porosity development.
Fracturing occurred after dolomitisation and was associated with compression and thrusting on the Taranaki Fault. The location of more carbonate/dolomite-rich units may have implications for the location of better-developed fracture network systems and for hydrocarbon prospectivity and production.
Hydrocarbon productivity has been ultimately determined by original depositional facies, diagenesis, and deformation. Within the fracture systems, a complex suite of vein calcite, dolomite, quartzine, and celestite minerals has been precipitated prior to hydrocarbon emplacement, which have substantially healed and reduced fracture porosities and permeabilities.
The occurrence of multiple vein mineral phases, collectively forming a calcite/dolomite-celestite-quartzine mineral assemblage, points to fluid compositions varying both spatially and temporally. The fluids responsible for vein mineralisation in the Tikorangi Formation probably involvedwaters of diverse origins and compositions. Vein mineralisation records a history of changing pore fluid chemistry and heating during burial, punctuated by changes in the relative input and mixing of downward circulating meteoric and upwelling basinal fluids.
A sequence of mineralisation events and their probable burial depth/temperature fields have been defined, ranging from temperatures of 50-80°C and burial depths of 1.0-2.3 km. Hydrocarbon emplacement has occurred over the last 6 m.y. following the vein mineralisation events. The Tikorangi Formation must continue to be viewed as a potential fracture reservoir play within Taranaki Basin.
--------------------------------------------------------------------
So they were correct, the Fractures were huge, storing vast amounts of Oil under extreme pressure within a reservoir rock, and controversial "fracking or Fracturing is not necessary due to fracturing.
Now Fast Forward to Today!
(The 6 Tikorangi wells are still "Choked back" ...)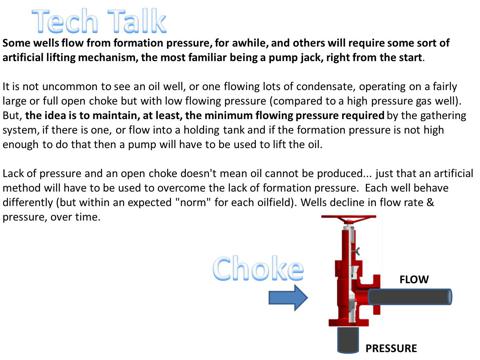 What is HVL? High Volume Lift
(image credit below)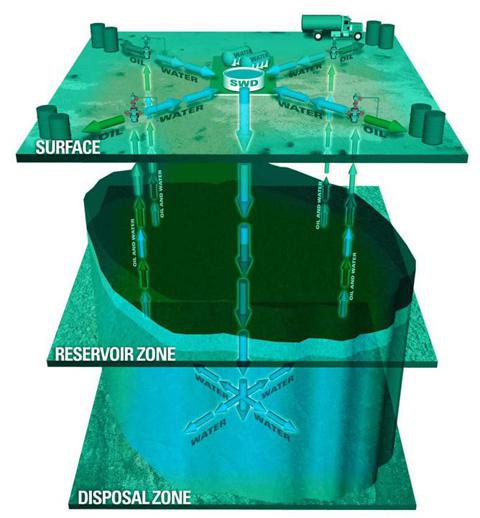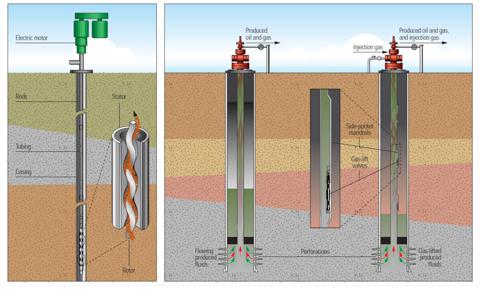 What makes WAIHAPA interesting is that nearby, Tag Oil Ltd. is drilling a expensive and challenging gas well targeting the deep kapuni formation. If Tag's well (Cardiff-3) hits gas, it will mean that NZEC has similar geology that has yet to be drilled into. This adds punch to the play called 'Kapuni formation' which may contract substantial amounts of Natural Gas under substantial pressure. You can compare the plays yourself, toggle between the two investor presentations. Here is a rough sketch of the geology and proximity of the neighboring plays.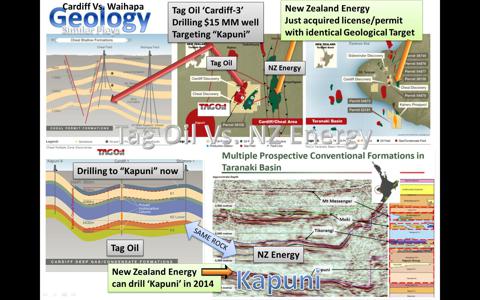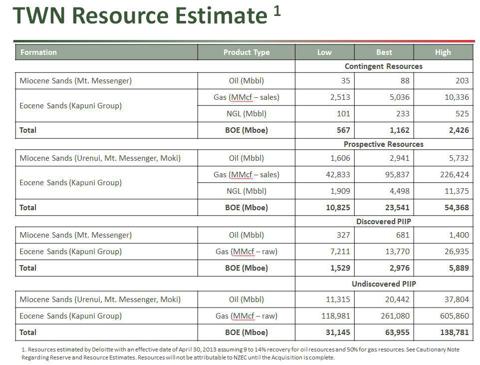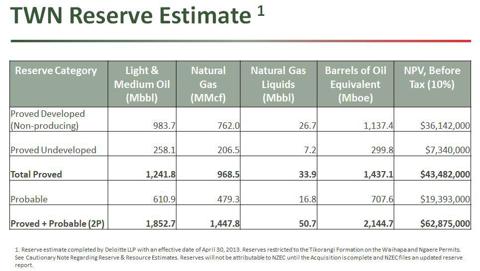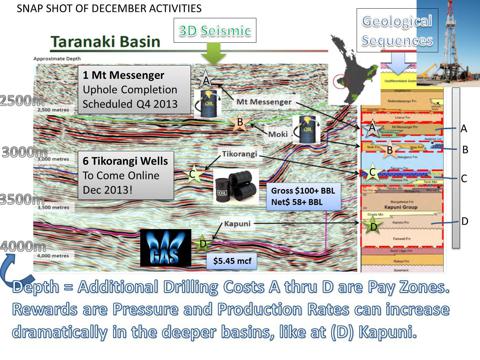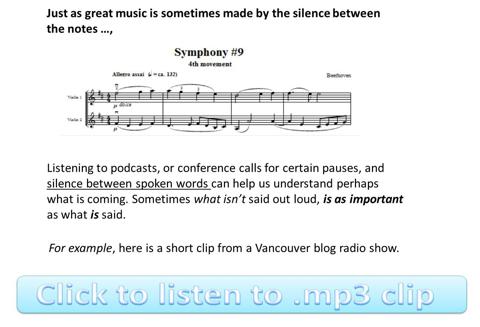 The Investor relations representative for new zealand energy mentions in the interview that only 2 of the 6 Tikorangi wells are on Gas Lift, and 4 more were just re-activated on Natural Reservoir pressure, and the uphole completions have not been performed yet but are in progress.
There are then 3 active pay zones in the Tikorangi wells, (4 if you were to drill deeper into the Kapuni Zone), Kapuni could be very lucrative down the road (await and see what their next door neighbor is learning targeting the same rock layer at a $15MM cost).
Listening to what wasn't said, they are cautiously not saying much about the "Flush Rate" or Initial Production from the pressure build up from the other 4 wells being shut in for years.
Like turning on a garden hose they have only barely cracked the Tap open on these re-activations. The Valve or Choke is just opened enough to allow flow, these IP Numbers are not what the maximum barrels the wells can produce they are a taste or appetizer of what can be produced.
However, I'm not saying that you will ever see these MAX BBL/Day numbers again, I am just saying that you may see much larger numbers than the choked back re-activation numbers released on December 3rd.
How much larger? This is a Reservoir Engineers question, not a Bankers or Financiers Question. The issue is with a 35% water cut, you can't bring on production full blast, because the Pressure Drop from 3 Km below to Surface can cause long term reservoir problems down below if you draw the oil out too fast you can get situations where you take on too much water and that process is irreversible. Its a very art-science kind of performance and its not something you mess with or you can destroy the future income potential from the wells. They will take this slow and when the data supports it. They will tweak the rates based on science and frizzy white haired math types who stare at numbers for years, and then have an ah-ha moment of brilliance and say...'You can produce at XYZ Barrels per day according to my calculations' from that point its a viable number.
When the next update occurs, mid to end of Dec we may see encouraging numbers from 4 more wells, and there will be 1 best well of the six, you can see if you can guess which one it is below.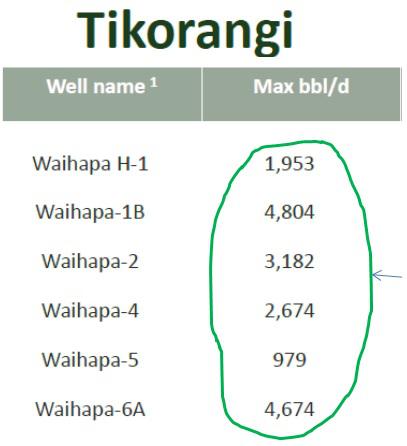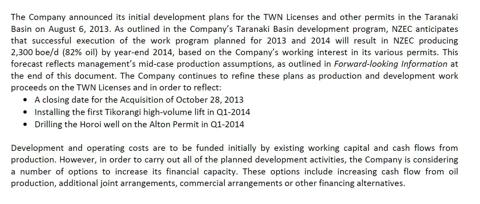 (A bit of history...back to 2011 Activity)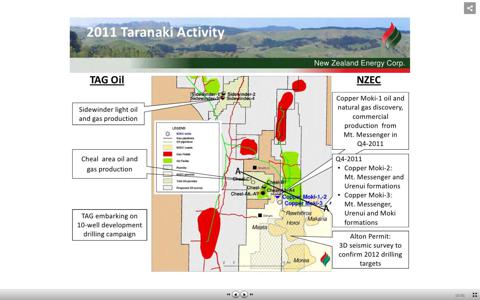 (Note the proximity of Tag and NZEC permits side by side)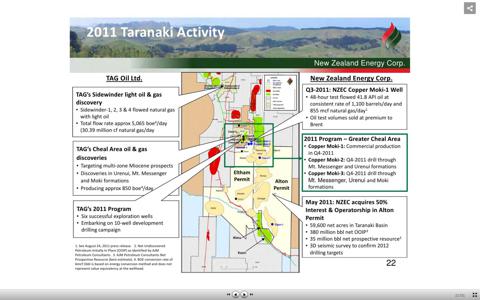 (Cheal, Cardiff and Waihapa have similar targeted geology)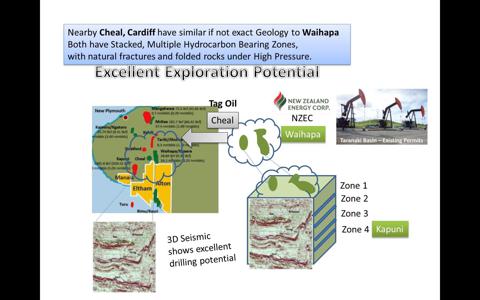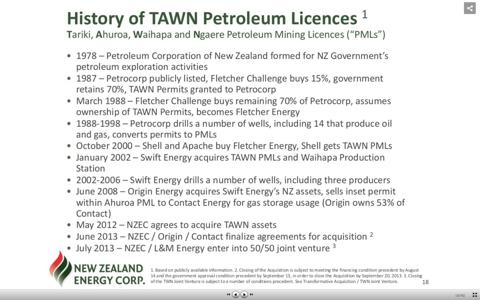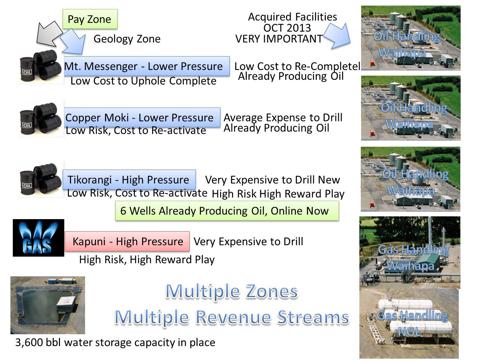 Note: The TAWN Licenses stood for Tariki Auhroa Waihapa Ngaere, these are surface land place names in maori language that refer to licenses and permits for oil and gas exploration. Origin Energy was the holder of the TAWN License and the negotiations over 1.5 years ended up with New Zealand Energy acquiring 3 of the 4 permits, and the "A" or Auhora permit was traded for a gas compressor, the acquisition deal then became known as the "TWN" rather than 'TAWN' after the 'A' for Auhroa was negotiated different to the original deal terms.
The Red and Green areas on the below map refer to known Gas and Oil fields. The large yellow areas are existing permits that NZ owns. The small red area Tariki/Ahuroa and the Green area Waihapa just above the Waihapa/Ngaere are recent acquisitions from Origin Energy Ltd and they are refered to as 'TWN' Assets.
With the Assets changed hands, and Financing in place, its now "Go Time" for NZ. As many as 6 wells are about to be 'turned on' or re-activated so to speak in early December. This could add 49 to 365 BBL's per day. This will bring immediate cash into the bank for NZ, and set-up some needed $ for Q1 2014 drilling programs that offer upside fairly soon.
The Green Circle called Cheal, is not part of NZEC's permit but it is targeting the same Geology as Waihapa/Ngaere which is right next door to Cheal. At this moment around 9 wells are being drilled by Tag Oil and its partner East West Petroleum inside the Cheal Permit.
The near term story is the Cardiff-3 well at Cheal which in early December may drill to its Total Depth into the KAPUNI rock formation known to hold vast volumes of Natural Gas. This Cardiff-3 could be a real success story for both Tag Oil and East West, as early as mid-december.
If so, their new neighbor New Zealand Energy, who just acquired Origin Energy's TWN Assets including Waihapa, could make their Acquisition timing look quite fantastic.
Reason being that the Waihapa Permit, sits smack dab on top of the same KAPUNI Formation, and the license to drill was just acquired by New Zealand Energy on Oct 28, 2013.
This kind of makes New Zealand Energy worth a serious look as early as next week! In addition to the map below, the real future story of this company is potentially what comes from future East Coast wells. NZERF, NZ, or New Zealand Energy Ltd recently upped its stake in the East side of the island, by another 1,048,221 acres and now holds the Largest Acreage position in the East Coast Basin, a shale play of epic proportions. (You can read the release on that under the title EAST CAPE below)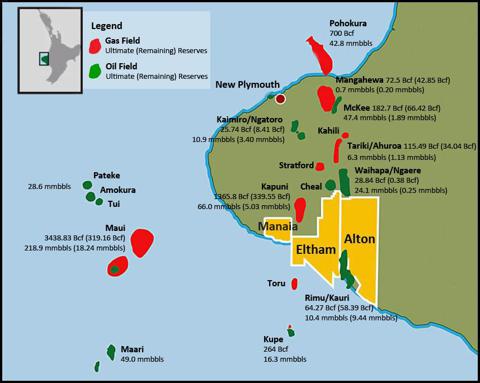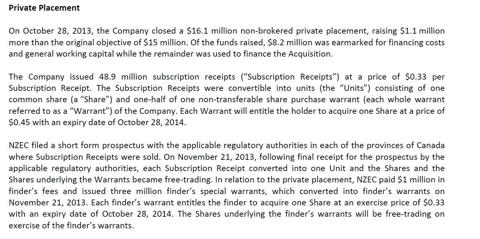 Link to Taranaki Basin FACT SHEET

Link to East Coast Basin FACT SHEET
Link to East Coast Basin previous blog post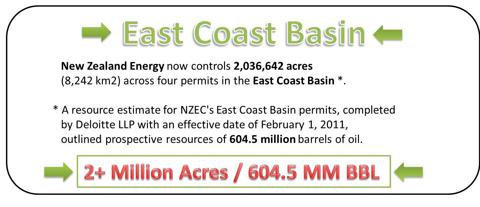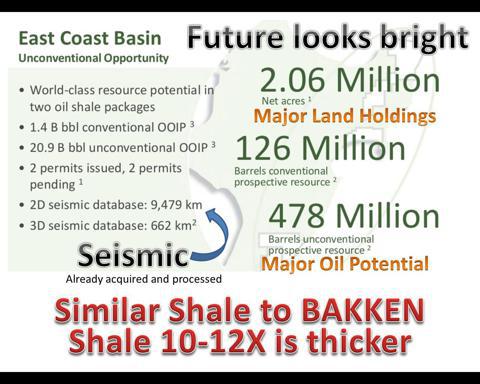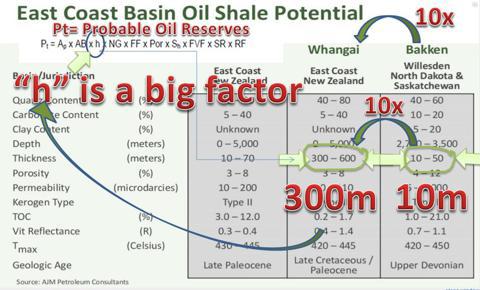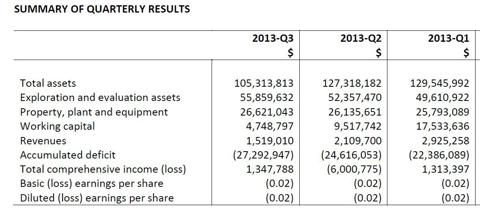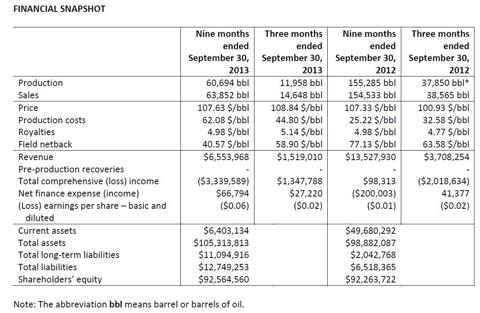 New Zealand Energy Awarded East Cape Permit
November 29, 2013
VANCOUVER, BRITISH COLUMBIA--(Marketwired - Nov. 29, 2013) - New Zealand Energy Corp. (TSX VENTURE:NZ)(OTCQX:NZERF) ("NZEC" or the "Company") is pleased to announce that the Company has been awarded a 100% interest in the East Cape Permit. The East Cape Permit covers approximately 1,048,221 onshore acres (4,242 km2) in the Raukumara region of the East Coast Basin, on the northeast tip of New Zealand's North Island. The East Coast Basin is considered highly prospective with significant resource potential from both conventional Miocene sands and unconventional oil shales. There are more than 300 onshore oil or natural gas seeps in the East Coast Basin. Many have been sourced to two oil shale packages that are rich in total organic carbon and locally naturally fractured: the Waipawa and Whangai shale formations.

NZEC now controls 2,036,642 acres (8,242 km2) across four permits in the East Coast Basin (Figure 1).1 A resource estimate for NZEC's East Coast Basin permits, completed by Deloitte LLP with an effective date of February 1, 2011, outlined prospective resources of 604.5 million barrels of oil.2
NZEC will be the first company to explore the East Cape Permit since the mid-1980s. The Company's work program for the permit includes technical studies, reprocessing 145 km of 2D seismic and acquiring 40 km of new 2D seismic data, and drilling an exploration well by Q2-2016. NZEC has met with iwi groups from the permit area and looks forward to continuing to build these relationships as exploration proceeds.
"With the backdrop of heightened interest in oil shales worldwide, NZEC now controls the largest exploration portfolio in New Zealand's East Coast Basin, with more than 2 million acres from which to explore and unlock the potential of these highly prospective oil shale packages," said John Proust, Chief Executive Officer of NZEC. "NZEC's technical work over the last three years has given us a much greater understanding of the East Coast Basin. We look forward to advancing our oil shale exploration strategy in 2014."
Additional plans for the East Coast Basin include drilling exploration wells on both the Castlepoint and Wairoa permits in 2014. The Company will focus its exploration efforts on the East Cape, Castlepoint and Wairoa permits, and will make a decision regarding potential relinquishment of the Ranui Permit before year-end 2013
Acquisition of Interest in Upstream and Midstream Assets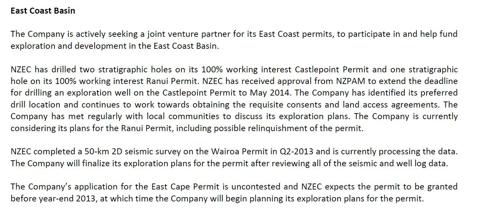 On October 28, 2013, the Company closed the acquisition of strategic upstream and midstream assets (the "Acquisition") from Origin Energy Resources NZ (TAWN) Limited ("Origin").

The Acquisition was originally announced on May 31, 2012 and is described in more detail in Note 2 to the Condensed Consolidated Interim Financial Statements for the quarter ended September 30, 2013. NZEC now owns, through its wholly-owned subsidiaries, a 50% interest in the Tariki, Waihapa and Ngaere PMLs ("TWN Licenses") in the main Taranaki Basin production fairway, as well as a 50% interest in the Waihapa Production Station and associated gathering and sales infrastructure (collectively, "TWN Assets"). NZEC and L&M acquired the assets jointly and formed a 50/50 joint arrangement ("TWN Joint Arrangement") to explore and develop the TWN Licenses and operate the TWN Assets, with NZEC as the operator. NZEC and L&M formed the TWN Limited Partnership to operate the TWN Assets, with NZEC as the operator. The TWN Limited Partnership also operates the Ahuroa Gas Storage Facility, owned by Contact Energy Limited ("Contact"), a subsidiary of Origin. Contact pays TWN Limited Partnership a monthly operating fee of NZ$201,000.
The purchase price for the Acquisition was $33.7 million in cash, with $30 million payable to Origin and $3.7 million (NZ$4.25 million) payable to Contact. The Company paid a $5 million deposit to Origin for the Acquisition in June 2012 and a further $1 million deposit in August 2013. The remaining $27.7 million was paid on closing, of which $18.25 million was contributed by L&M and $9.45 million was contributed by NZEC. The TWN Joint Arrangement will also pay Origin a 9% net revenue royalty on all future hydrocarbon production from the TWN Licenses, and can reduce the royalty at any time by as much as 4% by paying Origin $4.25 million per percentage point. The TWN Licenses are also subject to a "grandfathered" NZPAM 10% net revenue royalty.
The Company took joint control of the TWN Licenses and TWN Assets on October 28, 2013, and immediately commenced the work required to reactivate oil production from six existing wells that had been drilled by a previous operator and produced oil from the Tikorangi Formation.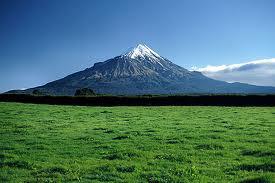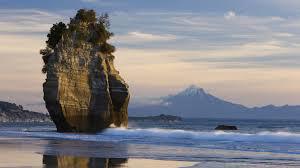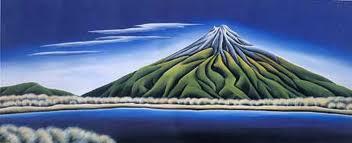 (click to link to TMX)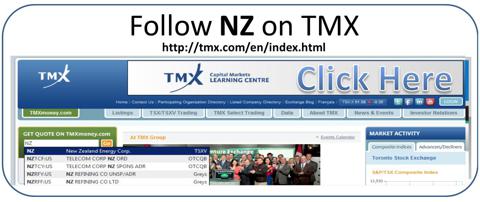 (click to link to otcmarkets)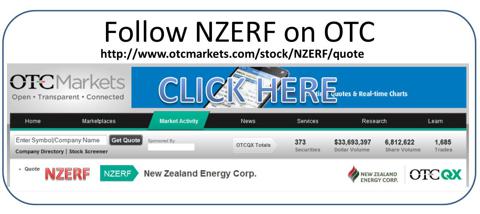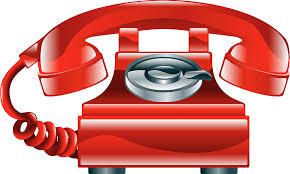 Canaccord Genuity
Initiated coverage on November 12, 2012
Analyst: Christopher Brown
Contact: 403-508-3858
Credit Suisse
Initiated coverage on October 5, 2012
Analyst: David Phung
Contact: 403-476-6023
Dundee Capital Markets
Initiated coverage on December 4, 2012
Analyst: David Dudlyke
Contact: 44-20-3440-6870
Haywood Securities
Initiated coverage on April 27, 2012
Analyst: Alan Knowles
Contact: 403-509-1931
Mackie Research Capital Corporation
Initiated coverage on January 20, 2012
Analyst: Bill Newman
Contact: 403-750-1297
Macquarie Equities Research
Initiated coverage on December 3, 2012
Analyst: David Popowich
Contact: 403-539-8529
M Partners
Initiated coverage on September 4, 2012
Analyst: David Buma
Contact: 416-603-7381


MORE TO COME IN 2014 - STAY TUNED - HAPPY HOLIDAYS
LOTS OF NEW ACTION IN EAST COAST BASIN...Coming Up.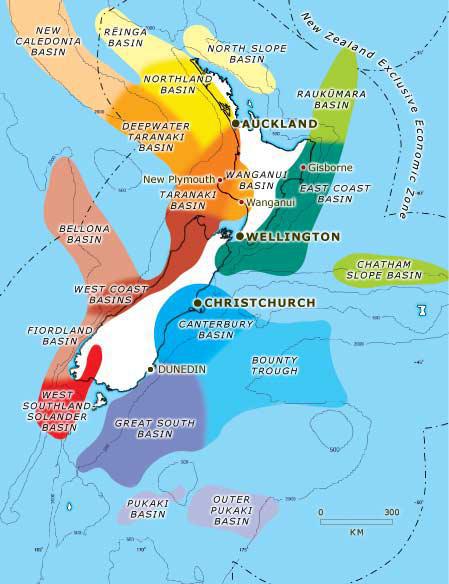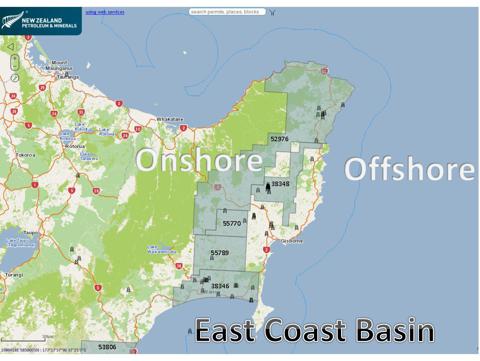 OIL PLAYERS in the East Coast Basin: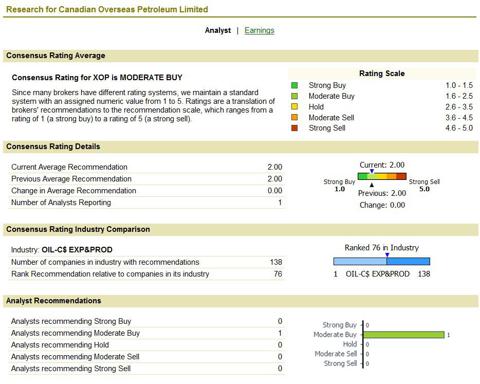 ( No Consensus Rating Average for MES yet )

East West Petroleum Corp. (TSX-V: EW, the "Company" or "East West"), is pleased to announce that New Zealand Petroleum and Minerals ("NZPAM") has awarded the Company a 40% interest and its joint venture partner and operator TAG Oil Ltd ("TAG") a 60% interest in petroleum exploration permit 55770 ("PEP 55770") covering 106,157 acres in the East Coast Basin of New Zealand as part of the 2013 New Zealand Block Offer.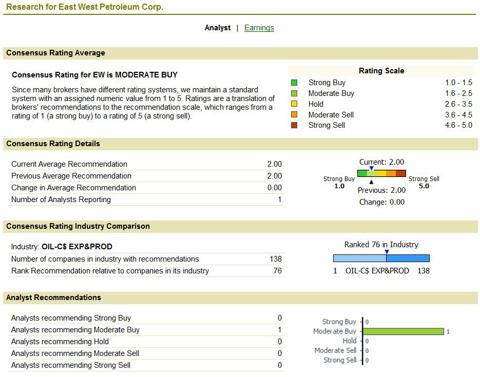 Disclosure: I am long NZERF.
Additional disclosure: NZERF is the symbol on OTCBB, NZ is the symbol on TMX. NZEC is an Acronym for New Zealand Energy Corp.