An African Oil rush complemented by a pure [Exploration Play] in NZ. CANADIAN OVERSEAS PETROLEUM
Overview:
"In 2011, Canadian Overseas Petroleum Limited made the decision to enter West Africa, specifically in the country of Liberia via Block LB-13. We have a broad team of individuals who have years of experience working in the region, and possess a strong track record of making discoveries.
Our goal is to continue to grow our company by exploring for oil in emerging regions where large discoveries are occurring yet remain lightly explored, and by focusing on single well unappraised discoveries in mature basins and bringing them into production quickly and efficiently.
The geological traits of West Africa are similar to those of the North Sea, and our team is excited about exploring for oil and gas in these offshore continental margins. We continue to investigate opportunities elsewhere in the world also.
In 2012, we were awarded a 50% working interest in a block located in the eastern portion of the north island in New Zealand. The target in PEP 53806 is oil located in the Whangai and Waipawa shales. These formations exhibit characteristics similar to the productive Bakken Formation in Saskatchewan and North Dakota."
-----------------------------------------------------------------------------------------------------------------------------------------------
COPL (Canadian Overseas Petroleum Limited) has achieved Top 50 status for its TMXV listing in 2014.
COPL is pursuing some high impact exploration in Liberia, and has options in Nigeria, as well as half of an exploration permit 53806 in the prospective East Coast Basin of New Zealand.
At under $0.25 a share, this is a ground floor opportunity to get in on a play that has alot of runway if things work in our favor later in the year. The Nigerian component more down the road as they must perform a seismic work commitment with optionality agreements upon anything of substance showing up later on seismic interpretations.
The Liberia Block LB-13 has a newer type of seismic interpretation technology applied to the data (AVO) and its got the technical team excited because two heavy hitters (Anadarko and Chevron) are nearby chasing the same petroleum system. Furthermore the AVO seismic technique is suggesting multiple stacks of zones that appear to have the right attributes for containing fluids which COPL is hoping are oil and gas in commerical quantities. Exxon has agreed to buy in to LB-13 for 83% leaving COPL with a 17% stake in a very interesting play.
Meanwhile Seadrill is drilling a well nearby for Chevron and it spudded in Q2 2014. The area is peppered with exploration successes and the odd failure, but the region is rather underexplored with plenty of good possibilities for all companies involved.
It's a region to watch, and although COPL is perhaps a rather small fish in this big pond, its a cheap way to enter into the liberia plays if you have the time to let them achieve their objectives. Any neighbors who strike oil in the basin will help validate the whole exploration model going forward. As is goes without saying they are an Exploration company and you should only invest what you can afford to take a loss on should things come up dry. The upside if you enter under $0.25 could be quite impressive if you can hang on for 1.5- 2 years or long enough to define the Liberia reserves and perhaps sink a well or two in New Zealand next year with their NZ partner Marauder (see very bottom for more info).
http://www.canoverseas.com/upload/media_element/66/02/copl-may-21-2014-corporate-presentation.pdf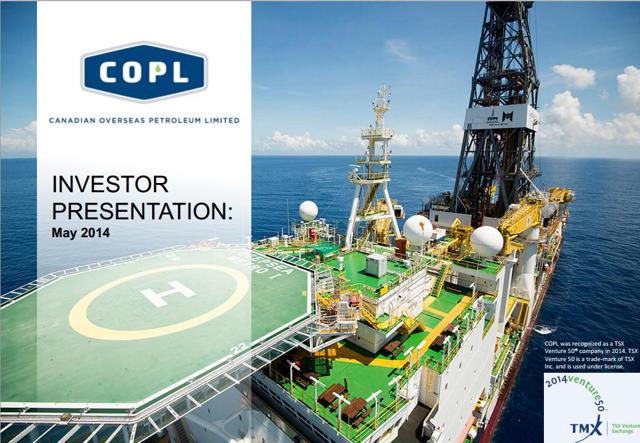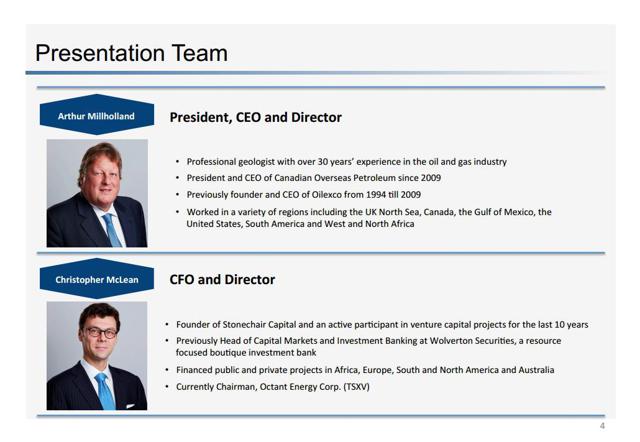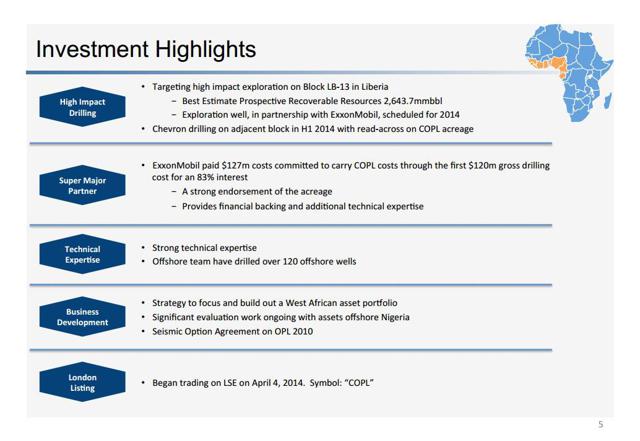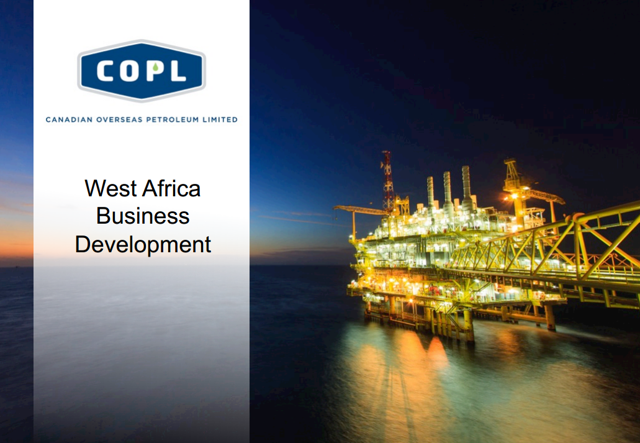 ----------LIBERIA NEWS----------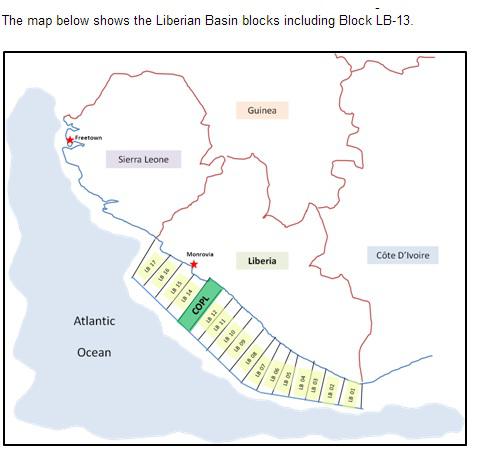 (A Nearby Success by African Petroleum)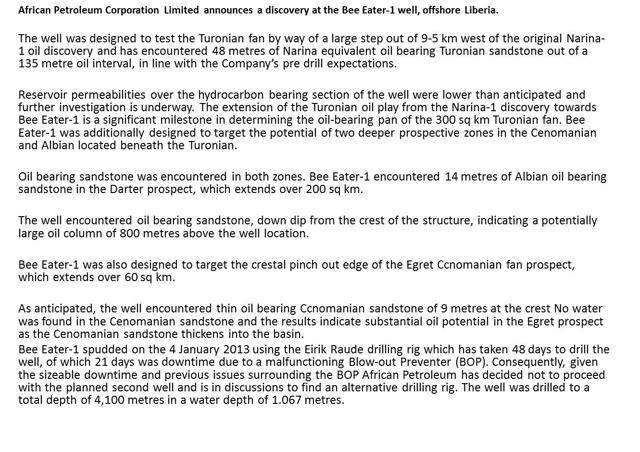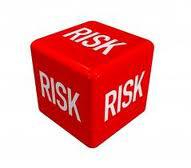 COPL AND MARAUDER IN NEW ZEALAND...
(They must drill 1 well on east coast by Nov 2015 or and upto 2 more by 2017 or their permit may not be renewed by NZ Gov't)
You should know that at this time May(2014) there are ZERO producing wells in the EC basin, so the risk is substantial here.
In the event of a discovery, there is not the same infrastructure on the East side of the island to get new oil to market as easily as exists on the West side of the island, so you really need to do your homework on how to play this kind of trade. Its not like a North America play, and delays and frustrations are part and parcel of the territory in NZ.
It would likely behave similar to a jr. mining stock and go through a wild speculation phase, then decline sharply for profit taking, then go through another run up months later upon further developments. Its Impossible to time the tops and bottoms, so set a game plan for risk / reward and stick to it.
The East Coast is a great story, but until someone flows a well at commercial rates, its still just a story as far as the market goes so think very long term when dreaming of stellar returns.
Once the first commercial well is established, the rush will be on to grab lands and drill exploration wells to further define the plays. It will likely be early to mid 2015 before the first production tests are completed. So you have lots of time to assess your strategy should you choose to enter the space as an investor.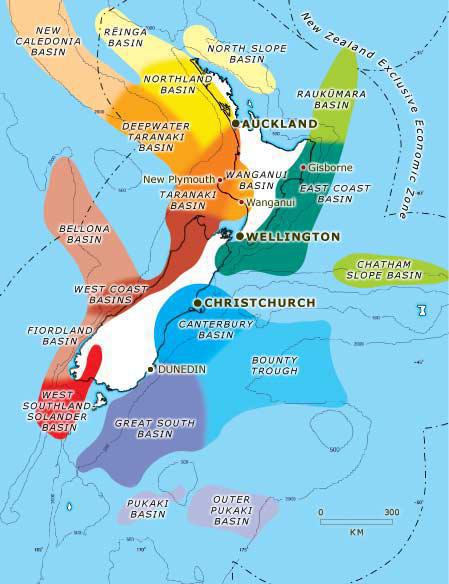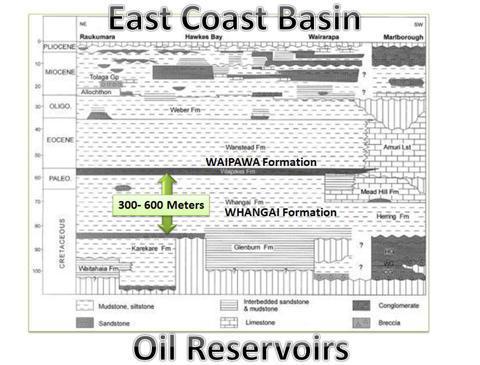 Marauder Resources East Coast Inc. ("Marauder" or "the company") holds Petroleum Exploration Permit ("PEP") 53806, at a working interest of 50 percent. The PEP is onshore acreage, on the east coast of New Zealand's North Island, and is 238,363 acres in extent.
A permit requires $$ spent on work by certain dates or the permits are now renewable, this insures that only serious companies are granted work.
It lies within New Zealand's East Coast Basin, approximately 200 kilometers to the northeast of Wellington, with the closest lease boundary less than five kilometers northwest of Napier.
A map of the PEP is included in this report (East Coast Basin,
New Zealand map). The PEP was issued November 1, 2012 and provides exclusive exploration rights for its five year duration.
Within the East Coast Basin of New Zealand, three wells have been drilled and logged through the prospective formations;
the Waipawa Formation (Waipawa Black Shale) and the Whangai Formation (Whangai Shale) considered major source rocks for this and surrounding basins. More than 300 oil and gas seeps have been identified, several on and directly offsetting company land.
Lab analyses of three major Whangai and Waipawa oil seeps, collected over 100 kilometers from company land, in addition to core data from outcrop samples from within the basin are available.
Marauder has committed to a work program consisting of seismic acquisition/reprocessing and technical studies within the first two years of the permit.
Furthermore, the work program includes the drilling of one exploration well in the third year of the PEP and two additional wells in of the subsequent years of the PEP.
The full work commitments are laid out in the Permit Summary, publically available from the government of New Zealand website, and are included in this report.
The royalty regime in New Zealand requires payment of either an ad valorem royalty (five percent of net revenues from sale of petroleum products) or an accounting profits royalty (20 percent of the accounting profit of petroleum production); whichever is greater in a given year. The accounting profit is calculated after deduction of various prescribed costs, which can include operating, capital, abandonment, and overhead.
The royalty regime has been in place for a number of years; occasional incentives lower the rates for limited periods of time, although no incentives are currently in place.
Marketing of any petroleum products will be facilitated by the infrastructure in the vicinity of the PEP which includes a gas pipeline, major roads, and a major port.
The gas pipeline runs along the east boundary of the PEP. Major roads pass through the lands and connect to Napier where there is a major ocean port, located less than five kilometers from the boundary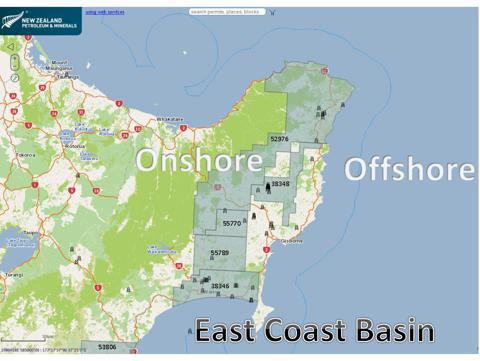 Geological risk factors
A total of six criteria are considered in determining the overall geological risk;
Source rock - is there thermally mature hydrocarbon source rock present in adequate thickness,
extent and organic richness,
Charge - is the source rock capable of generating hydrocarbon,
Migration - are there sufficient migration pathways such as faults, fractures and carrier beds to the reservoir,
Reservoir rock - does the reservoir have favourable parameters such as thickness, pore space and the ability to allow fluid flow,
Trap / Closure - does closure of the reservoir exist in terms of adequate areal extent and vertical relief,
Seal / Containment - are there effective sealing rocks present to ensure that containment has occurred.
Other players in EC are below:

Symbol: XOP
XOP has a nice foothold in Liberia, of which any success will only assist financing wells in NZ, should they choose to do so. They share a permit in NZ with Marauder

Symbol: TAO
Tag was first to go it alone on a exploratory well in NZ in 2012. They
have now decided to wait to complete it until early 2015 and even to drill 2 more wells on the East Coast and then complete all 3 with the same rigs to save capital and increase impact.

Symbol: NZ
Arguably the best East Coast land holdings, but a series of mis-steps and time constraints and bad luck have destroyed 90% of its share value since inception. Shareholders have had deeply rooted concerns about this company as a going concern, its management style and whether they will survive. Its either deeply undervalued play or its going to get bought out by a bigger player and only time will tell what fate, luck and hard work will produce in the coming months.

Symbol: MES
This is a 100% bet on Oil being in the ground on their permit. Its
a long shot with big upside if it hits, but no drilling program exists as of yet, do your homework on this one. Its a good story...but at this point that is all they have is pure exploration plans, a right to drill on some prospective land and hopes for hitting a new reservoir before the land rush occurs in NZ.
We will periodically update any plays in New Zealand on Twitter