You can read past posts on this company by searching NZERF.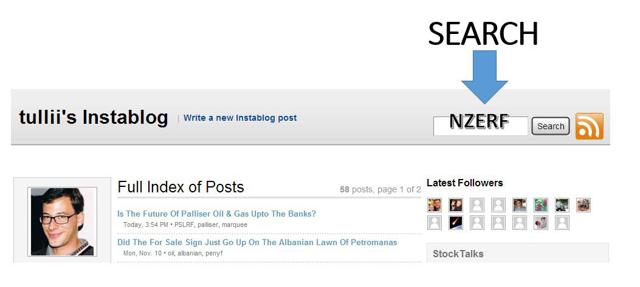 Looking at the chart tells the story...2014 has been dismal for NZERF or New Zealand Energy
A year ago at this time they acquired a $33.5 Million facility, one of only 2 in existence on the North Island of New Zealand. Today you can buy the whole company for $14.5 Million, just under half of the major asset bought last year...kind of makes you wonder what happened since 2013.
I'd rather not talk about it, you can read prior posts if you want to catch up on how we got here. I'm looking to the future, not the past.
Some fantastic flow rates in 2006 on early Waihapa wells had people wound up about the potential for the Taranaki basin a few years back.
Origin Energy sold their interest to New Zealand Energy after wells declined and cash flow declined. The large fractures and folded rock layers due to a nearby Volcano has created a very interesting play in the Taranaki Basin causing high pressure, high flow rates that were very attractive.
Nearby Tag Oil and East West had similar dreams with quite impressive success. But the geology is challenging and unlike basins with lots of data to study this is a rather new area with chance taking part of the recipe.
In the general area one issue is a paraffin wax that over time can choke off the wells and diminish production. Another issue has been the sand flowing into the downhole pumps and clogging them up or messing with optimal flow. These are things that take time and skills to resolve and it has been hoped that one day things will get substanially better.
Some oil folks will tell you a pure exploration well has about a 4% chance of commercial economic success. Tag hit some 25 wells in a row a while back making this basin look like a goldmine (back when that expression meant something) Yet the markets, oil price, and tolerance for exploration in 2014 has pummelled the shares of most juniors and those in New Zealand are no exception.
Tag has had a tough year as well as you can see below.

Obviously, early NZERF shareholders have seen multiple year losses and folks at the last AGM were pretty hostile towards NZEC management for how things were going...clearly that message was heard and now the entire canadian office is closing down and the vancouver staff has been let go, including the CEO John Proust who started the whole venture from Vancouver. The market responded favorably to this decision.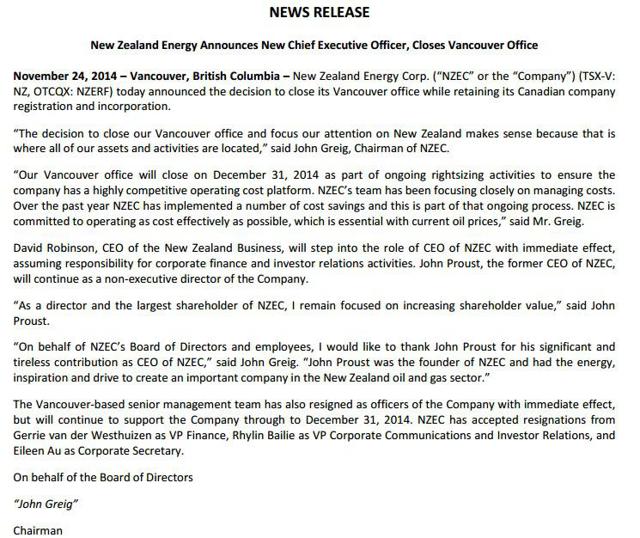 Having a new CEO in New Zealand with prior connections to government, and industry heavyweights cannot hurt the turnaround of nzerf.


The last couple days have been a catalyst, the move to cut costs and increase the focus on NZ has paid off at least as far as the shares have reflected, up 38% in 2 days.
Next week or early December, the Waihapa 2 well will be back online after a workover and pump installation. It was netting 60 barrels a day to NZERF before going offline.
If it adds even 20 Barrels to the existing production in conjunction with letting the 4 office staff go and closing the Vancouver office, we could be close to Break Even by year end.
A little good flow from the wells and smoother operations in 2015 and the company might be cash flow positive by Q1 2015.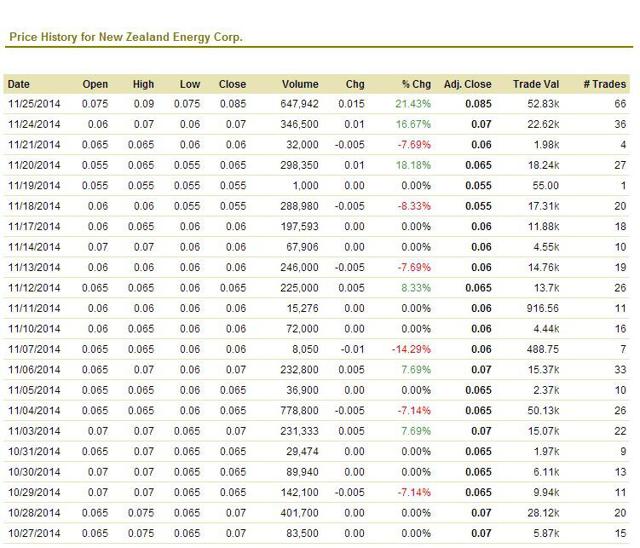 The original reason I got interested in NZERF was partly Taranaki but also the compelling story on the East Coast.
At this time I will reserve my excitement on that chapter of the story until the wells on the East Coast are completed and tested in Q1 2015 by Tag their competition.
If things work out well for them, maybe I'll re-visit blogging about that side of the play, but its a wait and see story until then and likely will be quite a bit down the road.
For now I would caution investors that Tax loss season starts soon and bargains can be had the last 2 weeks of the year, if you like juniors wait until December 15-31 to add to your position and be picky on your bid price...many institutions and retailers dump non-performing stocks stocks the last 2 weeks of the year.
This is dubbed 'Tax Loss Season' for folks unaware of the term. You can sometimes pick up bargains when markets are quieter, and after Xmas some folks realize they need to sell for one reason or another, presenting the cheapest prices of the year for some shares.