If the below article comes to fruition, it should send low oil prices even lower, and that will make for a market bottom by July. With Iraq and Saudi squaring off for market share, the price war downward will set up conditions for the 1-1.5% excess supply to be battled out over the next 12-18 months. The June 5 OPEC meeting isn't expected any change in sentiment, so if that materializes and Saudi Arabia maintains their production, Oil supply is going to outpace demand leading to further price declines. This sets up a unique situation only seen once in 30 years and over the June / July period I will shortlist the best exploration picks with a 2-4 year buy and hold or buy and add strategy.
[ REPOSTED FROM Jeff Reed on Oil Pro ]
Iraq To Take Oil Market Share Battle To Next Level, Prepares To Inject 800 K/bd To Global Supply
Iraq plans to increase oil exports to record levels next month, adding to an already saturated global oil market and indicating that Saudi Arabia isn't the only OPEC member dedicated to a market share defense strategy.
As we have recently reported, all indications are that OPEC will adhere to its market share protection strategy at its upcoming meeting on June 5. Focus has largely and rightfully been on Saudi's adherence to this strategy, as the Royal Kingdom is the titular head of OPEC and sets the strategy for the 12-member group. But Tuesday brings news that Iraq is taking OPEC's market share strategy to a new level, even as it wages an ongoing bloody battle with ISIS militants.
Iraq plans to increase oil exports by approximately 26% to a record 3.75 M/bpd next month, according to shipping programs seen by Bloomberg. The additional Iraqi exports are equivalent to roughly 800,000 bpd- almost 1% of global daily supply and surpassing OPEC peer Qatar's shipments. This represents a huge addition into already-saturated global market.
The Bloomberg report notes that while shipping schedules are not concrete indications of future production, they are signs of what may come. Take a look at the following chart, which graphs scheduled tanker loadings (in red) against exports (chart source: Bloomberg & Iraqi Oil Ministry):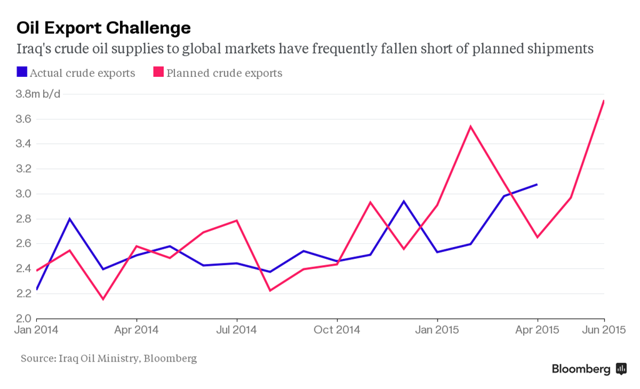 As in recent months, Iraq may not achieve its June objective, as export capacity is now capped at 3.1 M/bpd, Deputy Oil Minister Fayyad al-Nimaa told Bloomberg earlier this month. However, any additional Iraqi supplies mean that OPEC will go even further beyond its 30 M/bpd output quota, according to Morgan Stanley.
Here's another chart composed by Bloomberg that shows OPEC increasing production in recent months against its 30 M/bpd quota: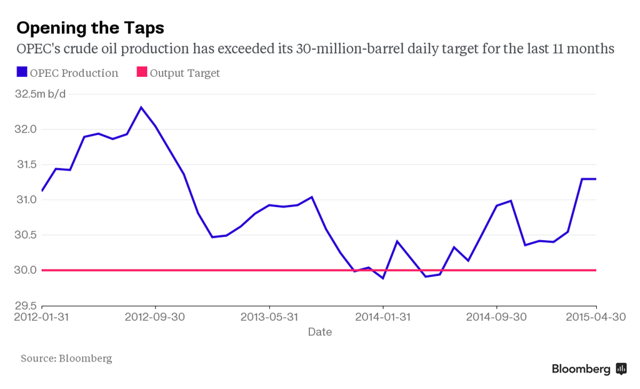 Iraq's plans are especially significant given the country's ongoing battle against ISIS militants. In defiance of the threats posed by the terrorist group, Iraq has been increasing exports both from the Shiite south and the Kurdistan region in the north.
http://oilpro.com/post/13589/iraq-to-unleash-tidal-wave-oil-into-global-market?utm_source=DailyNewsletter&utm_medium=email&utm_campaign=newsletter&utm_term=2015-05-27&utm_content=Article_2_txt