The world of payments is changing and these folks are taking the lead in expanding how you can pay online.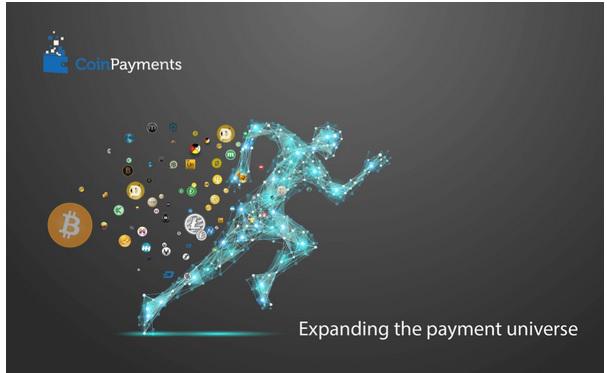 Youtube PITCH
Elevator Pitch Coinpayments
Link to investor page
30 Backers funded the company so far, its a startup in Vancouver with a head start on a new and growing space few people understand even exists.

https://bnktothefuture.com/pitches/2198/_coinpayments-the-largest-payment-processor-of-over-55-cryptocurrencies.html
Coinpayments.net, an early stage Fintech company from Vancouver that has quietly become a global leader in the behind-the-scenes world of Crypto Currency payment processing.
Coinpayments.net is a new type of global payment processor - allowing merchants to take payments in Crypto Currency. We only charge .5% on crypto coin transaction where payment processing on VISA/Mastercard networks usually charge merchants 2.75% on credit card transaction.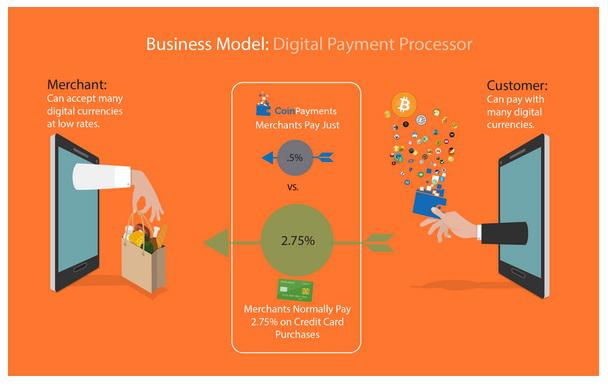 What is Payment Processing?
Every time you pay for something with a card a payment processor is involved with the transaction between you and the merchant - and takes a cut.
80% of transactions are now digital and Coinpayments.net take a little piece of every one.
Initial Founders/Backers:
Alex Alexandrov is well-versed in financial markets, and a pioneer in crypto-currency that is sure to make an outstanding contribution to the Bitcoin industry. For five years, Mr. Alexandrov was a technical Forex trader and EA developer for MT4 platform. He then chose to venture into direct sales before branching out on his own to successfully develop and manage coincable.com, an online bitcoin mining hardware supply store that was based out of Vancouver. Alex also brings over 15 years of combined experience in IT and business management to his latest venture as the co-founder and CEO of Coinpayments Inc, a premium Bitcoin, Litecoin, and other alternative crypto-currency payment processor. Coinpayments' services are trusted by over 17,500 vendors across 156 countries. Alex is also credited as a technical adviser and original co-owner of payivy.com, a shareholder of NewNote Financial Corp, and a site owner/operator of Novacoin.org, on behalf of the Novacoin foundation.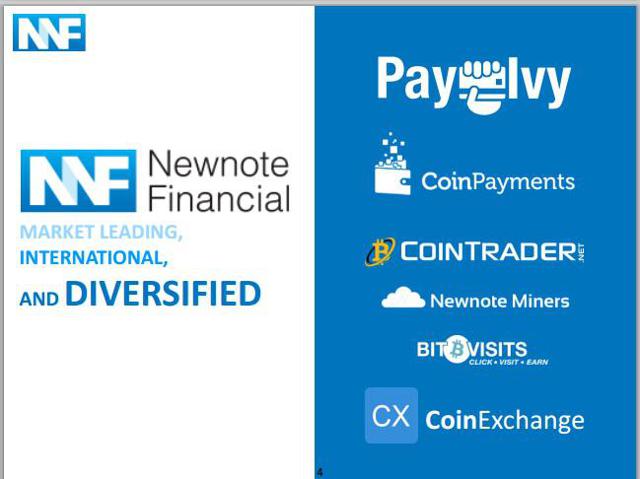 Newnote Financial Corp. is pioneering innovative crypto-currency and Bitcoin relate software products and services geared at the growing business segment of this bourgeoning market. The Company owns the Cointrader.net Bitcoin Exchange and offers Point-of-Sale services to merchants accepting Bitcoin for merchandise.
Presentation
Newnote CEO - Paul Dickson
Paul Dickson sustained a career as a software developer spanning 15 years and specialized in financial applications. Mr. Dickson co-founded and was President of publicly traded Earthramp Communications Inc. from 1999 until 2001 which was in the business of developing and integrating financial applications for Banks and Brokerage firms. Earthramp's flagship service; Quotes Canada Financial Network, received notoriety as being the first of its kind to offer free real-time Canadian stock quotes. Paul co-founded Resource World Magazine, a publication reporting on the business of Mining, Oil & Gas and Alternative Energy which has been in business for 12 years. Other credits to his name include various technology related start-up initiatives.