The portfolio gained around 2% during the week mostly thanks to oil. I reduced my positions in Amazon and added Alibaba and increased the position in Facebook and also went short SP500 which I mentioned about it in the previous post, however, as I got the news late that the Senate considers delaying business tax cut to 2019 vs. House's plan to 2018,  the news created a sell-off in the market which gained back some of the losses.
Recent wins of Dems in the governorship and legislative races raised the optimism but is a red flag for Trump administration. If tax bill fails, Dems has a chance to take back the control of the Capitol Hill. Currently, I am still giving more probability weight to the pass of tax bill but I will stay very cautious. Current divergence between House and Senate tax reforms is worth to consider seriously.
Alibaba sales during Singles Day (11.11.2017) topped the last year's record. The company did $25bln in sales. I added the stock a few days earlier to my portfolio as the growth is substantial.
Oil prices are still supported by the crackdown in Saudi Arabia and rising uncertainty in the Middle East as well as economic growth. I reduced my futures positions in the anticipation of correction but still have high exposure to oil.
The major takeaway from Trump's visit to Asia was trading with China. As the country which runs hundreds of billions of dollars of deficit, you have nothing much to lose but to push for trade deals which Trump is looking forward to. I am not much concerned about trade talks' impact on the dollar at the moment as the topic is not a target at the moment. The Fate of Tax bill, however, requires a considerable analysis. This week's stock market sell-off due to Senate announcement cannot be ignored. It gave us a hint how volatile the market is to the matter. If delaying business tax cuts announcement which has not even been passed causes such a panic, imagine how a failure of tax reform will be judged by the market. The sell-off will be more than many expects.
Bottom line is, I will stick to oil for now and will look how Washington D.C plays the game. Based on that I might increase my short positions in SP500 if I smell a smoke in the air and go long in gold. In the long run, the dollar seems to gain value despite weakening this week but I am not looking forward to taking any positions at all in currencies. Currently, my focus shifts to stocks and oil. I might start trading in bonds soon as well but it is still a dark area for me at the moment in microscale. Any positions that I might take will be on a macro scale.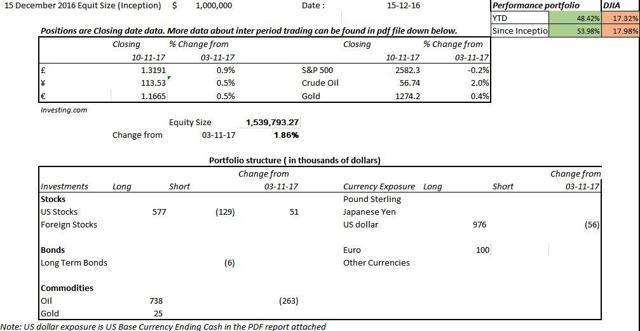 Disclosure: I am/we are long BABA, FB, AMZN.