People have a funny way of buying insurance after an event happens, and not in anticipation of one. After all, everything's been going so well in the past, why would anything change? In the context of psychology, we all tend to fall victim to something known as the representativeness heuristic. Quite simply, a heuristic is a rule of thumb we follow in the face of trying to solve some problem.
The representativeness heuristic is a specific type of heuristic wherein we make judgements based on things that we perceive are representative of the problem. It is attributable to one of the reasons why momentum exists. Because today appears to be representative of yesterday, prices should behave like yesterday.
The representativeness heuristic has also been used to explain why leaders stay leaders, and laggards stay laggards. If a sector of the market is doing well, then investors may begin to judge past performance as being representative of future performance. It also explains why individual investors gravitate towards the best performing mutual funds, even though past performance is NOT representative of future results.
The biggest problem with this, however, is that it results in underestimation of reversion to the mean, whereby a reversal happens and the trend breaks. For example, a number of studies indicate that extreme past winners (which continue to win because of representativeness) become significant underperformers after the fact. The same holds true for extreme losers outperforming in the years following such poor performance.
So if every single day its sunny and there's no rain outside, why bother fixing that pesky leak in your roof? Because representativeness causes us to underestimate the probability of a change in the underlying trend. The incredible run-up we've experienced since September has resulted in the feeling that momentum higher will continue. And it may. But what if a torrential downpour happens tomorrow? Wouldn't you want to protect against it? With news stories about extreme bullishness by individual investors taking place, is anyone protecting their portfolios now?
The VIX, considered a guage of fear and of the appetite for insurance against a decline, doesn't appear to be indicating that is the case.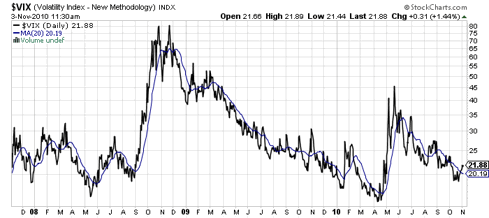 Neither does the CBOE Options Total Put/Call Ratio.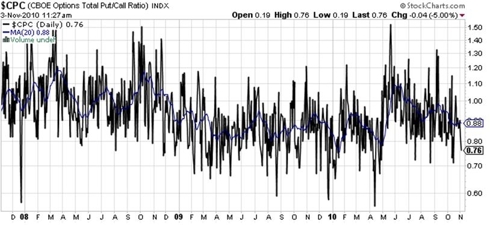 All I hear from pundits now is this forgone conclusion that markets will continue to soar higher because we've entered the "Best 6 Months" period, with November and December historically being very strong months for risk assets. But what if October and September were this year's November and December on the S&P 500 ETF (Symbol: SPY)? What if the outperformance of Retailers (Symbol: XRT) suddenly stops as investors sell the group into the Holiday season in a classic "sell the news" type of play? The relative ratio of Retailers to the S&P appears very much to be rolling over. What is the message of this?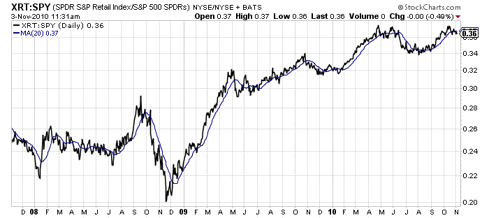 I caution everyone that while it is possible that markets continue to go higher this year, don't assume that because we've been experiencing some beautiful sunny weather that it won't rain tomorrow. Protect against the downpour by fixing leaks in your portfolios before the rain comes.

Please Note: This article expresses the views of the author and such views are subject to change without notice. Pension Partners LLC has no duty or obligation to update the information contained herein. Further, Pension Partners LLC makes no representation, and it should not be assumed, that past investment performance is an indication of future results. Moreover, wherever there is the potential for profit there is also the possibility of loss. This article is being made available for educational purposes only and should not be used for any other purpose. The information contained herein does not constitute and should not be construed as an offering of advisory services or an offer to sell or solicitation to buy any securities or related financial instruments in any jurisdiction. Certain information contained herein concerning economic trends and performance is based on or derived from information provided by independent third-party sources. Pension Partners LLC believes that the sources from which such information has been obtained are reliable; however, it cannot guarantee the accuracy of such information and has not independently verified the accuracy or completeness of such information or the assumptions on which such information is based. This article, including the information contained herein, may not be copied, reproduced, republished, or posted in whole or in part, in any form without the prior written consent of Pension Partners LLC.
 
Disclosure:
The author, Pension Partners, LLC, and/or its clients may hold positions in securities mentioned in this article at time of writing.