"Change must always be balanced with some degree of consistency." Ron D. Burton
August has come and gone, and the landscape has changed. Markets underwent a tremendous amount of volatility as the Summer Crash I've been writing about on SeekingAlpha came to pass. Germany's markets went through some of the worst declines its ever seen. Yields on Greek debt kept making new highs. Hedge funds suffered steep losses. And surprise surprise – bonds had one of their best months in years despite everyone believing interest rates would rise following the end of the Fed's QE2 program and the S&P's downgrade of U.S. debt.
I think the performance of all markets worldwide is very indicative of the environment we continue to be in, where the concept of buy and hope (I mean buy and hold) continues to disappoint. Our firm's philosophy and process is built around a different way of approaching markets through a buy and rotate strategy designed to position client accounts into those areas most likely to outperform. As such, it should be no surprise that our ATAC (Accelerated Time And Capital) strategies are strongly outperforming not only the S&P 500 for the year, but the vast majority of hedge funds. Our Aggressive strategy in particular on a year-to-date basis through August is positive and in the high double-digits. We will be releasing our performance around the middle of this month on our website to show that we back up our thoughts with real results.
As far as paying attention to the message of the markets, take a look at the data below: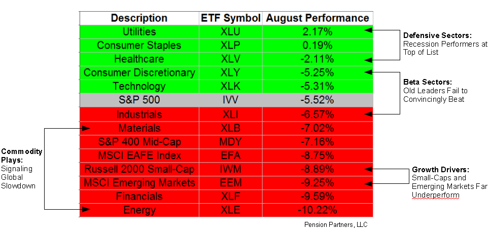 Sector, Cap, and Country performance in August all gave the same message – the economy is slowing dramatically, growth prospects are diminishing, and deflation is now the biggest concern for investors in risk. The jobs data which came out last week showing zero creation, as well as other sobering economic statistics, does seem to back this up. What this means is that for now, markets remains in a precarious position independent of the prospects of more money printing through another round of Quantitative Easing.
September likely will remain a volatile month, particularly given what appears to be an ever-nearing crescendo in the European debt crisis. Our models are still in "risk-off" mode with client accounts positioned in a combination of Treasuries and sovereign debt. This certainly can change week to week, but based on our analysis we do not expect to be positioned aggressively into equities in the near-term. We trust in our models' ability to help position us when the time is right, given that it is quantitative in nature and has been backtested over several decades.
On a side note – if there is anything I've learned this year, its that you don't get if you don't ask. So I am going to ask readers of our work to help us out. If you have any contacts in the media, whether they are radio talk show producers, TV anchors, or reporters, please get them in touch with us. We are trying our best to get attention in a world full of voices which all sound the same, and don't have the results we have.
Sincerely,
Michael A. Gayed, CFA
Chief Investment Strategist
Pension Partners, LLC

This writing is for informational purposes only and does not constitute an offer to sell, a solicitation to buy, or a recommendation regarding any securities transaction, or as an offer to provide advisory or other services by Pension Partners, LLC in any jurisdiction in which such offer, solicitation, purchase or sale would be unlawful under the securities laws of such jurisdiction. The information contained in this writing should not be construed as financial or investment advice on any subject matter. Pension Partners, LLC expressly disclaims all liability in respect to actions taken based on any or all of the information on this writing.