** Every Monday, this Report will be updated to include the latest market movements and catalysts, updated award winning risk triggers, themes for investing, and plenty of engagement from yours truly. I encourage you to sign up for a free trial and join the community by clicking here. 
WEEKLY RISK SIGNALS
2014 Dow Award Winner/An Intermarket Approach to Beta Rotation: Risk-Off
2014 Founders Award Winner/An Intermarket Approach to Risk Rotation: Risk-Off
2015 Founders Award Winner/Lumber: Worth Its Weight in Gold: Risk-Off
2016 Dow Award Winner/Leverage for the Long Run: Risk-On
Conclusion: 3 out of 4 signals suggest conditions still favor high risk in the near-term. Shorter term strength remains in Utilities and Treasuries despite the week's sharp comeback in large-caps, but the overbought positioning may suggest a turning point is near. Lumber relative to Gold is still weak as a bottom may not yet be in place. While the S&P 500 is above its 200 day moving average after touching it the week prior, the weight of the evidence still suggests caution is warranted. Given that June historically isn't the kindest of months for investors, a tilt towards defensiveness still makes sense for now. Bonds, Gold, and low volatility stocks continue to be favored trades until more risk-on signals emerge. With news coming out over the weekend that a deal has been reached with Mexico and tariffs will be averted, how the next several days play out will be critical to gauge the market's reaction, especially in light of increasing downside economic momentum and poor jobs growth.
----------------------------------------------------------------------------------------
ASSET CLASSES AND SECTORS
Below is an assessment of the performance of some of the most important sectors and asset classes relative to each other with an interpretation of what underlying market dynamics may be signaling about the future direction of risk-taking by investors. The below charts are all price ratios which show the underlying trend of the numerator relative to the denominator. A rising price ratio means the numerator is outperforming (up more/down less) the denominator. A falling price ratio means underperformance.
LEADERS: STRENGTH IN TREASURIES AND UTILITIES OVERDONE?
Health Care (XLV) – Hitting A Short-Term Top?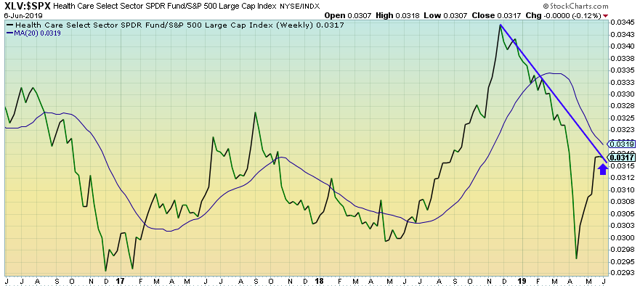 Healthcare's sharp rally took a pause this week as buying spread out to some cyclical areas of the market. Traders continue to use this as more of a defensive play right now but the fundamental backdrop also looks attractive. The drug pricing disclosure bill which some thought would hurt healthcare stocks is right now getting pushed to the background and healthcare spending is projected to keep rising. Keep an eye on that trendline to see if it starts acting as resistance.
Utilities (XLU) – Maintaining Strength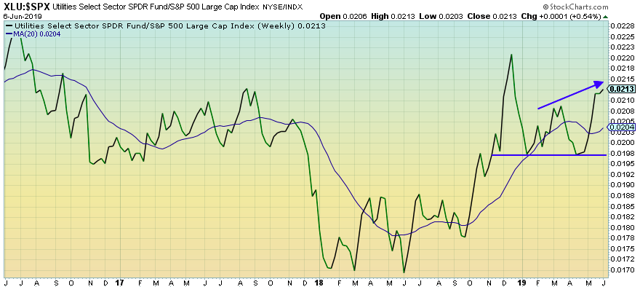 Utilities continue to demonstrate strength and remain the go-to sector for defensive-minded traders. Utilities ETF trading volumes have picked up over the past week which could be a bearish sign for the equity markets as a whole. The Fed has essentially locked into its rate cutting plan which should help these companies ease their debt burdens and support higher dividends but the sector is back in overbought territory and might benefit from a modest pullback here.
Consumer Staples (XLP) – Cup Is In Place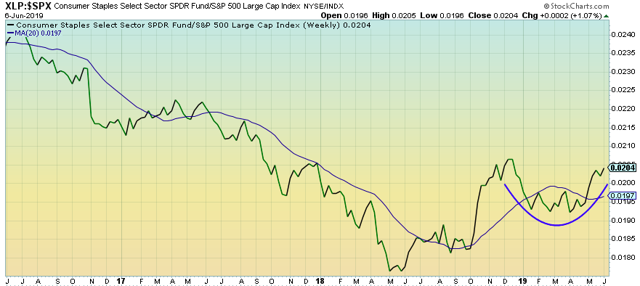 Staples remain in an established bullish trend but chartists will note the cup has completed its formation. Escalating trade tensions will continue to impact this group and could lead to a near-term period of consolidation. If it turns out to not be a false flag, the sector might be in for a technical bounce that pushes it to near-term highs relative to the S&P 500.
Real Estate (XLRE) – Yields Looking Attractive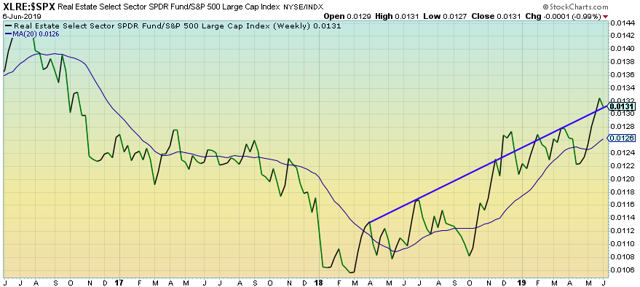 Income seekers are no doubt disappointed with the recent Treasury rally that has pushed the 10-year yield all the way down to just around 2%. Investors appear to be rotating into REITs to make up for any shortfall. With as many as three rate cuts from the Fed on the horizon for the remainder of 2019, real estate continues to remain attractive for those looking for higher dividends.
Materials (XLB) – Gold (Miners) Rush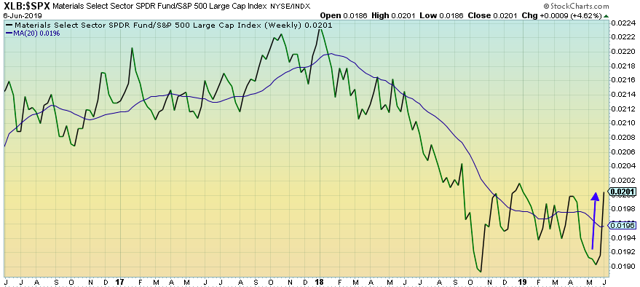 Materials stocks sharply outperformed after nearly touching its relative support low from mid-October, perhaps on bets that commodities themselves may be due for a coming bounce on dollar weakness combined with an easing of trade tension impacting global growth. While a small percentage of the Materials sector consists of Gold Miners, it's worth noting that the group was up nearly 13% in just the past couple weeks. Weak payroll data sent gold prices to their highest level in over a year as investors seeked risk-off trades behind the scenes of the current large-cap bounce.
Bonds (TLH) – Bulls In Control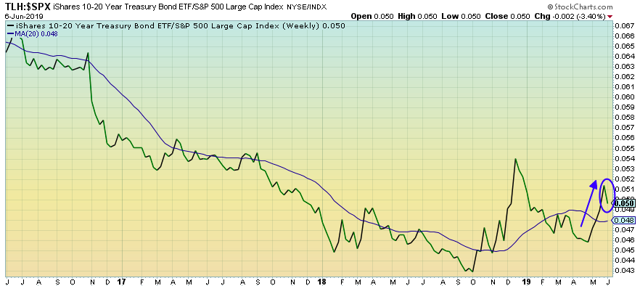 The bond rally took a bit of a breather as reassuring comments from the Fed Chairman pushed up stock prices but the weak jobs report on Friday pushed Treasury yields back down again. The odds of three or more rates cuts before the end of the year jumped from about 35% a week ago to nearly 60% today helping fuel the notion that the Treasury rally could have legs into 2020.
Long Bonds (TLH) – Overbought But Upside Remains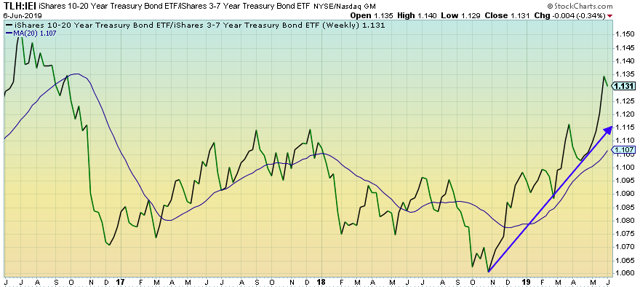 Bond buyers continue to favor long maturities as the desire of gains is outweighing the desire for risk mitigation. T-bonds remain in extreme overbought territory and investors should use caution if looking to buy here at these stretched levels but the anticipation of even lower rates in the future could spark an extended rally over the next few months. It does appear that the bond move has fundamental underpinnings in light of poor jobs data.
LAGGARDS: THE EQUITY BOUNCE MASKS ECONOMIC WEAKNESS
Communication Services (XLC) – One Word: Antitrust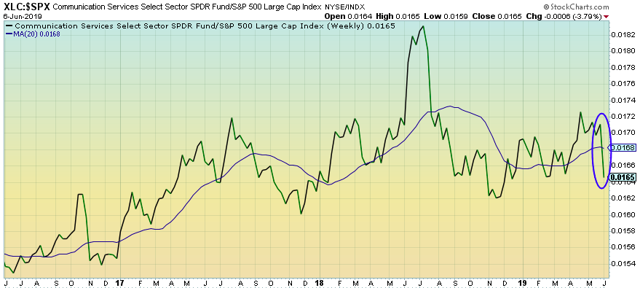 The government's intent to launch antitrust investigations into both Facebook and Alphabet easily made this the worst performing sector over the past week. While that will likely cast a pall over the group for some time, these investigations tend to result in fines but little material impact to the business. If you're a buy-low trader, this could be an interesting entry point if you're willing to hold.
Technology (XLK) – An Easy Money Bounce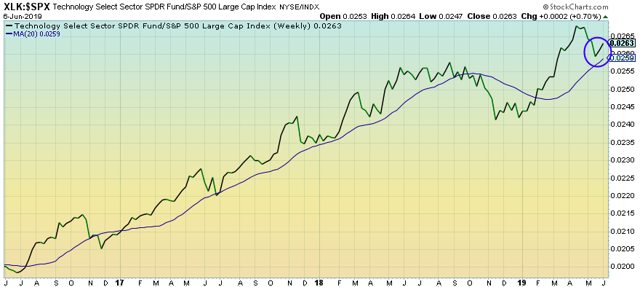 Traders saw some value in the beaten down tech sector but the overall economic backdrop remains decidedly negative. This looks more like a dead cat bounce than a genuine rally. Chip sales look like they'll continue falling sharply, both China and the U.S. are digging in on their battle over intellectual tech property and the World Bank recently lowered global growth forecast down to 2.6%, its lowest number in three years.
Consumer Discretionary (XLY) – Retail Unravels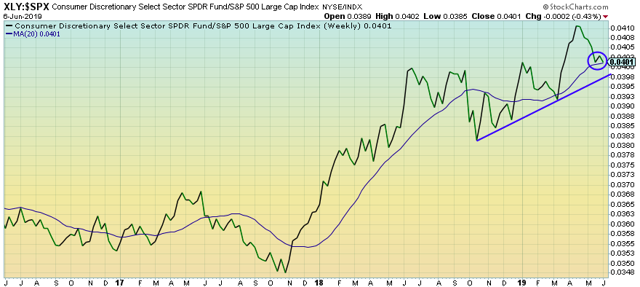 The fact that this sector failed to join in the cyclical bounce this week confirms the weakness that we're seeing in the group overall. Brick-and-mortar retailers got hammered during the Q1 earnings season despite better results from Walmart and Amazon. Friday's jobs report showed that employment growth in the retail sector was negative for the fourth straight month while the proposed tariffs on Mexico are likely to significantly impact areas like autos and auto parts the most.
Financials (XLF) – Low Rates Will Hurt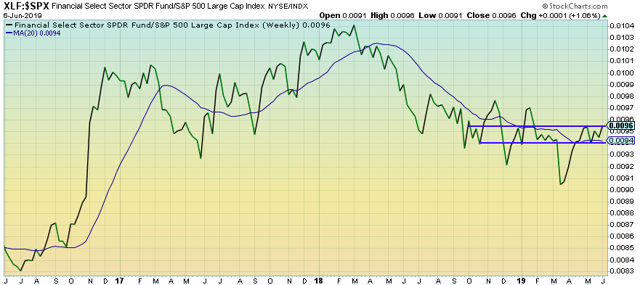 The financial sector didn't participate at all in Friday's bounce as the seemingly imminent rate cuts squeeze margins and portend weakness in future loan growth. Valuations look relatively attractive but an increasingly weak housing market and growing loan delinquencies keep the bearish sentiment firmly in place. Having said that, should the yield curve steepen, we may end up seeing bank stocks rally harder than anticipated on NIM hopes.
European Banks (EUFN) – The Next Financial Crisis?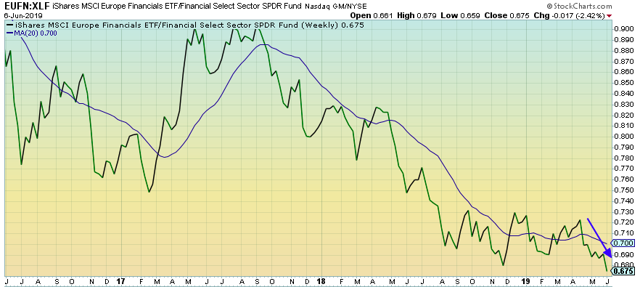 While Deutsche Bank attracts most of the headlines, virtually every major European bank stock is down more than 35% over the past year. The German central bank just cut its 2019 GDP forecast in half while other nations are lowering their benchmark interest rates in order to get ahead of the global slowdown. Deutsche which has an estimated $49 trillion in derivatives exposure looks like a house of cards waiting to topple and could plunge the entire continent into a new financial crisis. This is an underappreciated risk that should be on all radars.
Industrials (XLI) – Meandering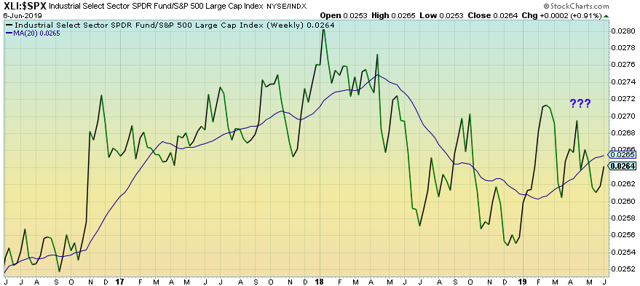 It's been tough to get a read on the industrials sector as it's been seesawing up and down relative to the S&P 500 for much of the past year. The surprise announcement of tariffs on Mexican imports make for a tough economic environment for agriculture even more challenging. The sector got a modest bounce from the recently passed disaster bill that provides $3 billion in funding for agriculture relief but that looks more like a finger in the dam in the presence of tariffs.
Energy (XLE) – Oversold But No Catalyst For Rebound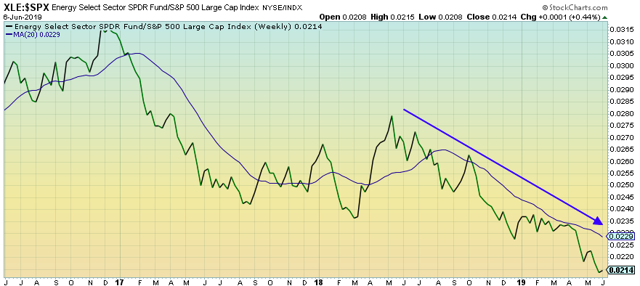 Oil prices dipped into bear market territory as record production levels are creating a supply glut in the marketplace. Equity prices remain in oversold territory which could help provide a short-term bounce but there appears to be little longer-term catalyst for a rally here as the supply/demand imbalance and uncertain political environment continue to weigh heavily.
Small-Caps (SLY) – Not Participating Yet Again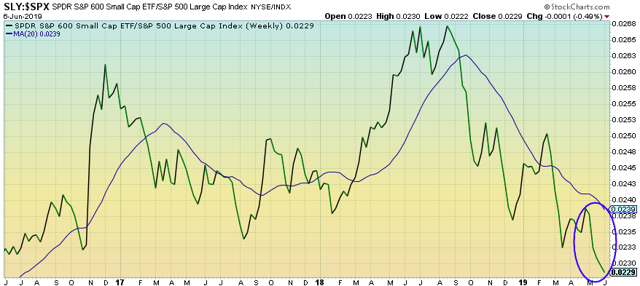 Small-caps led to the downside in the recent equity pullback but are also lagging large-caps in the recovery which suggests that there's little conviction in the comeback. The recent rally has been very narrow in scope giving the impression that this is just a brief bear market bounce more than anything. The risk of a pullback to 2018 lows remains high.
Europe, Australasia, and the Far East (EFA) – Hanging Tough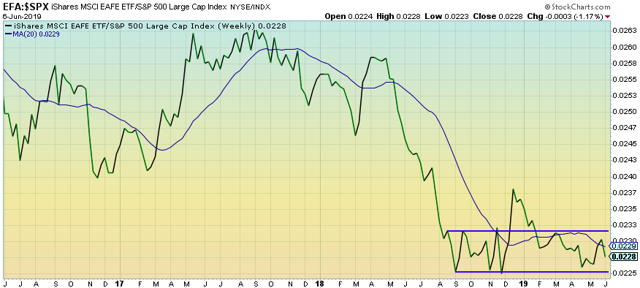 Developed markets large-caps have more or less kept pace with the S&P 500 over the past few quarters. International equities have been getting some play as a better relative opportunity compared to domestic stocks but accelerating economic weakness in the Eurozone may be creating a false assumption. Germany, France and Italy have been looking worse and problems in the banking sector suggest there's some real downside potential here. "Whatever it takes" from the European Central Bank is more often than not being taken as just "whatever."
Emerging Markets (EEM) – Short-Lived Bounce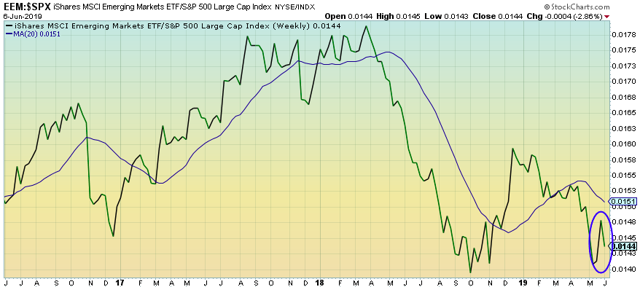 Intensifying trade war rhetoric that's threatening to rope in additional exports as well as things such as rare earth metals sent emerging markets equities lagging again after a brief rally. It's interesting in that this has been a tale of two emerging markets segments lately. European emerging markets have been outperformers while Asian emerging markets have struggled. See the "Global View" section down below.
Junk Debt (JNK) – Fed Brings Back Some Buyers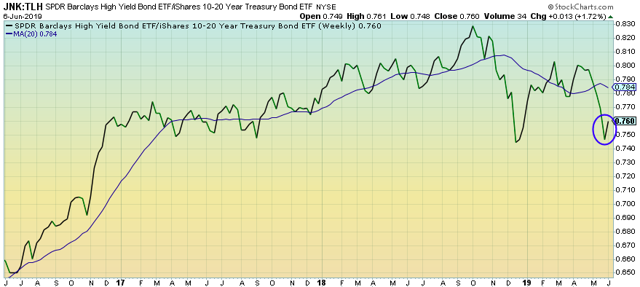 High yield bonds caught a few bids thanks to the Fed but credit quality concerns are the real story here. An impending recession could result in billions of dollars in BBB-rated debt getting downgraded into the junk category, further intensifying selling pressure and credit spread widening. Lower rates can ease some of the short-term pressures but this is a notable red flag longer term.
Treasury Inflation Protected Securities (IPE) – Massive Inverted Cup & Handle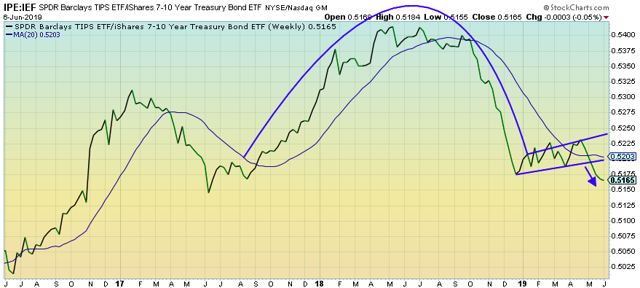 TIPS have been participating in the Treasury rally but things look more concerning technically. An inverse cup and handle pattern shows that a breakdown has occurred and this ratio could be heading back down to 2016 levels. Inflation expectations have been the biggest concern for markets, and continue to be the Fed's mea culpa.
Lumber (LUMBER) – Gold Rally Accelerates Decline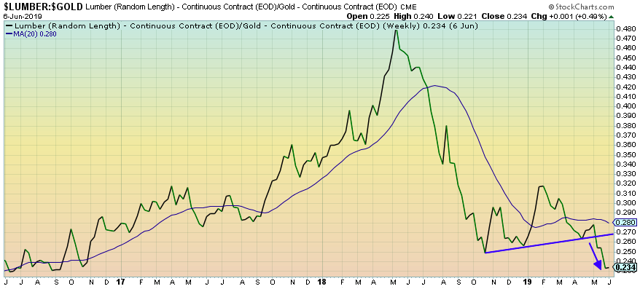 The spike in gold prices pushed Lumber's relative value down even further. The steady decline that's been occurring all year suggests that a base is not yet in place and the decline could continue. A potential trendline that could have acted as support failed to hold. Lumber's weakness is consistent with faltering inflation expectations, and a lack of a pickup in mortgage applications despite a lower 30 year.
----------------------------------------------------------------------------------------
GLOBAL VIEW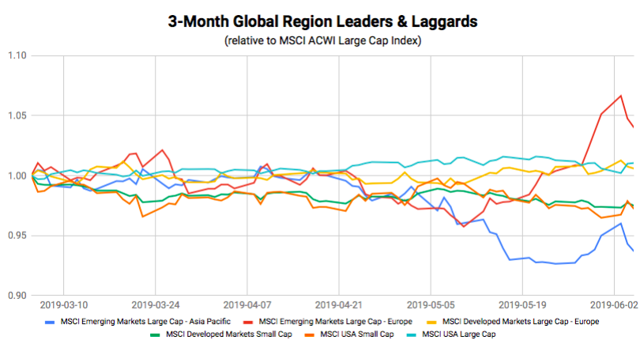 I've talked a lot lately about how the equity market rebound that took place this past week has been too narrow in scope to be considered a healthy rally. Take a look at this week's major index performance to see exactly what I mean.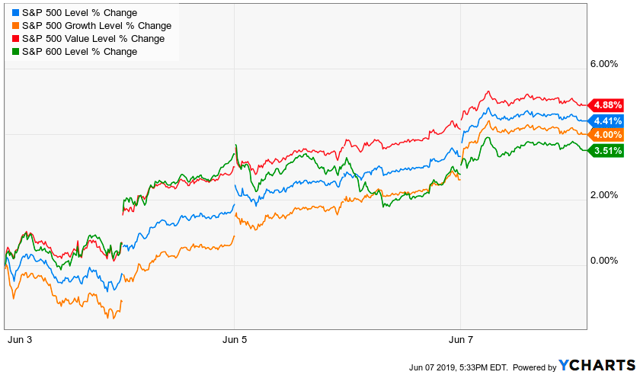 The S&P 500 outperformed the S&P 600 Small Cap Index by nearly 1% while large-cap value beat large-cap growth by a similar margin. Sure, gains were spread out across multiple sectors but the takeaways are clear: investors opted for more conservative large-cap names while preferring lower volatility value stocks. Even when buying equities, traders are maintaining a defensive posturing. The riskier stocks that tend to outperform in a healthier market rally have all been lagging.
We see that not just in the U.S. but in markets around the world. Large-caps have been outperforming small caps in both developed and emerging markets as well as domestically. Trading volume on the NYSE has also been comparatively modest which tells us there isn't a lot of broad buying strength. This looks more like a short-term bounce within the context of a broader downward trend.
Despite some troubling GDP and industrial growth data recently, Europe has been a notable outperformer. The emerging markets Europe basket has benefited from its 60% position in Russian equities which have jumped 8% in the past month thanks to energy-related strength. Europe hasn't been hit quite as hard by the trade war as have Mexico and China but that could be poised to change. Some EU countries have been recently targeted by President Trump's trade policies and rhetoric. Investors should be cautious trying to chase returns here.
Asia, with China in particular, is still reeling from the escalating trade conflict. Chinese equities have given up most of their 2019 gains as more and more products and services are threatening to get caught up in the dispute.
----------------------------------------------------------------------------------------
MACRO OBSERVATIONS
What Exactly Are Gold, Treasuries and the Dollar Telling Us?
The economy continued to flash warning signals this week. JPMorgan's global composite PMI reading slipped into contraction territory falling to a 7-year low in the process. Oil continues its dive towards the $50 mark after sitting at $66 just a month and a half ago. But the biggest gut punch came from the jobs market. Non-farm payroll figures came in way below estimates raising fears that the negative impact of an economic slowdown and trade war are finally showing up in the most closely-watched economic numbers.
Investors have been steadily migrating towards traditional safe haven assets - gold, Treasuries and the U.S. dollar. Gold and long bonds in particular have been rallying strongly over the past three weeks as mixed signals persuade investors to take risk off the table. There's been some interesting interplay between these three assets lately and how they're responding to the current environment.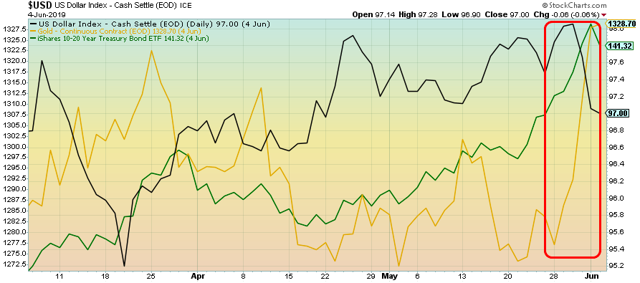 The U.S. dollar, which had been slowly and steadily moving up over the past year, abruptly broke down after a combination of weak data and comments from Jerome Powell indicating that the Fed was preparing to move more aggressively in cutting rates. This was like a double whammy on the value of the greenback. The dollar is now at a 1½ month low compared to a basket of currencies and a 6 month low against the yen. The weaker dollar is a direct reflection of the Fed's willingness to continue printing money and could make developed and emerging markets equities comparatively more attractive going forward.
While the prospect of lower rates has encouraged equity investors, it raises questions about just how effective such a policy move can be. The Fed futures market is forecasting a better than 50% chance that the FOMC will cut the target Fed Funds rate by 75 basis points before the end of the year. After expectations for 2-3 rate hikes coming into 2019, the fact that we're potentially looking at 3 rate cuts instead clearly suggests that the Fed is off-balance in achieving a balanced monetary policy. That in turn puts the equity markets at risk for a sharp downturn if economic conditions worsen on the potential for a panic policy move.
Investors betting that interest rates will get slashed and the Fed might institute another round of QE have bid the 10-year Treasury rate all the way down to 2.1%. With the 3-month Treasury currently yielding around 2.3%, those considering a "flight to safety" should decide between trying to capture higher returns if they believe rates will move lower and seeking a true safe haven in ultra-low volatility T-bills. Long-term maturities are nearing extreme overbought conditions and traders may want to proceed with caution.
Gold has also been drawing interest lately as a place to park cash. It's rarely traded outside a range of about $1150 to $1350 over the past six years but it's looking like it could finally be making its move. Gold just staged a breakout following a year-long cup and handle pattern and a continued risk-off scenario could push it even higher.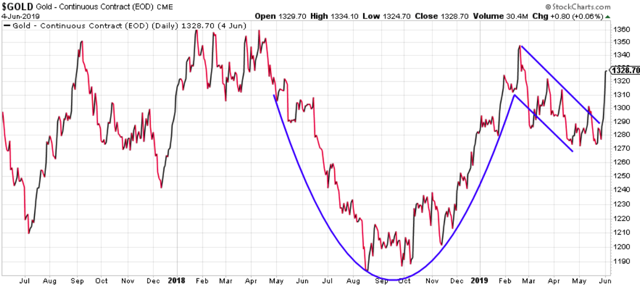 In watching the price action of these assets we can gather a few things. Weakness in the dollar is telling us that the traders are fully expecting rate cuts in 2019. The Fed's willingness to add liquidity to the economy and possibly unleash another round of quantitative easing suggests that it sees recession as a real threat. A flood of new dollars into the market to help stave off that recession will erode their value.
A spike in the value of both Treasuries and gold tell us that traders lately have been using both as a risk hedge. However, they're not necessarily interchangeable. Historical asset correlations suggest that one can work better than the other depending on what you're trying to do.

Over the past 15 years, stocks and treasuries have on average had a negative correlation as you'd expect. When stocks fall, bonds can generally be expected to rise in value. Gold, however, is a different story. Its near-zero correlation with equities means it's an asset that more or less does its own thing. That doesn't necessarily help with the predictability of forward returns but it's solid for reducing risk through diversification. Traders looking to generate gains in their portfolio during a correction in equities may want to go with long-term Treasuries although these tend to be risky assets in and of themselves. People looking for more of a pure risk hedge might consider gold instead despite the uncertainty of returns that could come with it.
The trade war, of course, is the wild card in all of this. A resolution to the current trade disputes and the reduction or elimination of tariffs would almost certainly get investors in a risk-on mood once again. At this point, however, it seems more likely that we're in for a prolonged period of trade uncertainty. That's probably bullish for both Treasuries and gold but it leaves most of us wondering if it's accelerating the arrival of the next recession. The Dollar's direction will be an important clue going forward.
----------------------------------------------------------------------------------------
CONCLUSION
Despite a rally that saw the S&P 500 add more than 4% for the week, investors should remain cautious as this advance doesn't look particularly broad. A weak jobs report and an extreme overbought Treasury market strongly suggest that the economy is slowing and investors should be considering ways to mitigate risk.
It's a bit unusual to see traditionally defensive areas such as utilities, Treasuries and gold showing leadership during a strong equity rally. The fact that large-caps and value stocks outperformed this week indicates that traders are still taking a conservative approach to equities. Most signals are suggesting a risk-off positioning is still warranted as economic data around the world continues to deteriorate.
The Lead-Lag Report is provided by Pension Partners, LLC, a federally registered investment adviser. Registration as an investment adviser does not imply a certain level of skill or training. All opinions and views mentioned in this report constitute our judgements as of the date of writing and are subject to change at any time. Information within this material is not intended to be used as a primary basis for investment decisions and should also not be construed as advice meeting the particular investment needs of any individual investor. Trading signals produced by the Lead-Lag Report are independent of other services provided by Pension Partners, LLC, and positioning of accounts under Pension Partners' management may differ. Please remember that investing involves risk, including loss of principal, and past performance may not be indicative of future results. Pension Partners, LLC, its members, officers, directors, and employees expressly disclaims all liability in respect to actions taken based on any or all of the information on this writing.
Disclosure: I/we have no positions in any stocks mentioned, and no plans to initiate any positions within the next 72 hours.