It's no secret that Tesla( TSLA ) is one of the most shorted stocks around. Many analysts have been very vocal regarding its cash burn rate and how much the company has battled to reach production goals. 
Until now, I was on the other side of the trade, as I do believe the company has the potential to disrupt the transportation and automobile industry. As an Elon Musk admirer, I became fascinated through the years by its ability to materialize esoteric ideas into a tangible reality through its multiple endeavors such as Paypal, Space X, Hyperloop, etc.
It is sad for me to realize that one of its most-followed projects is enduring harsh times. It does not take a lot of research to realize that a company that is closing units and laying people off is suffering. I believe current efforts by the company to produce profits are great but laggard what institutional investors expect from the company. Besides, it is hard to believe that reaching its manufacturing goals has been a constant torture for the company. It is kind of ridiculous that a manual labor tent has been the solution for the company in order to reach production goals.
Also, many C-level executives have abandoned ship. What is scary for me, is that some of those executives are recent hires, and no one has been appointed to carry those roles. I know many will argue that is because Mr. Musk does not want to burn cash until operating profits are reported to investors, which is hard to believe for me.
The main catalyst for me to sell and be one of the rats abandoning ship on Tesla is the recent stock manipulation efforts from management. IMHO, those efforts have been the following:
IMHO, all of these attitudes and actions are starting to weigh on how investors perceive the company. I believe this is one of the main reasons the stock price has gone down after reporting the 5k production goal was achieved in June.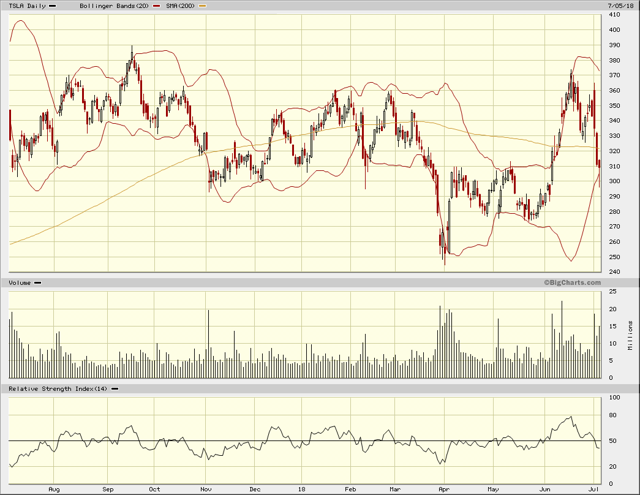 Source: Bigcharts.com
One of the most critical aspects investors are willing to forgive the company is the fact that the company loses money on each car they make. I believe this cheering mode has changed for the company and investors will start to demand quick results for the company.
Current multiples are extremely optimistic and price action will certainly provide better buying levels in the future. In fact, it is overwhelming why we keep paying 11.86 times book value for a company that has a 15.60% operating loss. It is as we investors are willing to subsidize the company just to be part "of the beginning of electric car history". 
What we investors are not realizing is the company will need to raise money through debt or stocks if profits are not on the book by year end. My gut instinct tells me even Tesla executives know that is not feasible and that's the reason they are willing to keep the price artificially up through leaks, attacks and spicing things so they look better. 
Conclusion:
Considering that current investor communications have been shady, And high probabilities Tesla will need to raise money through an IPO or through debt (which is an issue as rates continue to go up),  I am selling my position until operating profit is achieved on a consistent basis by the company. I don't know if I will buy at a discount or at a price point above current levels, but my hard earned money will be at a place that allows me to sleep well each night. 
Remember: "Bulls make money, bears make money, pigs get slaughtered". And Tesla looks like pig feed for me at this moment.
Disclosure: I am/we are long tsla.
I wrote this article myself, and it expresses my own opinions. I am not receiving compensation for it (other than from Seeking Alpha). I have no business relationship with any company whose stock is mentioned in this article.
Additional disclosure: I will terminate my position in the following 72 hours.