Since 2009 the company's revenue grew constantly.CAGR 5.72% (10 year average).
Company margins are strong.Profitability is the strength of Cembre.
Low copper price bodes well in maintaining low costs.
The company is priced for absolute pessimism at 60% discount based on FCFE model.
Conclusion:
Some Italian companies are successful in their market , despite the country's flattered economy, Cembre is one of them. Revenue is growing since 1983 (except 2009), the company has a strong liquidity and thanks to low copper price, earnings can continue to grow at least until 2020. Based on my valuation, Current price is a good entry point to enter into this stock due to a discount price of 60%
The Company:
Since 1969 Cembre develops, manufactures and markets electrical compression connectors and tools to apply them. In this market, Cembre is the leading Italian manufacturer and one of the largest European producers in the current market. December offers its products and services to wholesalers, specialized distributors, to companies operating in the rail sector and in the energy sector. The wide product range, capillarity, and efficiency of the sales network in Italy and in international markets and the strong focus on customer needs represent the strengths of the Cembre Group and ensure a significant competitive advantage in a global market constantly changing. The parent company based in Brescia and it has six subsidiaries: five commercial (Germany, France, Spain, United States and Norway) and a production and commercial (Cembre Ltd, based in Birmingham), with 614 employees (31 December 2014).
A Relentless Growth: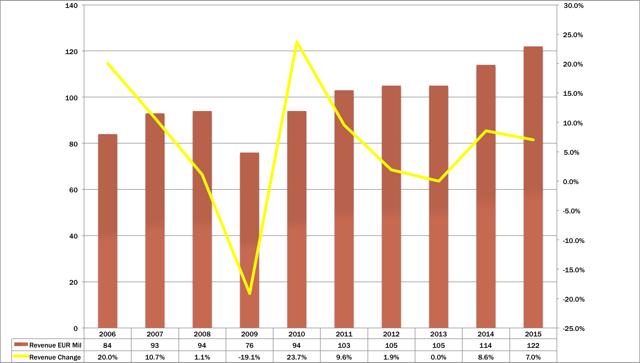 Since 2009 the company's revenue grew constantly. Ten Years average revenue growth is 5.72% while industry median is 4.00%. This constant increase, during the years has helped a surge in share price by 405% in 16 years plus an average dividend of 0.18€ from 2002.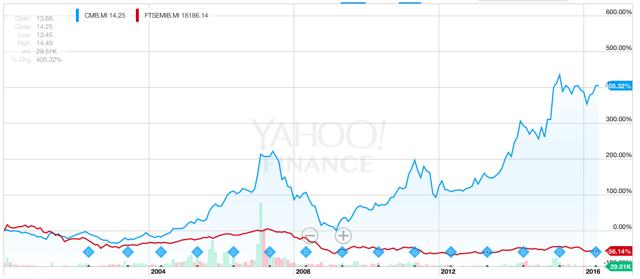 Last quarter it has seen a little contraction in revenues, from sales 30.3 million euros ($34.56 million) versus 30.9 million euros a year ago. Q1 net profit 4.0 million euros versus 3.9 million euros a year ago. Management has confirmed the outlook with an expectation to close 2016 achieving an increase in turnover and a consolidated profit.
Italian market represents 40% of CMB's revenue, while Europe 43% and rest of the World 17%. Export, in line with the industry, is 60% of business. In the last 10 years the weight of sales to the rest of the world has increased by 4.45%.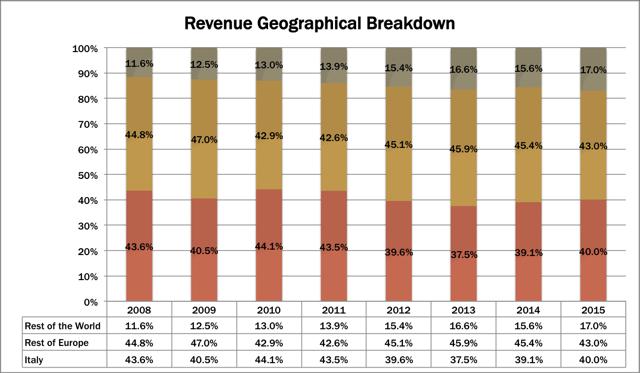 Brilliant Margins:
Over time, Cembre Return on Invested Capital has been higher than the industry. Especially from 2009, ROIC increased by 3.31% with a steady average difference with the industry of about 5%.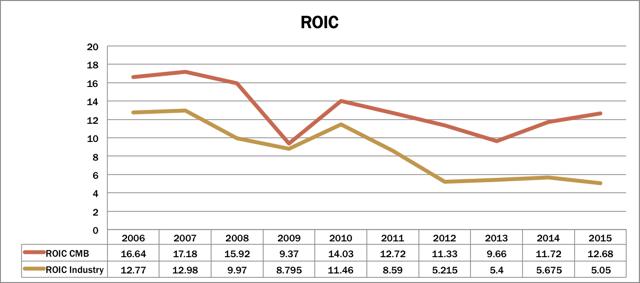 This increase in ROIC is due to an efficient deployment of capital and an increasing EBIT in the course of time. Operating margin also increased from 2009 (the only year that revenue did not grow since 1983) and it is constantly higher than the industry.

If we consider the divisions of the big players that are specialized in electrical connectors that operates in Italy (3M Italia, ITW construction, Nexans Italia, Prysmian Cavi e Sistemi) we can see that market share did not change a lot in the last 8 years. This is a proof of higher barrier to entry in the Italian cable market.

Nevertheless, Cembre, thanks to higher margins and profitability is slowing increasing market share. CMB is increasing its market share by 5.4% per year, way higher than the industry (Avg -0.3%) and the big players like 3M Italia and Prysmian (OTCPK:PRYMF).
Cembre unlike the major competitors (3M Italia, Naxans Italia and Prysmian) is focalized on connectors, tool and railway. All these three segments are 75.4% of total revenue. This focus is the competitive advantage that helped CMB to increase profitability and margins. Target of the group are high value added products and technology, guarantees the company higher margins over its peers.
Cembre created a niche in the big Italian cable market.
This doesn't mean that Cembre cannot grow outside of Italy. Cembre is already present in different countries, in fact rest of Europe and World contribute for 60% of revenue as showed in the third image.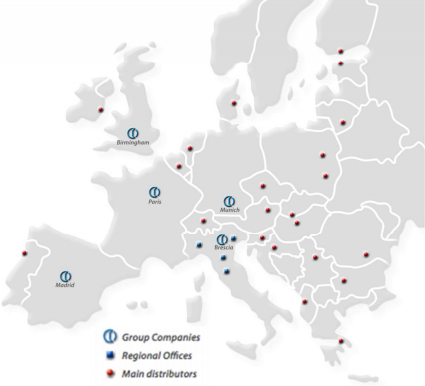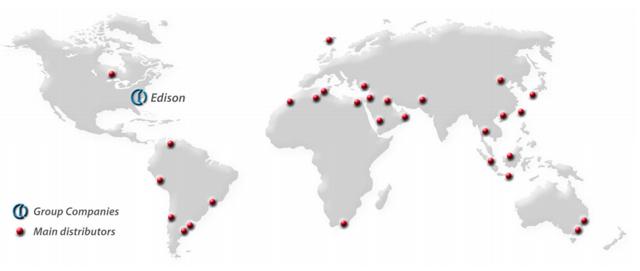 Industry
According to Xmultiple "The global connectors industry is expected to reach an estimated value of $72.7 billion by 2020. On the basis comprehensive research by many financial companies, the connector industry will grow significantly during 2016-2020. Research and development activities have become an indispensable part of all connector manufactures' strategy for this industry growth."
The global power cables market is forecasted to grow at a CAGR of 7.9% during the period 2016-2020. As I wrote, cable is not the main Cembre's business but it is still worth 14.1% of total revenue.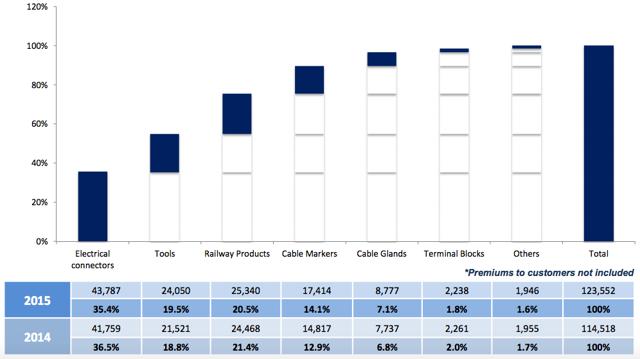 In Italy different things will continue to support cable and connector demand. In particular, 6 month ago, the "Corte dei Conti" has recorded the decision approving the operational program of the broadband connection. 2.2 billion are destined for immediate activation and additional resources up to a maximum of 4.9 billion will be available for other specific interventions.
Same thing for railway's sector, trains are changing from diesel traction to electricity. Almost all regions are planning to modernize the sector. From 2017 to 2020, for railways, it will be time for infrastructure upgrades, construction of noise barriers, streamlining, eAccessibility stops redevelopment. All this improvements will increase Cembre's revenue, thanks to its leading position in the sector. I cannot estimate the precise vantage that will create because the investment plans are not finished but will follow updates when the information is available.
In cable and Italian electronics connectors, sectors increasingly internationalized, exporting companies now represent over 40% of the total (20% is the share of the manufacturing average). Half of these are small and medium-sized enterprises.
The export percentage of total revenue is greater than 55% (it was just over 40% ten years ago) and the balance of trade rose from less than 10 billion euro a decade ago to nearly 16 billion euro in 2014 exports to the non-EU area stood.
Risk
As every cable company, Cembre has exposure to the economic cycle and the increase in raw material costs (mainly copper) will have a negative impact on profitability.
In specific, I believe that COGS is high correlated with copper price. If we take average price of copper with a lag t-1 and the COGS/Revenue in t0, we find a coefficient of determination (R squared) of 0.94. This means that COGS of 2016 is correlated with the average copper price of 2015, COGS 2017 with average price of 2016 and so on.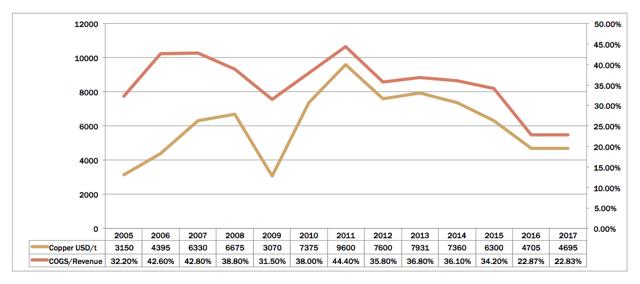 Because we already have copper price of 2015 (average price 2015: 4705 USD/t), and Cembre adopts a Weighted Average Method as accounting method, we can forecast COGS/Revenue of 2016 that should be between 22-25% of revenue. This means that gross profit will continue to grow and will sustain EBIT.
At present scenario I believe that copper price will continue to stay low for a long time until the demand will increase again.
China, which is responsible for more than 40 per cent of global consumption, is expected to decrease to zero copper demand growth in 2020.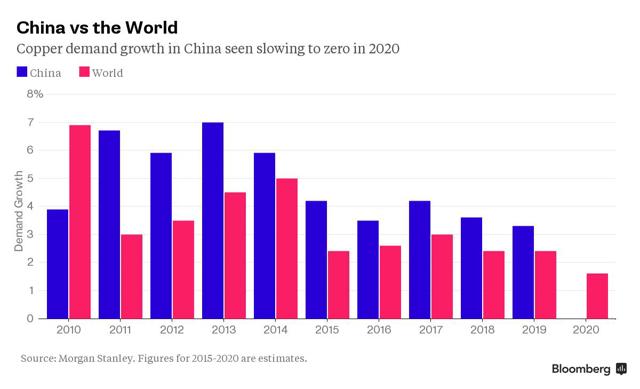 "In an atmosphere of falling commodity prices, copper will probably continue to be weak; The lower the price of copper, the more developing economies must produce and export to get the same number of dollars to service their foreign debts. And the more they export, the more the downward pressure on copper prices. That forces them to produce and export even more, in a self-reinforcing downward spiral. Look out below."
https://www.bloomberg.com/view/articles/2015-03-05/commodity-producers-keep-mining-and-defying-economics
Liquidity
Even if liquidity is an important aspect in my analysis, I usually don't write about it if there are any yellow flags. In this case, Cembre shocked me by the strength of its liquidity.
I analyzed 40+ Italian companies and I never saw a better liquidity ratio.

I also looked at Altamn Z-score Z1 and Z2 (80-90% accuracy in predicting bankruptcy one year prior to the event). Cembre value is strong and the low debt of 7.81% over the total capital bodes well.

Valuation
For a price of Cembre's value I used Two-Stage FCFE Discount Model with the assumption that Cembre will continue to grow until 2020 given the correlation with copper. Then for the terminal value, I assumed that CMB would grow at 1%, half of the reference to the country market where the company does the business i.e. 1.97%.
For growth rate in earnings per share, I used an average of three scenarios:
Base case: Fundamental growth of 4.81% (ROC * Reinvestment Rate) Bull case: CMB will continue to grow at 5.72% as the historical rate Bear case: An hypothetical -5%
This gives an average of 1.84%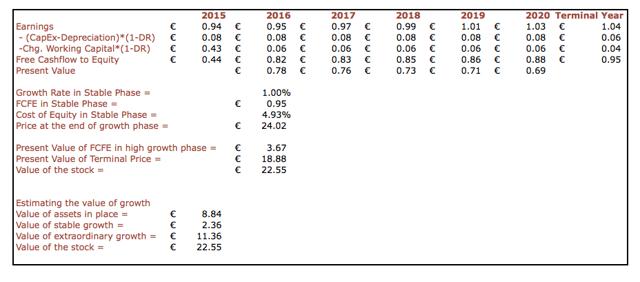 Based on my FCFE model, value of the stock should be around 22.55€. The stock is trading around 14.00€ this gives a 60% discount and this is the best time to enter in to this little great Italian company.
My valuation is confirmed, even if not of the same size, from Multiple Analysts.
The industry is trading at EV/EBITDA 9x while Cembre at 7x this supports the BUY thesis presented.


Disclosure: I/we have no positions in any stocks mentioned, but may initiate a long position in CMB.MI over the next 72 hours.