We've all heard the famous biblical anecdote of David interpreting the Pharaoh's dream. There were to be seven years of plenty followed by seven years of famine. Pharaoh heeded the analysis and prepared the kingdom for the lean years. It's fair to say that this might have been history's very first documented investment advice. It required planning, discipline and foresight. The moral of the story being that situations change and living for the moment could have dire consequences as time goes by. For example, these are lean year for dividend seekers but it certainly won't remain this way forever. So how may a retirement portfolio position itself during these lean dividend years and reap the benefits of a richer harvest many years from now?
One way is to prudently diversify the income generating assets of your portfolio and adhere to the discipline of reinvesting dividends over many years. One efficient way to accomplish this is through a dividend focused ETF. One such ETF is the State Street Global Advisors SPDR S&P Global Dividend ETF (NYSEARCA:WDIV).
According to State Street, the fund's objective is "to seek to provide investment results that, before fees and expenses, correspond generally to the total return of the S&P®Global Dividend Aristocrats Index". The index is defined as a measure of the "performance of high dividend-yield companies included in the S&P Global BMI (Broad Market Index) that have followed a managed-dividends policy of increasing or stable dividends for at least ten consecutive years".
According to the prospectus (page 161) the fund invests passively, that is, it tracks the index instead of actively try to outperform it. Total management fees are 0.40% annually. Fund's strategy is to invest in a subset of the index, being at least 80% invested at all times. Some key rules of the fund are: investing in securities having paid increasing or stable dividends for at least ten years, a market cap of at least $1 billion, an average daily trade value of at least $5 million, a non-negative 'Dividend to Net Income ratio' and a maximum indicated dividend yield of 10%. Under these rules, the top 100 qualified stocks are selected with no more than 20 companies from any one country. Weightings are capped at 3%, and individual country weighting capped at 25%.
The top five country weightings currently accounting for 65.72% of the fund are: United States, 21.59%; Canada, 15.71%; United Kingdom, 14.52%; France, 6.66% and Australia at 6.64%. The fund's prospectus makes no mention of currency hedging, hence there's a currency risk, although the funds broad global diversification should mitigate these risks. Further, the fund includes companies based in emerging market countries such as South Africa, Thailand, Brazil and Malaysia, comprising (combined) 6.26% of the fund. EU member nations account for 35.08% of the fund. Of these EU members included in the fund, 18.19% use the Euro. Also, the fund has holdings based in Hong Kong whose unit currency, the Hong Kong Dollar, is pegged at nearly par to the US Dollar.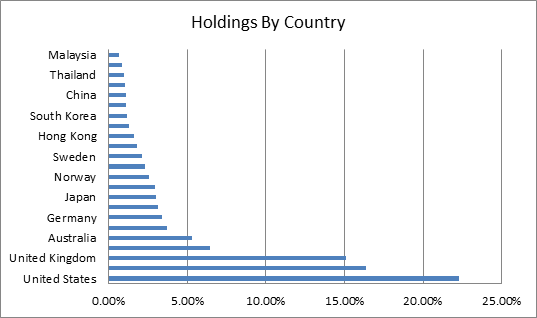 29.62% of the fund is held in cyclically defensive sectors: Utilities, 15.33%, Consumer Staples, 11.22% and Health Care, 3.07%. Sectors most affected by economic cycles comprise 36.7% of fund sectors: Financials, 25.45%, Consumer Discretionary, 7.74% and Materials, 2.98%. Lastly, 34.21% are held in semi-cyclicals (or cyclically sensitive), 11.65% in Industrials, 10.13% in Energy, 8.36 in Telecom Services and 4.07 in IT.
Here's a snapshot of the top ten holdings with yields.
HollyFrontier Corp, the fund's top holding at 2.57%, is a US based petroleum refiner, processing 443,000 barrels per day producing gasoline, diesel, jet fuel, asphalt and lubricants. HFC operates 5 refineries through subsidiaries and also owns a 39% interest in Holly Energy Partners. On May 15, 2015 regular quarterly dividends were increased to 0.33 cents per share, 0.81683% for the quarter, hence providing a yield of 3.267%, annualized.
Neopost, at 1.88% of holdings, is based in Bagneux, France and offers IT and media solutions, digital communication, mailing and shipping services in 90 countries with subsidiaries in 31 countries. The most recent ADR quote was $3.40 provides a semiannual dividend of $0.1357, 7.98% annually.
US based RR Donnelley, at 1.70% of holdings, offers print, digital, shipping, supply chain and industrial media/IT services and solutions. Last quoted at $19.41 providing a 0.26 per share quarterly dividend, 5.358% annually.
Coca-Cola Amatil Limited, 1.45% of holdings, based in Sydney, Australia. Amatil is Coca-Cola's bottler and distributer serving the South Pacific region. Its last quote was $7.2352 USD, distributes a semiannual dividend of $0.16, yielding 4.423%.
Centrica, 1.43% of holdings, whose business is in 'every stage in the energy chain', from sourcing on the industrial side to servicing on the consumer side. Centrica employs 30,000 in the U.K., Ireland, Europe, North America and Trinidad. Last ADR quote was $16.67 and provides a semiannual dividend yield of 0.5004 or 6.004%.
Wm Morrison Supermarkets, 1.43% of holdings. As the name implies it is a retail supermarket chain offering home delivery. It's the 4th largest supermarket chain in the UK. This is one of the weaker holdings, share price having fallen 15% in the past 52 weeks. However, Q1 sales improved and market share remained steady at 10.9%. Although currently a member of the FTSE 100, reports indicates it will be move to the FTSE 250. The last ADR quote was $2.65, paying a 0.0962 semiannual dividend, or 7.26% annual yield.
Universal Corporation, 1.42% of holdings, is a global supplier of cured leaf tobacco for consumer tobacco product manufactures. Their services include packing, storing and financing. Universal conducts business in 30 countries and employs 24,000 permanent and seasonal workers. The company pays a quarterly $0.52 share dividend or 3.94% annualized; last quoted at $52.846 per share.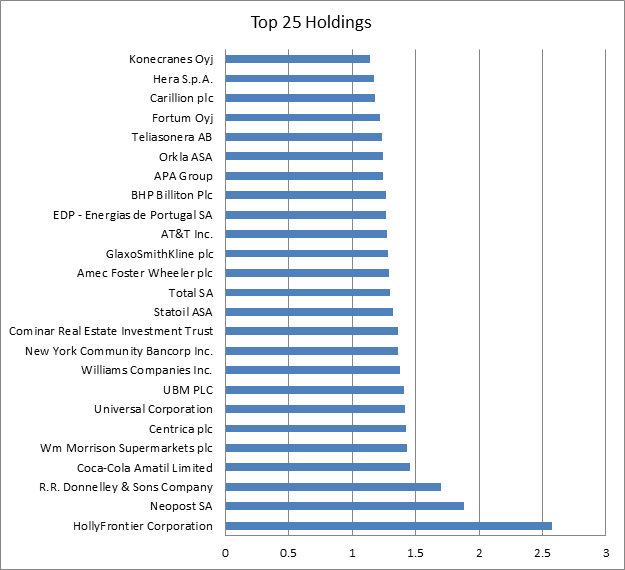 UBM PLC, 1.40% of holdings, is a London based marketing, communications and media consultants, specializing in digital services as well as 'person-to-person' events, such as trade shows, exhibitions, conferences and live events. Its last ADR quote was $8.0701, with a semiannual $0.16 per share dividend yielding 3.97% annually.
Williams Companies, Inc., 1.38% of holdings, is a US based and recognized by Forbes as the most admired energy company for 2015. It is a supplier of liquid natural gas, olefins (used in plastics production), owns and operates interstate natural gas pipelines and processes oil-sands. Williams Companies provides services through subsidiaries such as Transco, Gulfstream and Northwest Pipeline. The last quote was 49.06, pays a quarterly dividend of $0.59 per share, thus an annualized yield of 4.81%.,
New York Community Bancorp Inc. at 1.36 of holdings, is a New York State Charted Bank Holding Company of New York Community Bank and New York Commercial Bank. Both service consumers and business banking needs in New Your City, New Jersey, Florida, Ohio and Arizona. The most recent quote was $17.92 and it pays a quarterly dividend of $0.25, yielding 5.85% annually.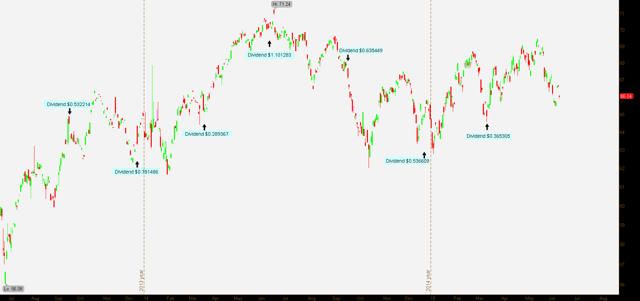 The fund is very well diversified with 102 holdings and a dividend yield of 3.95%; 3.84% less fees and expenses. This may be compared to the S&P®Global Dividend Aristocrats index yield of 4.61%. The fund's P/E ratio is 15.77 and a price to book of 1.93. According to historical distributions, its three highest quarterly dividends paid were: $1.10 in July of 2014, $0.78 in January of 2014 and $0.63 in October of 2015. Since this is a rules based passively managed fund, one should expect variations as companies are dropped or added to the fund as the rules guided metrics change. The market capitalization of the fund is $63.51 million with 950,000 shares outstanding, having 5.42% earnings growth and a 16.76% return on equity. Since the object is dividend return, it is important to note that the fund trades at a premium to NAV of 0.29%. The cumulative return on dividends are optimal when purchases are made with the lowest premium percentage possible. Lastly, to optimize cumulative returns, all dividends and distributions should be automatically reinvested.
Since inception, 5/29/2013, the shares have returned 11.05%, the NAV 11.03% and the index 10.93%. All said, this fund looks like a reasonably good way for a long term investor to invest in an equity asset which provides a good dividend return, without having to spend the time researching and then cobbling a few dividend heavyweights.
Disclosure: The author has no positions in any stocks mentioned, and no plans to initiate any positions within the next 72 hours.
The author wrote this article themselves, and it expresses their own opinions. The author is not receiving compensation for it (other than from Seeking Alpha). The author has no business relationship with any company whose stock is mentioned in this article.
Additional disclosure: Spreadbetting, CFD trading and Forex are leveraged. This means they can result in losses exceeding your original deposit. Ensure you understand the risks, seek independent financial advice if necessary. The value of shares and the income from them may go down as well as up. Nothing on this website constitutes a solicitation or recommendation to enter into any security or investment.