Here is a list of stocks which traded higher Thursday November 12, 2009 on unusually higher volume. I will keep an eye on these stocks Friday to see if there is continued buying pushing the stocks higher. This method is just one of the ways I use to pick stocks to structure particular option trades. This post requires the knowledge of stock options. To learn more about the option strategies outlined in this post, risks, pricing, calculations, other strategies, and options in general, click here.

The table below shows the company, ticker, per share % increase, and volume increase (% increased compared to 50 day average). For your convenience I have ranked the stocks in order from greatest to least volume % change.


| | | | |
| --- | --- | --- | --- |
| Company | Ticker | Price Change | Volume Change |
| Netlist Inc | NLST | 54.48% | 4517.82% |
| Playboy Enterprises Cl B | PLA | 42.31% | 1173.39% |
| Sorl Auto Parts Inc | SORL | 12.72% | 748.70% |
| China Automotive Systems | CAAS | 11.15% | 701.49% |
| Kandi Technologies Corp | KNDI | 22.49% | 617.31% |
| Fuwei Films Holdings Co | FFHL | 19.63% | 578.57% |
| Elong Inc Ads | LONG | 19.89% | 449.47% |
| A D A M Inc | ADAM | 14.83% | 370.17% |
| Aegean Marine Petroleum | ANW | 3.81% | 310.21% |
| Cerus Corp | CERS | 21.72% | 300.55% |
| Calavo Growers Inc | CVGW | 5.79% | 273.64% |
| Scolr Pharma Inc | DDD | 18.37% | 184.64% |
| Alliant Techsystems Inc | ATK | 3.33% | 181.75% |
| Oplink Communications | OPLK | 3.55% | 168.48% |
| Private Media Group Ltd | PRVT | 10.00% | 163.20% |
| N B T Y Inc | NTY | 3.07% | 152.67% |
| Mesa Royalty Tr Ubi | MTR | 3.43% | 147.83% |
| American Dairy Inc | ADY | 4.88% | 80.53% |
| Catalyst Health Sltns | CHSI | 1.92% | 64.05% |
| Sirius X M Radio Inc | SIRI | 4.59% | 44.54% |
| Abovenet Inc | ABVT | 1.09% | 20.40% |
I decided to write about a stock which I have been watching lately. I started watching this stock when I first started noticing many of my friends taking the many nutritional supplements they take before working out. The stock I will be writing an option strategy about is N B T Y Inc (
NTY
). Note that many of the stocks listed above will be good plays and many will be bad plays, I list them all to show possible breakout stocks and write about a few of the ones I am interested in. (Click chart to enlarge).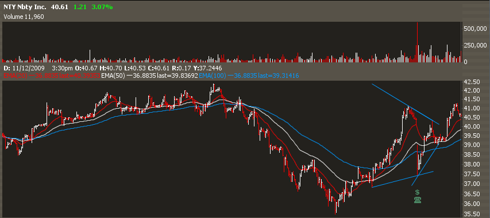 N B T Y Option Trade:
As we can see from the chart above
NTY
had a huge move down on big volume when it reported earnings, however it fought back to finish the day lower by less than 1.3%. Thursday the stock traded higher amongst a rather negative market on no major news. Looking at the chart above we can see a bullish triangle pattern has emerged, however it also looks as if a double top has formed, which is key to note. This option strategy I am about to write should be considered if and when
NTY
clears the 41.50 a share price, which would take out that bearish double top formation. If this stock continues higher and clears 41.50 I wouldn't mind getting behind this stock.
If and when the stock clears 41.50 I would look to open a
Vertical Call Spreads
on this stock. This will give me leverage on the stock, as well as limit my downside risk. Although I would become a buyer when the stock is trading at almost a dollar higher, I will write about this trade as if I were to open it at close of Thursday. This is a very easy trade that involves one expiration month and two separate option contracts. I would purchase December in-the-money 40 strike call options and sell December 45 strike call options against them (1 for 1). The theoretical price for this spread as of close Thursday is roughly $170 per option spread. However if the stock breaks $41.50 very soon, both call contracts will move higher causing the spread to be slightly more expensive (about $40 per spread based on current delta's and time value).
Profit and Loss:
Let's say I opened just one spread. In the worst possible scenario, this strategy would lose a maximum of $170 per option spread. Now let's assume the stock continues to rally and closes at December option expiration at or above $45, this position would return maximum profitability, $330 per option spread or 194%. It is worth noting the break even point for this strategy, it would be at $41.70 per share of
NTY
, therefore anything above this level in the underlying would result in a profitable option trade.
This is a bullish strategy and should not be considered if you think the stock will sell off in the near future. However if you feel you've missed the stock and think it could move higher in the near future, this strategy could yield a nice gain. To get a better understanding of stock options and different option strategies please check out my
Simplified Stock Option Trading E-Books.
These are just examples and are not recommendations to buy or sell any security; if you're more bullish/bearish, you'll want to adjust the strike price and expiration accordingly.
The reason option volumes have surged in the last five years is because they are a great way to hedge your portfolio as well as create income off of your shares (see chart
here
). Keep in mind when using this strategy it is essential that broker commissions are low enough to profit from the position.
Disclosure: Long SIRI