April 21, 2009 | Vaughn Cordle, CFA
Based on traffic results for the first quarter of 2009, WestJet Airlines has gained significant market share in the Canadian market (figure 1).  The company's seat mile costs are significantly lower than Air Canada's, which allow the company to charge lower average fares.  In fact, the lower fares and cost structure allow WestJet to gain market share profitably.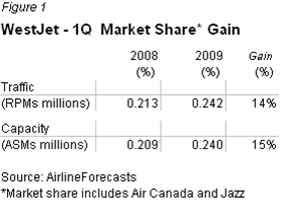 WestJet's market share gain in the Canadian market is largely a function of Air Canada and Jazz cutting capacity significantly due to the recession and ensuing reduction consumer demand (figure 2).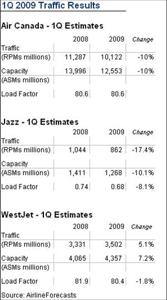 Air Canada's potential market share loss in a major bankruptcy restructuring could be in the 15%-50% range.  Based on an independent study by Research Capital, Air Canada and Jazz, collectively, could shrink by 50% in a bankruptcy filing.  However, based on our analysis of Air Canada and WestJet, we think this capacity reduction will likely be in the 15% to 25% range.  This would allow the company to shed its most unprofitable routes, especially in the markets where WestJet competes. 
Air Canada has lost too much money trying to maintain market share against WestJet and its 36% cost (per seat mile) advantage.  WestJet's average yields are 17% lower, a statistic which suggests that average fares are lower by approximately the same amount.  

If Air Canada competes on fares, it loses money, and if it charges what it needs to cover its costs, it loses market share.  Thus, it has lost too much money trying to maintain market share, which has resulted in a depleted cash balance that has now reached a dangerous level.  Moreover, because of the bursting of the credit market and the ongoing recession, the company has effectively been cut off from the capital markets.  It has no choice but to pare away the biggest money-losing routes to stem the negative cash flow before it exhausts its cash.  Hence, we expect to see significant capacity reduction in the near term.

Saving Air Canada may require the government's help in terms of reducing the $3.2 billion in pension underfunding and the associated $850-$900 million minimum funding requirement.  Moreover, fixed costs must be cut significantly if the airline is to regain its viability.  Currently, the company does not have the cash to restructure properly and pay the required pension funding, which explains why the market is anticipating bankruptcy.  

Bottom line: The Canadian government may not allow its largest airline to fail.  Moreover, various suppliers, including labor and big creditors, will certainly want to continue to benefit from the value stream of the business.  Creditors will likely become the new equity holders, but this will require a major haircut in terms of their value at risk.  For this reason, they will probably work with management to save the airline.  Labor will not be able to negotiate and regain lost wages/work rules as a result of the last bankruptcy, and it may be required to endure some type of reduction in pension benefits if the restructuring is to succeed.  

The following Air Canada market share tables include markets that are likely to be cut in a restructuring.  The ASMs and percentage of total ASMs columns reflect the worst-case scenario of seat (NYSEMKT:ASM) cutbacks in a major restructuring or bankruptcy (figure 3).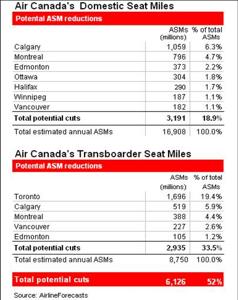 The potential market share gain by WestJet, as a result of a major restructuring and downsizing at Air Canada and Jazz could be in the 15% to 25% range if our estimates are correct (figure 4).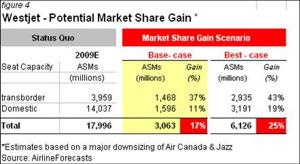 At present, WestJet is planning for 5% growth in 2009 and 10% in the next several years.  We believe that the company has an opportunity to gain significantly greater market share over the next year as its weaker competitors are forced to shed their unprofitable routes.  If Air Canada and Jazz reduce capacity as much as we anticipate, WestJet could acquire significantly more market share at a rate faster than projected in its latest financial report.  

Compared to Air Canada, WestJet's relative unit labor and operating costs will decline as it grows significantly faster than the market and Air Canada/Jazz.  New aircraft are purchased with maintenance warranties and new employees are hired at the bottom of the seniority-based pay scales.  This growth-lowers-relative-costs phenomenon is at the heart of why a young and fast-growing airline like WestJet can gain market share profitably against an older and higher cost business, such as Air Canada.  

Labor costs—at least on the surface—are comparable.  However, when productivity differences and the unfunded pension liability are considered, Air Canada's labor costs become too high for the company to remain viable (figure 5).  Moreover, WestJet employees are twice as productive as those at Air Canada, and this lowers block hour costs significantly (figure 6). 
  Figure 5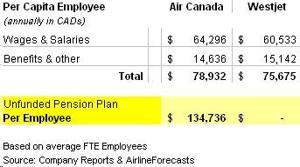 Figure 6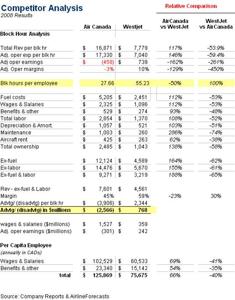 2008 results highlight the financial performance and size difference between WestJet and Air Canada (figure 7 & figure 8).
    Figure 7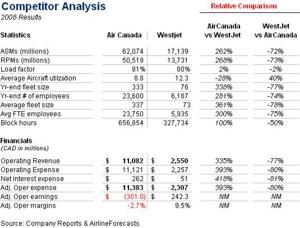 Figure 8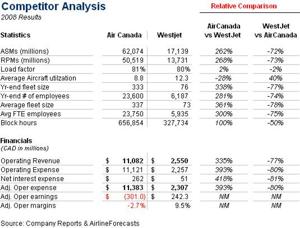 No positions