Be Active Brands (OTC:JALA) manufactures and sells low fat, low calorie, all natural probiotic enriched frozen yogurt and ice cream under the trade name "Jala" and has trademarked its Jala cow logo. Its frozen yogurt is packaged as low fat sandwiches, bars and pints, which are designed to appeal to the health conscious or weight conscious consumer.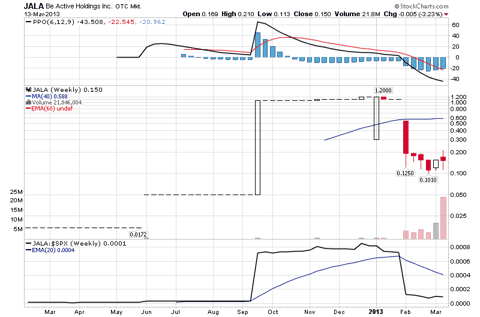 The markets
The company participates in the ice cream market which is part of a broader frozen dessert market. The company's frozen yogurt sandwich and bars are considered novelty ice cream products. Novelty items are separately packaged single servings of a frozen dessert that may or may not contain dairy ingredients. The Food and Drug Administration, which regulates the standards for many foods, has set labeling requirements concerning fat content in ice cream and frozen yogurt. Based upon these requirements, the company's frozen yogurt sandwich falls within the "low fat" ice cream category, while the bar is a "reduced fat" product. Low fat ice cream contains a maximum of three grams of fat per serving. Reduced fat ice cream contains at least 25% less total fat than the original full fat product (either an average of leading brands, or the company's own brand).
Industry data indicates that over 1.5 billion gallons of ice cream and related frozen desserts were produced in 2011. Of that amount, reduced fat, light and low-fat products accounted for 20% of the market.
Sales and Distribution
The company sells its products principally to supermarkets, and to a lesser extent to convenience and other foods stores. Distribution is made through warehouse facilities and commissioned food brokers. The company has special Vendor Status with C&S Wholesale Grocers allowing full control over inventory and product movement over most of the Northeast Region. As of December 31, 2011, the company's products were sold at approximately 2,000 retail outlets located in 10 states. The company markets its products principally through in-store advertising and promotions. During 2011, the company expanded its distribution to approximately 2,100 new supermarket locations throughout the Eastern region of the United States and in Texas.
The company believes its business generally experiences highest volumes during the winter and spring months and lowest volumes during the late summer and fall months.
Competition
The company's business is highly competitive. The company's products compete on the basis of brand image, quality, and breadth of flavor selection, price, and amount of fat content. Most frozen yogurt and ice cream manufacturers, including full line dairies, the major grocery chains and the other independent ice cream processors, are capable of manufacturing and marketing high quality, low fat or reduced fat frozen yogurt and ice creams. Furthermore, there are relatively few barriers to new entrants in the frozen yogurt and ice cream business. Existing competition includes low fat or reduced fat novelty products offered by Ben and Jerry's, Ciao Bella, Yasso, Stonyfield, as well as "private label" brands produced by or for the major supermarket chains. In addition, the company also competes with frozen desserts such as frozen yogurt and sorbet manufactured by Dannon, Healthy Choice and others. Many of these competitive products are manufactured by large national or international food companies, with significantly greater resources than that of Be Active Brands. Be Active Brands expects strong competition to continue in the form of price, competition for adequate distribution and limited shelf space. However, despite these factors, the company believes that the taste and quality of its products and its unique product packaging will enable it to effectively compete in its market.
Financials
The company reported the pro forma third-quarter financial results with the following highlights:
| | |
| --- | --- |
| Revenue | $275,039 |
| Net loss | $173,093 |
| Cash | $131 |
| Debt | $630,678 |
Insider Ownership
All executive officers and directors as a group (4 persons) beneficially owned 38.6% of the company as of January 9, 2013.
Conclusion
In July 2004 Dreyer's Grand Ice Cream Holdings, a majority-owned subsidiary of Swiss food giant Nestlé (OTCPK:NSRGY), bought an ice-cream snack maker Silhouette Brands for $65.2 million. From January 1994 to July 2004, Marc Wexler was co-founder of and served as Chief Executive Officer of Silhouette Brands. After Mr. Wexler sold Silhouette Brands, he founded Be Active Brands in March 2009. Marc Wexler is currently the Chief Executive Officer and Chairman of Be Active Brands.
Silhouette Brands sold its products in 1,400 outlets in 1999 just like Be Active Brands in 2011. By the start of 2001, Silhouette's Skinny Cow products were found in 18,000 stores located throughout all 50 states. If Be Active Brands can grow like Silhouette, the stock could be trading again at $1 before too long. Be Active Brands' market capitalization is currently just $8.1 million.