2017 is a year of blue chips. Facebook (FB), as the one of the most innovating companies, has kept beating analysts' estimates and grows to be the other most influential player in ad industry. As of July 28,2017, Facebook stock price has increased almost 50% since the beginning of 2017.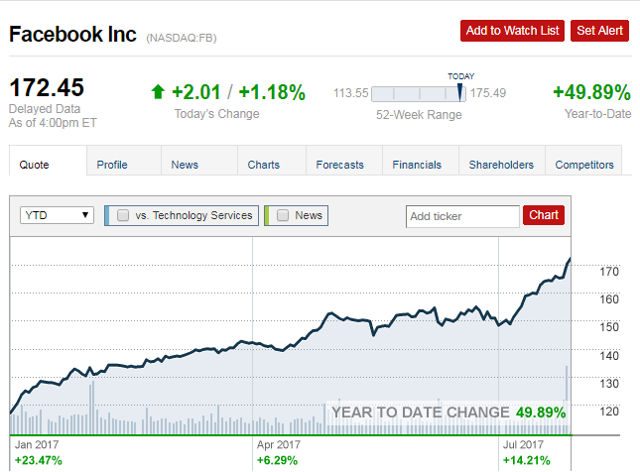 Following are important factors that were discussed in the earning conference call.
Users are moving to mobile; Videos are most engaging format for users. More and more videos are shared via mobile apps; mobile ads are playing a bigger component of total ad revenue pie. With the help of AI, FB's next step is how to take advantage of video formatting and mobile ads to efficiently connect community and target users.
Messenger has an average of 1 billion monthly users. Over 1 billion users are using WhatApp daily. These two messaging apps are un-monetized, but having a tremendous potentiality. A challenge but also an opportunity is to monetizing existing messaging platforms. For current stage, It is too early to tell how users would respond and what it leads. New technologies might help with future monetizing process. 
This year's CAPEX is around $7-7.5 billion, aggressively focusing on data center.
Summary:
What FB's performance is outstanding from many perspectives. In 2nd half of 2017 (or maybe also in next year), FB has great revenue growth potentiality in its messaging platforms. AI would also aid add revenue growth, in a more strategic way.
Another highlight, based on what Zuckerberg mentioned regarding the trend of video sharing, is that FB has been working with original content makers and to create original shows. This would put FB in tandem with other streaming players like Netflix and Amazon Prime. A great advantage is FB has a tight community and 2 billion monthly active users; a popular TV show in FB would be much easily and rapidly diffused via its community.
Disclosure: I/we have no positions in any stocks mentioned, and no plans to initiate any positions within the next 72 hours.