April was not a great month for U.S. REITs, whose fairly stable, bond-like dividend payments make them particularly sensitive to moves in interest rates. Vanguard's VNQ ETF, which tracks the U.S. REIT market, slipped nearly 6% in April as the U.S. 10Y Treasury rate increased by over 20 bps.
Generally, significant losses over a short period of time in an asset class result in indiscriminate selling by retail investors. Since CEFs tend to be held primarily by retail investors, this can place tremendous downward pressure on fund discounts as share price becomes dislocated from share value(NYSE:NAV). While a ~6% loss in a month may not be that extreme, one would still expect to have seen some deterioration in REIT CEF discounts in April. Surprisingly, CEF Alpha's REIT Index reveals that REIT CEF discounts actually tightened from -10.637% at the end of March to -10.243% at the end of April.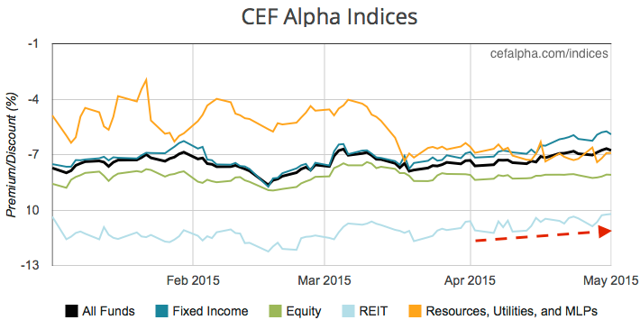 The resilience of REIT CEF discounts is surprising. Part of the strength may be due to the fact that the CEF Alpha REIT Index includes CEFs that contain foreign REIT securities. Foreign REITs performed relatively well in April, thus foreign REIT CEFs probably avoided selling pressure more than their U.S.-centric peers. The resilience in discounts may also be evidence of the fact that retail investors are particularly hungry for yield in the current environment and are simply more hesitant to sell higher-yielding assets like REIT CEFs.
Disclosure: The author has no positions in any stocks mentioned, and no plans to initiate any positions within the next 72 hours.