All oil and gas companies in British Columbia are required to report their production monthly to the BC Oil and Gas Commission. Extracting the Chinook data from that, and rearranging it by geological formation and product type, yields the following table (figures are in cubic meters per month):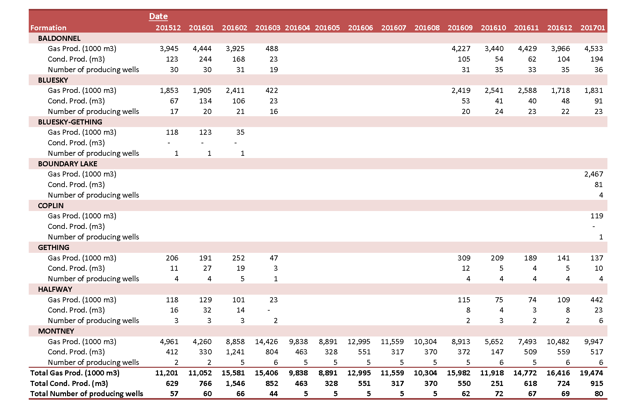 With the data arranged this way, a few things stand out. In addition to adding the new wells (which will begin appearing in the February report), since September, Chinook has been bringing some of its suspended legacy wells back on stream, wells which produce from the Baldonnel, Bluesky, and (in January) Boundary Lake formations.
As the company tells us in their annual report, this is possible because of improvements in the gas-price.
For those who are interested in investing in the company based on its Montney prospects, however, it will be important to note that the Montney wells are only half of Chinook's production and that the added production from legacy wells is a different kind of growth.
Disclosure: I/we have no positions in any stocks mentioned, and no plans to initiate any positions within the next 72 hours.