IBM (NYSE:IBM) has focused on revitalizing their business by investing in the emerging technologies that are expected to provide macro tailwinds for many years to come. Artificial intelligence providing cognitive intelligence branded as Watson. The Weather Channel acquisition delivering unique real-time location-based weather data to drive Internet of Things big data analytics. And the cloud to deliver mobility, productivity and resource management to their customers.
The 2015 IBM Annual Report stated:
Cloud revenue was $10.2 billion making the company the largest cloud provider.
The Weather Company acquisition in January 2016, whose dynamic cloud data platform power the fourth most-used daily mobile app in the United States and handles 26 billion inquiries to its cloud-based services each day.
2015 Cloud revenue included $5.6 billion of revenue from foundational offerings-where the company provides software, hardware and services for clients to build their own clouds.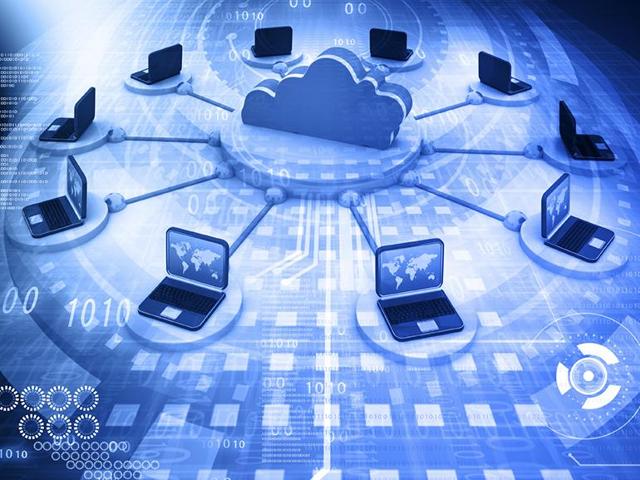 The following chart shows the steady progress IBM has made growing their Cloud business over the past eight quarters: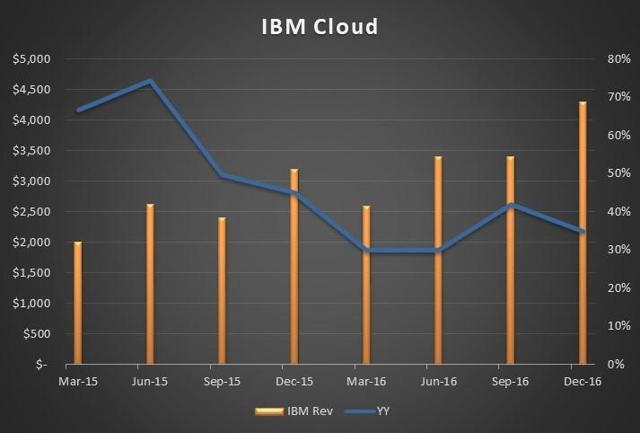 Now compare it to the Amazon (NASDAQ:AMZN) revenues for AWS the acknowledged leader in the Cloud for several years: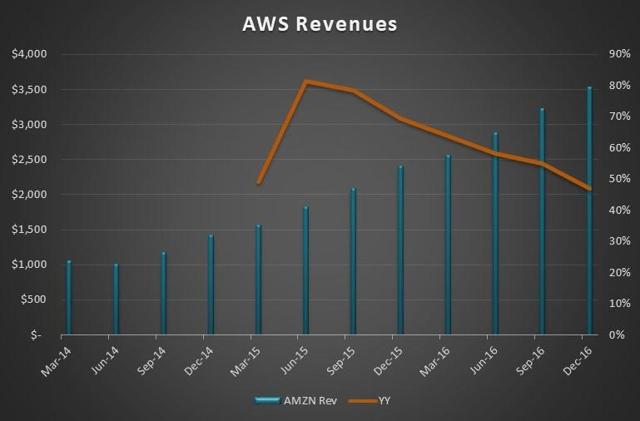 It seems pretty clear that IBM is generating more revenues than Amazon. Yet all the market research points to the leading market share of Amazon with most pointing to Microsoft (NASDAQ:MSFT) in second.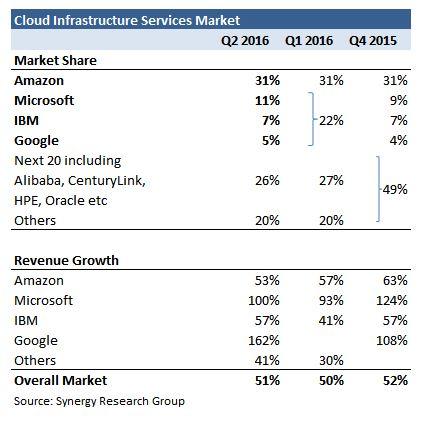 The reality comes from an understanding that Cloud Revenues means different things to different people. Maybe its a real-life example of alternative facts. Cloud is a very real macro trend. It is both disruptive and in many ways nascent. Yet it is also over-hyped and in some cases misused by companies looking to have a way to explain underperformance.
Analysts have been trained by companies such as Adobe (NASDAQ:ADBE) who have successfully transformed their business from licensing revenues to subscriptions that are earned monthly. They had a multi-year transformation that is now a positive revenue contributor, but only after several years of explaining declining revenues as a transformation process. Adobe has their Creative, Marketing and Document Clouds but are largely their own products transitioned to a subscription basis hosted in the Cloud.
Amazon is on the other end of the spectrum. Amazon Web Services was created as a logistical platform to run their own retail business, and was then offered to the outside world as an IaaS. Their Cloud revenues are in fact recurring revenues to host customer activities in the Cloud.
IBM and all the other companies competing in the space are a bit different. They are bundling other revenue sources into what they call Cloud Revenues. Note point 3 above from their Annual Report. Over 50% of what IBM reports in the cloud comes from hardware, software and services sold to customers building their own cloud. This is analogous to the building of our nations road infrastructure to enable the automotive industry.
That's not to suggest the reporting is inaccurate or misleading. Quite the contrary as I stated two years ago when I advised investing in companies involved in the build-out phase. The distinction I'm drawing now is that this build-out will slow and eventually decline. Government spending on our road infrastructure is not included in the Automotive sector and is certainly not considered a "growth" market. The market research firms understand this and are estimating comparable revenue to ascertain market share.
IBM still seems to be about a year away from generating enough size in their growing strategic initiatives to offset the declines that have been weighing on their results. Can they leverage these build-out relationships to upsell hybrid clouds and, more importantly, cognitive intelligence (Watson)? Will the Weather Channel acquisition provide meaningful data to compel customers to migrate to IBM data analytics? Will their IoT Platform rated best by Forrester Research generate the next phase of growth? Investors have been answering yes of late driving their stock price up nicely relative to their Cloud competitors.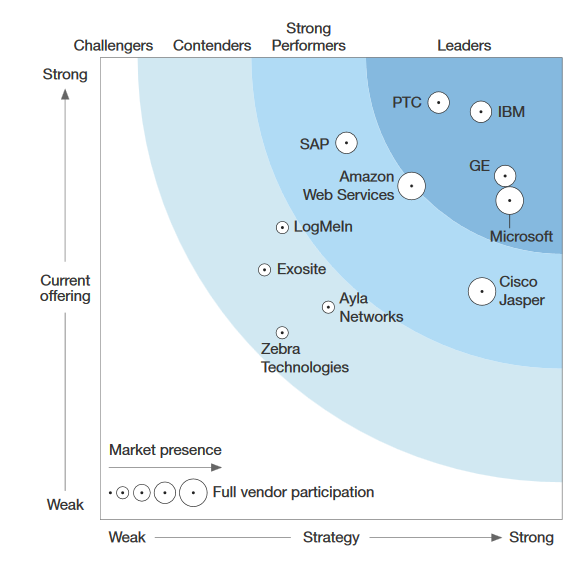 Disclosure: I am/we are long MSFT.
Additional disclosure: I may buy IBM or any other stock mentioned in the next 72 hours