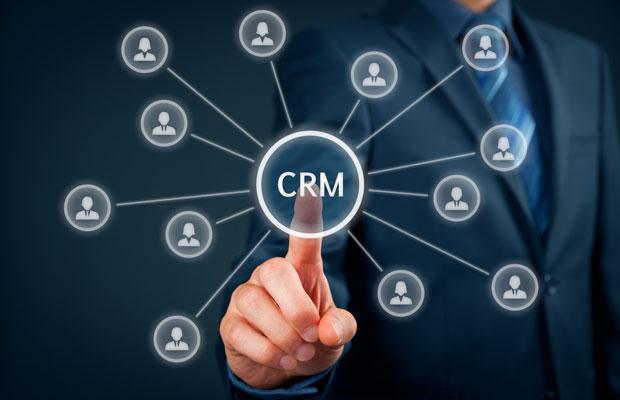 Salesforce.com (CRM) is scheduled to release their July 2017 earnings on Tuesday August 22nd 2017.  In many ways, Salesforce has been the poster child for the SaaS cloud movement (brief history link).  Lately they have been targeted by a number of competitors including Oracle (ORCL) and Microsoft (MSFT).  As a result, I expect this quarter to provide some insight into whether this focus has had the effect of eroding or energizing Salesforce. 
As can be seen in the following chart, Salesforce revenue has maintained a solid growth trajectory.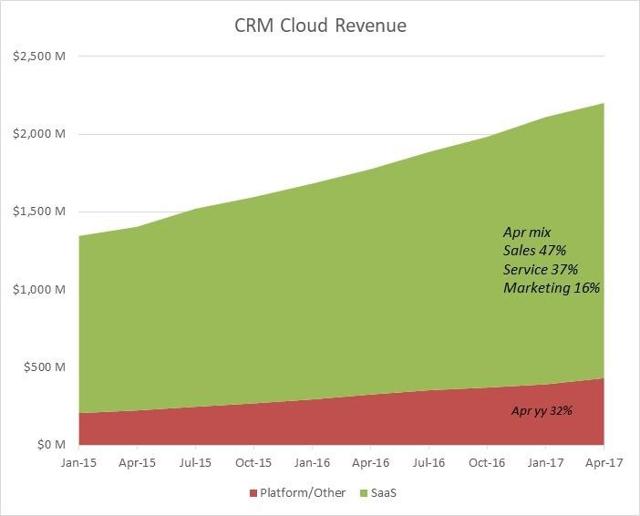 Platform revenues do not appear to be showing any weakness as predicted by Gartner for many of the IaaS platform providers.  Last quarter Salesforce delivered 32% growth which was slightly down from the prior quarter.  The combined SaaS offerings show a similar modest decline that can be attributed to their size as opposed to competition.  Oracle reported annual SaaS growth of 67% in their recent release, but much of that is acquired growth.  Organic growth was 25% for their cloud business.  Microsoft reported a stellar quarter but with limited insight into their Dynamics 365 revenues it remains challenging to ascertain any impact to Salesforce.
A few metrics worth watching in addition to revenue trends include:
Gross Margin percentage: The trend has remains rock solid at just shy of 73% for the past three quarters.  This is down somewhat from their historical rate of 74% to 75% but is likely a result of mix rather than competitive pricing issues.  With the continual price cuts seen in the platform space and competition offerings in SaaS, it would seem likely that any loss in market share would be preceded by margin pressure.
Billing growth:  The billing growth rate dropped to 17% last quarter which was the lowest seen since July 2015.  If this was simply a customer renewal cycle, I'd expect to see this rebound nicely.  If it doesn't, expect some focus on this metric by the analyst community.
A better metric than billings growth to me is the ratio of deferred and unearned revenue to the quarterly revenue.  This is yet another rock solid metric for Salesforce as they have consistently reported deferred and unearned revenues at between 6.0 and 6.9 times their quarterly cloud revenues.  The last two quarters were at the high end of this range.  This ratio will likely decline before revenues if growth slows from competitive share loss.
Stock based compensation "SBC" percent of revenues:  SBC as a percent of revenues is a good metric to compare against other cloud companies.  Salesforce has seen this percentage grow over the past two years from a low of 8.4% in October 2015 to a high of 10.7% in January 2017.  Their rate about half that of Workday (WDAY) and ServiceNow (NOW), but given the size of Salesforce, I wouldn't expect to see this continue to grow.  With increasing movement toward the elimination of nonGAAP reporting, this has the potential of becoming a valuation issue in the future.
Free Cash Flow "FCF":  FCF has become a key metric for all the cloud companies, especially those reporting GAAP losses.  Salesforce has been able to maintain positive FCF over the past ten quarters, ranging from barely positive to a high of $1.1 billion reported last quarter.
Valuation:  Salesforce is valued at approximately 6.7 times trailing twelve month revenues.  This is somewhat below Workday and ServiceNow consistent with a modestly lower growth rate.   
Salesforce provided revenue guidance of $2.51 to $2.52 billion for this quarter on their last earnings call.  The current consensus is $2.51 billion which is 23.2% growth from the prior year. 
Disclosure: I am/we are long MSFT.
Additional disclosure: I may go long any of the companies included in this blog in the next 72 hours.