Microsoft (MSFT) reported September 2017 earnings that beat their guidance.
Productivity and Business Processes revenue was $8.24 billion versus guidance of $7.85 to $8.05 billion.
Intelligent Cloud revenue was $6.92 billion versus guidance of $6.55 to $6.75 billion.
More Personal Computing revenue was $9.38 billion versus guidance of $8.6 to $8.9 billion.
Earnings per share of $0.84 beat consensus of $0.72 by $0.12
The goal of achieving $20 billion in Commercial Cloud run rate revenues during fiscal 2018 was achieved this quarter.  September 2017 commercial cloud revenues were $5.0 billion up 51% year-over-year.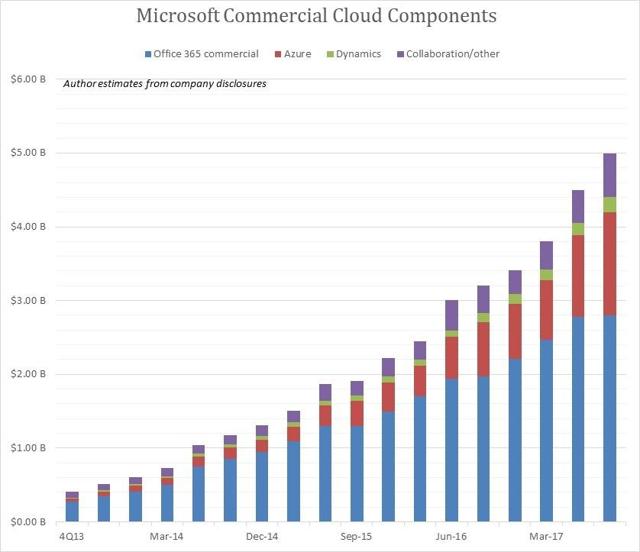 September quarter results reinforce my investment thesis in Microsoft:  They remain the company best positioned to benefit from digital transformation to the cloud.

Gartner deems the as-a-service "aaS" transition "one of the most disruptive forces of IT spending since the early days of the digital age", estimating more than $1 trillion in IT spending will transition to the cloud by 2020.  IDC includes the cloud as one of their digital transformation "DX" pillars of the 3rd Platform.  The shift to the cloud and DX have been occurring for several years but as the remainder of this article will show, the revenue growth opportunity remains substantial.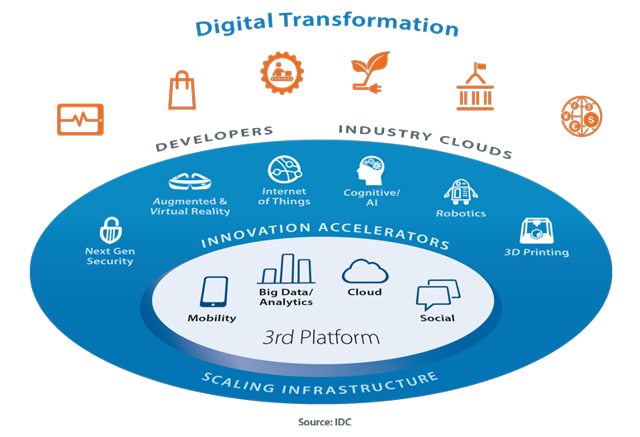 $1 trillion is a huge market opportunity, but only represents about 30% of the $3.4 trillion spend in 2016.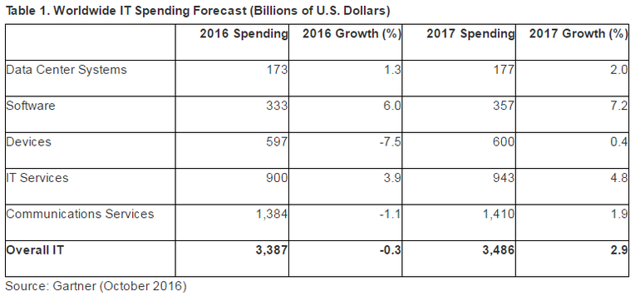 The new era of IT spending will be hosted and reported in a number of new market segments, which can be grouped into Platforms, Applications and Infrastructure.  The following Gartner graphic and table show the flow of revenue from legacy to new categories and the calendar 2016 impact.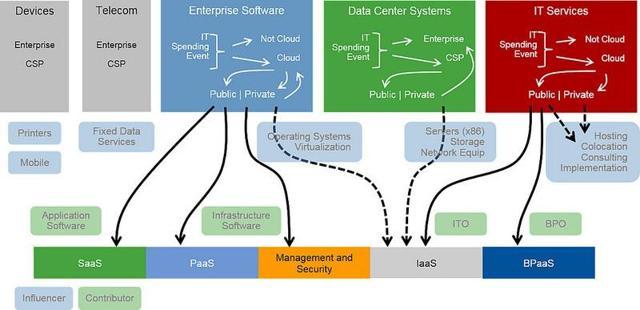 Gartner updated their Cloud Shift forecast in October 2017, increasing the projected growth for both total IT spending and the cloud contribution.  These numbers indicate total spending growth and cloud shift disruption is accelerating.  Their forecasted CAGR for 2016-2020 speaks for itself.  The market leaders in each of these segments will see above-market growth which in turn will lead to the potential to outperform the overall market.
30.5% - Infrastructure as a Service "IaaS"
17.9% - Software as a Service "SaaS"
17.8% - Software as a Service "PaaS"
9.0% - Business Process as a Service "BPaaS"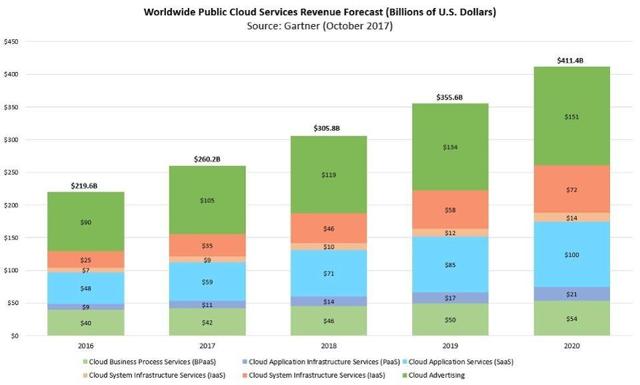 Platforms                                                                                                     
Platforms include both Infrastructure as a Service "IaaS" and Platform as a Service "PaaS".  Platforms can be public or private.  The current trend is toward multiple clouds and a hybrid approach that combine the flexibility and cost advantages of a public cloud with data sovereignty and improved security provided by private.
Microsoft Azure is second only to Amazon (AMZN) AWS in the platform segment.  They are growing faster than the market, gaining share primarily in private and hybrid IaaS and PaaS.  This share gain should accelerate from the recent launch of Azure Stack which enhances their competitive position in the hybrid space.  Note the market share gain by Azure over the the past 2 years.  Doubling market share, from around 5% to over 11% shows impressive adoption supporting Gartner's belief that the cloud is becoming a duopoly. These charts represent my estimates of Azure growth based upon company disclosures.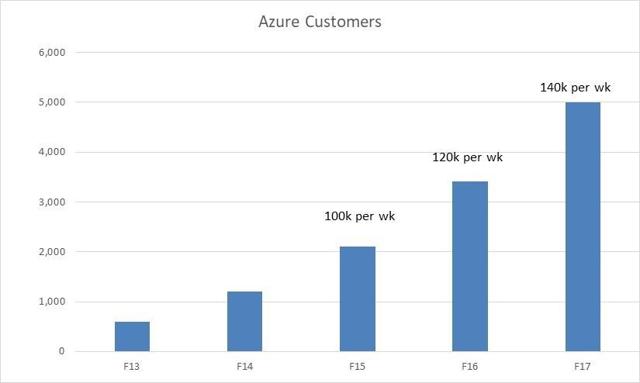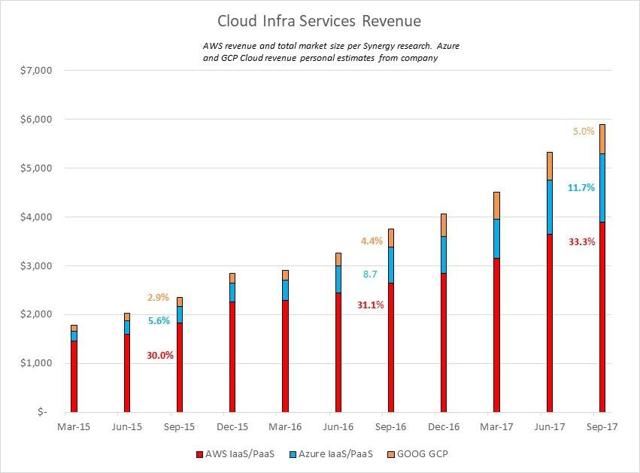 Applications
Software as a Service "SaaS" is the umbrella category that incorporates application software segments.  As shown in the IDC table below, Microsoft is the clear leader in SaaS.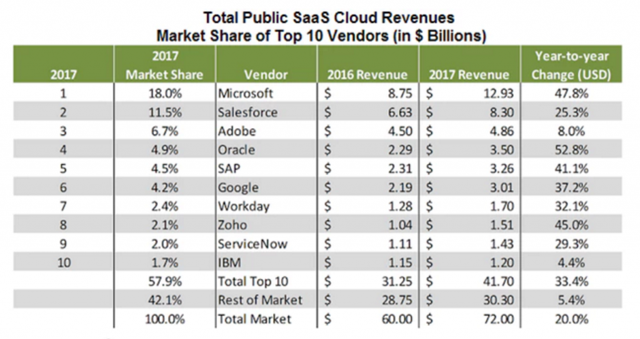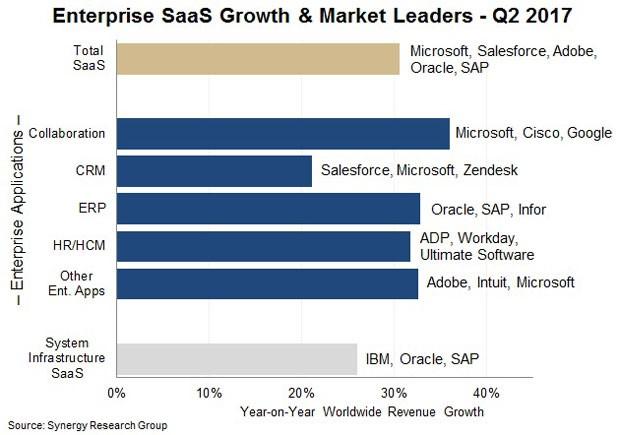 The above enterprise applications market graphic includes both on-premises and hosted.  Microsoft has lagged in Customer Resource Management "CRM" and has no stand-alone offering in Human Capital Management "HCM".  They have been gaining market share in Enterprise Resource Planning "ERP" which was enhanced with the launch of Dynamics 365.   They are relentlessly pursuing this market in a fashion similar to the bundled Office approach, providing an integrated enterprise solution to more effectively compete with each of the stand-alone applications.  Panorama Research, in their 2017 Clash of the Titans report, wrote: Dynamics 365 moved up in the market share rankings to overtake Oracle in the #2 slot". 
Microsoft is the leader in hosted collaboration targeting the $1.4 trillion spend in the Communication Services segment.  This segment includes Unified Communications as a Service "UCaaS" and Communications Platform as a Service "CPaaS".  Microsoft products include Skype, Stream, Delve, Outlook, Exchange, Lync, SharePoint, Teams, Sway, and Dictate which can be combined to offer a Digital Workplace Hub.  
Companies competing in this market include Twilio (TWLO), Vonage (VG), 8x8, RingCentral and Cisco (CSCO) who recently purchased BroadSoft (BSFT) for $1.7 billion.  The key advantage Microsoft has over all these companies is Office 365 and Azure.  Their ability to integrate collaboration into Office and Azure is an advantage that others likely won't be able to overcome.
Infrastructure Buildout and Innovation
Hardware and services remain core requirements to build out the infrastructure required to host both public and private clouds.  There are many competitors in this segment with IBM historically one of the leaders in enterprise services and hardware.  Microsoft is investing heavily in hardware innovation, anticipating the accelerating computing power required for emerging innovations.  Their research in DNA storage, underwater datacenters, quantum computing and Field Programmable Gate Arrays "FPGA" are just a few of the research projects in this area.
Microsoft and Amazon have a significant advantage with their network of data centers and are continuing to invest heavily to expand their footprint.  Only Google (GOOGL) and Alibaba (BABA) have the ability to match them in spending which is why a key takeaway in the Gartner Jun 2017 IaaS Magic Quadrant report stated:  "the IaaS market is slowly getting consolidated in the hands of big players".  They went so far as to state that the IaaS cloud will be a duopoly by 2019.
Another core component of the cloud buildout is enterprise services.  Microsoft and IBM are both benefitting from their enterprise service relationships which provides them a clear advantage over Amazon and Google.  Microsoft also works with a network of service providers such as Accenture (ACN) to extend their reach.  Microsoft revenues from hardware and services are reported in their Intelligent Cloud segment along with Azure, but they are not included in their cloud disclosures which have been focused on annuity based aaS revenues.  An interesting comparison of Microsoft and IBM trended revenues from hardware and services show that the impact of building out private clouds is more than offsetting the lost data center revenue.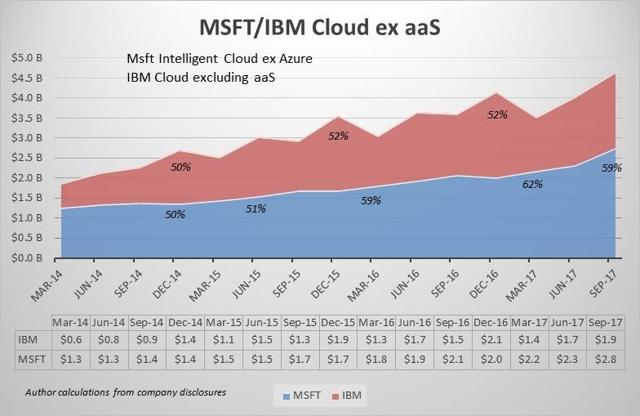 Devices
Microsoft is frequently criticized for their inability to compete in the most important device category of smartphones.  While that criticism is more than justified, it's important to note that Microsoft has always been a software company that dabbles in hardware.  Their Surface computer lineup is a great example.  They stated several years ago that the computer industry wasn't innovating enough which led them to be more aggressive internally.  Surface is a growing franchise that is important but not critical to this investment thesis.
Far more important to the cloud thesis is security and mobility software.  Microsoft has become a leader in Enterprise Mobility Management and Security "EMS".  This is not only a fast-growing revenue contributor, but more importantly a core security enhancement to their Intelligent Edge.  Emerging technology such as autonomous driving requires the elimination of latency by moving compute power to the edge where decision must be made real time.   Microsoft has numerous cloud, edge and device research projects underway such as project Sopris.
HoloLens is a key device worth watching.  Microsoft has been criticized by many for pricing this device too high and delaying the next version launch.  What is missed in this criticism is that HoloLens is a developer tool not a consumer product.  The consumer headsets are being launched this year for mixed reality but frankly there isn't enough content yet to drive revenues.  Customer-specific augmented reality is accelerating rapidly because of HoloLens and the growth in third party studios working with large enterprises to develop compelling use cases.  
Summary:  Investment Thesis
451 Research recently reported that 45% of workloads are now in the cloud and that number will grow to 60% by 2019.  Gartner estimates that the cloud will generate compounded annual revenue growth of 20% through 2020.  
Macro investing in the cloud has generated substantial returns benefiting many companies over the past two years.  The early years of a company's cloud transition lead to revenue declines as on-premises licensing revenue declines far more rapidly than the replacement annuity revenue stream.  Microsoft announced in their June 2017 quarter that Office 365 grew at 43% year-over-year and surpassed Office licensing revenues for the first time.  Even more impressive is the fact that the enterprise cloud revenue mix (commercial cloud plus Linkedin BPaaS revenues) is now 23% organically growing at 50% year-over-year. As the following chart clearly shows, Microsoft is capturing far more of the organic cloud revenue growth than Amazon.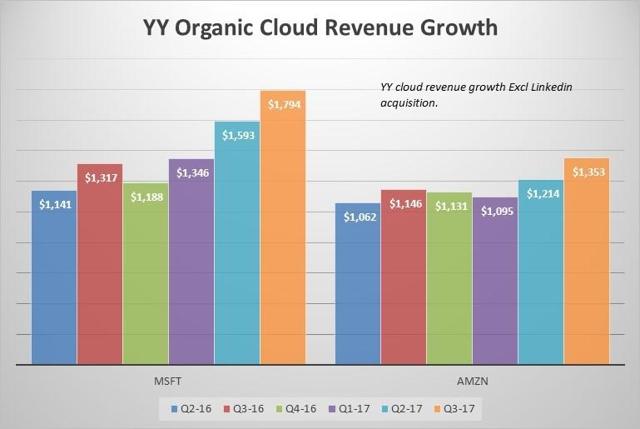 Combined, the digital breadth and maturity of Microsoft's internal cannibalization is steadily improving their outlook even before emerging revenue per user "RPU" enhancements from artificial intelligence, machine learning, and mixed reality.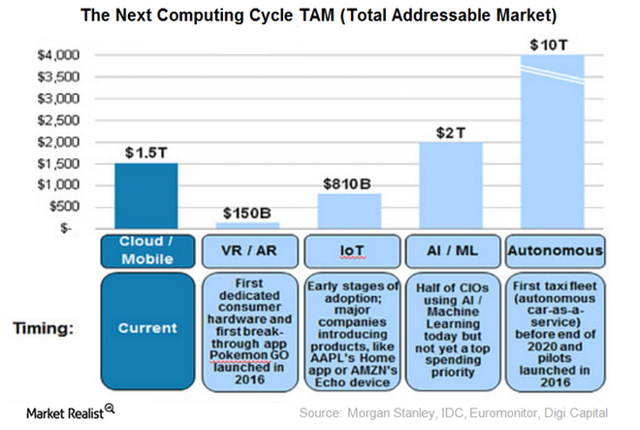 And if the growth opportunity isn't enough, investors are paid a growing dividend currently paying 2.1%. 
Disclosure: I am/we are long MSFT, IBM.
Additional disclosure: I may initiate new positions in any cloud stock in the next 72 hours after reported earnings.