New York Times writer Farhad Manjoo aptly labeled digital innovation leaders Alphabet (GOOG), Amazon (AMZN), Apple (AAPL), Facebook (FB) and Microsoft (MSFT) as Tech's Frightful Five.  His articles have done a masterful job highlighting the Frightful Five's platforms leveraged to gain a network effect advantage in emerging markets.   The platforms span operating systems (computers, mobile phones and devices), cloud infrastructure and applications, web search, internet advertising, messaging and social relationship networking.  The Frightful 5 has increased their focus on gaming and the results are becoming clear.  They are winning again.
Gaming revenues are projected to grow 6% this year, with an estimated 2 billion gamers generating revenues over $100 billion.  This estimate may even be conservative given September digital games revenue growth of 15% to $8.3 billion.  The market mix for Mobile, Console and PC was estimated at 42%, 31% and 27% respectively.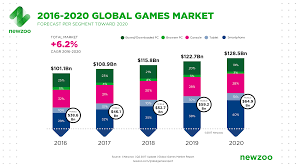 The emerging importance of broadcast gaming, eSports and the anticipated intersection of gaming with the streaming media cord-cutter market are worth watching.  SuperData Research estimates the eSports and Gaming Video Content markets at $700 million and $4.5 billion for 2017. 
Gaming Video Content "GVC" is dominated by YouTube Gaming and Twitch.  Their impact can best be seen in the following graphic comparing audience size last year versus well-known media properties.  Alphabet and Amazon do not disclose gaming revenues, but it's fair to assume that the lion's share of advertising and subscription revenue is being captured by them.  SuperData Research statements regarding the GVC market are worth considering:
Outpacing revenues from some traditional sports leagues.
Viewers are less likely to be cable subscribers.  20% are "cord-cutters" vs 8% general population.
27% of live stream viewing occurs during primetime TV hours.
YouTube Gaming has the largest viewing audience with 77m subscribers.
The eSports segment is expected to grow 41% in 2017.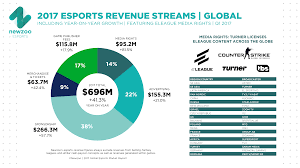 The Frightful 5 have 20-25% of the gaming market and are gaining share.
Alphabet has a strategic core competency in advertising which is leveraged in YouTube.  They also have a vibrant Play Store ecosystem which helps third party game developers reach Android users to monetize and distribute products.  Alphabet originally charged a 30% fee (same as Apple) but reduced it to 15% last year for developers reaching longevity and volume milestones.  Alphabet gaming revenues was estimated by Newzoo at $4.1b for 2016.
Amazon has a strategic core competency in eCommerce but increasingly is monetizing via advertising.  They appear to be positioning Twitch TV for eventual streaming of media content for both Live TV and Video On Demand.  They do not disclose gaming revenues, but it's likely around $1b based upon overall GVC revenue estimates.
Apple benefits from their strong network of dedicated iPhone users.  This is effectively monetized in their store taking a 30% cut of revenues earned by developers for game access and distribution.  Though Apple does not disclose their gaming or store revenues, Newzoo has pegged it at $6.2b in 2016.
Facebook is just launching their game developer network using an operating system jointly developed with Unity.  They are also starting a streaming service announcing their first streamer commitment last month.  Facebook likely has no material gaming revenues to date, but the strength of their closed social network provides a compelling advantage.
Microsoft has a strategic core competency in PC operating systems and is betting heavily on the recent launch of Xbox One X to gain share in the console market.  They have a multi-player service Xbox Live with 53 million MAU as of September 2017.  They launched GamePass as a subscription service for both consoles and PCs.  Mixer is their recently re-branded streaming service.  While comparable to Twitch and YouTube Gaming, Mixer is so late and small it seems unlikely to gain much of a following, given the economic value of audience by top streamers established elsewhere.  Microsoft recently began disclosing gaming revenues reporting $8.9b for 2016.
This group appears intent on controlling this increasingly important market, leveraging their platform and audience to compete in the streaming video market, which will be the focus of my next blog post.