Just a couple weeks ago this portfolio was up 7% on the year, despite a 25% cash position.  Then General Electric (GE) unleashed two blows.  
Their prior estimated reserve for GE Capital reinsurance costs was understated, requiring an additional $6.2 billion after-tax hit to earnings.
The SEC has launched an investigation into their accounting practices that could take years to fully resolve.
This is now down 10% on the year and is a no touch stock.  I haven't yet sold my position but have begun selling covered calls against it, and will continue to do so until it gets called away.  I'm using short-dated calls with a strike price around $17.
A second big hit to the portfolio came on Friday when Impinj (PI) announced preliminary results which included dramatically reduced guidance for the March 2018 quarter, surprising analysts following the company.  Also announced was the departure of long-time CFO Evan Fein.  For some reason the company chose not to hold a conference call to fully explain these announcements leaving uncertainty in the market until their earnings release in two weeks.  The market selloff was almost 50% but there is no way to determine whether the reaction is overdone until more information is available.  Given the history of intentional inventory build and explanations about end point shipment slowdowns, this certainly begs the question whether the company has been deceptive over the past six months.  The stock is now down 44% on the year resulting in a 2.2% hit to the portfolio given its 5% weight.
The biotech portion of the portfolio has performed well up 14% with a 25% weight for a portfolio gain of 3.5%.
Sangamo (SGMO) is up 20% on the year even after a 7% selloff on Friday.  They remain a 10% weighted position with a very high risk profile due to news pending on their genome editing trials.  
Vertex (VRTX) is up 11% on the year.  They released a solid earnings report which included positive data.  This data was largely ignored by the market given the sell off last week.  I added to my position. 
The bio-basket has also done well as a trading group.  Adapimmune (ADAP) remains interesting but  I sold my position on a rally to lock in a 24% gain.  FibroGen (FGEN) is up 21% for the year.  I took the proceeds from ADAP and rolled it into FGEN in late January at $52.50 per share.  Excelisis (EXEL) is flat on the year.  Incyte (INCY) has sold off all year and is now on my watch list, down 8.4% for the year.  I added TG Therapeutics (TGTX  to my basket on Friday based upon promising phase II data.

The remaining core investments, representing 40% of the portfolio, have contributed a 2.2% return to date.
All things considered, the performance of this portfolio is disappointing.  Being up 3% on the year in light of the 3 point hit from PI and GE is good, but risk-adjusted it is below average.  Final thoughts:
The cash going into the year looked pretty dumb a week ago.  Now that the market has shown it won't go up in a straight line, I'll have to decide when and how to deploy it.  Hopefully on Monday or Tuesday the market sells off in the morning, followed by a rally to close the day on a positive note.  That would be a bullish signal made more so if the volume is above average.  
My biotech focus will remain for now.  There have been a number of acquisition announcements which provided the catalyst for this sector to rally.  No change in thesis going forward but this remains a volatile sector and my bio basket is intended to turnover during the year.
Cloud and internet of things related stocks should continue to perform.  Cloud revenue growth accelerated in the December quarter with the IoT the primary driver.
My overweight and highest conviction positions remain Sangamo and Microsoft. 
Conventional wisdom is your first loss is your best loss.  I should have sold GE and PI immediately but selling losers remains one of my biggest challenges. 
The relatively minor selloff last week is likely not over representing a healthy return to normal volatility levels.  I'll be looking for companies with good earnings or other news that is ignored during this correction.  They should be the first to recover once the selling stops.  At some point this market will correct to bring valuations back in line with historic norms.  The higher valuations of the past few years have been rationalized by very low interest rates and an improving economy.  The below chart shows why it's likely that this rally will eventually end badly but there is too much good earnings news being reported for the bull market to end now.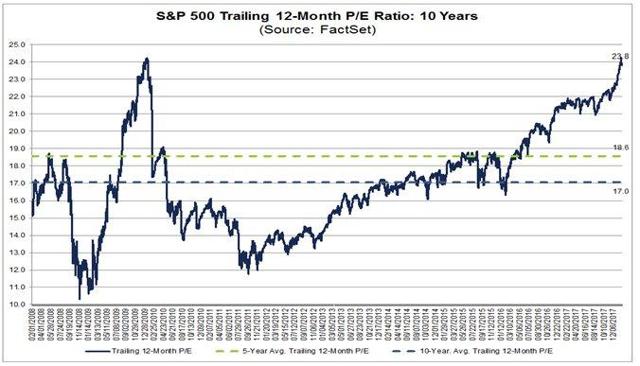 Note that these are not my only investments.  I own stakes in over 50 stocks but selected this group as a core tracking group for 2018. My free investor forum includes a wealth of research notes and analyses that can be found by macro theme.  
Disclosure: I am/we are long GOOG, BAC, DIS, GE, PI, MSFT, PFE, Vz, SGMO, VRTX, EXEL, FGEN, INCY, TGTX, GS, MS.