Sangamo (SGMO) investors have had a rough five months.  On Feb 22, 2018 the company announced earnings and a collaboration agreement with Gilead (NASDAQ:GILD) Sciences.  The initial rally has been followed by a prolonged selloff that appears largely news related.  Apparently the negative news flow isn't over given the announcement after hours on Friday that 18-year employee and Chief Technology, Michael Holmes is leaving the company to join a startup.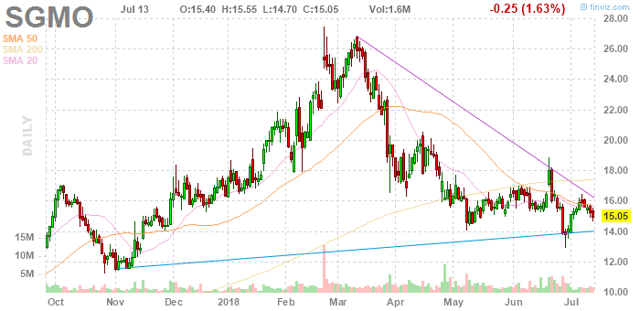 This blog is intended to frame the questions behind the fall from grace.  That doesn't mean I don't have an opinion, but any investment thesis is subject to confirmation bias.  So I'll focus on framing the questions and hope the answers are apparent soon. 
1) Why did Sangamo need a follow on offering knowing they were getting $150 million from Gilead in April?  Data point:  SandyM May 2018 LISPR interview stated  "It can cost between $200 million and $300 million from conception to registration for one treatment, with the cost being driven by clinical studies and the manufacturing process."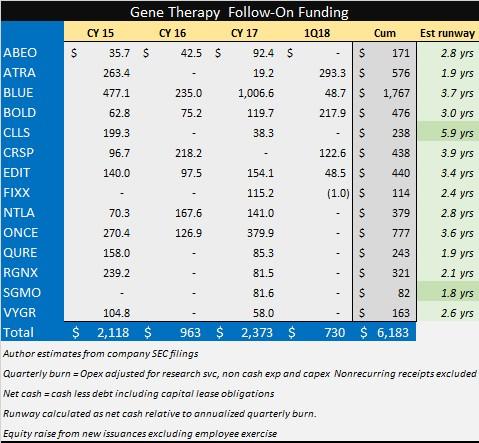 2) If they were going to sell stock, why didn't they take advantage of the price after the Gilead deal was announced?  Sangamo has stated they were forced the wait because their email system was hacked.  More details in article.
3) Given the $16.25 low offering price, relative to recent history, why did they need to offer an additional concession of $0.585 per share to get it subscribed?
4) What is taking so long initiate the MPS I trial?  Data points:  U.S. prevalence 1,000.  Amended protocol for transplant, elimination of first cohort and international patients.
5) Why hasn't a single patient been treated in hemophilia B trial?  Data point:  U.S. prevalence 4,000.  Spark trial has posted impressive results. Management has pointed to U.K. CTA but also hinted that they would not avoid making "hard decisions" when asked in a conference (Barclays).
6) Where is the CNS collaboration that was hinted at multiple times over the past year?  Does this indicate a lack of interest, pricing problems or a company decision to retain control?  Is this somehow related to issues or progress with the Pfizer (PFE) ALS collaboration?  Data point:  At March18 Cowen conference SandyM mentioned CNS-Mice studies referenced in Tau and crossing BBB, considered PSP or FTLD very tractable for a company SGMO size and stated AD would likely require a partner.  Concluded: we will do other partnerships to balance with own products.  Data point: SandyM at June18 annual shareholders meeting said VP of Business Development has 10 companies on speed dial that want to know when we are ready to partner.
7) Why did Chief Business Officer Curt Heberts leave?  Was it related to company-specific concerns?
8) Why did Chief Technology Officer Michael Holmes decide to leave less than three months after being so designated?  Why announce after the market closed on a Friday?  Data point: SEC Form S-3 is normally required for officers and directors within 10 days of appointment.  No form was filed for Michael Holmes after May promotion.  However, Andy Ramelmeier was said to be Chief Manufacturing Officer in press release but his Linkedin does not have that title and no S-3 has been filed for him either.  
9) Why is SB-525 trial for hemophilia A phase II per Pfizer yet not for Sangamo?   Has the data for topline data slipped?  4Q17 conference call quote from CMO Connors: " We expect to release top line efficacy data from the SB-525 programs at the Scientific Meeting some time in mid-2018".  " I would like to reiterate our strategy for rolling out clinical data from our ongoing clinical trials. Rather than release efficacy data on a per-patient basis, our plan is to release data once it has matured with appropriate post-treatment follow-up time, so that we may disclose data we believe to be both clinically meaningful and reliable." 
10) Why is the data from MPS II taking so long to release?  When is mid-year versus end of summer?  Data point: 1Q18 conference call Q&A response from SandyM: "in discussion with the lawyers about what's the middle of the year and for summer and what's the late summer. And so we're aiming for late summer, nothing has changed. There's no delay in the programs as we describe them. It was just– when is the middle of the year and when is the summer."
11) Where is the IND for Fabry?  Data point JPM16:  "Sangamo Names Fabry Disease as Fourth Lysosomal Storage Disorder Target".  Data point: ASGCT17: "Sangamo announced that it will advance this program toward human clinical development with preclinical studies enabling an Investigational New Drug Application (NYSE:IND) in the second half 2018.
12) Is rising short interest predictive of pending bad data? 

I'm sure there are others but this seems to be a pretty good cross section.  Investors in the stock should have an investment thesis on these as they are important to the future direction of the stock. 
Summary
The Sangamo proxy for the June 2018 weighted the following in their management performance plans:
Voice of the Market 5%
Image Management 5%
Corporate Hygiene 5%
Investor relations is a core component of brand management, market receptivity and corporate hygiene.  My personal experience is that inquiries to investor relations are ignored.  I have yet to have anyone respond to my inquiries.  The confusion of data dissemination dates is either bad guidance or slippage.  Press releases announcing executive appointments as Chief Manufacturing Officer or Chief Technology Officer should represent reality or if that reality changes, the market should be updated.  Clarity of intent is critical to credibility, yet statements of intent that goes unfulfilled create incremental volatility in an already volatile sector.  Growing pains or a lack of understanding?  Is this a research only company or is there really a commercialization focus?  Waiting for data that can provide durability insights or just hiding the results?  None of these questions should be a prerequisite to investing in a company.  Yet today they are with Sangamo if only because the expectation setting and Voice of the Market are out of sync.  I don't claim to have the answers but do believe that pushing bad news out on a Friday after the market is closed is bush league.  
Investor be forewarned: This is a very volatile space. Many of the trials being initiated are for rare diseases for which there are no or limited alternative treatments. These patients can have serious medical issues and short life expectancy. The FDA approval process may take this into account, accelerating clinical initiation to provide the chance of improved quality of life. These conditions increase the risk of news similar to that of Juno last year, which precipitated a significant drop in valuation.
Disclosure: I am/we are long GILD, PFE, SGMO.