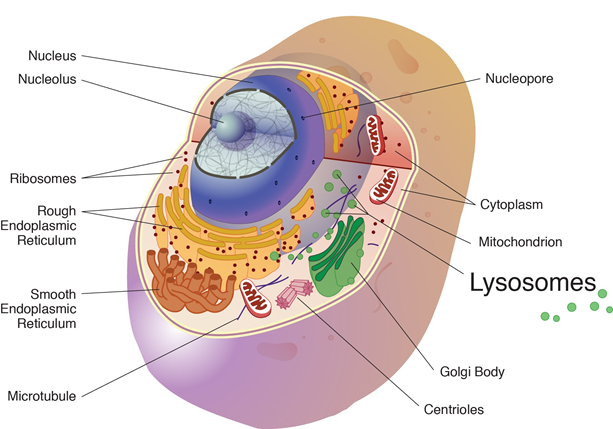 Lysosomes and other parts of a cell National Institutes of Health
ST-920 advances towards the clinic. We are currently completing the preclinical data package including a study in non-human primates and remain on track to submit the IND application to the FDA later this year.  Sangamo conference call Feb 22, 2018
Sangamo (SGMO) is scheduled to present preliminary data on their lead genome editing product candidate for Hunter syndrome on September 5, 2018. Detailed information about MPS II can be found here.  Sangamo is also scheduled to present preliminary data on their lead gene therapy product candidate for hemophilia A in December at ASH 2018  Additional information about hemophilia A can be found here. These presentations represent the first significant data readouts for these proprietary platforms. As important as these presentations are, the upcoming investigational new drug or IND application for Fabry disease may be just as informative.  Sangamo will likely elect to pursue one of two distinct therapeutic approaches for Fabry.  Their platform choice and explanation may provide insight into any internal preference when pursuing therapies for lysosomal storage diseases that are caused by monogenic defects.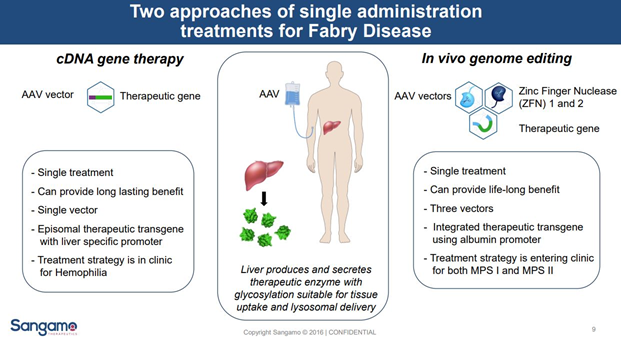 Monogenic diseases
Monogenic diseases or MGDs are diseases caused by a defects in a single gene in the human DNA. There are estimated to be over 10,000 MGDs encompassing a large landscape of diseases including cystic fibrosis, muscular dystrophy, hemophilia, sickle cell anemia and lysosomal storage disorders. Gene therapies for MGDs benefit from a focus on the single protein known to cause the clinical pathology.
Lysosomal storage diseases
Lysosomal storage diseases or LSDs are inherited metabolic disorders caused by abnormal accumulation of compounds in the body's cells. Lysosomes function as a cellular recycling center using enzymes to break down and recycle large molecular waste products. When these enzymes are deficient, the process is impaired and these compounds accumulate.  Approximately 50 LSDs have been identified and new ones are still being found.
Fabry disease
The alpha galactosidase or GLA gene normally encodes the production of alpha galactosidase A or a-GAL A enzyme. People with Fabry disease have defective GLA genes which produce insufficient a-GAL A. This leads to the accumulation of Gb3 fatty deposits and problems in the kidneys, heart and brain.  Life expectancy with Fabry disease for males is 58 years according to registry data from 2001 to 2008. The most common cause of death was cardiovascular disease.   Most of those had also received kidney replacements.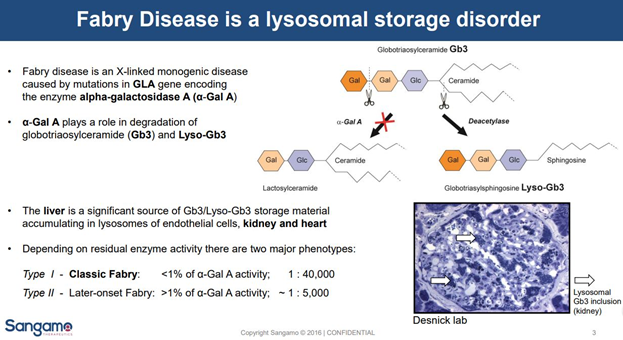 Fabry occurs in all racial and ethnic populations. Type 1 phenotype affects approximately 1 in 40,000 males. Type 2 phenotype may occur as frequently as 1 in 1,500 to 4,000 males. The prevalence in females is unknown. Amicus Therapeutics (FOLD) estimates there are 10,000 people with Fabry worldwide of which 34% are in Europe and 25% in the US.  The National Fabry Disease Foundation states total prevalence is very difficult to estimate, but believes the disease prevalence may higher than most suggest.
Enzyme replacement therapy or ERT costing approximately $200,000 per year is used to slow Fabry disease progression.  Sanofi (SNY) Fabrazyme, the only US approved ERT, is administered intravenously every two weeks for life.  Amicus Galafold an oral small molecule drug was recently approved as an alternative to ERT in the US.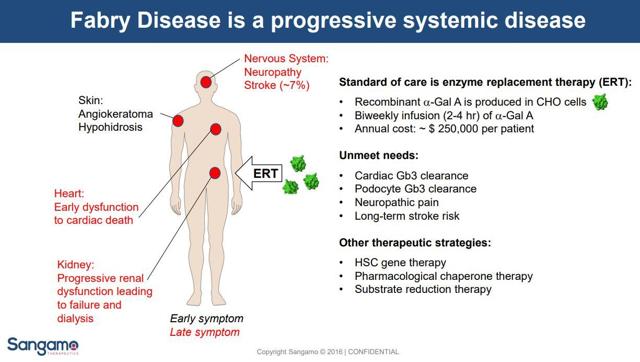 Sangamo
Sangamo summarized preclinical data supporting gene therapy for Fabry in 2017. They are expecting to file an IND in 2H18 which appears somewhat longer than expected.  This be related to these trials and their desire to have some data to direct their therapeutic approach.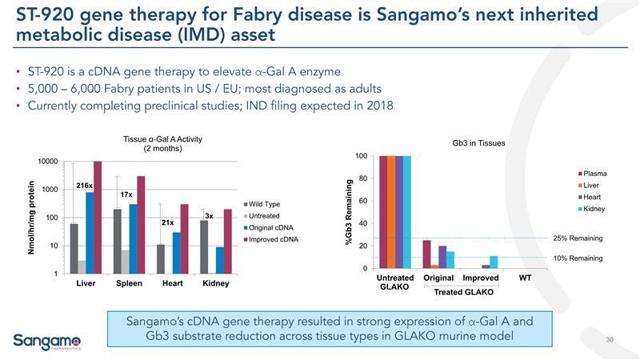 The first approach uses their cDNA gene therapy platform to treat Fabry. This approach delivers a transgene using a single vector with a liver specific promoter. This approach is in the clinic with hemophilia A for which data expected at ASH 2018 in December.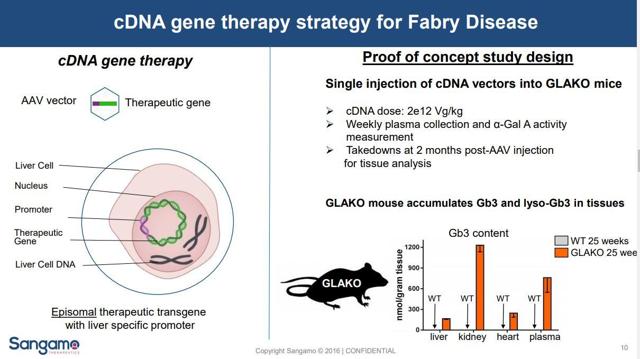 The second approach utilizes the in vivo genomo editing platform to insert a functional gene with three vectors using an albumin promoter. This approach is in the clinic with MPS II for which data will be presented on September 5, 2018.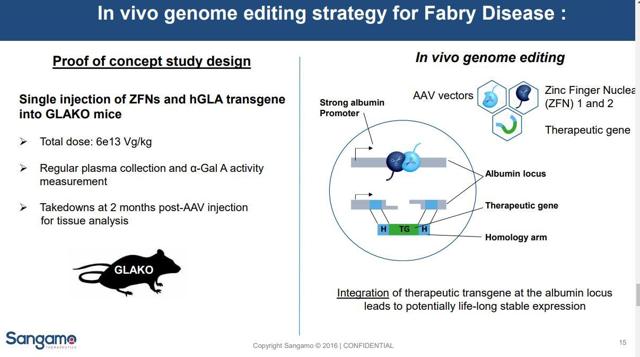 Summary
Which therapeutic approach will Sangamo select? They could elect to take both approaches into the clinic, but that seems unlikely due to cost and recruiting confusion. They may continue to diversify their clinical portfolio, which argues for gene therapy, considering genome editing is being used for MPS I, MPS II and Hemophilia B already. Refer however back to the graphic above showing the two approaches side-by-side. Sangamo states that gene therapy "can provide a long lasting benefit" and that genome editing "can provide a life-long benefit". Sandy Macrae has said that gene therapy is much easier than in vivo editing, but that editing is more likely to be curative. If Sangamo opts to pursue a genome editing approach to Fabry, it would show confidence in this platform and serve to further increase their clinical lead over other genome editing competitors.  Details on Sangamo clinical programs can be seen in the following graphic.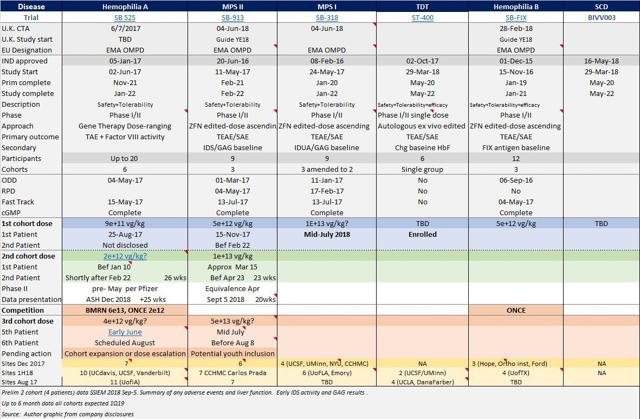 In either event, the leverage of a multi-platform approach provides Sangamo an opportunity to accelerate their 3 waves of pipeline expansion in this rapidly expanding sector.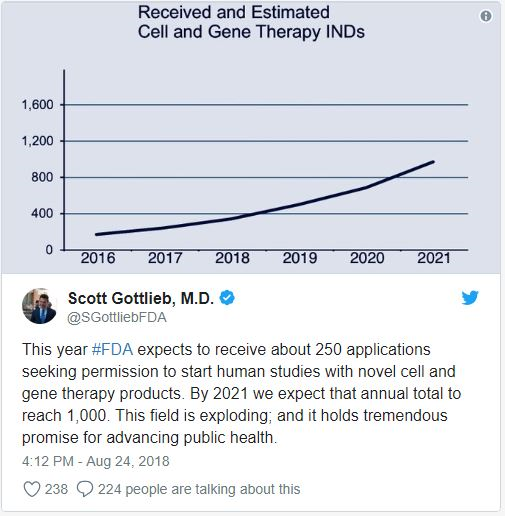 Disclosure: I am/we are long GILD, PFE, SGMO.