Bluebird (BLUE) C14-C16 R&D Spend

R&D spending increase over two years was $142m or 227%.
$26m of increase in direct R&D was for manufacturing costs. $15m of increase in preclinical is for milestone payments ($10m CMO, $5m Pregenen).
LentiGlobin $46m: conducting 4 Northstar clinical studies (US, Australia and Thailand), Northstar-2 in France and US and planned Northstar-3 for 2017. TDT/SCD
Preclinical $26m (increase higher because C14 included bb2121) includes $15m milestone payment in preclinical. $10m for contract manufacturing contingent pay for Lenti-D and LentiGlobin.
Employees and SBC $26m
Facilities $15m
bb2121 $13m (was in preclinical in C14). Lead Celgene product oncology
Platform $10m gene therapy
Lenti-D increase $6m Starbeam clinical study CALD
G&A almost tripled from $23m to $65m primarily from hiring including SBC and consulting.
C15-C17 R&D Spend

R&D spending increase in C17 was $68m.
Direct program expenses made up $50m of increase including $18m for manufacturing.
LentiGlobin represented $18m and oncology programs bb2121/21217 increased about $20m
Preclinical spending increased $18m (bb21217 was preclinical in 2016).
Employee hiring represented the indirect spending increases.
G&A spending increase in C17 was almost $30m (43%). Most of this increase was employee related spending.
Quarterly operating expense summary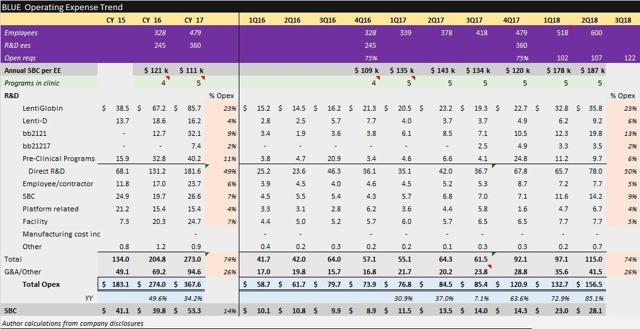 C18 quarterly spending notes:
Spending for 1Q18 increased $12M or 10% sequentially. Total employees increased from 479 to 518.
Spending for 2Q18 increased $24m or 18% sequentially. Headcount increased from 518 to 600. Increase split between R&D and G&A.
Hiring ramp does not appear over. Open requisitions per careers section of website indicates 122 jobs were open on Sept 30, 2018.
2018 ramp appears to at least partially be related to preparation for commercialization.