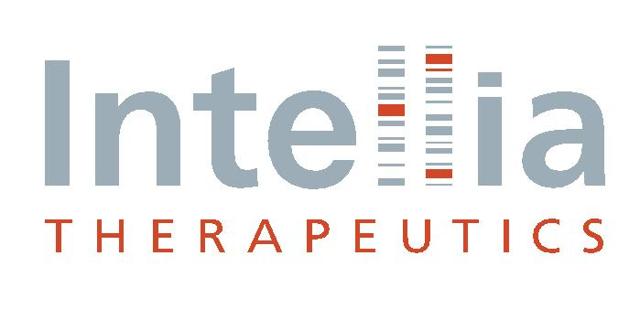 We understand that delaying an IND submission isn't the fastest way to the clinic, but I'm convinced it's the right decision. We believe that LNP delivery of CRISPR/Cas9 has significant advantages over other approaches and is our objective to develop the most effective formulation that we can.  CEO John Leonard on 10/31 earnings call.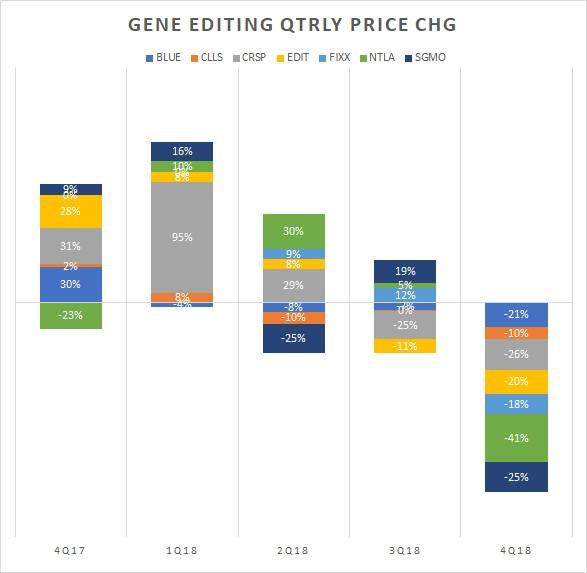 Author calculations and graphic 
Intellia Therapeutics (NTLA) was the only company in my Gene Editing tracking group showing price appreciation for each of the first three quarters of 2018.  Then the calendar turned to October.  The market correction had already hit Intellia harder than most when they announced that they would be delaying their Investigational New Drug or IND application for ATTR until 2020.  This delay, to conduct new nonhuman primate studies for in vivo editing improvements, was explained in the linked earnings transcript.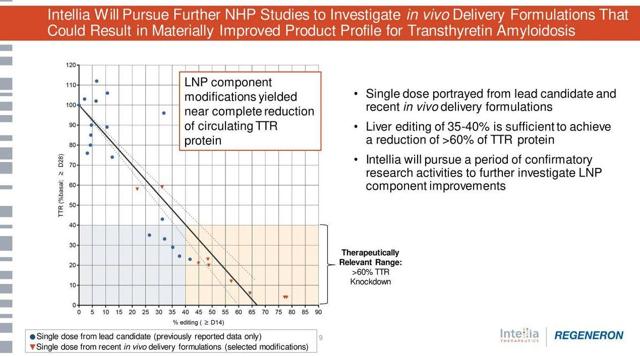 Collaborations
Intellia entered into a collaboration with Novartis (NVS) in December, 2014 to research ex vivo chimeric antigen receptor or "CAR" T cells and hematopoietic stem cells or HSCs.  The aggregate transaction price was determined to be $59 million, representing the initial upfront payment and estimated research services to be reimbursed through the performance period ending at the end of 2019.  Details of this project can be found in the following graphic.  This includes the company 80% estimated performance completion.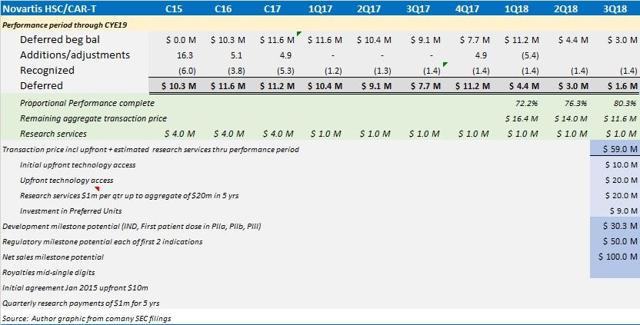 Intellia entered into an agreement with Regeneron (REGN) in April 2016.  This research collaboration is for liver-based gene editing therapies, including the ATTR lead program.  The aggregate transaction price was determined to be $75 million, including the upfront payment and funded research services through April 2022.  Details of the collaboration, including the 40% estimated performance completion, can be found in the following graphic.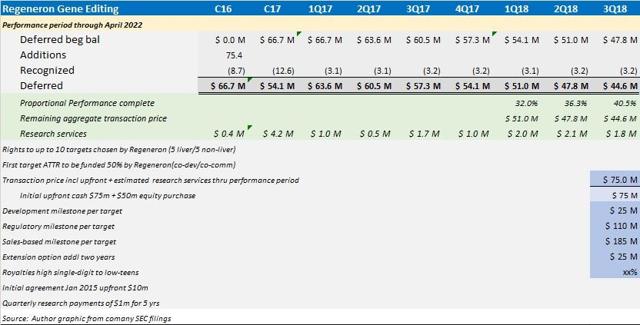 Deferred revenue and performance completion trends are useful metrics to watch.  Performance completion is estimated by management every quarter and then used to recognize a portion of the deferred upfront payment.  Intellia has significant potential milestone payments associated with both collaborations.  Performance tracking provides some evidence of how much work remains on these programs but does not guarantee any milestone payments will be received.  Deferred revenue represents the portion of prior payments that have not yet been recognized as revenues.  Research services revenue represents funded research which offsets company spending. 

Operating expenses and condensed cash flows
Intellia does not provide spending by program.  The details in the following graphic are estimates based upon the MD&A discussion in the SEC filings for each period.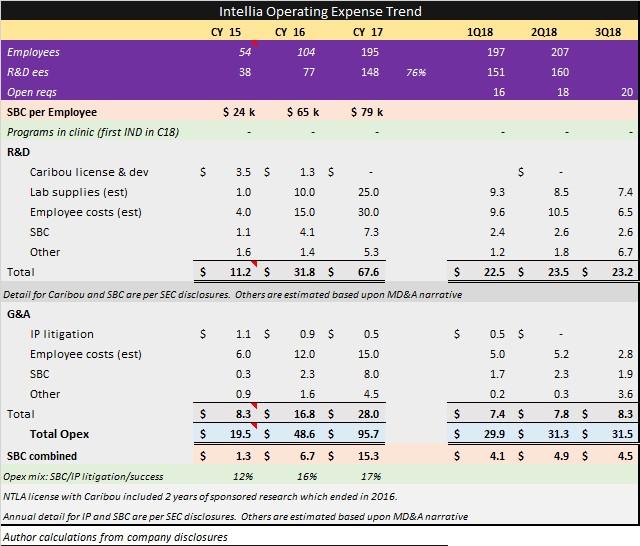 The next graphic shows trended modified cash flow. The amounts are all taken from company SEC filings and then arranged in a condensed format I use for the tracking group. The line: net cash to quarterly normalized burn, is a metric created to measure the cash runway relative to spending.
Net cash = cash + marketable securities less debt (including capital leases)
Unfunded operating expense = operating expense - research service revenues
Noncash expenses = depreciation + amortization + stock-based compensation or SBC
Modified quarterly burn = unfunded operating expense + capital expenditures - noncash expenses
Net cash to quarterly normalized burn = net cash / annualized modified quarterly burn.
This trended metric provides a useful comparison to other genomic medicine companies to help anticipate equity issuance dilution risk. This metric does not anticipate any required increase in spending for new clinical trials, in-house manufacturing or pipeline expansion.  Companies with less than 3 years are considered likely to pursue equity funding in the next 12 months.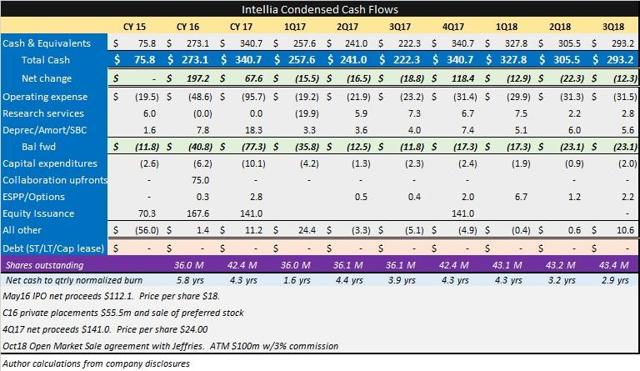 Summary
Intellia continues to disclose impressive research and collaboration progress. The lead program IND submission is expected in 2020.  Cash, relative to current spending, has dropped below 3 years suggesting a likely capital raise in the next 12-18 months.  
Since the markets have gotten a little choppier in October, we've been getting increasing calls from investors focusing on balance sheets. Martin Auster Credit Suisse 3Q18 earnings call Q&A
Disclosure: I/we have no positions in any stocks mentioned, and no plans to initiate any positions within the next 72 hours.