The FDA division of Cellular & Gene Therapies or OTAT is a useful source of information about genome medicines.  This blog will provide reference information sourced from the FDA.
IND Trend
The FDA is witnessing a surge of cell and gene therapy products entering early development, evidenced by a large upswing in the number of investigational new drug or IND applications. Based on this activity, we anticipate that the number of product approvals for cell and gene therapies will grow in the coming years, reflecting significant scientific advancement and the clinical promise of these new innovations.
The below chart published in mid-2018 includes activity through June 2018, which was used to project the 2018 IND activity.  Particularly notable is the growth in gene therapy submissions which surpassed cell therapy for the first time in 2017.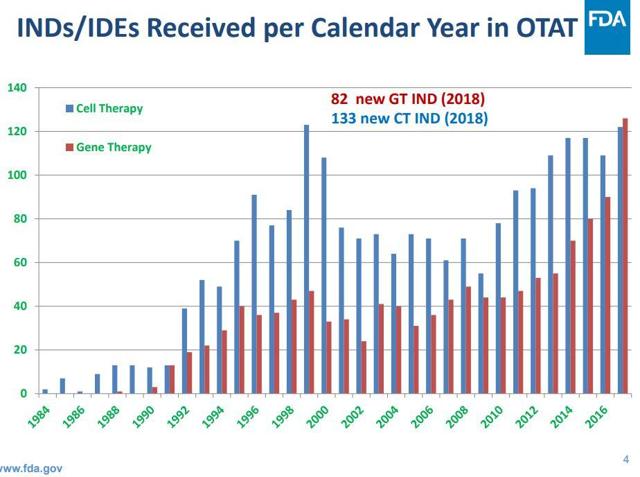 Cell therapy INDs are primarily influenced by CAR-T cell therapies with a particular emphasis on CD19 oncology investigations.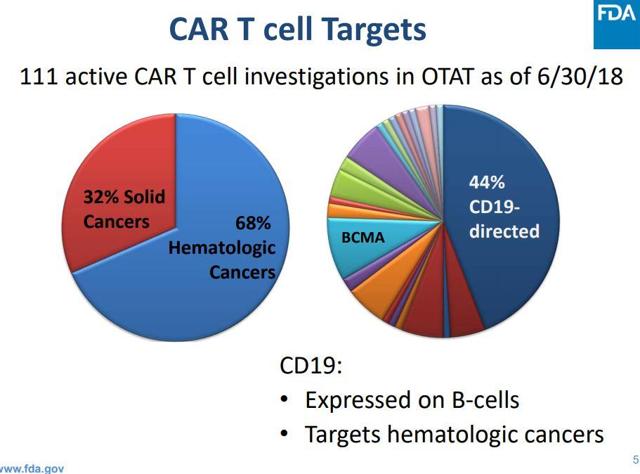 We anticipate that by 2020 we will be receiving more than 200 INDs per year, building upon our total of more than 800 active cell-based or directly administered gene therapy INDs currently on file with the FDA.  Gene therapy products now have the potential to cure intractable diseases, and fundamentally alter the trajectory of many other vexing illnesses. To advance these opportunities, the FDA plans to introduce additional new policy guidance and other advances in our drug development framework in 2019.

For example, we intend to propose guidance to address how the accelerated approval pathway may be used when the target of the gene therapy product is an underlying monogenetic change that causes a serious disorder not addressed by available therapy. In these cases, the gene therapy could offer the potential to alter or cure the underlying genetic defect that gives rise to, and causes the advance of, a disease.

Our guidance will also propose how a more traditional approach to drug development may be more appropriate if the gene therapy creates a genetic alteration aimed at treating the symptoms of a neurodegenerative disease, or potentially altering its course by altering the expression of a protein or enzyme believed to play a role in the advance of a disease. In these cases, the gene therapy wouldn't be intended to cure the underlying condition but instead, affect its course or symptoms. We intend to explain that demonstrating the safety and benefits of such an approach could typically require a more traditional clinical study and recommend ways this can be achieved.
Genome Editing Technology
Zinc Finger Nuclease or ZFN genome editing gene therapies remain ahead as measured by active INDs, but CRISPR genome editing preIND and pre-preIND indicate this may not last for long.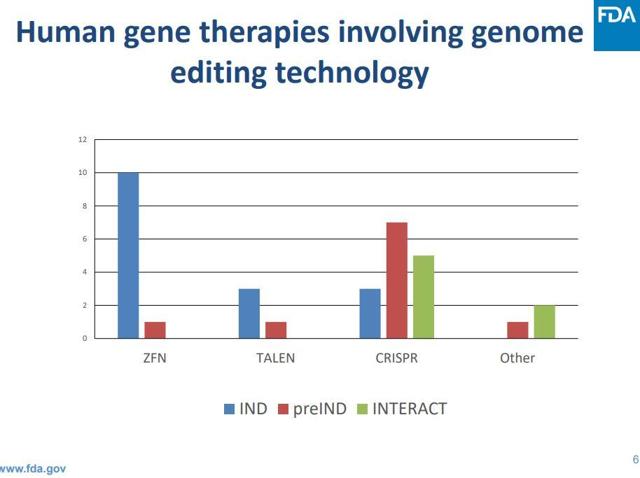 Clinical Risk Still Exists
Genome medicine is clearly gaining momentum and is viewed favorably by regulators.  That said, investors cannot ignore clinical risk.  Biotechnology Innovation Organization or BIO published a decade-long survey of approximately 7,500 development programs which measured the overall likelihood of approval from Phase 1 for all development candidates at 9.6%.
The January 2019 FDA statement on gene therapy included the following:
There are currently over 800 active INDs for cell and gene therapy products.  
The FDA expects to receive more than 200 new INDs annually starting by 2020.  
The FDA predicts they will approve 10-20 cell and gene therapy products annually by 2025.
These data suggest that the FDA is assuming no material change in the approval rate for cell and gene therapy:
800 active INDs translate to about 5 years worth of new IND applications per the above FDA graph.
The number of active INDs will likely exceed 1,200 by 2025 based upon the current trajectory and FDA statements.
The predicted 10-20 approved therapies by 2025 would only represent 1.7% of the projected active INDs.  That suggests the likelihood of approval is projected to remain under 10% if an average cell and gene therapy IND takes 6 years or less to conclude.
Summary
Genome medicines are increasingly showing evidence that they are the future of medicine, with curative potential superior to traditional medicines.  This remains an exciting sector to monitor.  Investors would do well to remain aware of clinical risk and the likelihood of approval.  Even with a supportive regulatory climate success is not only not assured, it is less than probable.  The FDA today appears to be basing future approvals on historical evidence from traditional medicines, but until more clinical trials conclude for gene therapy there is not enough evidence to conclude a higher success rate.