Staking Claim On The Rock- The Newfoundland Gold Rush
Please Note: Blog posts are not selected, edited or screened by Seeking Alpha editors.
Summary
Eric Sprott spreads the love and the $'s on the Rock.
Is Newfoundland the world's next Big Gold Camp?
Good drills = Good Times.
Staking claim on the Rock – welcome to the Newfoundland Gold Rush;
I am born, raised and sans 2 years (less a day), have lived my entire life in Newfoundland and Labrador (NL). Throughout those 40 years, I think we had about 2 years of provincial financial prosperity, 2007-2009. Ironically, when the world was experiencing the Great Financial Criss (GFC), our province was booming and benefiting from $150 barrel oil. That year NL rivaled China on a GDP per capita basis at north of 12%. Thanks to the newfound wealth from our offshore oil and gas resources; our province shortly thereafter became what is known as a "have" province. Basically, it meant we were no longer dependent on the Federal Government of Canada to fund our provincial budgetary operations each year. It was the first time, and a big deal, such a big deal, the politicians threw a party to celebrate. What seemed like a weekend after the have party, NL slipped back into "have not" status and has been in a financial Chernobyl for the provincial coffers and its citizens ever since. Unemployment averages in the mid to high teens and we have more old people then immigrants and new babies. Just when things seemed like they could not get any worse, along came Mr. Covid and almost forced the province to miss payroll for its government employees last April.
However, much can change in a year, and in a decade since the "have" (had) party. Fast forward to Spring 2021 and Newfoundland & Labrador is on the verge of a new natural resource's boom, thanks to mining. The province has a well-established base metal camp(S) history, with former world class mining towns; Bell Island, Buchans, Labrador City/Wabush, and off course Voisey's Bay, which just recently commenced further expansion to the underground operations via Brazil's, Vale. Labrador is poised to supply the pending "green" revolution and political make-a-wish promises. NL has never had a real precious-metals (Gold, Silver, PGM) industry. No big discovery, nor notable mines besides a few smaller operations like Hope Brook Gold Mine, which ran through the 80's and smaller mines on the Baie Verte Peninsula.
Marathon Gold $MOZ really got the gold party going in Central Newfoundland with their Valentine Lake Gold Project. The project consists of 4 individual deposits, Leprechaun, Sprite, Marathon and Victory which all flow into one large open gold system, which continues to yield expansion. Now up to a defined resource of almost 5M oz open pit deposit, $670m CDN market cap and plenty of room for more they have reached the early works stage to bringing the deposit into production with engineering commencement on mine development, environmental and permitting application submission. The mining friendly jurisdiction and economical open pit characteristics of this resource has attracted the likes of Gold mining royalty, 74-year young Pierre Lassonde. Pierre, previously retired from his Franco Nevada chairman role, stepped up last fall with his first investment, via private placement. I guess he liked what he saw so much he came back again this spring for a new round of financing at $2.75/share. The latest round of financing was used to top up the treasury to assist the company in funding needed to get it to the $300m construction stage to build out; for this 13-15+ year operation.
Maybe Pierre was inspired by another retired gold king, who seems he cannot get enough of the Newfoundland gold fever, Sir Eric Sprott. Eric along with other industry heavy weights, Palisades Gold (Palisades Goldcorp Ltd. - Canada's New Resource...) , Rob McEwen and Dr. Quinton Hennigh are the biggest fish in the sea currently with their Newfound Gold Corp. ($NFG). As of writing after some big drill hits, NFG sports a market cap of $1.8B. McEwen and Sprott first start funding Newfound' s work in 2019. Sprott a legend in the mining space as financer, has been along fore each additional financing since and is looking to duplicate his success he found with Kirkland Lake Gold and their Fosterville deposit in Australia. Fosterville has had some of the highest grades of gold found in the world and Hennigh and Sprott whom teamed up down under feel the drill core coming out of the ground in Central Newfoundland has very similar geological characteristics as Fosterville. For the past 6 months NFG has been pulling some amazing drills, world class hits. On Friday May 21st, 2021 NFG hit again and hit huge; $146.2 g/t Au over 25.6M in 65M step-out to their previous hits at the Keats deposit just 291M from surface. This is a bonanza grade. Hits like this close to surface are very exciting as they drill out and down. To put in context how big this kind of high grade is, the proven and probable mineral reserves used by Marathon Gold is considered low grade at 1.36 g/t Au and their inferred at 1.72 g/t. While both deposits could possibly be open pit mined, you can imagine the potential cash flow the high-grade open pit deposit could yield. Good drills to me, are holes that > average 115 grams. I.E., 1.15 g/t over 100M strike length or 5g/t over 25M strike would be very good hits. (here's some more info on analysing drill results: Making the grade: understanding exploration results ) The fact that NFG keeps hitting these high grade holes as they move further out with their drilling is really exciting and the fact that the company is so bullish on what they have. They have stepped up the drill program to 200,000+ Meters and 10 drills. It is pretty amazing that NFG IPO'd just a year ago, when they raised $31.4m @ $1.30/share. The velocity of how they are moving tells you how bullish Sprott Et Al are on this project.
Sprott has spread the wealth and distributed investment throughout the region with other land claim owners adjacent to NFG including Labrador Gold (LAB) and Exploits Discovery (NFLD). These 2 neighbours of NFG have received majority of the spin off Newfound effect. LAB sporting a current market cap of $185m despite just a few holes drilled. Most recently they have doubled their 2021 drill program with the addition of 2 more drills bringing the total to 4- and 20,000-Meters of 2021 drilling thanks to a most recent $9.8m funding led by Sprott back in April. LAB led by Roger Moss is focused on their Kingsway project that borders alongside Newfound Gold's Queensway (1500 sq. km) just outside the town of Gander. LAB's Kingsway consists of claims and licenses amongst 77 sq. km's. I was originally attracted to LAB a couple of years ago, before the buzz around Central Newfoundland. For me at that time it was around their 2 Labrador deposits and the work that Shawn Ryan had done with those. The Ashuanipi project on the west coast of Labardor near Iron Ore camps and close to rail lines covers 391 sq. km's. In addition, their Hopedale project on the east coast of Labrador, which is close to port shipping; consists of claims and licenses over 249 sq. km's. Labrador known for its world class base metals success, but never has the region had any success with precious metal exploration. Based on Ryan's work he was very bullish on the unexplored ground and the company had lined up a drill program in 2019 but was subsequently canceled due to opposition with local aboriginal group. For now, the focus is on Kingsway, but these 2 deposits are notable for future opportunities.
Exploits Discovery (NFLD) has yet to commence their drilling but has mobilized drills and now sports an impressive $98m market cap. The only thing busier than the Tim Hortons in Gander is the assay lab, Eastern Analytics in Springdale, which I have heard is running about 5–6-week backlog on test results. Good luck trying to find a spare driller or drill rig in the Island as well right now, and with Covid restrictions and provincial borders closed, what is here is what we got for now. NFLD is alongside Newfound Gold's Queensway as well and has attracted the Bank of Sprott too. Eric owns 26% of the company on a diluted basis and NFG owns 19.2% on a diluted basis after their most recent round of financing. NFLD shares have had quite the run so far in 2021, rocketing from 0.39 in mid April to a high of 1.65 in the past week thanks to the excitement around the NFG hits. The Exploits Discovery management team does a top-notch job of communicating their business plans updating shareholders on information material to the company. I have signed up for their emails and receive at least a bi-weekly email from the company for the last 6 months. They have also hosted youtube live Q&A sessions with the management team, strategic advisors, and the local geologist's, (The Keats family) who have staked the claims and know the deposits and area. They know in 2021 to be a public company and earn shareholders capital, communication and telling the story is key.
In researching NFLD I note that Crest Resources (CRES) also a player in the Central Newfoundland district owns 15.3M shares of NFLD. Cross refence between the two companies, they both share the same CEO, CFO and VP of development along with advisors. Maybe a more opportunistic way to play the NFLD claims would be through CRES as they're porfoillio consists of a few other exploration companies else where, and a couple of private companies, while CRES currently trades for the value of their NFLD Holdings, you get the portfolio other investments as additional call option. Both companies along with the majority of these names are highly speculative and their only source of cash flow is through further equity financing or sale of their portfolio investments and/or mineral claims. If your risk adverse the junior mining sector is not for you. It is more volatile than a dog's stomach the but the opportunity the space offers as a speculator, is unmatched in excitement outside those crazy crypto degenerates.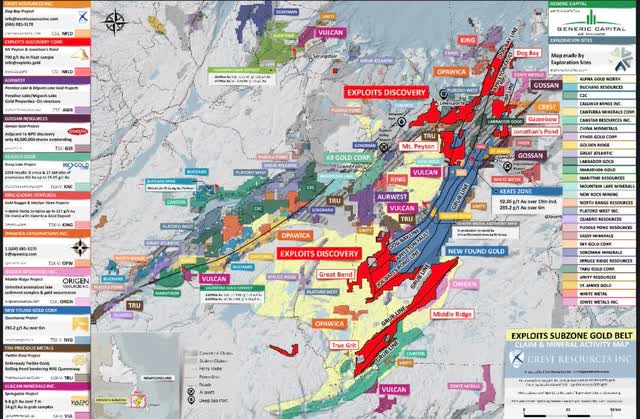 Matador Mining and their Cape Ray project on the provinces west coast, is not to far from the former Hope Brook Gold operations. Matador does not get the local nor Canadian publicity that I think it deserves, probably because it is Australian based. However, now they're shares will be traded in OTC in North America under symbol MZZMF. They are taking a different approach to their exploration compared to the local juniors, as they are utilizing an auger drill, like what a lot of placer gold miners explore with in Yukon. Matador with just a small $50m market cap already has a proven resource of 800,000 oz of Au and looking to add plenty more. As of March 31st, they had 8m AUD in the treasury and another 5m in w/c forecasted based on significant in the money options that do not expire till July 2022 that can be exercised by shareholders. Based on exploration activities for the 2021 season they are forecasted a burn rate of 1m/month. What is very interesting about their property is the Marathon deposit is roughly 100-120km's to the north east which is vastly unexplored ground. In fact, according to their chairman there has only been 20 diamond drill holes ever drilled on this vast stretch of land which for the last century has had mineral and timber rights given to the Reid Newfoundland Company, for their contribution to building the Newfoundland Railway. The Reid Newfoundland Company, founded by Sir Robert Gillespie Reid of Scotland, built Newfoundland's railroad in 1890. As a condition of operating the Railway, Reid was compensated with 5,000 acres of Crown Land per mile operated. There is plenty of logging roads that makes for access to exploration in the area favorable.
One of the more interesting new players in the Newfoundland Gold rush that has come on strong in the last month is Sassy Resources SASY. They have strategic claims throughout the hot spots including the west coast near Matador and in Central district alongside Newfound. In fact, they are currently the largest land claim holders in the province holding 2% of the provinces land mass under claims, 2257 sq. km, thanks to option agreements with claims staked by Yukon exploration legend, Shawn Ryan. Sassy has a market cap of $33m and maybe one of the best risk reward plays in the current frenzy from the speculation side. They just added GoGold founder, Terry Coughlan to their Board and closed a $2.27m financing with strategic investment from you guested it, Eric Sprott. I am going to keep a close eye on the moves they make over the next year.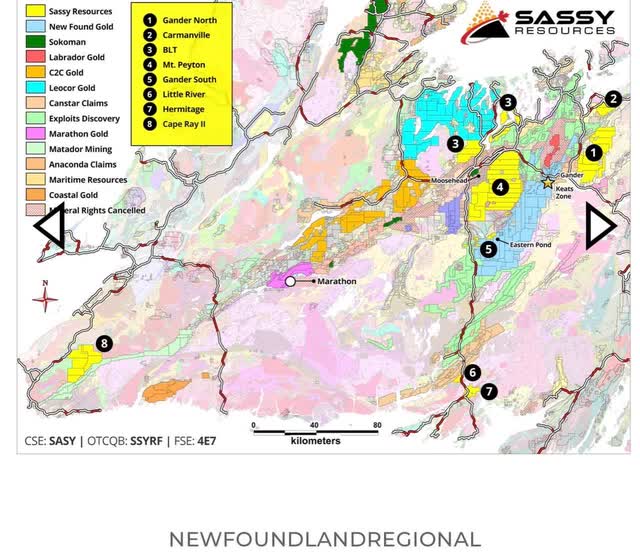 Sokoman Minerals Corp (SIC) is another player in the central district that has caught the eye and cheque book of Mr. Sprott and continues to hit grade drills in their Moosehead Gold project. Led by mining veteran Tim Froude, the company which has produced numerous high-grade gold intercepts from historical drilling including 2.02 metres of 111.96 grams per tonne gold and 21.19 metres of 9.28 grams per tonne gold. Subsequent to acquiring the property in 2018, Sokoman made a significant discovery at the Eastern Trend, highlighted by drill intercepts of 11.90 m grading 44.96 g/t Au, 24.90 m grading 33.56 g/t Au and 5.1 m grading 124.20 g/t Au, and the zone remains open. Market cap of $85m, Sprott now owns >20% of the company similar to his other stakes in the Newfoundland Gold district.
Maritime Resources (MAE) is the closest gold explorer to be mining Gold next to Marathon in the province in the near future. Their 100% owned Hammerdown project near Springdale/Kings Point. The site was formerly operated by Richmont mines from 2000-04 where they produced 147,000 oz at 15.8 g/t but, shuttered operations when the price of Au was in the $300 range and no longer economical. Fast forward to $1900 Au spot and estimated $938 oz of All-in-sustaining costs (AISC) x further resource expansion and this deposit is now very attractive to get back in production. MAE market cap of just $85m. This past winter the company made steps to ready for production by purchasing the nearby gold circuit Nugget Pond plant from Rambler's metal and mining in April 2021. Feasibility report and project permitting expected Q3-Q4 2021 along with construction decision and project financing, and construction production expected 2022.
I wanted to write this article to give some publicity of the great things and financial investment happening in my province and those interested in speculating in the junior mining sector. I've been bearish on the province of Newfoundland & Labrador for the last decade, but I stand here today now turned bullish due to what we have happening in the resource sector. I don't' think the local community truly understands what is happening in Central Newfoundland the opportunities all this will bring. I'm very excited. I have covered just a few names that have caught my interest in the Newfoundland Gold Rush. There are many I have left out, and quite frankly it is becoming hard to keep up, as each week we seem to get new announcements of strategic investments and new exploration companies staking Newfoundland land in search of precious metals. My hope for all this is Newfoundland has a similar story to the Eskay District of British Colombia. As prior to 1988 there was hardly anything and now today there has been 186+ million oz of Gold. The hype and vibe in Central Newfoundland is for real. Newfoundland is on the cusp of a new world class gold mining camp, which is sure to attract much investment our economy so desperately needs. I look forward to more discoveries and more companies who get in on the action. Best of luck out there.
Analyst's Disclosure: I am/we are long MRTMF, MGDPF, NKOSF, NFLDF, SSYRF.
Seeking Alpha's Disclosure: Past performance is no guarantee of future results. No recommendation or advice is being given as to whether any investment is suitable for a particular investor. Any views or opinions expressed above may not reflect those of Seeking Alpha as a whole. Seeking Alpha is not a licensed securities dealer, broker or US investment adviser or investment bank. Our analysts are third party authors that include both professional investors and individual investors who may not be licensed or certified by any institute or regulatory body.