Last Wednesday I visited with the CFO and VP of Finance of Yum Brands (YUM: NYSE)

[1]

 China division  in Shanghai.
 I was searching for the bubble many investors are worried about. I couldn't find it.   
Urbanization is continuing to grow rapidly in China. There will be a doubling of urban Chinese from 500,000,000 currently to over a billion people in the next twenty years. This bodes very well for the number one restaurant company in China. YUM leads in every category in China and the people we talked to are one of the reasons why. 
I found a very skilled management team driving an exceptional growth opportunity. Both managers have been in the restaurant business in China for many years and were fully conversant in the Yum Brands global approach and opportunities. They extolled the virtue of the China CEO they report to and built my confidence that they know exactly what they are doing.
 They have challenges in China such as rising labor costs and food costs. However, their opportunities are far exceeding their challenges. They are opening one or two new restaurants every day. They are already serving over 700 large and small cities. The economics of new restaurant openings are excellent. For example, it costs about $500,000 to build out a new pizza hut that generates $1million of revenue the first year. KFC and Pizza Hut both operate with very high margins in China. 
They have converted most of their restaurants to all day dining including breakfast. They have delivery available in  80% of their city locations. To date only 150 of their 4000 restaurants are franchised. They don't need to franchise financially, but more franchising in the future will allow them to expand more rapidly. Everywhere I went in Beijing and Shanghai I saw KFC's and every one looked better than the previous one. The highlight for me was seeing a KFC in a mall adjoining a Van Cleef and Arpels store.
They have 20 East Dawning restaurants open in Shanghai as an experiment in perfecting a Chinese QSR (quick service restaurant) that can compete effectively with every mom and pop restaurant in China. They are moving closer and closer to the right formula to roll out stores. They believe that eventually they can serve 50 East Dawning stores out of one commissary and that the right supply chain links can be built to offer Chinese cuisine that Chinese diners will not only accept but enjoy. 
The dining experience YUM provides in China is far superior to that of the fast food stores that they have in the United States. However, a meal at one of their restaurants is sill affordable for most of the middle class of China. The CFO explained to me that wages have risen enough that over the last several years a meal at KFC for entry level workers has dropped from costing 4 hours of wages then,  to 1 ½ hours of wages now.
Mystery Question: What is this Restaurant: Three of my friends separately guessed NOBU.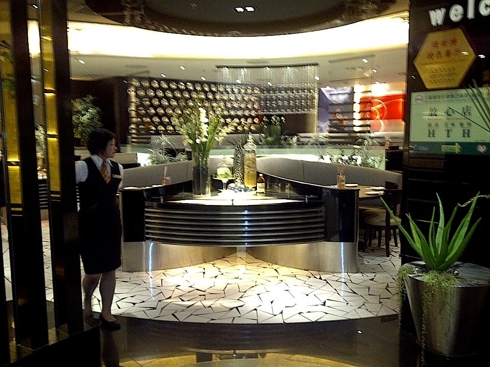 Answer:   A Pizza Hut in Shanghai
Chairman of Investment Policy
BEACON TRUST COMPANY 2011. All rights reserved. The information contained herein has been obtained from sources believed to be reliable, but is not necessarily complete and its accuracy cannot be guaranteed. No representation or warranty, express or implied, is made as to the fairness, accuracy, completeness, or correctness of the information and opinions contained herein. The views and the other information provided are subject to change without notice. The text, images, and other materials contained are proprietary to Beacon Trust Company. and constitute valuable intellectual property. No material from this report may be used or otherwise disseminated in any form to any person or entity, without the explicit written consent of Beacon Trust Company. All unauthorized reproduction or other use of material from Beacon Trust Company shall be deemed willful infringement(s) of this copyright and other proprietary and intellectual property rights, including but not limited to, rights of privacy. Beacon Trust Company expressly reserves all rights in connection with its intellectual property, including without limitation the right to block the transfer of its products and services and/or to track usage thereof, through electronic tracking technology, and all other lawful means, now known or hereafter devised. Beacon Trust Company reserves the right, without further notice, to pursue to the fullest extent allowed by the law any and all criminal and civil remedies for the violation of its rights.
---
[1]
Fred Fraenkel owns Yum Brands common stock and Beacon clients own Yum as well.