Vanda Pharmaceuticals, Inc.(NASDAQ: VNDA)
Vanda Pharmaceuticals is a small biopharmaceutical company which has been publicly traded since April 2006. A quote from their website explains the company mission: "Vanda is working to advance the science of developing new medicines through novel approaches to address unmet medical needs and improve the lives of patients."
Vanda Ups & Downs
In the dozen or so years since going public, Vanda has seen considerable ups and downs. Without going back to the news that drove the stock price, a short analysis of price action should give all the history that might be needed for this story.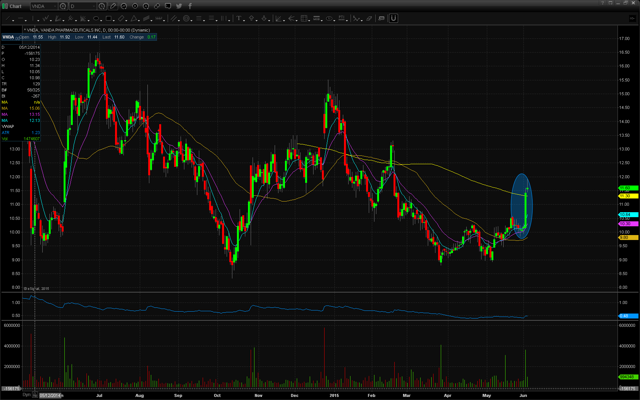 Less than a year after going public at $9.45, the stock price sat in that trading range for several months before going parabolic in the last quarter of the year, quadrupling in price by February to an all-time high in the low $30's. The stock normalized and tapered off for a couple of years and price action got hammered in the financial meltdown of 2009, when the stock hit a low of $0.45. Clearly, the public had very little confidence that Vanda could make it. But in May 2009, the company gained FDA approval for their first drug, Fanapt, which caused another parabolic move much larger and vaulted the stock back into the teens.
The euphoria did not last, however, as several years go by while the stock drifts down quarter after quarter with very little to lift it until mid 2013, where the stock seemed to regain not just more reliable price action but heavier volume trading in the teens, with an upward bias bringing us to today.
VNDA Earnings
The May 6 earnings announcement gave the stock a small gap up on the open with news that its products were selling better and they had been gaining the number of patients actively on treatment as well, according to an article posted on Yahoo Finance! on May 6. While the company took a loss, that quarter the revenues were increasing over the last 4 quarters and accelerating, with a much bigger sales bump than anticipated. They also reaffirmed sales for the year.
Vanda partners with companies like Novartis and Eli Lilly for research collaboration and distribution of its two commercially approved products.
Bottom Line
Today, Vanda rose 12% on 5 times its average daily volume, with no news. I noticed this stock today on the day trading website Warrior Trading run by day trader Ross Cameron. The stock popped up on one of the many scanners running throughout the day identifying unusual activity.
Originally posted on Warrior Trading News