LightPath Technologies Inc (NASDAQ: LPTH)
With nearly 7M shares of Lightpath traded today, LPTH was strong out of the gates at 9:30am soaring from $1.53 to a high of $2.49. This was their highest level since July 2011. Average daily volume for this stock is significantly less than today's 7 million at 94.47K.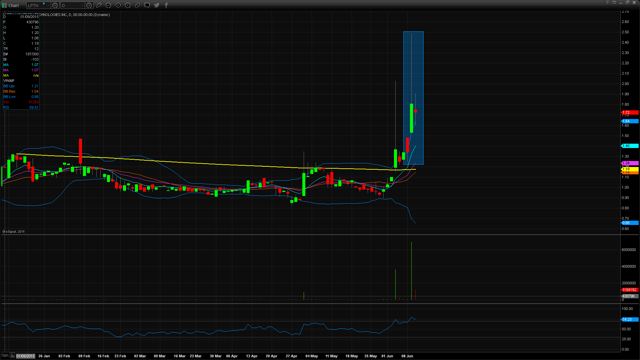 LPTH Catalyst
According to the Street, the reason shares jumped today were due to the company announcing an update to its infrared product line. The news is that they will be manufacturing an Infrared 40 degree field of view modified optical lens assembly. This product has been chosen for firefighters thermal imagine camera by a leading supplier for federal, state and municipal government defense agencies worldwide. We all know that securing defense contracts is a big deal. Thermal imaging cameras are used by firefighters to navigate their way through burning structure and now they will be utilizing a wide field of view lens.
The company's President and CEO, Jim Gaynor had this to say, "This is a very large and vital market where increased levels of government spending are being allocated to ensure the safety of both the firefighters and the people they protect."
LightPath Technology's Performance
While Lightpath Technologies has been achieving notoriety lately, they do have some weaknesses that have been reported from the Street, namely, their weak operating cash flow and less than stellar historical performance. Net operating cash flow has significantly decreased when compared to the same quarter last year. While the company has underperformed the S&P 500 Index, their return on equity exceeded its ROE from the same quarter a year ago. This ROE increase is a clear sign of strength within the company. Also, Lightpath Technologies earnings per share this past quarter have improved YOY and the company is on target for EPS growth in 2015.
The Street also reported "Lightpath's infrared product shipment volumes have tripled in the fiscal third quarter with revenue increasing 193% in the quarter. The launch of their proprietary infrared product technologies positions them to participate in an estimated $3.5 billion global market." according to market research expert Techno Systems Research," President and CEO Jim Gaynor stated. He continued to say that the company's technology "brings to market a lower-cost high-value product that promotes the commercial development of infrared imaging technology."
Several top level commercial and military defense infrared camera providers are sourcing optical elements and lens assemblies from LightPath on a recurring basis. The continuing decrease in prices of thermal cameras is expected to remain the key driver behind the increase in the adoption of thermal imaging technology in the coming years. The price of thermal cameras has been decreasing by 12%-15% per annum for the last 5 years and the trend is expected to continue in the near future, eventually resulting in an increased commercial adoption. Yahoo! Finance
Company Profile
LightPath Technologies, Inc. provides optics and photonics solutions for the industrial, defense, telecommunications, testing and measurement, and medical industries. LightPath designs, manufactures, and distributes optical and infrared components including molded glass aspheric lenses and assemblies, infrared lenses and thermal imaging assemblies, fused fiber collimators, and gradient index GRADIUM® lenses. LightPath also offers custom optical sub-systems, including full engineering design support. They're claiming their product line to be cost effective, higher quality and superior performance. For more information, visit www.lightpath.com
Orginally posted on Warrior Trading News